Subscribe to join thousands of other ecommerce experts
"Clear-sighted Campaigns: Strategic Control in Paid Search" with Thorsten Ahlers @ the Great Day for PPC Automation
As Head of Marketing at one of Europe's leading online opticians, Thorsten Ahlers is an expert when it comes to omnichannel strategies and optimizing campaigns for both offline and online conversions. Brille24 is part of EssilorLuxottica – the largest eyewear company in the world, with over €7.5B in annual revenue – and works to connect shoppers with their online shop and/or one of more than 2,000 local optician partners. Where exactly the search user lands will depend on their needs and their readiness to buy online.
With more than 135 employees and offices in Oldenburg, Leipzig, Brussels, Hong Kong and Bratislava, Brille24 is clearly more than just an online shop for glasses. Always putting user interests first, they optimize and increasingly automate their search campaign setup for online, offline, and either/or conversions. Thorsten explained these challenges in detail and with both determination and honesty at the Great Day for PPC Automation.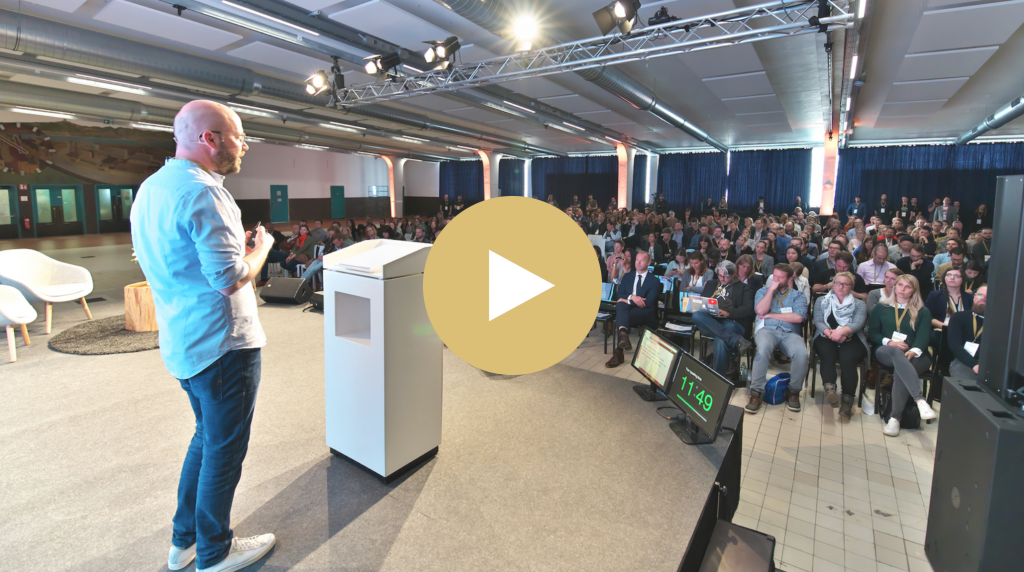 Click to watch Thorsten's talk
Optimizing campaigns for offline and online conversions
In general, the eyewear industry in which Brille24 operates is one of the toughest verticals for PPC due to a high reliance on offline sales. Glasses are still often perceived as a primarily medical product or a fashion item, which people either want to try on or receive professional advice for a safe purchase. Therefore, the industry is characterized by a strong ROPO effect (research online, purchase offline).
Only 5% of all prescription glasses are sold online
What does this mean for Thorsten Ahlers and his team? The online shop has to efficiently convert those customers who are willing (and ready) to complete the checkout process online. This requires building confidence and trust while optimizing a checkout process that is much more complex than most online baskets. Meanwhile, people who research online (via self-education and price comparison) but who are not ready to actually buy online have a totally different conversion path: they need to be informed, convinced, and motivated that they can easily purchase offline and then must be guided to an offline optician in close proximity. And of course, the conversion must be attributed back to Brille24 somehow.
Both user journeys, of course, also need to be covered by Thorsten's PPC acquisition efforts. Paid search activities are therefore split to generate leads for local shops or to drive traffic to the online shop. The key metrics for Brille24 in this regard are CPL (cost per lead) and CPO (cost per order). However, calculating these metrics and deriving valid conclusions from them is not an easy feat. It's not only about figuring out whether a user is actually in the correct channel, but also about time delays between online research and offline purchases – and dealing with limited tracking options.
Channeling users by intent: audience lists & keyword targeting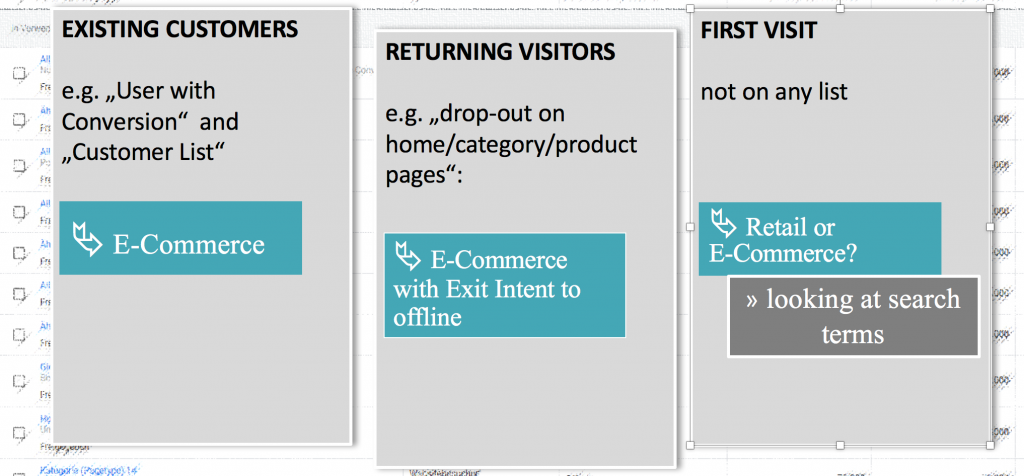 Thorsten Ahlers and his team utilize audience lists and keyword targeting to maximize what they can get out of their "dirty data" and to channel users by intent:
existing customers are primarily guided to the online shop
returning visitors who have not converted yet are guided to the online shop but are informed about offline purchase options via pop-ups, banners or dedicated landing pages
first-time visitors and users who are on no list yet are categorized based on their search queries

ecommerce keywords (e.g. buy glasses online) imply readiness to buy online
generic keywords (e.g. glasses) require a deeper look at the product complexity*
local keywords (e.g. Hamburg) imply interest in local purchases
* e.g. "cheap glasses" (online shop) vs. "bifocal glasses" (local opticians)
Let the user leave the funnel: the role of local targeting
Thorsten's paid search team additionally responds to user intent by matching queries with fitting text ads and links. When users enter highly generic terms that indicate interest in "opticians", for example, ads would display location information and redirect them to a landing page with information about opticians in close proximity. While this requires a lot of manual work (especially in the beginning), it enables the team to respond to what the user is most likely looking for and to lead them to the channel that is most likely to fulfill their wish – all while increasing the likelihood that users click on the ad. This high relevance also increases quality score, which in turn increases ad spend efficiency.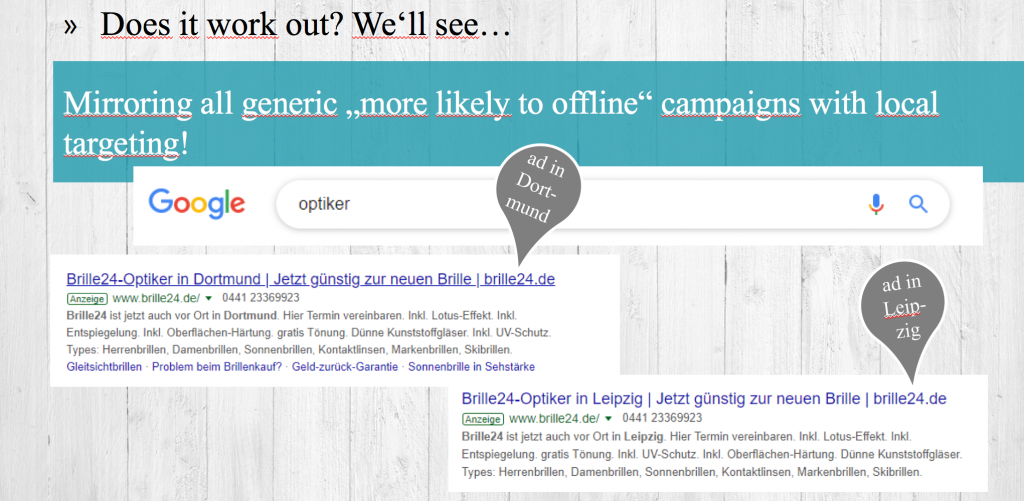 Mirroring generic campaigns with local targeting
Never stop optimizing
Apart from this, the PPC team of Brille24 is working to solve some of the key challenges they face on a day-to-day basis:
extending their network of opticians to guarantee that there is a local shop in every city
aligning online and offline assortments for a seamless customer experience
satisfying opticians who look at web traffic to their store with big expectations
automating regional and local campaigns to scale their efforts
optimizing local feeds and local media management
Does your business rely on omnichannel strategies? How do you make the most of ROPO (research online, purchase offline) behavior?