Subscribe to join thousands of other ecommerce experts
PPC Account Management in 2020: More automation, but no robots taking my job
But wait, where was that statement coming from that robots are going to take my PPC job? It must have been years ago, when I first witnessed one of 100+ discussions and the one I am referring to was finally distilled to this question by the famous PPC Guru Frederick Vallaeys.
Clearly, it was cool somehow that he brought up that question at first Great Day back in 2017 – follow the link to see his spot-on talk back then. On top of his debut, I have joined various conventions, round tables as well as panels aiming to provide an answer. As a matter of fact, they all ended with wrap-up conclusions such as:

Sounds familiar? So I started to screen convention decks, podcasts and more to find out if any person has ever tried to put actionable items behind C-Tasks (less important tasks) or Account Strategy – at least whether someone has tried for a specific segment, for instance a specific industry or so. But no chance, so I will share what C-Tasks mean in our context, which is managing PPC accounts with a team of 50+ people for 400+ clients and probably more than 1,000 Google Ads accounts all over the world.
On a quick side note: Acting on that level makes smec one of the top 3 Google Partners in EMEA.
How we deal with C-Tasks
In smec's Account Management, this is a highly dynamic field of action and the answer to this question varies monthly or even more often. However, we tried to find good answers by applying a rather hands-on approach.
By asking questions about our clients – smec's Account Management or Client Success Management was definitely a source – we combined qualitative statements with time bookings and saw that we spent too much time on making sure that everything is running smoothly.
For companies with PPC as their core business, these "save-my-ass tasks" quickly transformed into a significant time consuming monster. Even though we did – and still do – our utmost in being neat, we still could not avoid errors at times, they just kept coming up. And as time is money, this is no fun at all.
One of the tasks that would fall into the category mentioned above is to double-check Google's location targeting options. In particular, this task involves checking whether you have set the right targeting option for every newly generated campaign. Google recommends to rely on their default setting, which provides you with the freedom to display your ads worldwide.
Trust me, you do not need this option to start with – unless you are aiming for travel-related searches such as hotels or flights. Therefore, I would state that if this option is still desired later on, it would be wiser to test it in a controlled environment with a clear hypothesis in mind (e.g. Is that reach converting with my ROAS expectations?).
At smec, we want to make sure that Account Managers and Client Success Managers are being informed automatically when ticking Google's recommended option – this should serve as a final security layer and is meant to clarify whether it was a conscious decision. But what can this possibly look like, as it needs to be streamlined as well as effective and efficient at the same time. Keep in mind that more than 50 individuals are watching over 1,000 Google Ads accounts with plenty of different teams being involved. Therefore, we did not want to rely on any sort of trashy email notification but to make sure that:
this solution is very close to our leading system and workflows.
the information is shared amongst the whole client team but assigned to one specific owner (rule no. 1: everything without an owner is low priority).
the solution is immediately actionable.
the action is conscious and trackable regarding whether a certain task is solved or at least processed.
At that point in time, we were heavily experimenting with the API functionalities of the wonderful task management program Asana, our leading system for servicing clients. We have created a system that uses the Google Ads API  to watch out for signals in our clients accounts. This system will automatically create Asana tasks if anything goes wrong – no scripts, as they can break, therefore, it's better to rely on the API. Here you will find more regarding that topic.
From then on, we were able to automatically create an item in Asana called "task" that is fired by signals coming directly out of Google Ads. A task is a concrete action that pops up in your personal task list at the top, tagged as "Alert" (1). Then, your client team (100% awareness) is informed and added as "Follower" (2) – nevertheless, the responsibility is tied to the AccountOwner (4), me in the example below. Last but not least it is super actionable, as the specific campaign is only one click away (3). By the way: You can simply activate your email notifications, which will forward the tasks as completed to your inbox and label it as "FYI".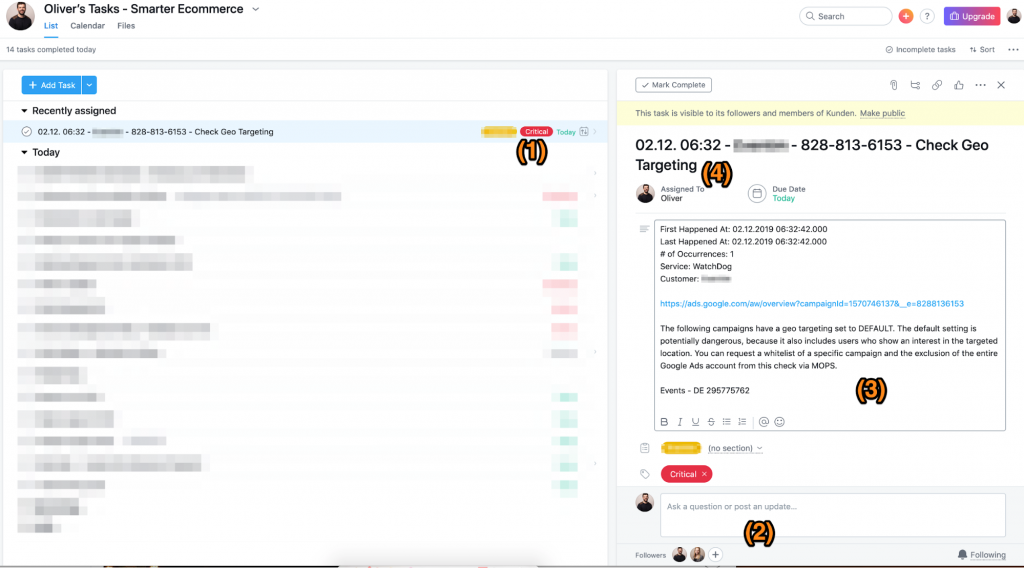 All in all, Asana is a scalable solution with maximum reliability. During the test phase, we have experimented with tons of other alerts (performance alerts for specific performance deltas, feed quality alerts) but have left the final authority regarding system and quantity of alerts to the Account Managers. This implies that the system is highly customizable based on the Account Manager's specific client portfolio. Furthermore, there is quite an interesting case of so-called "false positives" in statistics that can be tamed by the Account Managers themselves, as they prevent spammy alerts that are no real danger for the account, but could potentially create some sense of stress.
Consequently, having integrated this task management system into our daily routine provides us with a good feeling, less stress and moreover, it is more efficient – the latter being strongly impacted by optimising working conditions.
How to invest your newly gained time?
Simply invest that time in "Account Strategy" or "Strategic Consulting", but basically this is just Buzzword Bingo par excellence – something you will often hear in this context, too often in my opinion.
Here at smec, we follow a very hands-on approach of delivering top-notch consultancy to our clients. We form domain knowledge-grounded hypotheses our clients' data might reveal and check whether these hypotheses are true. If so, we will define actions to further elaborate on them and aim for improving the account's numbers.
For example, my highly appreciated colleague Mike Ryan, Product Manager Whoop! at smec, delivered that sort of complicated, data-sourced groundwork you can reliably act on. In a nutshell, his blogpost revealed that Amazon aggressively activated their inventory in Shopping ads across multiple industries – with no signs of slowing down. Brands and retailers looking to maximize their holiday sales volume this year should expect sustained investments from Amazon. I strongly recommend reading his article, which you can find here.
Based on the provided data, Account Managers derive actions for their clients that are:
highly relevant with regard to strategy
actionable and within our scope of action
derived from data and processed with reliable methodologies.
In order to prepare our clients for the Black Friday race and with the picture of Amazon in mind, we recommended actions such as emphasizing and using margin data to push profitable products that can survive competitive CPCs and thereby act as a door opener. This leads to more overall account efficiency plus some additional growth – with parts of the assortment so that you are actually capable of keeping up with competition.
smec provides highly strategic and actionable consulting with immediate results. Here, I just want to highlight the work of our Product Managers and Product Marketers who constantly feed our client teams with ideas and stories that are the groundwork of tailormade consultancy.
So, that was smec's look behind the scenes and how we have managed to get rid of – or at least consciously control – C-Tasks in a scalable way while delivering best-in-class consulting services for our 400+ clients – without any robots.
Our conclusion so far
There is absolutely no doubt that machines bring along a certain degree of reliability when it comes to efficiency, process optimization and error resilience and should therefore be integrated wisely. So, no robots are going to take our PPC jobs, nevertheless we have learned that …
"wisely" means to tie in certain alert systems or processes very closely with the actual working style of your Account Managers or Customer Success Managers.

the work starts with the first iteration of any alert. From then on, ongoing refinements and dedicated roles are key to success in order to constantly improve things.

mining and processing data is the integral component for a hands-on consulting approach. Basically, you need a combination of creative and technology-driven people to deliver effective hypotheses for strategic consulting.