Subscribe to join thousands of other ecommerce experts
We love Google Shopping and Shopping Ads. We really love them. And we gained a lot of experience with our customers. Because of that we realized there is a real paradigm shift with one of the most common definitions in ecommerce. We are talking about the Long Tail.
Do you remember what Chris Anderson said about the Long Tail? It was 2004 when he wrote an article for wired:
Forget squeezing millions from a few megahits at the top of the charts. The future of entertainment is in the millions of niche markets at the shallow end of the bitstream.
Many operators of online shops and SEA experts argue with the classic Long Tail approach: 20% of the products (top sellers) are responsible for 80% of the revenue. However, if one observes the revenue generated from shopping ads, it can quickly be established that about 80% of the products are responsible for 80% of the revenue here, whereby only one or two conversions fall back upon the individual products themselves.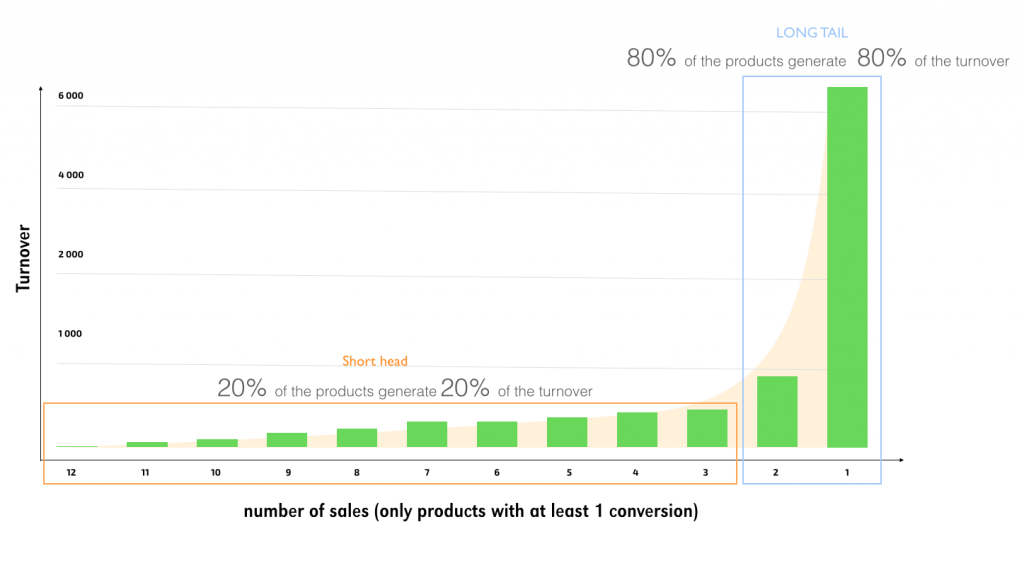 Outdated Understanding of the Long Tail Approach in the Case of Google Shopping Ads
Moreover, it can generally be determined that not only the demand, but also the product range of each online merchant will become broader. At the same time, the conversion possibility with Long Tail keywords is significantly higher.
This presents e-commerce operators and those responsible for online marketing with new challenges. In order to properly advertise Long Tail products, several factors are decisive. The sales possibilities of individual products should be able to be ascertained in order to determine which financial expenditure the product range should be advertised with. Ideally, it should be advertised precisely where demand arises, resp., where need can be created.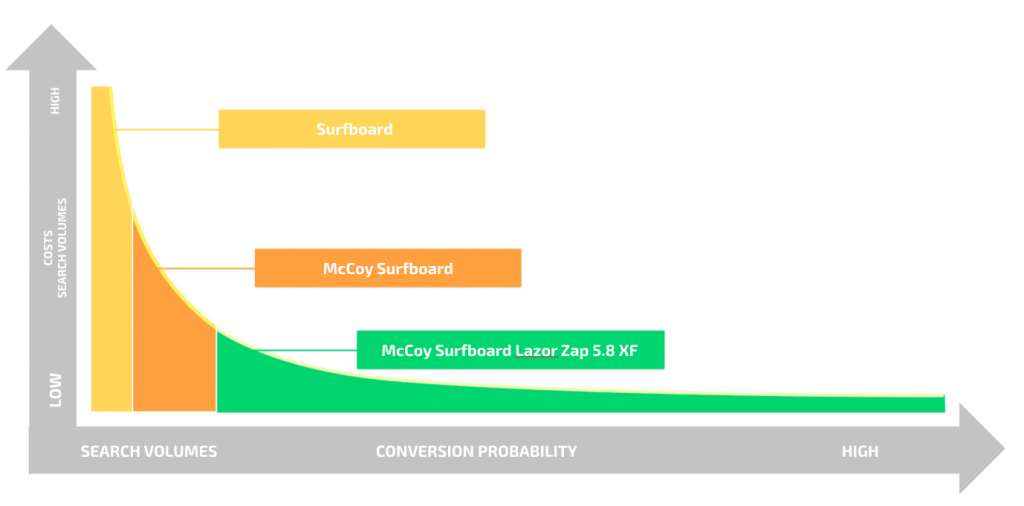 Text Ads vs. Shopping Ads vs. Dynamic Ads
According to current analyses, the performance of shopping ads continues to be stronger than classic text ads, which is why online merchants in particular should bank on this format, resp., should not even try to get around it. Text ads can also be created to precisely fit to the product; potentials for cross-selling and up-selling can be utilized through extensions such as, e.g., enhanced site links. Especially interesting are the new dynamic ads which do not draw on keywords, but are dynamically created on the basis of website contents. The ad title is dynamically generated according to the search request and the indicated landing pages.
Utilizing Synergies
Even if shopping ads tend to be more successful than classic text ads: Both formats coexist very well and do not cannibalize each other. It is the combination of various advertising channels that precisely leads to enormous synergy effects – insights from users' search queries can flow into other channels or also into maintaining the product data in the shop – the full potential of the Long Tail products can be used in this way.