Subscribe to join thousands of other ecommerce experts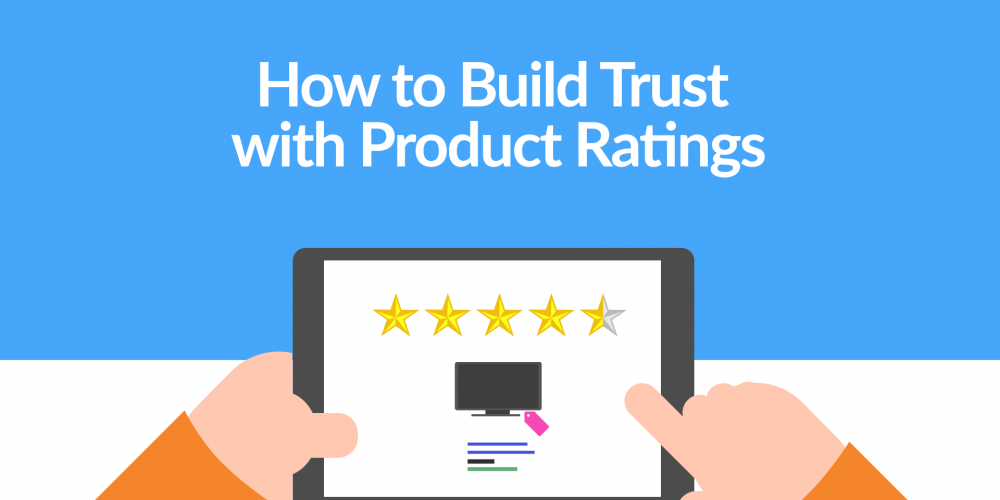 We understand how important product ratings are when building trust and building a retail brand. We understand these ratings help build trust. We know that properly embedded product ratings and reviews can help an online retail business increase sales and revenue.
Tl;dr
What are Product Ratings
They help you to build trust and transparency
Customer feel safe if they see rated products and purchase these products more than others
Third-party tools can help you with organizing and managing
Product Ratings are also available for Google Shopping
What are Product Ratings?
Many retailers across the web allow product ratings. Amazon is probably the most famous site with product reviews. Customers are encouraged to post a simple rating of the product from 1 to 5 stars and then leave a review. The reviews can be as a simple or as detailed as the reviewer wants.
We have all looked at the reviews on Amazon and other sites before making a purchase. We know if a lot of people are giving a good review then the product is probably pretty good. It certainly takes a lot of the guesswork out of buying something, especially if the product is expensive.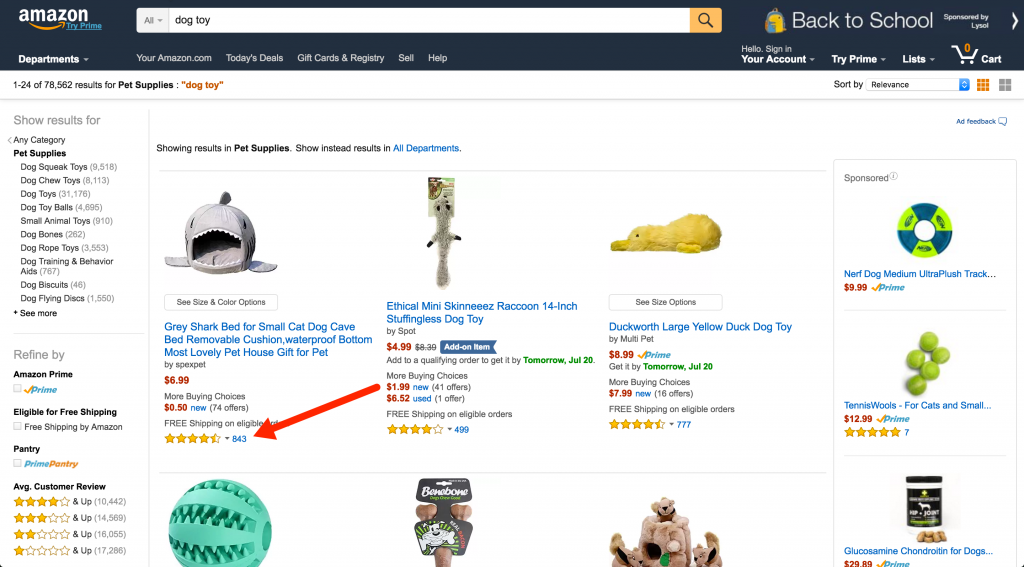 These ratings will provide information needed to make an informed purchase of the product. They include possible problems, new uses for the product, and positive experiences. Many reviews also expand on the manufacturer supplied product information. In fact, Amazon customer service workers will sometimes advise customers to check out the reviews to find answers to their questions.
Advantages of Product Ratings
Product ratings provide several major advantages for online retailers. First, they provide a voice to your customers. Second, they take some load off the customer service department. Third, they build trust among customers.
Everyone likes to have a voice and product ratings provide that voice. Not every customer is always happy with his or her purchase. Those who leave ratings are opportunities to reach out to them and improve their experience.
These ratings will also reduce customer service workload. Customers can find the answers to their own questions and not have to queue on the phone, wait for an online chat, or send an email. Instead of answering questions about products, customer service representatives are able to spend their time dealing with customer service issues.
Any rating also builds trust with customers. Studies have shown the correlation between trust and online reviews. Not every online review is the same but customers, by and large, trust ratings.
Product Ratings Means Trust
Ratings build trust for products, brands, and online shopping sites. In the book Groundswell: Winning in a World Transformed by Social Technologies published by Forrester Research, studies were conducted about retail trust on the net. Consumers were asked which online opinions they trusted the most.
83% trusted friends and acquaintances who used the product
75% trusted a magazine, newspaper, or TV review
63% trusted a known expert
60% trusted reviews on a retailer site
50% trusted reviews on an online consumer opinion site
37% trusted information on chat rooms and discussion board
30% trusted blogger reviews
We find it quite telling that people trust reviews on a retailer site nearly as much as they trust a review from a known expert. In fact, this difference may be statistically insignificant. It's surprising that they trust reviews on a retailer site more than they trust reviews on an online consumer opinion site.
It would seem from this study that the more reviews that a retailer has on their site, the more trust that they will garner from customers. Even negative product reviews can help gain trust among customers.
One thing not specifically mentioned in this study is that online product reviews need to be looked at in the aggregate. This means that one or two reviews may not have the same desired trust effect as many different reviews. This goes back to the common belief that one person may be wrong, but it's less likely that 100 people are wrong. This isn't always the case, but probably applies when it comes to simple things like an online review.
---
Try the first and only tool specially designed for Google Shopping!

---
Businesses Benefit from Product Ratings
Trust is a key component of any sales or marketing effort. If your customer doesn't trust you, then it's hard, if not impossible, to make a sale. If they trust you, then it's much easier to make them feel good about making the purchase. This is the biggest reason why businesses benefit from reviews.
Take Advantage of Product Ratings in Your Business
Now that you know what product ratings are, their advantages and how businesses can benefit from them, let's talk about how to take advantage of product ratings in your business. A few steps can help your business take advantage of the trust that ratings can provide and help your business build even more trust.
Choose the Right Review Platform
Don't rely on third-party consumer opinion sites for reviews. You have very little control over the reviews and how they are presented. You want to have your rating section to be an integral part of your site. Each product should have its own rating.
Proactively Reply to All Reviews
Reply with kind words and an understanding spirit to all reviews, good or bad. This includes all reviews made on your site and other 3rd party consumer opinion sites. Make your reply both in public and in private through email. Give thanks to those giving a good review and use the bad reviews as a tool for improving your business. Acknowledge valid complaints and show that you are working on whatever issue your customer has.
Don't Hide Bad Reviews
A bad product review can hurt sales of that product, but it's not all negative. Studies have shown that customers prefer seeing a few bad reviews vs. all positive reviews. Why? They feel that the site is being honest. Don't delete or hide bad reviews. Deal with them honestly.
Highlight Good Reviews
If you have a testimonials section of your shopping site, use excerpts from good reviews in this section. Change the testimonials on a regular basis so that different reviews receive coverage. Customers love having their good words highlighted and being made to feel important. This shows your appreciation for their kind words.
Ask Customers to Leave Ratings
This is important and often overlooked. People most likely to leave a review are customers who have a less than golden view of a product. This can and should be balanced out with customers who had a positive product experience. Send an email after every order asking customers to review their purchases. The email can be automated and include a direct link to the product rating page. Remember that more ratings increase the trustworthiness of the ratings. Another strategy is providing rewards for honest reviews. It can be useful for encouraging customers to leave product ratings.
Ensure that everything you do when it comes to product ratings works to build trust. Trust is a self-fulfilling prophecy. The more trust that you build through reviews and ratings, the more those product ratings are trust and the more your business is trusted. As studies have shown, reviews on your retail site are trusted by 60% of consumers when making a purchase online. Leverage this trust to build more trust.
Product Ratings in Google Shopping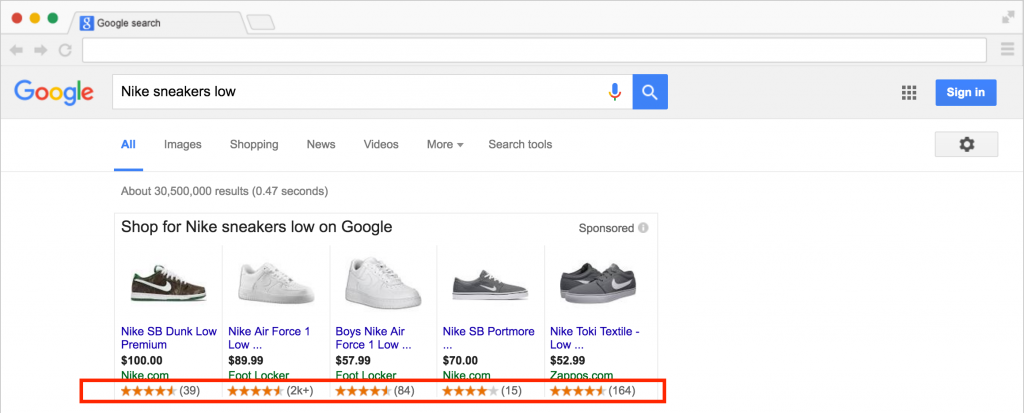 If you're using Google Shopping you can also benefit from Product Ratings. If you'd like ratings to appear on your Google Product Listing Ads, you need to have at least 50 products reviews and fill in a form. At the moment they are available in the following countries:
Australia
France
Germany
Japan
United Kingdom
United States
Google also support third-party product rating platforms:
Conclusion
Product Ratings are great for building trust and show transparency. You should definitely use them. Today's third-party tools make it easy to integrate them into your shop. Even using them with Google Shopping is not a big challenge. Product Ratings are User-generated content and can give shoppers a feeling for security by reading about others who have purchased and used these products.