Subscribe to join thousands of other ecommerce experts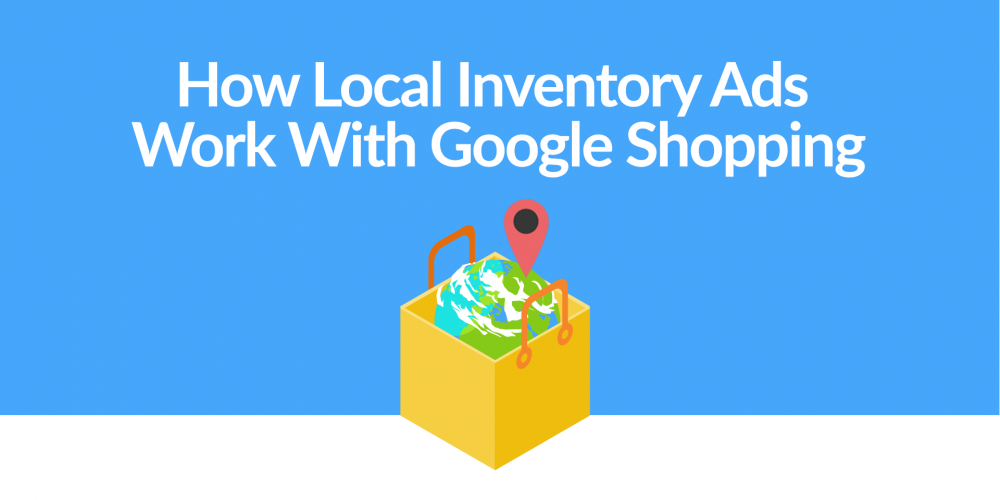 As it relates to Retail, E-commerce conjures images of shoppers scrolling computer or mobile device screens for products. When something hits a shopper's fancy, the shopper adds the desired items to a "shopping cart," proceeds to checkout, enters credit card information to pay, and then waits for the package.
According to the U.S. Census Bureau, E-commerce sales reached an estimated $97.3 billion (seasonally adjusted) for the first quarter of 2016. To be sure, this type of Retail appeals to customers who yearn for flexibility and less time and expense fighting traffic. Your shoppers can spend more time browsing and comparing by clicking on items rather than perusing aisles of multiples stores.
Customers Are Still Coming to the Stores
However, the Internet does not figure to eliminate the brick-and-mortar model of Retail. The drawbacks to totally online shopping including the risk of hackers stealing credit card and other personal information of customers, the absence of face-to-face interactions with the sellers, the chances that unscrupulous retailers can perpetrate fraud, and the inability to inspect the items before (especially with clothes). If your customers need something in a hurry, E-commerce is not the optimal way to shop.
A few numbers reported by Google reveal shoppers are attracted to the physical stores perhaps more than the cyber ones:
Brick-and-mortar places will catch 90 percent of global sales
Approximately 75 percent of those searching for nearby merchandise via the smartphone arrive in the store within the next day, with 28 percent of that foot traffic purchasing something in the store
Approximately 84 percent of consumers search locally for merchandise
According to Google, every 100 clicks on store advertisements generates between 10 to 18 store visits. Thanks to Google Shopping and its advent of Local Inventory Advertising, your customers can reap the benefits of both E-commerce and the brick-and-mortar stores.
Testimonials From Users
Retail bulwarks such as Sears have noticed positives from Local Inventory Ads through Google. Sears testifies:
The store visit rate grew by 122 percent (that's more than double)
The click-through rate (CTR), which is the number of clicks on an ad divided by the number of impressions (the number of times an ad is shown), increased by 16 percent
Achieved a "Return on Advertising Spending" (ROAS) five times greater than through television spots. (ROAS is the amount of revenue earned from advertising divided by the amount spent on that advertising.)
Earned $8 dollars of sales in the stores for each dollar spent on Local Inventory Ads.
According to Google, Sprint's entry into this marriage of E-commerce and in-store Retail has yielded the wireless phone company five sales at its physical locations for every online sale.
A Virtual Storefront
With Local Inventory Ads, a shopper clicks on your Google advertisement and lands on a Google-hosted page. This online "storefront" provides your address, pinpoints your location on a Google Map, displays your hours, and tells the customer whether you're open or closed when they're browsing online, and your inventory.
Google Shopping lets your page tell the customer whether the item is "in stock," has "limited" availability or is "out of stock." Shoppers can also learn the inventory status by searching for the product and clicking on your ad, along with other Retail establishments' ads, for the item. These advertisements counteract the frustration of having your shoppers battle congested streets or traversing several miles only to meet disappointment that you don't have what they seek.
Your customers can, with a "store pickup" link, order at their laptop or mobile device and retrieve the merchandise at your store. With your customers coming to the store, your other wares are available for their consideration. "Store pickup," therefore, is another way to spread your PPC across multiple sales.
Availability and Eligibility
Currently, Local Inventory Ads are available for retailers in the United States, United Kingdom, Germany, France, Australia, and Japan.
The thrust of this advertising is to drive customers to your physical store, not to a website or online transactions. Thus, you must have an actual, physical place of business where you sell your wares in the country in which you target the advertisements. You must open your store to the public; Google doesn't allow "by appointment only" or "appointment required" policies. Your store must carry and sell physical merchandise and you can't condition the sales on the purchases of additional items such as a club or store membership.
The Costs
Google doesn't charge you upfront for advertising. You pay based on the number of clicks on your advertisement or other links to land on one of your pages or website. This is called Pay-Per-Click (PPC). In Local Inventory Advertisement, a click to your Google-created "storefront" generates a PPC. Once the customer gets to your "front door," the clicks and interactions there are on the house courtesy of Google.
With the ability to drive people to your store, Local Inventory Ads can make your PPC go further for your business. As shoppers come to your store for what they clicked on Google, you have the opportunity to draw them to your other products and get more sales.
Putting Local Inventory Ads Into Effect
Local Products Feed
With a delineated text file or XML file, you use Google Merchant Center's local products feed to tell your customers about the products that will appear on your storefront.
You assign an "ID" to each item. With each "Item ID," choose a product title that matches popular Google search terms and, thus, will drive customers to your site. For ideas, take note of how your competitors' ads appear. For instance, if they use the brand name and model number, you might want to do likewise. Google's "Keyword Planner" allows you to research potential words and forecast the traffic generated by certain keywords.
Include in your descriptions features, which may depend on the product. For example:
Laptops. Screen size, gigabytes (i.e. storage capacity),whether the laptop is touch screen and the color.
Sofas. Color, pattern, fabric, number of seat cushions.your item details may include the color, pattern, fabric and number of seats.
Avoid using one item ID for multiple colors, patterns or other variations of the same attributes. Include age groups in your description of toys or video games. Otherwise, avoid lengthy descriptions as they cause potential customers to lose interest.
For clothes and other apparel items, you'll need an item group ID. Your descriptions must include the color, size; whether the item is male, female or unisex; and the age group.
You can also include images of the product and a link to them.
Local Product Inventory Feed
This is where you tell the shoppers about the price, any sells and whether you have their desired item in stock. Here, you obtain a code for each location of your store. For each item (for each location) you feature in Google Shopping campaign, feed the price (including sale price), how long the sale runs and the quantity in stock. Google then displays on your local store front whether your item is "In Stock," "Out of Stock," or in "Limited Availability."
You'll need to register the feed only the first time you submit it. Once you register, you can upload the information to Google. To take full advantage of the real-time aspects, you should schedule automatic feeds to Google. For local product inventory advertising, consider updating at least once a day.
Google Verification
As part of the implementation, you'll get a visit from a Google representative to your store. The representatives meet with the store manager, gather a list of your merchandise and review items found to be out of stock. Google says it works independently and does not take photos of the merchandise, remove products or interrupt with your store operations. Verification may also occur over the phone.
Start your Local Inventory campaign
In your Google Shopping campaign, click the box for "local inventory advertising" in the "Settings" tab.
Once you have enabled Local Inventory Advertising, you can subdivide your stock into groups based on whether you're offering the products online or in the store, or both:
A "Channel" segment refers to whether the product is available online or in the store;
A "Channel exclusivity" segment determines whether the product is available in only one or in both channels.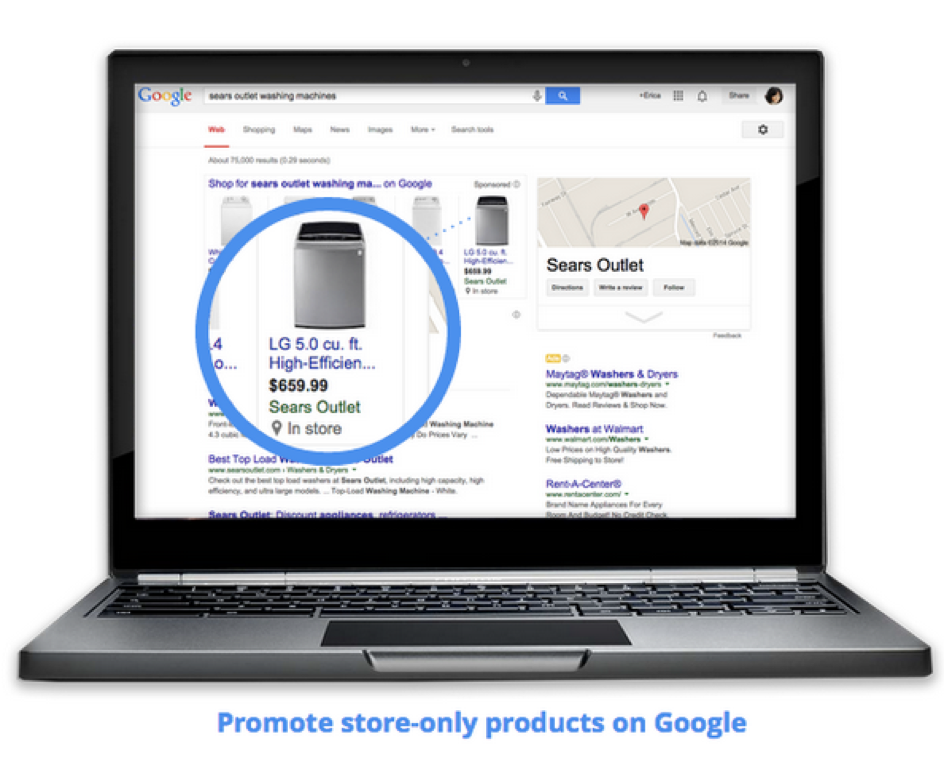 For example, if you filter products in your Google Shopping campaign to have an in-store "channel" and a single-channel for "Channel Exclusivity," then you're telling the shoppers that they can buy the product only at your store. You can see how your local channel performs by going to "Campaigns" in Google AdWords and selecting "Shopping Ads – Local" in the "Segments" drop-down menu.
As with Google Shopping keywords, PPC rates depend on whether customers can buy the particular product only at your store or at both the store and online. Inventory you offer on a multi-channel basis – at the physical location and online – may command a higher PPC bid than products you sell only at the store.
Conclusion
With Google's Local Inventory Ads, E-commerce and the walk-in store traffic can work as partners in your efforts at successful Retail. If you adopt this marketing approach, consider whether you'll have time to perform the constant updating of your inventory, product offerings and prices necessary or whether you need to choose someone to maintain the campaign for you.