Subscribe to join thousands of other ecommerce experts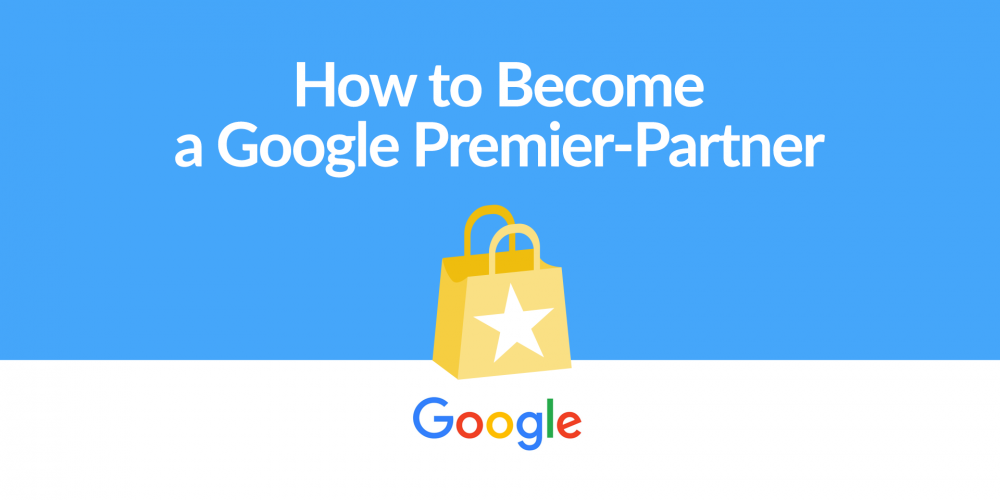 Since last month Smarter Ecommerce, also known as smec, finally became a Google Premier-Partner. This is the highest rank you can achieve at the Google Partner Program. In our case, Google acknowledges us as an AdWords certified partner and approves that we qualify for Google's highest standards and quality criteria. We are now officially listed as a trustworthy service provider.
In this blog post, I'll show you what advantages you will have as a Google Premier-Partner and what preparations were needed to earn the Google Premier-Partner badge.
Tl;dr
smec is now Google Premier-Partner
What advantages you get as a Google Premier-Partner
How to get the Google Partner badge
Being a Google Premier-Partner is something special and we are proud of being one of only a few companies holding the Google Premier-Partner badge – keep in mind: it is the highest Google certification that exists.
What are the advantages?
First and foremost Google reviews qualified and competent customer service. They also check if you as a company can guarantee, that the marketing budget is invested at the best customer interest. Being a Google Partner means that at least two individuals established in-depth AdWords skills and meet AdWords spend requirements.
At smec doing the AdWords certification (+ others like Shopping, Analytics, etc.) is part of the onboarding process for every employee.
We want to ensure the best possible advertising solutions for our customers, no matter which department they work in. For example, also our front-end developers have a certification.
"Our expertise gained over years working with hundreds of customers is the strong fundament of our worldwide successful PPC Shopping Ad and Search Ad Automation tools. The Premier-Partner status is an important achievement for our attitude of no compromise in quality and high process standards." says CEO Jan Radanitsch.
We have a great relationship with Google and a long track history with their representatives. We are in constant communication about new or upcoming features and as a Premier-Partner we get access to a large number of benefits. Here are some of the benefits that come along with being a Google Premier-Partner:
showing the badge on our website, other online properties, and offline marketing materials – which, of course, is a big credibility boost for us as a company

having a company profile and visibility on the Google Partner Search website

invitations to exclusive Google events

access to advanced training and support

the ability to earn company specialisations
(source: Google)
Our company achieved four company specialisations so far, including Search Advertising, Mobile-, Display- and Shopping Advertising. All company and individual certifications of our team can be looked up here.

How to get the Google Premier-Partners badge
In order to get the Google Premier-Partner badge, you need to complete four steps.
Step 1 – Company Profile

To be listed on the Google Partner Search, we had to create a Partners company profile. This profile includes basic information about our company such as the agency's name, website, contact information, description and services offered.


Step 2 – Certification

To fulfill the certification requirements, at least two employees need to accomplish the Google AdWords Fundamentals and an additional advertising exam in order to provide advanced AdWords knowledge. At our company every team member owns at least the Google AdWords and Shopping certificate, so this step was not a big challenge for us 😉


Step 3 – Spend

Google Partners need to invest at least $ 10,000 in AdWords within 90 days across their managed accounts. Google Premier-Partners need to invest even more. The minimum AdWords budget varies by country and market area. For example, currently, we manage over $25 Million media budget with our Shopping Ad Automation tool in 90 days. Unfortunately, there is no detailed information about the exact amount for every country.


Step 4 – Company performance

To meet the performance requirements, we had to deliver solid overall AdWords revenue and growth. Additionally, we had to ensure (and proof) that our quality remains on the highest possible level and that our customer base is constantly growing.

To accomplish these four steps, close and good relationships with our clients are essential.
Thank you!
We know that we would not be able to achieve Google's highest distinction without our satisfied clients. That's why we want to thank each of our loyal customers for the support and trust in us. You rock!
We're looking forward to continue this successful journey with you and will work even harder to grow and evolve your business even further.

Update February 2020:
By the end of June 2020, Google will update the requirements needed to qualify as a Partner. To be eligible for the Partner status in 2020, you need to meet certain conditions:
Meet the performance requirements – you need to adopt Google's recommendations to a certain degree.
Achieve a 90-day ad spend minimum requirement of 20,000 USD across your managed accounts.
Your company needs to have at least 50% of its eligible users earn updated certifications using Skillshop.

After you have met the requirements listed above, the Google Partners program will then grant Premier status to the top 3% of the participating companies each calendar year. Evaluation will be done on an annual basis by Google and the status may not be available for all markets. We will keep you updated as soon as additional information is available. Click on the link to find out more!