Subscribe to join thousands of other ecommerce experts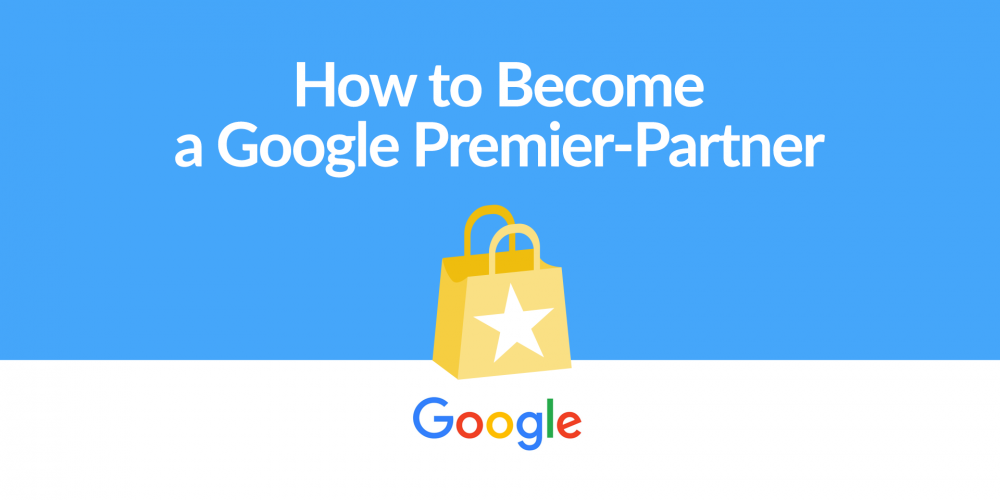 Update 2023
Smarter Ecommerce, also known as smec, became a Google Premier Partner in 2016 for the first time and kept the status ever since. This is the highest rank you can achieve at the Google Partner Program as only the best 3% of the Google Partners receive this recognition. In our case, Google acknowledges us as a Google Ads certified partner and approves that we qualify for Google's highest standards and quality criteria. We are officially listed as a trustworthy service provider.
In this blog post, we show you what advantages you will have as a Google Premier Partner and what preparations were needed to earn the Google Premier Partner badge.
Tl;dr
What advantages you get as a Google Premier Partner
How to get the Google Partner badge

About smec as a Google Premier Partner since 2016
Being a Google Premier Partner is something special and we are proud of being one of only a few companies holding the Google Premier Partner badge: it is the highest Google certification that exists.
What are the advantages of being Google Premier Partner?
As a Premier Partner, we at smec have a great relationship with Google and a long track history with their representatives. We are in constant communication about new or upcoming features and as a Premier Partner we get access to a large number of benefits. Here are some of the benefits that come along with being a Google Premier Partner:
Account and technical support

The ability to earn company specialisations (Product education & certifications)

Consumer insights reports
Product betas

Showing the badge on our website, other online properties, and offline marketing materials – which, of course, is a big credibility boost for us as a company

Having a company profile and visibility on the Google Partner Search website

Invitations to exclusive Google events

Premier Partner awards participation
(Full list of benefits available here: Google)
How to get the Premier Partner badge
First and foremost Google reviews qualified and competent customer service. They also check if you as a company can guarantee, that the marketing budget is invested at the best customer interest. Being a Google Partner means you need to fulfil a set of requirements. 
In order to get the Google Premier Partner badge, you need would first need to complete three requirements and become a Google Partner: 
Step 1 – Spend

Google Partners need to spend at least $ 10,000 in their registered Google Ads manager account within 90 days. Google Premier Partners need to manage even more ad spend.


Step 2 – Company performance

To meet the performance requirements, we had to exceed the minimum optimization score of 70% in our Google Partners registered Ads manager account. With this requirement you need to adopt Google's recommendations to a certain degree.


Step 3 – Certification

Your company needs to have at least 50% of its eligible users have up-to-date certifications using Skillshop. This becomes harder and harder to accomplish, especially as Google announced stricter requirements for new certifications. You would need to take a picture of a photo ID, take a picture of your face, record a video of your test taking environment and meet even more requirements. In addition at least one certification is needed in each product area with campaign spend of $500 USD or more (in 90 days).

To accomplish these three steps, close and good relationships with our clients are essential. If you fulfil the requirements, you will find your badge by checking your Google Partner status in your Google Ads account under "Partners program" tab.
After you have met the requirements listed above, the Google Partners program will then grant Premier status to the top 3% of the participating companies each calendar year. Evaluation will be done on an annual basis by Google and the status may not be available for all markets.
About smec
At smec doing the Google Ads certification (+ others like Analytics, etc.) is part of the onboarding process for our account strategists.
We want to ensure the best possible advertising solutions for our customers – from day one.
Our company achieved many company specialisations so far, including Performance Max, Campaign Manager, Creative, Display Video 360, Search Ads 360. All company certifications of our team can be looked up here and our Premier Partner status can be checked here.
"Our expertise gained over years working with hundreds of customers is the strong fundament of our worldwide successful PPC Shopping Ad and Search Ad Automation tools. The Premier Partner status is an important achievement for our attitude of no compromise in quality and high process standards."

Jan Radanitsch, CEO
Update October 2018:
At Partners Accelerate on October 16, 2018, Google called on Europe's most elite digital marketing agencies, certified professionals, and tool providers to gather at the Dublin headquarters for the Premier Partner Awards. We at smec are proud to be among the winners in the category Shopping Innovation.
Thank you!
We know that we would not be able to achieve Google's highest distinction without our satisfied clients. That's why we want to thank each of our loyal customers for the support and trust in us. You rock!
We're looking forward to continue this successful journey with you and will work even harder to grow and evolve your business even further, together.
---
This article was originally published on July 18, 2016 and covered the specifics of becoming a Google Premier Partner.