Subscribe to join thousands of other ecommerce experts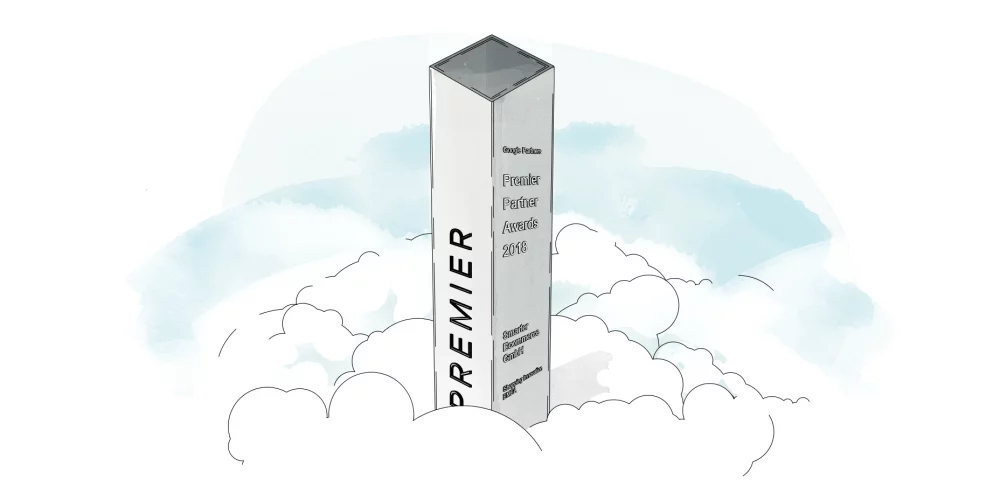 At Partners Accelerate on October 16, 2018, Google called on Europe's most elite digital marketing agencies, certified professionals, and tool providers to gather at the Dublin headquarters for the Premier Partner Awards. Of all the Google Partners, only the Premier Partners – those who have met Google's most demanding standards – are invited to participate in the competition. Judging between these top agencies is a duty Google takes quite seriously, using a four-round process including senior Google management, independent jury panelists, and supervision by the accounting and auditing leader Deloitte. The judging criteria included: campaign quality, campaign performance, innovation, and use of technology.
For the category Shopping Innovation there were 83 applications, each requiring an in-depth campaign case study with Google-verified performance, plus a carefully-argued presentation of the applicant's approach to innovation. It was a highly competitive field, and the finalists can all be proud. However, best means best – and for the Deloitte and Google jury, the decision was clear: smec is unmatched. That means unmatched campaign quality, unmatched campaign performance, unmatched innovation, and unmatched use of technology. smec was therefore awarded the Shopping Innovation award for Whoop!, our Google Shopping management solution.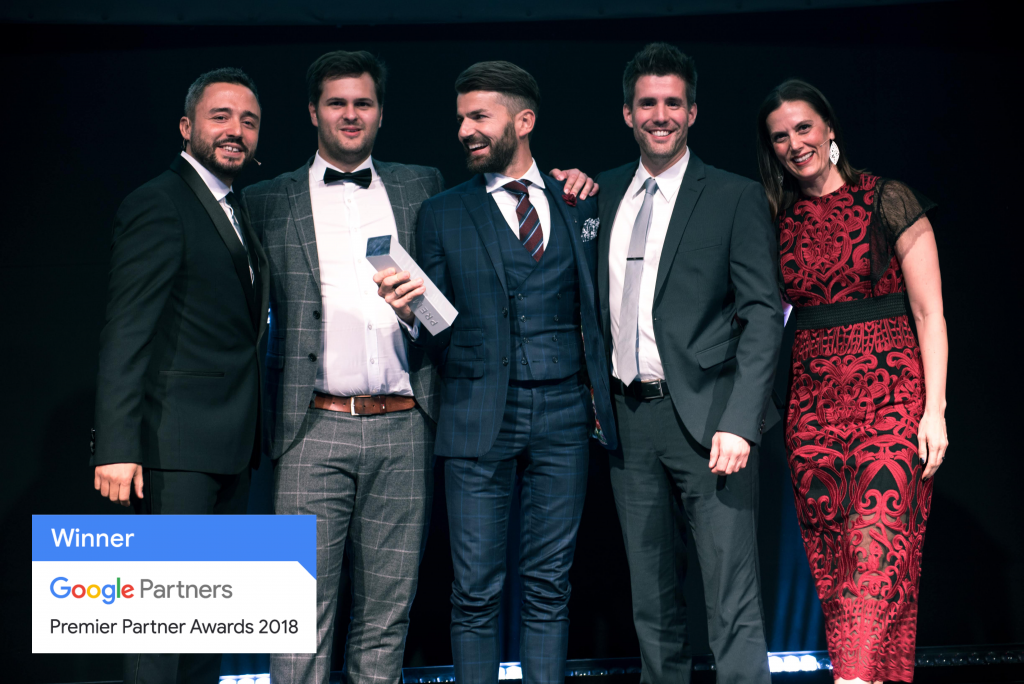 "Smarter Ecommerce has been named as our leading Partner in Shopping Innovation . . . We would like to take this opportunity to thank you for entering the Premier Partner Awards and for the impactful results you are helping your clients achieve. You really are the best-in-class!"
The Google Partners Accelerate Team
Behind the scenes: smec's award-winning case study
smec won the 2018 Google Premier Partners Award for Shopping Innovation on the basis of our best-in-class tool, Whoop!, alongside our distinctive collaboration with a leader in the UK Home & Garden industry: Robert Dyas Holdings Ltd. Thank you and congratulations to the ecommerce team at Robert Dyas!
With over 140 years of experience in the home and garden industry, and led by renowned businessman Theo Paphitis, Robert Dyas is a dominant player in the UK's modern retail industry. The company offers first-class product selection and customer service across 94 locations – all at market-leading prices. In addition to their many shops, Robert Dyas is also highly engaged with ecommerce, offering 15,000 products online and attributing 30% of their online revenue to Google Shopping alone.
As committed marketing professionals, the ecommerce team at Robert Dyas strives to defend and maximize their online investments. The team aims to deliver strong, reliable year-over-year revenue growth, while also keeping an eye toward healthy return on ad spend (ROAS).
Previously, Robert Dyas managed their Google Shopping campaigns via a UK PPC agency, who split up campaigns into profit tiers and optimized manually from there. But with nearly a third of their substantial online revenue at stake, the ecommerce team decided to take control into their own hands. They required absolute clarity in their Shopping investment: transparent return levels and performance-validated strategies. All Robert Dyas needed was the right toolkit and support to maximize their capabilities, which is why they chose Whoop!.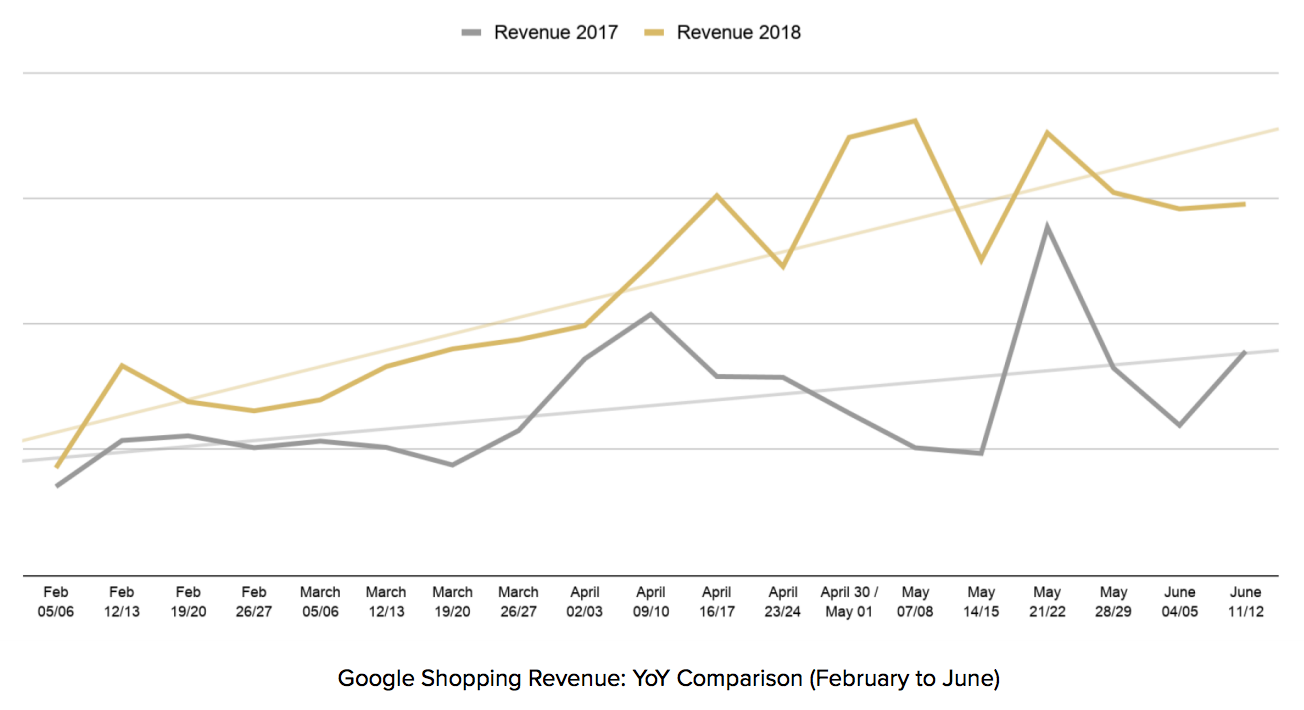 Whoop!'s innovative features enabled Robert Dyas to achieve +71% YoY growth
For Robert Dyas, deploying Whoop! as an automated solution in Google Shopping has multiplied their in-house expertise, while offering outstanding levels of granularity and control. Whoop!'s innovative feature Advanced Bid Strategies offers retailers powerful capabilities via a creative use of Google's custom labels feature. Dozens of our clients use this feature in imaginative ways with strong outcomes. But Google found our case with Robert Dyas particularly remarkable.
The approach was to structure the campaign at the item level (standard for Whoop!), then split the campaigns by desktop, mobile, tablet, and finally cluster items into 14 goal groups according to margin class. In other words, powered by machine learning, Whoop! enabled Robert Dyas to automatically bid toward specific goals per item per device per margin class. The results of this unmatched innovation are a steady +71% YoY growth that is tightly aligned with profit needs. These results are not about "growth for growth's sake", but solid, clear returns that reliably exceeded targets on an already highly-optimized account, where growth is harder to achieve and numerous tens of thousands of Pounds Sterling are at stake every week.
"Whoop!'s advanced bidding strategies (ABS) made it easier for us to group our products by margins, thus giving us greater flexibility over our bidding approach and helping us to adopt a much more targeted methodology for achieving our ROAS goals."
Rachel Dinneen, Ecommerce Marketing Manager, Robert Dyas
Your Google Ads campaigns deserve the best.