Subscribe to join thousands of other ecommerce experts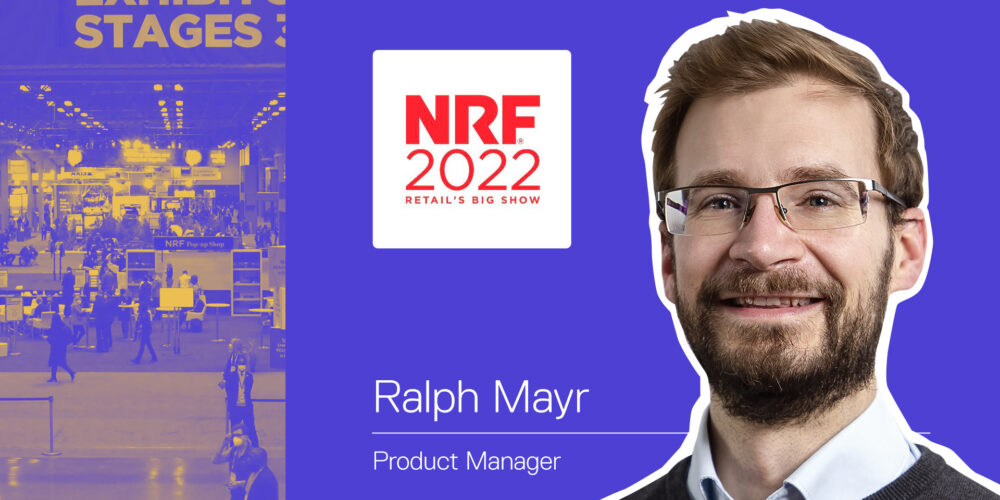 January is an exciting month for retail: Consumers and employees alike are returning after a well-deserved break, the final numbers of the previous seasons holiday sales are coming in, and organisations are preparing for the year ahead. Therefore, it isn't surprising that the U.S. National Retail Federation holds its annual gathering—modestly titled The Big Show—exactly at that time of year. So, what are the current retail trends and is there a "next big thing" in retail? 
Industry reunion after two years
Due to a pandemic-induced interruption, this was the first time since 2020 that retailers, industry experts, vendors, and analysts were able to meet up in person on such a large scale to discuss retail trends.  For this event, thousands of people, of course all vaccinated, masked, and tested, came together at the freshly renovated Javits Convention Center in New York, from January 16 to 18.
Read on to learn more about our four key takeaways regarding retail trends or jump directly to the content: 
By the way – if you rather listen than read: Our NRF 2022 recap is also available as an exclusive episode on our podcast Growing Ecommerce.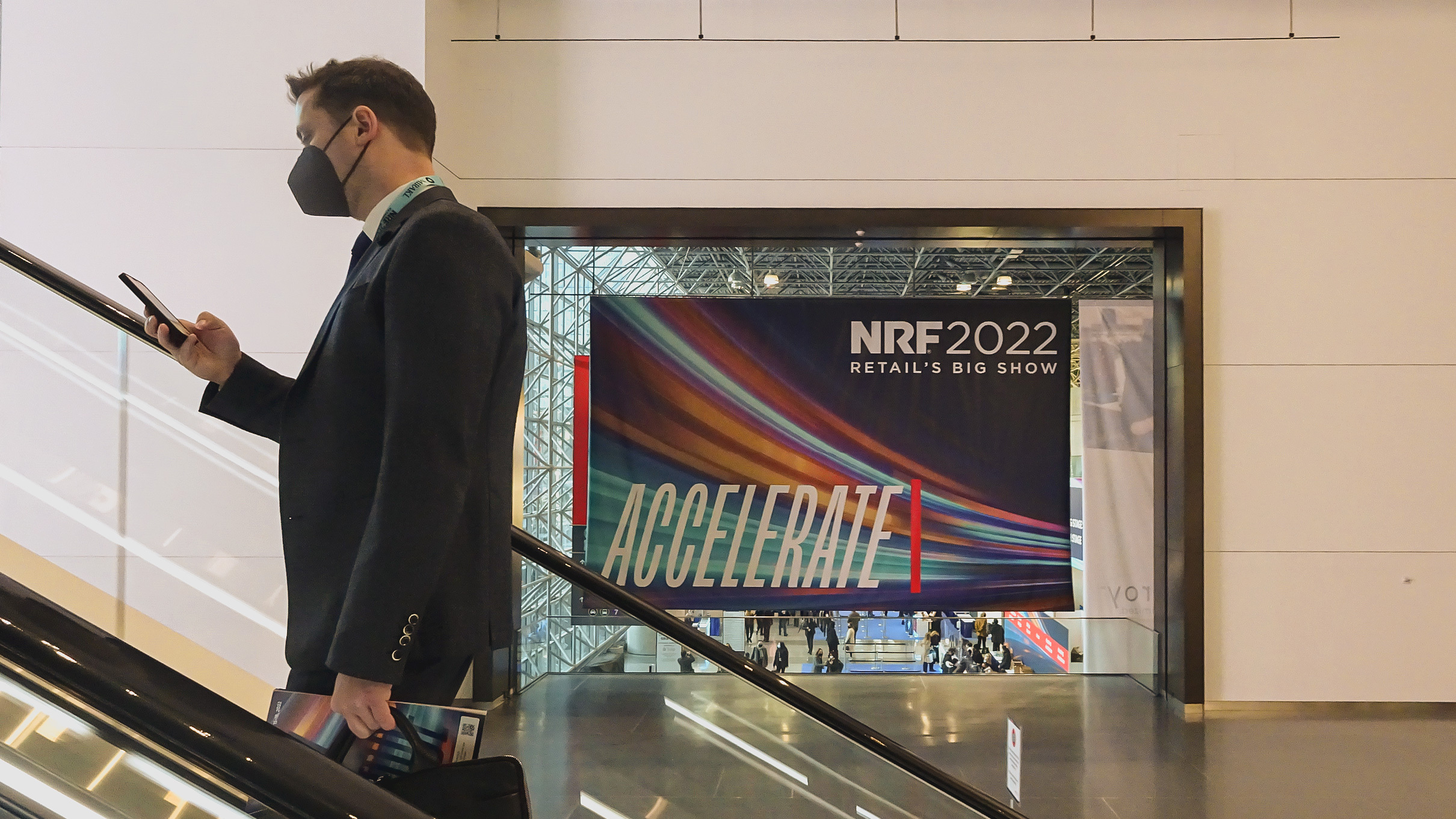 Time to reach new heights in retail
The overall theme of this year's Big Show was Accelerate, and the title wasn't chosen by accident: The industry is eager to continue the pace of innovation it demonstrated to be capable of in the early days of the pandemic—and consumers are expecting nothing less. While COVID-19 and its widespread repercussions on the world and the retail industry were omnipresent throughout the entire conference, the organisers did ensure that a much broader variety of issues also got a fair share of attention. As devastating as the pandemic was (and continues to be), one key takeaway is undeniable: It unleashed a huge potential for innovation in retail which lay dormant before.
1. Innovate or die
Industry giants like Walmart, Target, or Best Buy are not necessarily the first names that come to mind in conversations about retail innovation. However, during the pandemic their stores suddenly turned from mere shopping venues into critical infrastructure and their employees became "essential workers". Thus it was them that even those behemoths had to change and adapt quickly to those pressing retail trends. 

Pandemic challenges
New health and safety measures, the unprecedented surge in e-commerce sales, coupled with the need for novel fulfilment models (like curb-side pickup or click & collect) provided ample challenges to tackle for retailers with thousands of physical outlets. It also became clear throughout the conference: Now is also the time for consolidation. 
Why it matters for retailers
While the consequences of the COVID-19 outburst were unprecedented for the global economy, it is not to be said that this has been the last crisis on a worldwide scale. Retailers have to integrate the hubbub of new workflows, systems, and integrations that they have experimented with over the past two years into their overall infrastructure – given that they want to continue innovating sustainably. 
2. It's all about Data, Analytics, and Personalisation
Data is still a hot topic and also one retail trend in the spotlight at the NRF conference. New tools, altered processes, and novel integrations generate massive amounts of data. Therefore, it did not come as a surprise that sessions on AI, machine learning, and big data were especially cherished by the conference crowd.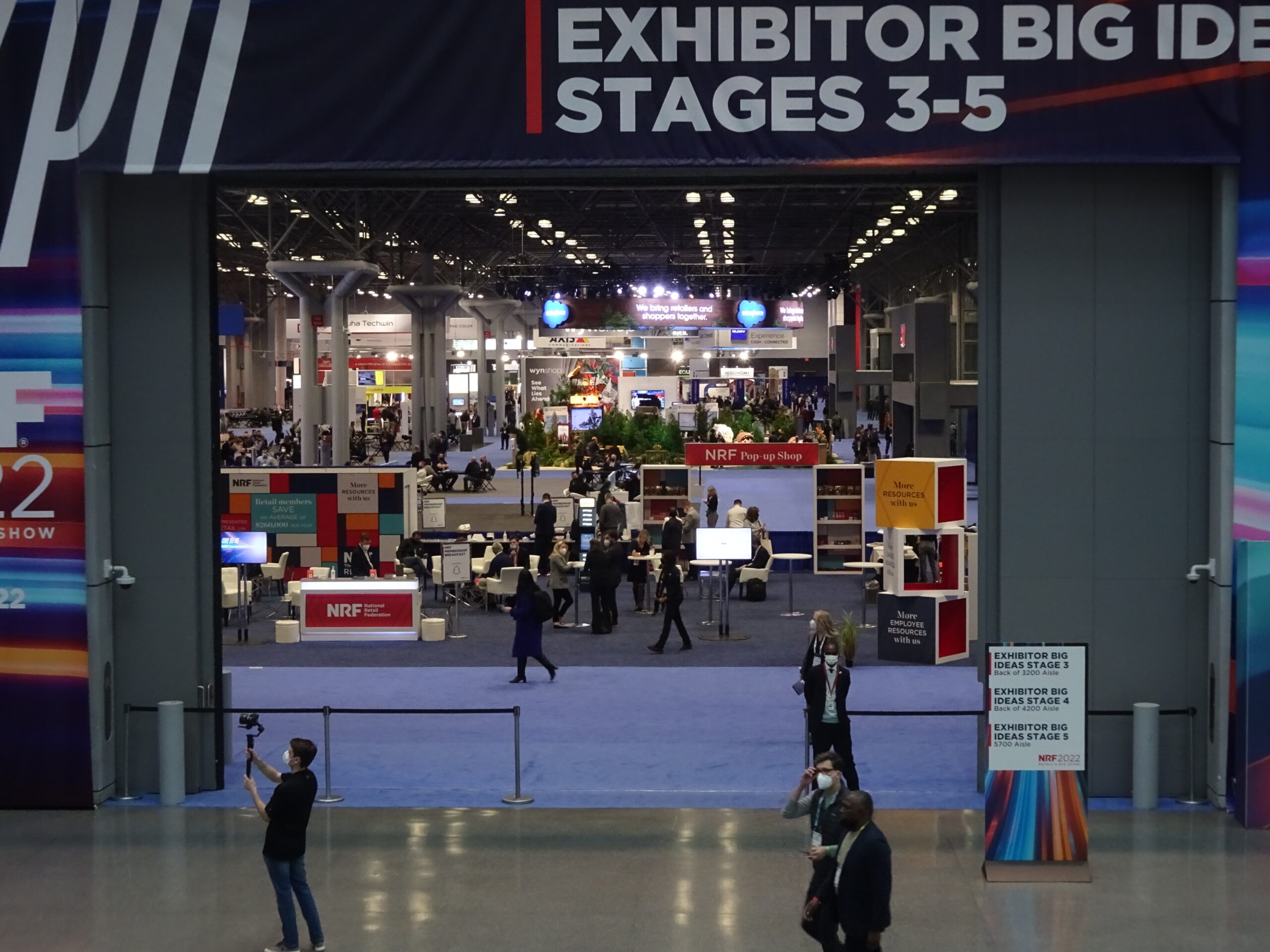 Selected highlights on the latest retail data trends
Under Armour shared their own "Data Culture Journey" in an engaging deep-dive talk. For the sporting goods giant with an increasing focus on DTC commerce, the most important challenge was to give their employees access to the appropriate data at the right time in order to speed up decision making. Their chosen path was via an internal data platform, operated by a small, dedicated team, which is populated and consumed by the business: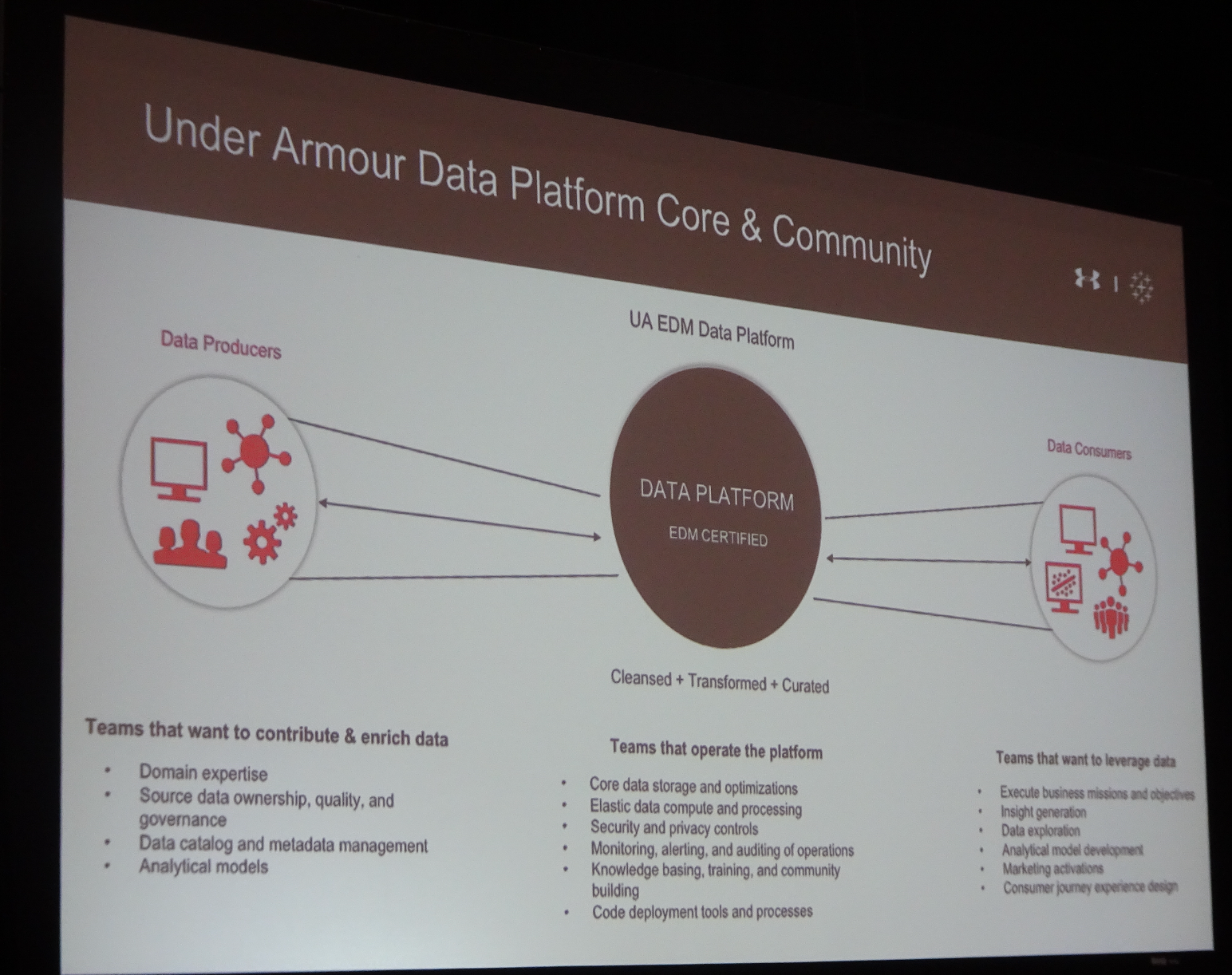 Pete Nordstrom on the other hand thinks that amongst the current retail trends personalisation is the most important lever that retailers can pull—given that they have the right data and analytics capabilities. He emphasised that the last thing consumers want is to waste hours browsing through page after page on Nordstrom.com, desperately looking for something they might like to purchase. But how can the retailer give them the right level of guidance? Especially when they have the contradictory goal of enlarging their assortment to offer a broader variety in mind as well?
The storefront, according Nordstrom, has to provide individual suggestions and ideas based on the latest fashion trends, popularity among other visitors, and the customers personal shopping history. This approach enables Nordstrom to foster long-lasting relationships with each and every customer. 
Why it matters for retailers
The pressing importance of data strategy should not come as a surprise to most retailers. The questions is: How to best leverage this data treasure both internally and externally? Retailers have to unleash the potential of exactly this data as soon as possible if they don't want to miss out on the next level of innovation.
3. Let Data Optimise Pricing & Inventory
In many break-out sessions, retailers discussed the steep learning curves they went through on their digital transformation journey.  Juan Francisco Hernandez, Omnichannel Pricing Director at DICK'S Sporting Goods, shared their experience with three key items:
Start small

: Pricing and discounting are huge fields of application, but it's impossible to eat the entire elephant in one bite. For DICK'S, the choice to focus on markdown pricing at first, and then incrementally moving upstream to tackling larger problems such as promotions or introductory pricing as well, was key for building trust in the new system.

Start with the data you have

: While it might be tempting to throw in everything and the kitchen sink, the greatest value typically comes from retailers own, first-party data. That includes accurate information about demand and returns, granular availability and costing data, as well as e-commerce channel-specifics like CPCs and click-through-rates. Integrating external data sets, such as macroeconomics, trends and forecasts, or even weather or the latest COVID infection numbers can be beneficial, but the marginal gains are a lot smaller.

Don't neglect the expertise of your people

: At DICK'S, decisions about which discounts to apply for which markdown items where and when ultimately remains a human choice. However, these experts, who remain fully in the driver's seat, are in a much better position though when their experience is augmented with reliable data and strategic scenario planning and what-if simulation capabilities.
Why it matters for retailers
Instead of relying on expert opinions alone, retailers are advised to leverage their data power by creating an environment in which pricing and discounting decisions are made based on data. Combining internal and external data with in-house expertise is what allows retailers to stay ahead of the competition. Finally, it's no use to wait for one's data to be in perfect shape before kicking off initial experiments. 
4. Big, bigger, Megatrends
Aside from the omniscient technological advances, societal and generational tensions were also aptly discussed at the conference.
We are better when we are diverse
The fact that Monday coincided with Martin Luther King Day only made the need for more diversity, equality, and inclusion even more visible. Retailers and their management teams, argued Ken Chenault (former chairman of American Express and now chair of General Catalyst) and Maurice Jones (Chief Executive Officer at OneTen), have to become more reflective of their customer base when it comes to race, age, and gender in order to serve all of their constituents equally well.
A new consumer generation is on the rise
Future generations of shoppers, and how to capture their attention, was the focus of Kate Ancketill's talk, CEO and founder of GDR Creative Intelligence in London. Her ambiguous answer was twofold: On an increasingly complex landscape of social channels, including Snapchat and TikTok, as well as in the Metaverse. The spending power of generation's Z and Alpha (those born after 1995), according to some predictions, will have dwarfed that of baby boomers and millennials combined already by the year 2030. It's therefore essential for retailers to meet these potential customers on their favourite apps, in virtual worlds such as Roblox, but also in reimagined physical stores. Those should turn from locations in which sales happen on a simply transactional basis into interactive, experience-oriented spaces. Augmented reality can play a major role there, but also purely virtual interactions will become increasingly important.
"Gen Alpha, currently ages 0-12, will be the first generation to grow up in the #metaverse. They will prefer digital goods to physical goods."
– Cassandra Napoli, Senior Strategist @wgsn #NRF2022 pic.twitter.com/QkJ9jt4fmC

— NRF Big Show (@NRFBigShow) January 17, 2022

Into the Metaverse 
Cassandra Napoli, Senior Strategist, at WGSN Insight, agreed: According to Bloomberg, global Metaverse spendings could amount to $800 billion already by 2024. That includes new business models such as direct-to-avatar, but also the owning and selling of virtual land, and, of course, advertising. Her conclusion: Investing in the Metaverse now is like buying land in Manhattan 250 years ago. Whilst these developments sound futuristic to many retailers, they are already a reality: Nike, Gucci, Adidas, and other prominent brands already built up presences in the Metaverse, industry giants like Walmart are following suit, and entire cities such as Seoul, South Korea, are not lacking far behind.
Why it matters for retailers
Megatrends are shaping our world – and are here to stay. Therefore retailers should not neglect these developments either. Changing demographics, rising awareness for sociocultural topics and new digital possibilities go hand in hand with the need to constantly innovate retail processes, services, and offers.
Conclusion
To sum it up, retailers have to invest deliberately in order to set themselves up for success in a world that's gone from e-commerce-first, to mobile-first, to app-first, and—soon maybe—Metaverse-first. Leveraging the power of internal and external data, drawing the right conclusions also pricing- and inventory-wise, keeping an eye on global trends and developments are retail's biggest trends and challenges – all under the umbrella of innovation. However, if the past two years taught us anything, so the key takeaway of Matthew Shay, the NRF's President and CEO, then it's that the retail industry is definitely prepared to do so. You just have to commit to it. 
Hungry to get more insights from the world of (online)-retail? Join our experts as they discuss key NRF takeaways and its implications on changing retail environment in the latest episode of our very own podcast Digital Momentum: