Subscribe to join thousands of other ecommerce experts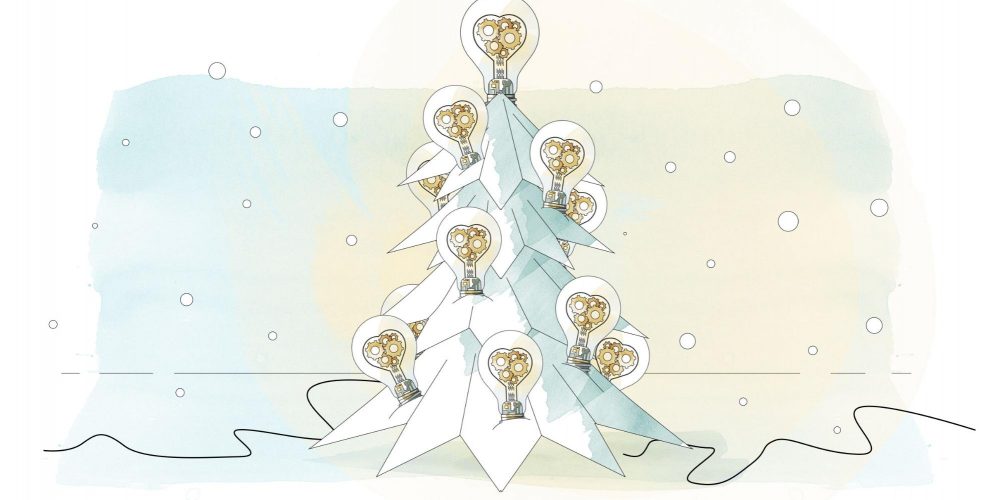 The following text is a Christmas-themed fairytale inspired by our established innovation process here at smec and shows how innovation could actually go. Give it a read and enjoy! 
How it all began
Some weeks ago, a young colleague came up to me with a very interesting and – at least to me – quite surprising idea. He wanted to "compose" the next Christmas superhit – using an algorithm created by us.

As we always say: An idea is worth nothing, unless you have a team of people truly burning for it. Therefore, we went on a quest throughout the company in order to set up a team for this innovation initiative. Luckily, here at smec we are highly open to new ideas, so we ended up with more than enough people believing in this idea, who also brought along highly specialized knowledge that would help us on our journey to the next hit.
Our project team consisted of three Christmas carolers, two bassists of a heavy metal band and the colleague who had pitched this idea – and who had actually never learned an instrument. How fortunate that all of them were highly-skilled programmers or data scientists.

Pre-pitch: the first hurdle to overcome

As you already know from my former blog articles, we have four quality gates and four steps in the innovation process here at smec. The first hurdle is the pre-pitch, a one minute elevator pitch providing a short glimpse of the idea, its value proposition and the target segment.

In this very specific case, namely to compose the next number one Christmas record, we defined the idea as follows:

The idea and goal: to create a new Christmas superhit. The value proposition: using an AI algorithm to create the next "Last Christmas" winter song, a song that should bring joy and happiness to all (and in particular, to those who've enough of the original). Of course, the target group is huge and includes every person who loves Christmas.

All in all, the pre-pitch was successful. Half of our staff voted for the idea because they simply love Christmas. The other half just hoped for another "Last Christmas" hit.

The Walt Disney Method

We strictly followed the process and the next step was to brainstorm concepts to tackle our value proposition. Furthermore, in order to push our creative skills to the next level, we used an adapted version of the Walt Disney Method: Everybody had to slip into a role in order to look at our idea from a different perspective and take inspiration from it. In our case this meant thinking like Santa Clause (responsible for keeping the mood "christmassy"), George Michael (as he wrote and produced the last "Last Christmas"), Dieter Bohlen (the German titan of pop music for continuous feedback), Kevin (yes, the one from Home Alone) and – last but not least – Buddy (the Christmas elf).

In the end, we came up with 24 shiny and more specific concepts for our superhit-creating algorithm and three ideas went into the final voting:
Building an algorithm that creates the perfect melody to an existing text
Building a theme-based algorithm with predefined topics you can select
Hoping for a Christmas miracle
With just four weeks left until Christmas, we started to match those concepts against each other.

A contemplation of potentials

In his first pitch, the original idea creator was able to sweep away the audience, so to say, as we ended up in the second-pitch phase of our innovation process, where we started to investigate the market. We discovered  that there is a huge number of people out there trying to do the same thing: creating the next "Last Christmas". Many of these are focussed on manual work, which is, of course, not scalable and therefore no direct competition for us.

Our goals were:
The Christmas song must be 10% more effective in making people want to dance or sing the lyrics.
The average smile of listeners should last for the whole first minute without any interruption.
After listening to the song for 24 hours straight without any kind of interruption, people should still be in a healthy and, moreover, a sane condition.
Based on our goals and with the pressure of having only two and a half weeks left until Christmas, we started to create a concept for the MVP for the market test.

A minimum viable Christmas product – or MVCP

Although some Heads of our departments were skeptical about conducting a market test, the innovation initiative passed the second pitch as well. So, finally, we were ready to create an MVCP and perform a market test. It was also helpful that we had our smec Christmas party, where we could get feedback for the first time from a real audience.

In the end, we learned a lot. Based on the results, we were able to make decisions that are pushing our company forward in terms of innovating and disrupting markets. But the main reason for sharing this example with you is that it contains some very important lessons for innovation – despite our "christmassy" story here:
There are no bad ideas (as the idea can go into a completely different direction within the innovation process anyway)
Innovation needs to be fun as well, as this increases the chances of converting more and more people into true innovators.
Failing at a certain point in the innovation process should be regarded rather positively – celebrate the lessons learned!
The Christmas fake story reveal

As you might have already suspected while reading this article: There never was such an innovation initiative at smec. This article was written with the sole purpose of sharing our deep belief that every idea deserves a second look – and not a Christmas miracle!

We wish you a merry Christmas and an innovative start into the New Year – may 2020 bring new opportunities and plenty of innovations!