Subscribe to join thousands of other ecommerce experts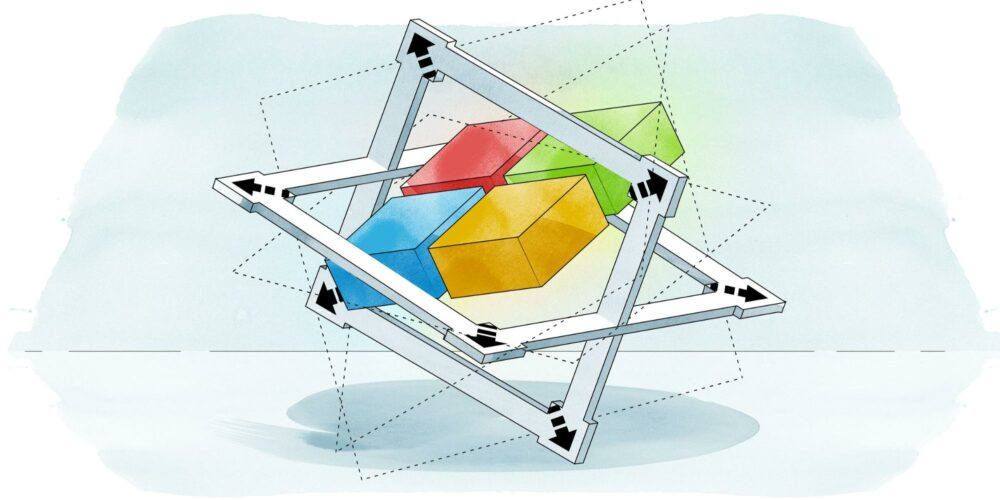 Since 2018, the Microsoft Audience Network (MSAN) has been available in the U.S. and other English-speaking countries such as the UK, Canada, Australia & New Zealand. As of September 2020, advertisers in Germany and France are finally able to explore what it has in store for them too.
If you haven't been following up on what's going on on the Microsoft Advertising front, you may wonder what the MSAN is about and why you should consider using it.
This article will outline what you need to know and provides a brief overview of what the MSAN is. We'll also take a look at its benefits and expected future outlook for the German and French market (based on first impressions).
Still curious? Great, let's move on and look at the Microsoft Audience Network in more detail.
But first, we should still bring some clarity to the following terms in order to be on the same page: Microsoft Audience Network, Microsoft Audience Ads and Microsoft Graph.
Microsoft Audience Network (as defined by Microsoft):
Microsoft Audience Ads (as defined by Microsoft):
Microsoft Graph (as defined by Microsoft):
How Microsoft Audience Network, Microsoft Graph & Microsoft Audience Ads intertwine
Artificial intelligence & data – the fuel of the Microsoft Audience Network
The Microsoft Audience Network is an audience marketing solution built on the Bing Ads platform powered by artificial intelligence as well as data delivered by the Microsoft Graph. It's designed to enable advertisers to reach their ideal customer at the right time with the right message.
The MSAN doesn't only serve as a platform where highly unique datasets provided by the Microsoft Graph are used as the foundation of consumer-oriented advertising, but is also home to Microsoft Audience Ads. These Microsoft Audience ads are served across the Microsoft Search Network, Outlook.com and various partner sites.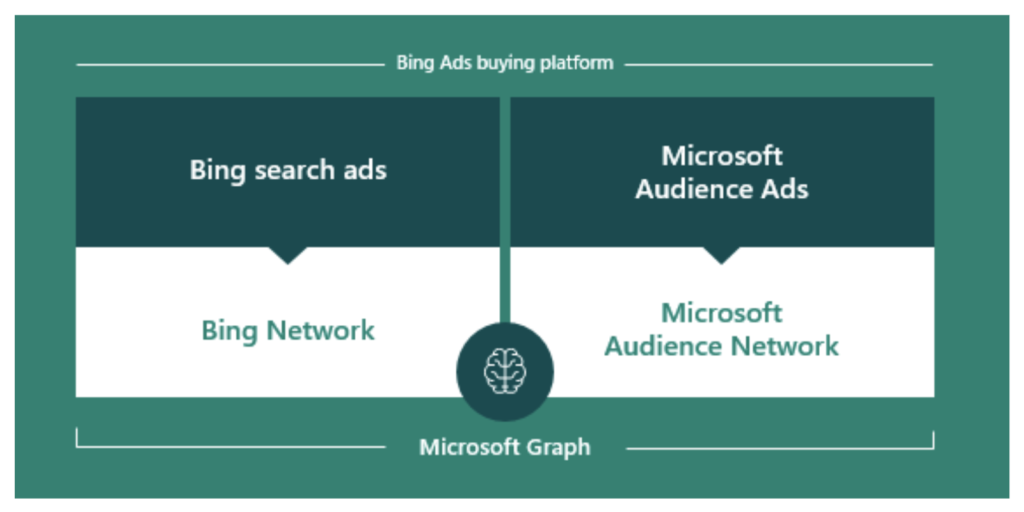 The graph above visualises perfectly what role the Microsoft Graph plays within the Microsoft environment and why it is at the 'centre of everything' – here, I mainly refer to the value it adds by collecting robust user data, mapping and regularly updating it based on user activities. Having such highly valuable data is considered a key competitive advantage for businesses, as it allows them to connect with their most ideal customers at the right time and in the right manner. Search, web activities as well as Microsoft demographics and LinkedIn data are combined and leveraged by the Microsoft Graph resulting in a holistic picture of user behaviour, interest and preferences – all reflected in unique data sets, which advertisers can consult to deepen their understanding of customers. As we all know, having knowledge like this can be a huge advantage in regards to campaign optimisation and messaging.
Targeting options for advertisers
When using MSAN and, thus, having unique data sets assembled by the Microsoft Graph available to use, there are a variety of dimensions for you as an advertiser to select regarding actual targeting options. Currently, you have three options to choose from: for example, target based on user intent, user profile or location and device. Here's a nice visualisation of the targeting options:

Microsoft Audience Ads – available ad formats
Having covered the basics of the MSAN and Microsoft Graph, let's look at Microsoft Audience Ads and available formats for you to apply.
Microsoft Audience Ads – formerly known as Bing Intent Ads or Bing Native Ads – are supported by the MSAN and can increase your reach. As mentioned above, those ads are served across the MSAN as well as partnersites and are powered by the Microsoft Graph & AI.
As an advertiser you have two responsive ad formats you can use on your audience campaigns: image-based ads & feed-based ads. Both "automatically adjust to accommodate the sizes and shapes of native ad formats" (Microsoft 2020).
Quite an interesting side note:
Image-based ads are not only visually appealing but can also be directly imported via your Google Ads account – thus, you can easily use already existing assets available from your Google Display Network, and that is quite time-saving. And, as far as feed-based ads are concerned, you should keep the possibility of dynamic remarketing activities in mind – spoiler: it's easy to implement by connecting your Google Shopping feed via Merchant Center Import to the MSAN.
MSAN – available for advertisers in Germany and France
Now, as of September 2020, advertisers in Germany and France are automatically opted-in in the MSAN provided they have Microsoft search campaigns running. First results currently don't reveal significant information about how reach has been developing in those markets over the past weeks – not just yet. Like many things, it takes time to see more solid results.
What we know so far…
As for the Microsoft Audience Network on the German and French market, there's not enough collected data yet to predict with certainty how the availability of the MSAN in Germany and France has shaped or will shape the market in these two countries. However, based on the insights gained from the U.S., we can expect a similar development in the European market. It may not be entirely clear yet, how long it will take Microsoft to reach similar heights as in the U.S. – it could be months or even years. Anyhow, I assume that in the end it will depend on the number of advertisers testing this feature throughout the upcoming months, what partner websites Microsoft is able to win over (in Europe) and how the market responds to the availability of the MSAN in general.
Looking at the U.S. (as a benchmark), there's a strong indication of a bright future that can be foreseen, also for advertisers in Germany and France. According to the Microsoft Audience Platform Report from December 2019 (comScore, Microsoft Audience Platform Report, December 2019.) reflecting U.S. data, 242 million users were observed and 92% of the U.S. population was reached via the MSAN. So let's wait and see, if Germany and France can catch up on that trend.
What's in for you and tips on how to use the MSAN
To keep it plain and simple, you can highly benefit from increased reach by exploiting the potential of the MSAN. You can uphold brand safety by placing ads complying with your brand safety standards and gain a boost in search volume. In fact, by combining the Microsoft Search Network with the advantages of the Microsoft Audience Network, Microsoft observed a +37% lift in searches post-exposure and a +47% increase in clicks post-exposure (between Jan 2019 – Mar 2020). Clearly, figures representative for the effectiveness of the MSAN.
Given that the positive impact MSAN promised to bring is yet to unfold, I'd like to propose a general measure you could take in order to boost reach: Consider running "pure" MSAN-campaigns (display), which are currently still in closed beta, though. Therefore, only available to use for selected advertisers. However, as one of the biggest Microsoft Elite Channel Partner in EMEA, smec is able to whitelist clients, so…
Outlook
As previously mentioned, only time will tell how fast the MSAN will 'conquer' the German and French market. It will most certainly also depend on the development of Microsoft and how well included partner sites establish themselves within the network.
In short, what can be stated with confidence: When it comes to the expected increase in reach on the German and French market, there's a high chance of seeing similar results as in the U.S. – remember, for example, when Shopping campaigns were rolled out. Now they're an established ad format used throughout European markets.
Having that in mind, we're excited to see the journey of MSAN rolling out in more countries and to share our findings with you!