Subscribe to join thousands of other ecommerce experts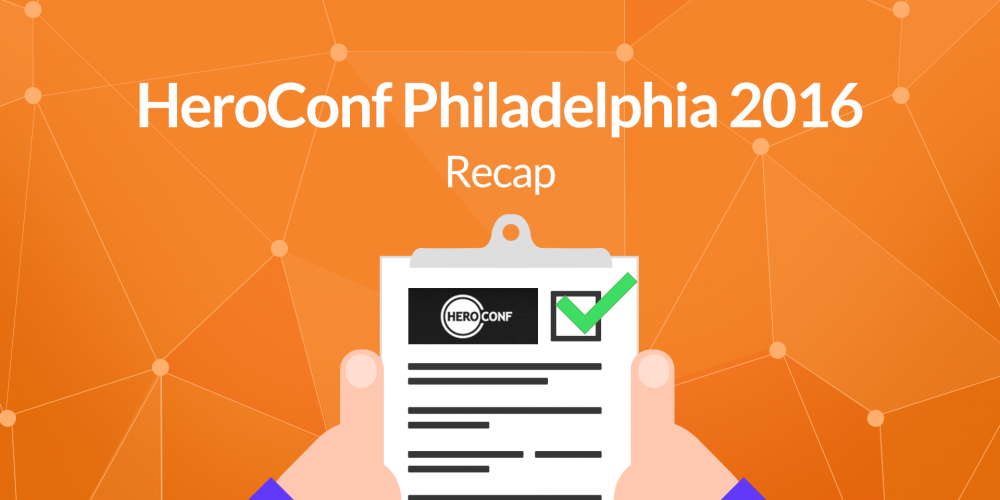 Ok, this might be a bit late for a recap, but I honestly need to say that the HeroConf Philadelphia was awesome and I really want to share this experience. Kudos to the Hanapin team, they did a great job (like always). It was a perfect mixture of networking with PPC people from all over the world and insights from some of the most notable speakers of the paid search world.
Tl;dr
Social Advertising Redefined – by Marty Weintraub
When Abandoning Best Practice is the Right Thing to Do – by Brad Geddes
Advanced E-Comm: You're Finally Here – by Carrie Albright
Shopping Ads. It's the Setup, Silly! – by Kirk Williams
Impressions from the HeroConf
Hey #HeroConf – you ready for this??? #PPC pic.twitter.com/tlGwbcMvot

— Hero Conf (@heroconf) April 25, 2016
I will split up this post in two parts:
The first one gives you a glimpse of the presentations and insights you might have missed.
The second part gives you an understanding how the atmosphere was.
"Social Advertising Redefined" by Marty Weintraub
"Social Advertising Redefined" was the topic of the opening keynote by Marty Weintraub (founder of AimClear) and firstly he clarified that social advertising is definitely a part of paid search, and you should not rely on organic traffic only.
[…] I like organic traffic/marketing, but you can't get enough out of it. […] Without paid marketing you're scr**ed.
He also mentioned that today's marketers are doing more and more tasks which formerly were part of the PR department. Marketers create and sell content and SEO or PPC is all about these things.
There is no difference between SEO and PR.
And how to reach your audience? Marty Weintraub presented a slide where he described the "Coherent Creative Path", which is a process you should more see as an overall strategy (see image below). You start at the top of the funnel and get the users into your marketing system, e.g. this could be a click on your ad. After they visited the first Landing page, they will enter your retargeting list. After this step, they should see a different and adapted Landing page than before. Now just repeat this step until you got a conversion.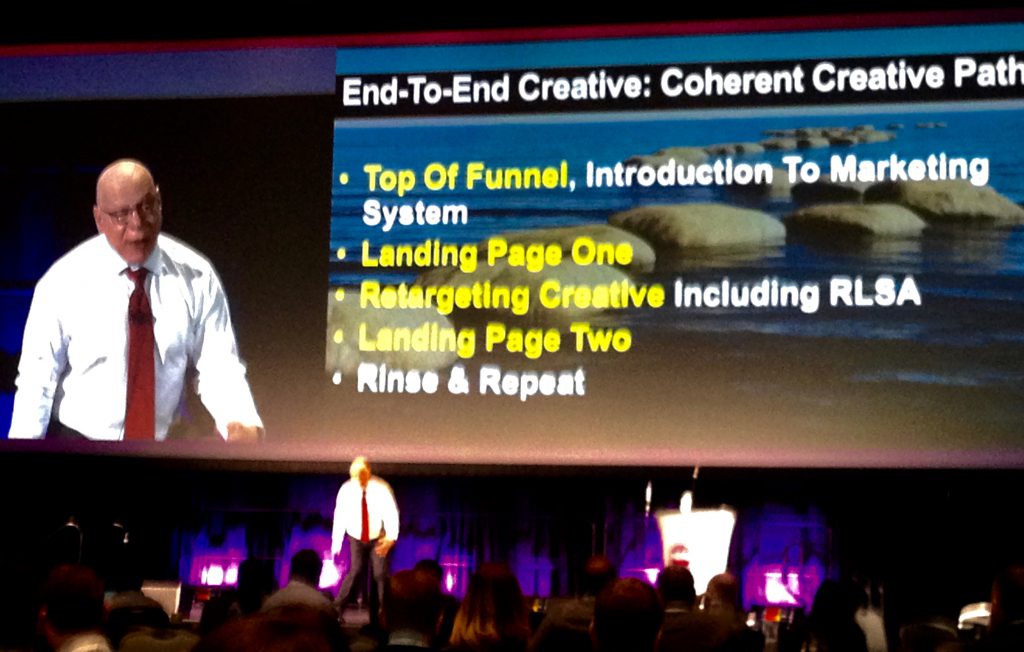 "When Abandoning Best Practice is the Right Thing to Do" by Brad Geddes
The keynote from Brad Geddes focused on the term best practice and why this term might be used over-extensively in PPC. Why does it fail? Brad defined three main reasons:
Simplifying complex problems
Resource constraints / Non-Defined Processes
Failures of a best practice due to exceptions
Let's start with day two and @bgtheory #HeroConf pic.twitter.com/lc3yQ6P7Aj
— Whoop! (@whoop_app) April 26, 2016
A PPC campaign can get very complicated and with this upcoming complexity, a typical reaction would be to simplify the structure or the goals. But, simplifying often means just to formulate a problem in a different way to make it more understandable. The problem itself still exist because complex coherences always stay complex.
Another issue could be if you map a best practice process, which apparently works right at an example, directly to your structure. Maybe your project has limited resources which make it impossible to adapt, or some processes are not defined.
Also, exceptions are a notable point. Did you ever have a project which was exactly similar to project before? The chance is surely quite low.
When the data in this case says, your best practice is wrong, you need to readjust and rethink it based on your dataset.
Of course, best practices are needed and useful. But see them more as a starting place. Brad wrapped it up like this:
Best practices are great starting places.
There are many exceptions:
Most are due to simplifying complex problems
They may (rightfully so) be ignored due to resource constraints
There are some (but not many) actual exceptions to ignoring them completely
Let's sum it up: maybe your mindset is too focused on the term best practice. Sometimes the term common practice is more appropriate.
"Advanced E-Comm: You're Finally Here" by Carrie Albright
Carrie is working as Associate Director of Services at Hanapin Marketing, loves data and is addicted to good food in all forms :). Her talk was an excellent wrap-up what advanced E-Commerce is.
What are these advanced strategies?
Carrie defined the "advanced" in the title as "greatly developed beyond an initial stage". For going beyond this early stage, you should use the following setting, which includes Dynamic Ads, Retargeting, Conversion rate optimization, Customized Ads, Social Media and of course, Shopping feeds.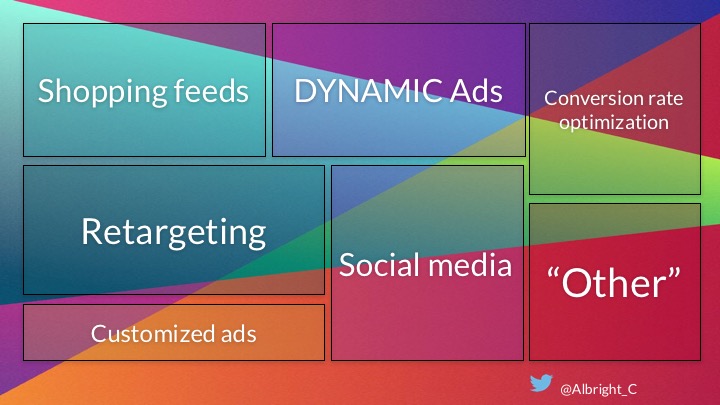 I just want to point out one of these advanced strategies: Shopping feeds.
When it comes to the Shopping feed, we already wrote a lot about it in our blog e.g. how a proper Google Shopping feed should look like. One thing Carrie mentioned, is the importance of GTINs in your feed. This is not only important, but required since Monday 16th, 2016. The use of custom labels is something which is essential, especially if retailers may offer special discounts on certain brands or many seasonal items.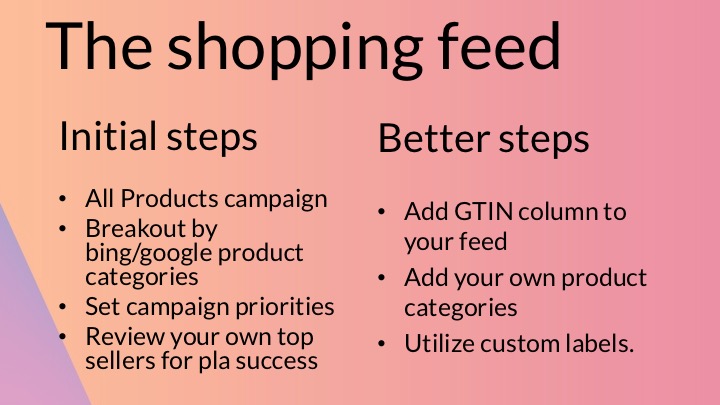 Kirk Williams loves Google Shopping (as we do) and his content about it is always worth reading it (like ours 🙂 ). In his talk "Shopping Ads. It's the Setup, Silly!" he gave us a lot of insights about the daily work with Google Shopping and identified one "Public Enemie" which could influence your performance quite badly: the bidding. Finding the best bids is always hard and many marketers are struggling with finding the right CPC or bid strategy. (BTW: this is one reason we developed our tool, you should definitely give it a try.)
Next to Kirk, Jonathan Sacks (Sr. Manager – Digital Marketing at American Eagle Outfitters) showed us his learnings when it comes to Google Shopping. "The Hidden Optimization of Shopping" was about how you can avoid problems and performance drops. Everybody who already worked with Google Shopping, know that next to the bidding, the product feed is the other big thing to watch out for. I really liked his checklist to avoid feed errors:
And again, it's all about the feed 🙂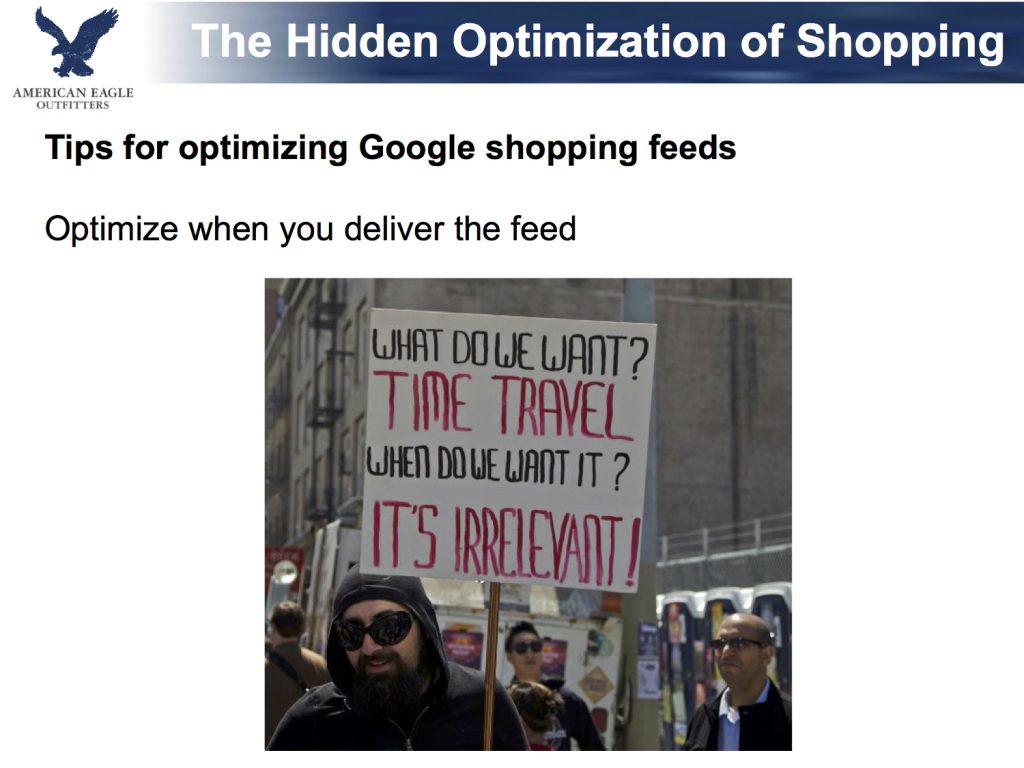 And the winner is…
Congratulations to Ben Goldman, who won a GoPro at our booth. We hope you will have a lot of fun with it 🙂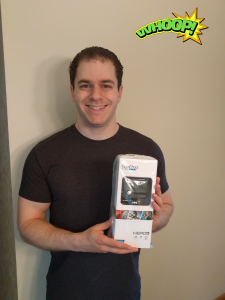 Impressions
As I mentioned before, the organization and atmosphere were simply great. The entire Whoop!-team had fun 🙂
Great to so that many Google shopping enthusiasts at the #HeroConf! Let's have a chat at our booth. Whoop! Whoop! pic.twitter.com/HhNBIvH1wK

— Whoop! (@whoop_app) April 26, 2016
Marty Wintraub is not only a awesome PPC speaker 🙂
Due technical problems DJ Marty is here for your entertainment! with @martyweintraub #HeroConf #ppc pic.twitter.com/OujB74IeSt

— Whoop! (@whoop_app) April 26, 2016
Some background information to this tweet: This was during the last keynote of day 1 ("What Brands Want: How to Build a Healthy Brand/Agency Relationship") and because of the reaction on this tweet, we think that all ppc-people are socks-addicted.
These socks are amazing 🙂 #HeroConf pic.twitter.com/psrJm0Bx6O

— Whoop! (@whoop_app) April 25, 2016
@whoop_app @dannyfrisciaPPC's sock game is on point. ALWAYS.

— Kayla Kurtz (@one800kayla) April 25, 2016

That's how a dynamic ad should look like!
How a dynamic search ad should look like 🙂 awesome! via @Albright_C #HeroConf #ppc #AdWords pic.twitter.com/FulmxkM3IJ
— Whoop! (@whoop_app) April 25, 2016
That's all folks, thanks again to the whole Hanapin-team and all ppc-people who visited us at our booth. See you in London!
Please feel free to share this recap 🙂