Subscribe to join thousands of other ecommerce experts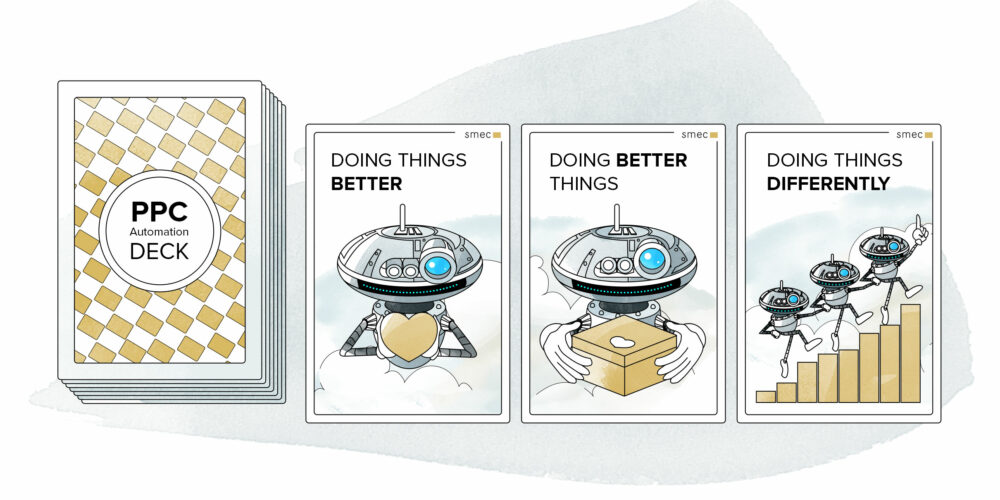 Mastering paid search on Google is a challenge to anyone — lately more so than ever. Digital marketing is an agile, dynamic and fast-paced industry. Substantial shifts and changes can happen in a short period of time. In the current climate of uncertainty, brands have been forced to react quickly to both match demand and secure their own future. 
Before the current shocks to the market, digital ad spend worldwide had been expected to reach over $375 billion by 2021. As of now, the predictions are likely different. But responding to developing events doesn't mean losing sight of long-term objectives. If anything, long-term planning is critical to eventual recovery.  
What is clear is that competition and complexity will continue to rise, and everyone will have to up their game to improve performance and increase conversions. We believe that PPC automation is key to enabling PPC managers the time needed to focus on maximising their impact and streamlining internal processes. 
This is our list of the top long-term outcomes that proper investment in PPC automation can deliver. Use these goals as a benchmark and to help keep yourself on track no matter what challenges you face today. 
1. Increasing revenue with more effective ads 
Google Shopping is one of the biggest growth opportunities for retailers in 2020. Most major brands are already on board, with ad spend surpassing traditional search ads. As a conversion channel, it's proven to be effective. For example, UK retailer Robert Dyas boosted their in-house expertise with new levels of granularity and control. The result was a 71.4% year-on-year increase in revenue.
Such solid performance comes from having control over the right levers. Without this level of control, results suffer. Automation gets you well on the way to saving more and spending less (or at least the same amount) for better results.
Here are some of the key questions in any PPC campaign that automation helps to answer:
What should be my spend allocation by channel?
How should I predict performance?
What will happen to performance with an increase or decrease in spend?
The more performance data you have, the better. To gather the required volume of data to deliver the best results, you should be looking at a spend of at least £2,000 per month on Google Shopping. You then have sufficient data to be able to target specific subsections of your portfolio with individualised goals and behaviours. You could choose to push promotions or adapt to trends, or maybe meet segmented margin demands.
2. Stay ahead of the competition
Not all PPC automation is the same. The software used should balance machine learning with brain power, increasing KPI-driven output while minimising tedious and iterative tasks.
For example, if your software only enables the setting of bids for groups of products, you will only get averaged performance. You should be looking for solutions that aim higher and outdo the competition.
For example, if you have products grouped by performance, there will always be differences in click and conversion potential, trends you have seen before anyone else, or seasonal differences. No product is exactly like the other and the more you can exploit their potential, the more advantage you will generate.
Bidding at the item level is a challenging approach, but also the most rewarding. Manual bidding is a lot of work and you will usually be at the mercy of making bid decisions with not enough data. However, this is where PPC automation can help. By automating these bidding processes, you can spend less time managing your campaigns on a granular level and instead spend more time creating and testing campaigns that give you the data you need — ensuring you succeed ahead of the competition. 
Optimisation is key    
Even if you have maximised your bid potential, you aren't quite there. There's more to Google Shopping than simply outbidding your competition. With Google Shopping, the size of your bid isn't the only factor that determines whether your Product Listing Ads appear for a specific search term. Google's algorithms also factor in the quality of your Product Listing Ads.                                                                                                              
Search term data is wonderful market research for ensuring your ad text is at its best. You can understand what language your customers are using, what questions they are asking, and if there are new competitors emerging. By using PPC automation and analysing your search term data, you can influence landing page copy, content strategy, keyword sourcing in text ads and your broader marketing strategy.
This will ensure you've done everything you can to maximise your bid potential and get the results you want to stay ahead of your competition.
3. Deliver ongoing growth 
Efficiency as a goal on its own is fine — after all, it will save you time and money. But there are greater goals. By making the best use of reduced ad spend wastage and by looking to make the most of time saved, you can focus on the bigger picture. PPC automation gives you the opportunity to get ahead of your competition and grow by spending more time exploring new techniques and new customer segments, better targeting strategies and more ad types – for example, getting to grips with new video formats.
You can also look beyond using PPC ads to create demand for a product or service. You can look at how you can increase brand exposure and build brand awareness. Just make sure that you aren't using the same KPI measures for a brand awareness PPC campaign as you would for conversions.  
Scale your strategy in the right way for you
Taking advantage of AI PPC management tools will soon be necessary to stay competitive and scale your strategy overall. Using the right tools and techniques to make the most of artificial intelligence and machine learning technologies will lead to faster insights and improved performance, allowing you to grow your business quickly and efficiently. The ideal is a combination of AI and human expertise.
What happens when you give up your campaigns totally to AI? You get Google Smart Shopping — and there are certainly pros and cons of going down that road. Smart Shopping campaigns are easy to set up, can generate results and save you a lot of time. For example, you no longer need to think about your product catalogue, bidding, location targeting, exclusions, negative keywords, or how to group and structure your campaigns. 
However, among many restrictions, you won't be able to analyse data from ads on Display, Shopping, YouTube and Gmail to see where your sales are coming from. When activating Smart Shopping campaigns, you will lose control and place your career in the hands of Google's AI. You will also restrict your ability to differentiate — as all your competitors will be doing the same thing – as defined by the same Google algorithms . 
The items you will no longer need are exactly the items that enable you to differentiate your products and search techniques and beat the competition. By automating all of these elements, you have a greater chance of success and expanding your business.
 It's up to you to decide whether you are going with the workable "black box" of Google Shopping or the "black hole" of Smart Shopping. When you are looking to get an edge over your competition, taking away some key areas of differentiation and giving them to Google may not be the way to go. We covered this in a bit more detail here.
How to invest wisely
PPC Automation is a long-term investment. It cannot, and should not, be considered as a straight-forward tool purchase. The expertise you are able to build, the market experience of your automation software supplier and the AI/ML smarts that are brought to bear will all influence that investment. By choosing wisely, you will be able to grow, stay ahead of your competition and plan for the future —  all based on real data insights.
In effect, your PPC automation journey can be broken down into: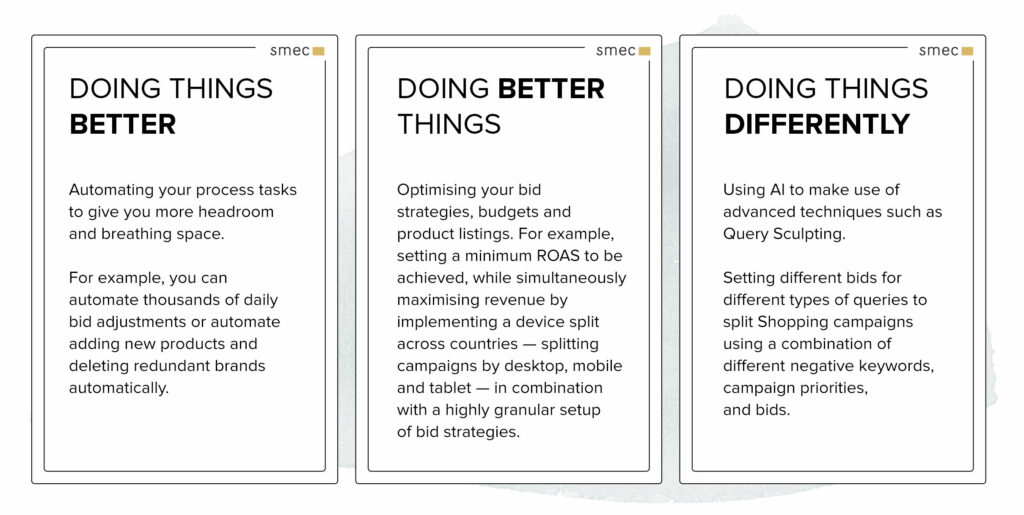 With many moving parts, running PPC campaigns isn't a task you can just "set and forget." In the current climate of volatility, this has never been more true. You will need to stay up-to-the-minute with the latest market trends in order to stay in control of your process and data. Whether you are focused on strategically expanding your business or simply stabilising revenue, PPC automation software provides an invaluable tool to granularly control and optimise a critical marketing resource. Mastering PPC should be part of your long-term growth trajectory. The longer you wait to get started, the larger the up-hill battle becomes.  
smec Market Observer
To support you in times of uncertainty even more, we created the smec Market Observer. It provides you with trustworthy PPC data from various industries and valuable analyses enabling you to better understand how your market is changing so you can make better-informed decisions.