Subscribe to join thousands of other ecommerce experts
A deeper look at Smart Shopping campaigns
Executive Summary:
Smart Shopping campaigns can't be compared to standard Shopping campaigns, as these are two different formats making use of different placements and ad types
Smart Shopping campaigns can be a lever to push certain item groups, if you are willing to sacrifice control, transparency and customization possibilities
tl;dr – jump to our conclusion
Recently I had the possibility to join our Good Day event in London, which is an invite-only event for paid search pros spun off from the Great Day for PPC Automation. Here I had the chance to listen to Polle van Elsacker, a marketing tech consultant with quite a remarkable background in the field of online marketing. Polle's talk "Confessions of a Paid Search Manager" highlighted his professional life and how the whole online marketing scene (and PPC scene in particular) has developed and therefore changed over time.

One slide especially caught my attention, since it is both hilarious and true:


Especially Amazon is, I would say, giving Google a headache. Since Amazon is so dominant in e-commerce and especially as they have gained more market share for product-related searches (according to emarketer.com 54% on Amazon and 46% on Google), they pose quite a threat for Google. And this fear was also reflected in recent announcements at Google Marketing Live 2019, as well as in some of the features brought to Google Ads. Besides providing a better and bigger user experience for Google Shopping in order to make it more attractive and relevant in the future, Google is investing on the other end – on the marketer's side – by providing campaign types that are easy to set up and include Smart campaigns and Smart Shopping campaigns.
Are Smart Shopping campaigns really that smart?
Per Google's definition you can expect the following from Smart Shopping campaigns:

"Smart Shopping campaigns feature Product Shopping ads, Local Inventory ads, and display ads (including dynamic remarketing and dynamic prospecting), which are eligible to appear on the Google Search Network, Display Network, YouTube, and Gmail.
Automated ad creation and placement means that your ads will appear in the ad spaces where they're relevant and that your bids will be set to maximize your conversion value."

At first glimpse, it's a smart format which reduces workload by taking over the bidding from you and deciding when and to whom your ads will be shown (meaning no management is necessary for RM lists, location modifiers, ad schedules, device modifiers etc). Plus it includes a broader network than standard Shopping campaigns do, by using LIAs, display ads as well as dynamic remarketing and dynamic prospecting as default settings.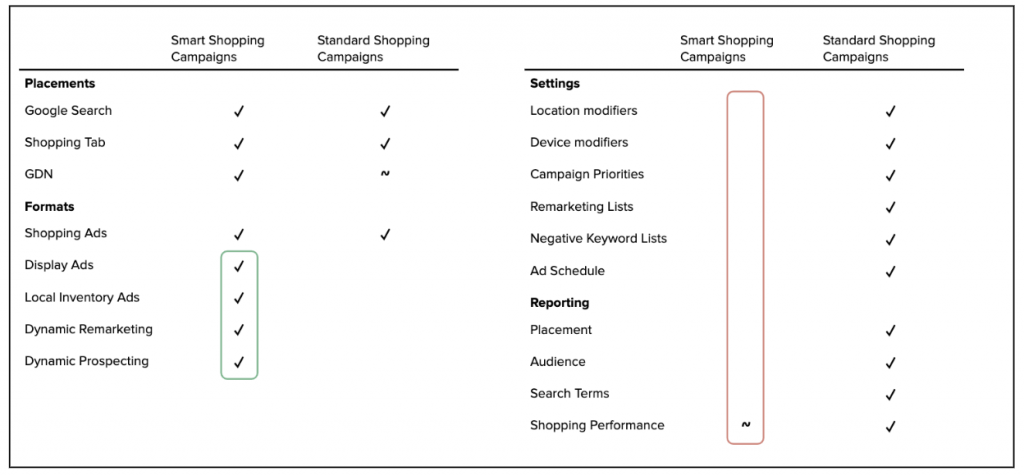 The efforts you have to put in the setup are simplified: All you need to do is provide the usual stuff you would use with standard Shopping campaigns such as a feed and proper tracking – you just have to add a remarketing list with at least 100 active users and an asset (consisting of a logo, marketing image, text and final URL) as well. These assets will be used for display ads.

Sounds simple and seductive – right?
Well, it is okay and most likely a good format for small and medium businesses who have less resources to manage their Shopping campaigns and need to get started fast. But wait – there is a catch.

As shown in the graph above, a lot of additional formats and networks are included, but in exchange you sacrifice nearly all your control as well as all kinds of reporting possibilities. This sounds less crucial in the first place because Google is taking care of such things and decides when your ads are to be shown – in the form of display ads, standard shopping ads or whichever. Google decides whether it displays your ads on mobile, tablet or desktop devices, as well as which audience, which platform, which time, and which bids to use.

It's quite obvious why the reporting is limited, because you cannot influence anything other than your goal – and this goal can only be set the campaign level and can only be changed to "maximize conversion value" or a "targetROAS" value. If Google kept the reporting while reducing the controls, it would agitate users because they would see problems or opportunities and not be able to address them. Without transparency, users are more likely to give up control because they can't see what is occurring.
But why bother with such details?
So why would you need a search term report anyway?

Because it's your data after all, and you can use it as a source for other ad formats such as text ads. It might also be used for optimizing your onsite search or discovering new products, brands etc. that your clients are looking for. Also, you can find out what circumstances led to triggering your ad.

Why would you need to know where your ads were displayed (placements), or on which devices? When you know how your target group is set up, then you know which devices work best for reaching your audience, which ads to use and what conditions you have. Besides that, only you – and not Google – know the individual margins of your items and only you know best which other aspects – such as availability of different sizes or styles, sales, return rates etc. – should be imported. Simply put, you know your business best, you know how the customer journey looks for your products, what kind of data can be used and in which way in order to improve your performance. This is necessary to know and has to be brought into the Google Ads management to get the best out of it. If you sacrifice such things as customization, transparency and control, you also sacrifice plenty of possibilities to diversify and show how great your brand, product, website or merchant is!

If you are not concerned yet, let me put it more bluntly: Would you give someone a blank check who is earning money based on the spends you make? Because this is what you are actually doing when using Smart Shopping campaigns.

But still, maybe I am a little too negative regarding this format, so let's have a closer look and check out how SSC works in real accounts. Here are different cases of merchants from various industries – with different sizes in terms of budget and items, and also varied in terms of target country and assortment.

Case I: Small Business | B2C
A handful of items is managed via Smart Shopping campaigns.

Looking at clicks and conversions within Google Ads, you can not really determine when the Smart Shopping campaigns were being activated (the screenshot only shows the performance of the items managed by Smart Shopping campaigns). On the other hand, impressions and ROAS give us a much clearer picture:

Seeing the impressions graph already let's you determine when the Smart Shopping campaigns were started. It gets noisy at the start and declines after one or two weeks again. If you compare ROAS and conversions vs. the additional reach and clicks, it becomes obvious that the uplift was moderate to low.

Case II: Large Business | B2C
All items (>500,000) are managed by Smart Shopping campaigns.

Since Smart Shopping campaigns started you can see significant noise regarding impressions while a significant increase of the conversion value per cost (a.k.a ROAS) is visible as well:

However, I have to point out that we are comparing apples with oranges in this case. We are comparing Smart Shopping campaigns with standard Shopping campaigns and these are two different formats with different placements. Moreover, the merchant set different goals when he started to use Smart Shopping campaigns, which further invalidates one-to-one comparison.

Also, the merchant has two other accounts and runs them via different Shopping comparison sites where some traffic is getting funneled to. The merchant was working with more or less granular goals spreading from lower to higher ROAS goals, including margin and return information. This was sacrificed in order to follow a more general outcome where the true profitability of the campaign is unknown.

Case III: Medium-sized business | B2C
All items (~10,000 items) are managed via Smart Shopping campaigns.

The screenshot above shows the retailer could achieve – in average – an improvement in terms of conversion amount and a more steady ROAS compared to Standard Shopping campaigns. But at the same time, it is unclear where this additional traffic and conversion volume is coming from. Most likely, there are items that are working well with display ads or remarketing but it is just an assumption due to missing reporting possibilities. This is highly problematic for the retailer because they lose insight into the share of new and returning customers and therefore can't balance competing goals like increasing new customer acquisition versus maximizing customer lifetime value. Moreover, as a generalist retailer with an assortment spanning numerous categories, it's possible that certain display-friendly product groups are driving the volume, while other product groups are suffering. In a blackbox situation like this, ROAS is not adequate as a measure of profit – and this is exactly the goal-setting metric that Google is offering to steer the campaign.

Case IV: Small business | B2B
All items (~10,000 items) are managed via Smart Shopping campaigns.

When the Smart Shopping campaigns were active, traffic increased in the short term, but there was no relevant uplift in terms of conversions. Furthermore, the merchant was facing a major issue because his products are mainly tailored towards B2B clients who are primarily active during weekday business hours – but he had no ability to adjust his ad schedule and therefore no control regarding visibility.

Summary and conclusion
Although some of the numbers look good on the first glimpse, you should definitely invest time and investigate them. As described within the cases, you do not always know which source is relevant for your traffic (display, Shopping ads etc.) and you sacrifice a lot of things: such as strategic goal diversity, bringing in different ROAS targets for different segments, using margin data for bidding, making use of different settings that could be critical for your business, and so on. In the end, all you can do is make assumptions. No in-depth reporting is possible, so your data sit hidden underground like untapped oil – and you cannot influence anything when things go in the wrong direction.

Even though this format lacks lots of things, a considerable amount of merchants chooses opting into this format. And if you ask yourself whether this format is right for you, here is my recommendation:

I think it is a good way to start with Shopping ads and maybe useful if you are working in a small- or medium-sized business where you have to take care of other advertising channels with limited resources. You might also use it exclusively for specific items in order to push them a bit (but there are other options available within standard Shopping campaigns). For more information on this issue, please check out this great read from Kirk Williams. If you have any ambitions to diversify or deepen your strategic considerations – for example, bringing in first-party data, making use of various settings and outsmarting competitors in the long run – I would definitely recommend a more sophisticated setup than what is possible in Smart Shopping campaigns.

Nevertheless, as described in the beginning, I understand why Google is doing it: in order to get the best performance for their advertisers (which obviously does not work every time yet) and furthermore to eliminate potential entry barriers to this format. I can also imagine that other formats such as Showcase Shopping Ads might be supported within Smart Shopping campaigns at some point. But regardless of that I can just advise you to think about, if you really want to sacrifice customization, reporting, and numerous settings just for a potential short term performance uplift.

For more information regarding Smart Shopping campaigns, check out our blog article: Smart Shopping placements: insights into a black box?