Subscribe to join thousands of other ecommerce experts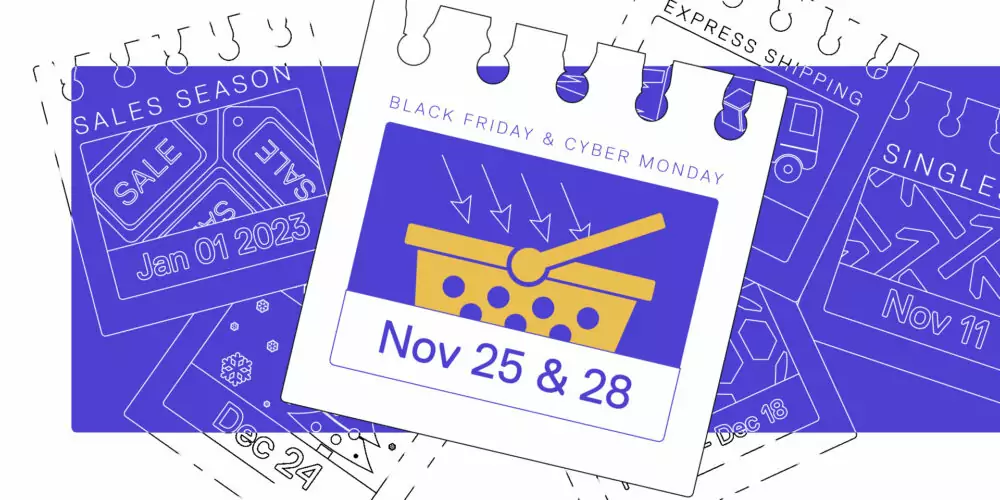 In this year's holiday season, online retailers are in for a ride, as the ecommerce sector is shaken by severe economic disruptions: war in Europe, inflation, recession and supply chain challenges. The unofficial "end" of the Covid-19 pandemic took a toll on online retailers as well, with consumers returning to brick-and-mortar stores. And as if this wasn't enough, Google recently introduced its new Performance Max campaign type, making it even harder for retailers to stick out. The good news: With an effective Black Friday ecommerce strategy you can walk out of this shopping season as a winner.
Watch now: Mike Ryan, Head of Retail Insights, and Agnes Zottl, Client Lead, outline the economic circumstances of the 2022 holiday season, dive deeper into the disruption Performance Max has caused, and give guidance for retailers to optimise their ecommerce strategy for Black Friday, Cyber Monday and Christmas.
What makes the 2022 Black Friday & holiday season so special
There is only little sense in comparing this year's holiday season with the past 2 years. Unfortunately, the pandemic-induced ecommerce boost is not here to stay. Predictions tell us that ecommerce will shrink for the first time in its history. Looking at the markets, the reason for this lies not just in the bounceback of brick-and-mortar stores. Instead, there's a bigger issue: The economy is battered by uncertainty from multiple sources. But let's break it down, step by step.
The current economic landscape and Black Friday 2022
Rise of in-store traffic
With many countries lifting COVID restrictions, consumers can now shop for their holiday gifts offline again. A sharp decrease in COVID regulations and a rapid increase in European brick-and-mortar store visits indicate a tight correlation between the two opposite trends of COVID stringency and retail mobility:

Therefore, we expect a high level of in-store traffic, competing with or complementing online sales in Q4 2022.
Inflation & recession are here to stay
For on- and offline commerce, 28% of consumers say to spend less this holiday season than in the years before. Looking at the online retail sector, research by Salesforce indicates that online prices will soar by +7% compared to 2021, with shoppers placing 7% fewer orders in November & December, estimates say. Hence, consumers will start shopping earlier to circumvent rising prices – predictions say that 29% of holiday sales will happen in November. With aggravated price sensitivity, retailers need to monitor their price competitiveness now more than ever before to win the favor of Black Friday shoppers.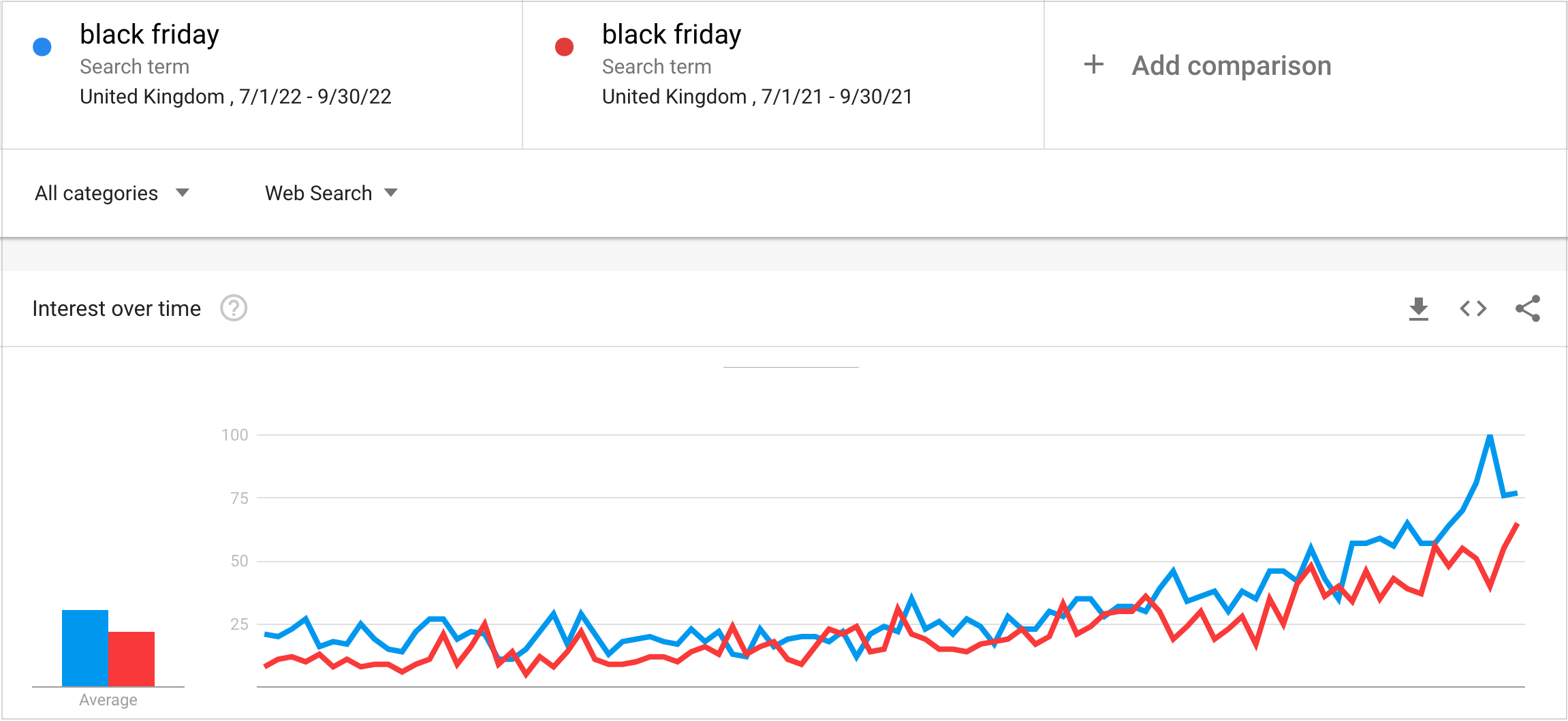 Tough times in the ecommerce sector
As a subset of the many uncertainties in the current economy, ecommerce is facing punishing year-over-year effects, with German ecommerce revenue pegged at -24%, and the UK at -10% in Q2 2022. Rising supplier, labor and transportation costs will affect profitability, as retailers only have limited room to pass on rising costs to the consumers. Distressed businesses optimizing by conventional means like efficiency (ROAS) and volume (revenue) are likely to get caught in a vicious circle. Hence we advocate profit (€) optimization rather than profitability (%) as it inherently solves for both volume and efficiency.
Supply chain disruptions
The ongoing Russian-Ukraine war is only one of the factors that put pressure on the supply chain, as both countries are important suppliers of mineral and agricultural commodities, causing a slowdown in global growth. Supply chain shocks such as wars, COVID-19 lockdowns, shutdowns of ports, or shortages of intermediate inputs like chips or chemicals cause congestion in global trade, resulting in delayed delivery times. Consumers will see the consequences of rising prices for durable goods but also for food and gas. This is putting a halt to additional spending during Black Friday, Cyber Monday and Christmas for many.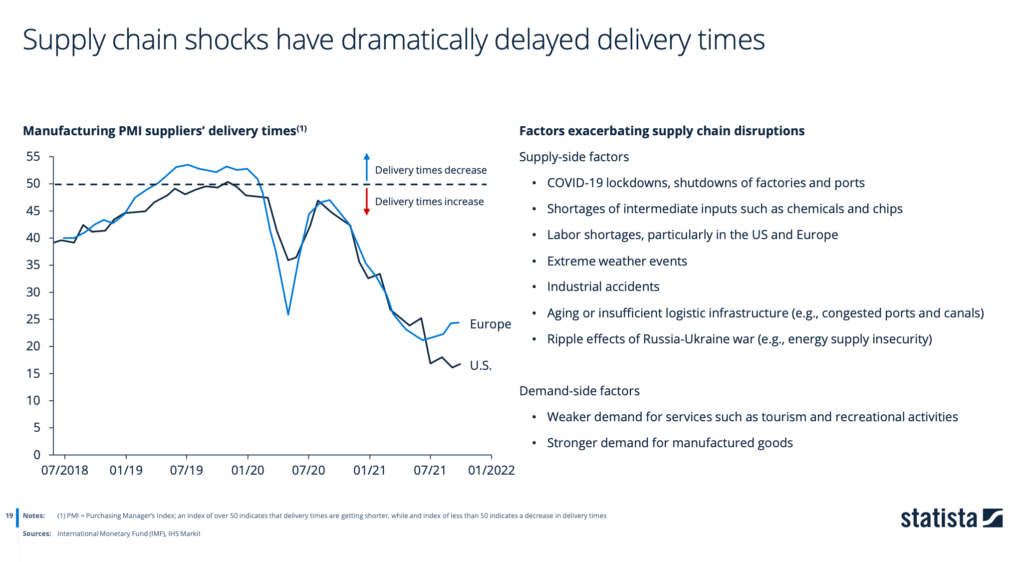 Shopping vs. soccer
Another element that makes this year's Black Friday and Christmas shopping season unique is the FIFA men's World Cup taking place in Qatar from November 20th to December 18th, 2022. This falls directly into the Shopping peak season. The impact this major sports event will have on consumers' shopping and spending behavior is hard to estimate. On Black Friday itself, England and the United States will meet on the field. Will consumers rather stay home than do their shopping in brick-and-mortar stores? Will online sales benefit from this?
It is quite likely that big retailers will shift parts of their advertising budgets to TV advertising. However, we believe that programmatic advertising could play an important role as well, with people watching the games "on the go" via their phones and tablets. Read on to learn how you can use Programmatic for your Black Friday ecommerce strategy or take a shortcut.
Performance Max – Google's new campaign type
When it comes to the Google advertising space, the hot topic for your 2022 Black Friday ecommerce strategy is evident: Performance Max campaigns. The new campaign type is said to be Google's most disruptive one yet. In a nutshell, PMax replaces Smart Shopping campaigns and allows retailers to advertise across all of Google's ad inventory (Display, Search, YouTube, etc.). Plus, it automates asset creation: All you need to do is upload different assets (logos, pictures, etc.) and let Google do the work in creation, bidding & delivery. The downside to all of this? Performance Max gives you only very limited possibilities to steer your campaigns, disabling bids and making ROAS the only lever to pull, as well as significantly less audience and reporting insights. This is an additional challenge that retailers need to face this holiday season. We'll elaborate on these issues and how you can resolve them a bit further down.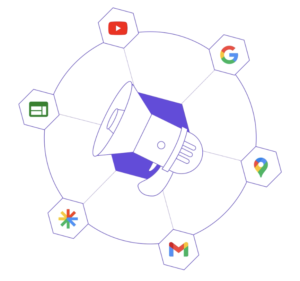 PMax is indeed a powerful platform that covers a huge part of relevant ad inventory for retailers. However, we would not recommend relying on this channel exclusively for your Black Friday ecommerce strategy to promote your special offers. Instead, you can clearly benefit from a multi-channel strategy with a diversified marketing mix, leveraging the potential and reach of paid social or programmatic advertising to grab your customer's attention.
Performance Max for your Black Friday ecommerce strategy
Now, let's have a deeper look at Performance Max: What are the challenges for you as a retailer and how can you still win? We have observed some very interesting developments in the new campaign type.
Challenges online retailers encounter with PMax
PMax: Who wins if we all drive the same car?
We at smec like to compare the challenges within Performance Max with self-driving cars: If all formula 1 cars were self-driving and equipped with the same engine, which car would win and why? This is the essence of PMax's problem.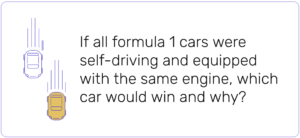 With reduced steering possibilities, it's almost impossible for retailers to win over their competitors without reducing it to a battle of who has the lowest prices, biggest brands and most generous budgets. But even if you take on the challenge and get started with PMax, there are some more pitfalls.
A slippery slope: The bestseller bias
The underlying problem of Performance Max's self-driving mode is what we like to call the "bestseller bias": Imagine you go for a simplified campaign setup and put all your items into one single campaign. The majority of your campaign budget will be allocated to your top-performing products while the long tail is neglected.
Why?
PMax is a goal-oriented campaign type, so the algorithm does everything to reach this goal – and favors the bestselling items. This however means that your hidden champions might not get the exposure they deserve during Black Friday. Furthermore, Performance Max tends to over- or underspend on the SKU level.
We saw campaigns that over-delivered on the ROAS goal for bestsellers, while under-delivering on the long tail. If you put all your items in the same campaign and let the algorithm do the rest, you can barely steer it. This heavy bestseller bias makes you dependent on a few items and prevents you from finding new revenue opportunities.
The problem with product availability
As a retailer participating in the Black Friday shopping season, you obviously need to keep an eye on the availability of your products. With Performance Max this results in another challenge: Google's algorithm does not know which of your products are in stock, low in stock or out of stock.
Now, combine this issue with the above-mentioned bestseller bias and PMax might send traffic to products that aren't available anymore, making your conversion rates suffer.
Sounds bad, right?
But don't worry: We wouldn't be smec if we didn't have some aces up our sleeves to help you master this year's Black Friday, Cyber Monday and Christmas campaigns. We came up with some useful solutions and recommendations that can help you solve these challenges during the holiday season and beyond – just keep reading.
How to optimise your PMax campaigns for the holiday season
Now, you might be inclined to set up Performance Max campaigns and use Maximum conversion value as your bidding strategy for the holiday season. This however requires careful upfront testing and you lose ROAS as a tactical lever. For us, the solution lies in data instead.
Which data is relevant for Performance Max
Remember the self-driving car metaphor? You essentially need to alert the car (i.e. Performance Max's algorithm) about every curve, every stop sign, every bump in the road. To identify which data is relevant, you first need to know:
what data is important to you and your business internally

what does the shoppers' behavior looks like and what they are looking for
We recommend referring to your proprietary inventory data (such as margin data) and combining it with 3rd party data. This includes competition and pricing data which helps determine the attractiveness of your prices. You'll want to push those attractively priced products a little bit more since they tend to get more conversions and save you cost.
Based on this, here are our top tips on how to beat competitors in PMax:
Use (historical) auction insights and benchmark prices

Account-level insights help identify movers and shakers

Look into

competition insights

Look into retail category reporting to identify threats per product group

Have a strategic look at your competitors and decide which battles you want to fight

If this sounds a tad overwhelming for you or you are unsure about where to start, let us know. We will talk you through our approach and how you can benefit from the potential that lies in your data.
If you are now asking yourself: "Is Black Friday even worth all the effort?" – here's the thing: Yes, the holiday season is very discount-driven, making it hard for retailers to retain customers that are only looking for the best deals. But there are ways to identify those precious, valuable clients that will engage in a long-lasting relationship with your business. Cue: Customer Lifetime Value (CLV).
Prepare, not react: the power of CLV in PMax
Acquiring new customers is a costly endeavor – especially during the busy Black Friday & Christmas season. Here, CLV can help you to understand the value a customer brings to your business.
CLV is the total value a customer generates for a retailer over the lifetime of their relationship. So from the 1st purchase to whenever they stop buying from that store.
You can calculate CLV using historical data or predict it through machine learning models. This information helps you to identify and better serve your most valuable customers by improving their purchasing experience and concentrating your inventory on products these shoppers prefer. Hear more about the benefits of using CLV from our Data Scientist Katherine:
In a nutshell, CLV prediction helps you to react early to prevent customer churn, reduce marketing efforts towards non-profitable segments and improve the relationship with your customers. Furthermore, you'll be able to anticipate demand and revenue inflow and prepare accordingly. You can also use this data to optimise your bidding in Google Ads instead of focusing solely on raw revenue.
How to use Standard Shopping & PMax in a hybrid approach
To enable CLV-based bidding you might want to consider a hybrid approach: As you have only limited influence on your bidding strategy in PMax, running Standard Shopping as well is a valid option. Like this, you have more control over selected products or can clear stock more easily if needed. One way could be to use Performance Max for your top sellers and cover the long tail with Standard Shopping campaigns. But make sure to exclude those products from your Performance Max campaigns, as PMax trumps Standard Shopping if both campaign types cover the same items.
Believe it or not, there is more to a Black Friday ecommerce strategy than just Google Ads 😉 Let's have a look at some other options.
Expanding your reach for Black Friday
You as a retailer can leverage synergies between different channels: If a product already sells well through Google Shopping, why not also push it through other channels?
Programmatic advertisin

g in your Black Friday ecommerce strategy
Programmatic advertising allows you to deliver your ads to a broader audience than through Google Ads. You can set up compelling display, video, or audio campaigns and serve them through several different ad exchanges. At the same time, programmatic offers sophisticated audience targeting possibilities through first- and third-party data.
If you thought that programmatic banner ads are only useful for the top of the funnel & awareness campaigns – there's more! You can also use the technology for retargeting campaigns. There are many more benefits from programmatic advertising. But it's probably best to hear it directly from an expert:
Simplify banner creation with Programmatic Ad Automation
Programmatic Ad Automation takes it one step further: With this technology, you automate the creation of product-based creatives for your best-selling products from Google Ads and/or Analytics. This enables you to expand the reach of your bestsellers while reducing manual effort significantly. It relies on dynamic creatives that allow you to customise the ad content for users based on a variety of criteria in real-time. Every element – be it CTA buttons, Exit URLs or images – interchangeable. The creative content can be exchanged programmatically via a feed and a set of content rules.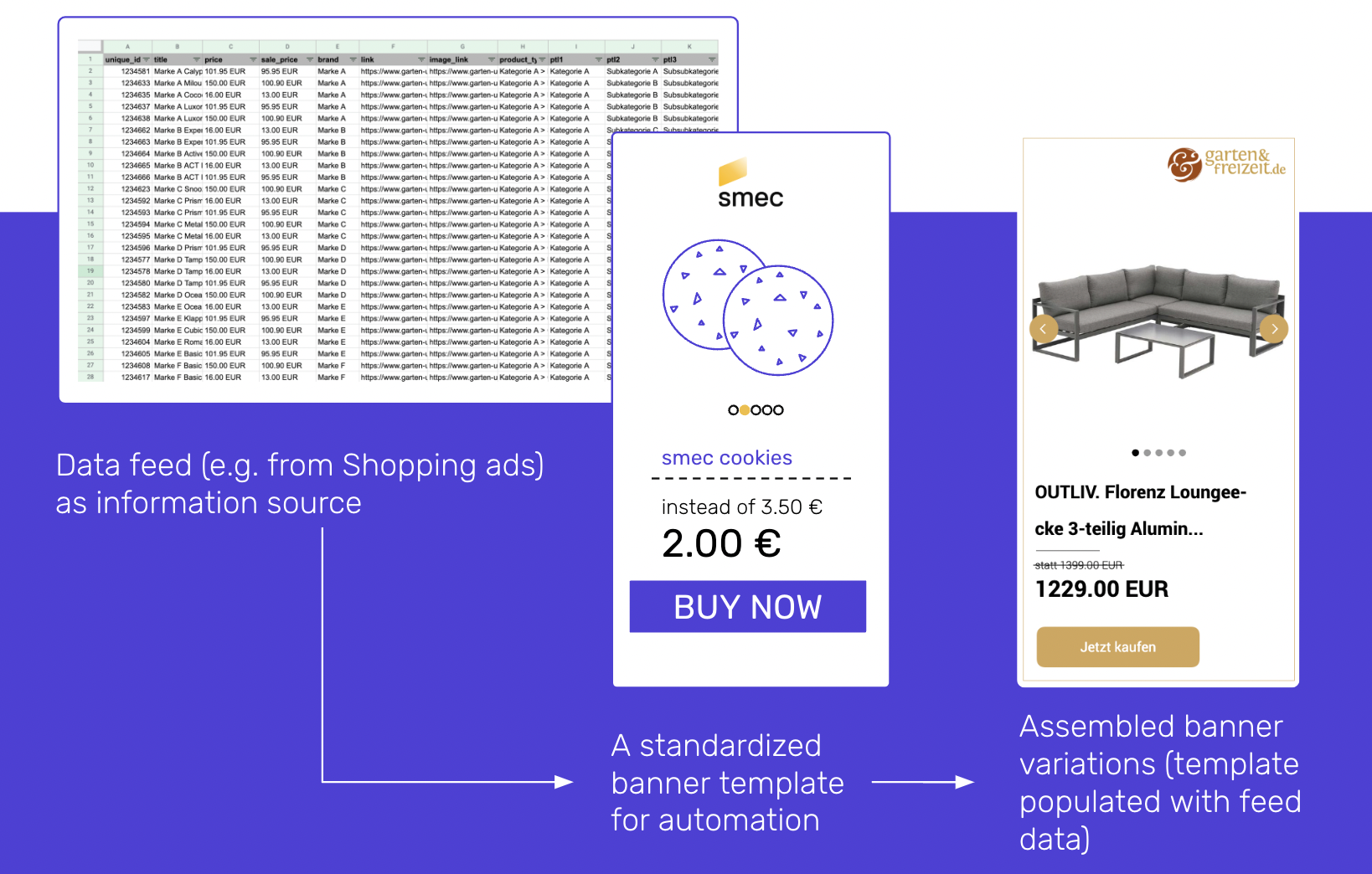 Microsoft Advertising is a hidden gem for retailers! In Germany for example, Microsoft Search Network has a 24% PC market share. Their audience is especially interesting for retailers in the B2B sector with Microsoft's high-value users being a bit more income-heavy clients. Also, your ads will be delivered on Ecosia – a non-profit search engine that dedicates 80% of its profits generated through advertising to tree-planting projects. Through this, retailers can serve their ads to an eco- and privacy-conscious target group as well.
Meta's take on automation: Advantage+ campaigns
On the social media side, the most interesting developments for this holiday season are Meta's Advantage+ Shopping campaigns. You can consider them a sort of PMax for the Meta universe. The new campaign type uses AI to simplify and automate the campaign creation process, including ad creation, budget spending and bidding. This clearly indicates the big advertising platforms' inclination to AI-driven solutions.
A new contender: TikTok
The Chinese social media channel recently announced new advertising possibilities for retailers with e.g. video shopping ads that are automatically created by linking product feeds to TikTok's AI. These however are still in the testing phase and not yet available globally.
In the same way that you shouldn't rely on one single advertising channel, you also shouldn't focus solely on one shopping date. The holiday season is so much more than Black Friday and Christmas. Instead, there are several key dates for retailers to keep in mind. We have compiled the most important ones to consider for your Black Friday ecommerce strategy.
The most important dates for

Black Friday & holiday season

November 11 – Singles Day
Originally an unofficial Chinese holiday, this Shopping event is becoming bigger and bigger in the entire world. With Performance Max campaigns you can connect with your audience on a bigger scale.
November 20 – December 18 – FIFA World Cup
With billions of viewers, this year's men's soccer World Cup could have impacts on customers' shopping behavior as it will be present during the entire holiday season. Consider a multi-channel approach combining Performance Max, Programmatic advertising and Social. Like this, you can capture shoppers that are glued to their displays following 22 men chasing a ball.
November 25 & November 28 – Black Friday & Cyber Monday
The Friday and Monday after Thanksgiving are the kick-offs to holiday shopping for many. Some retailers extend their special offers into Cyber Week. Make sure to stand out with sales price annotations on ads and free listings. Furthermore, you can use Performance Max's new customer acquisition goal to attract new customers.
December 20 – Last Day for Express Shipping
To ensure that your customers get their newly bought presents in time, you need to check your carriers' shipping deadlines during peak season. You can then highlight your shipping terms with account and item-level shipping and free and fast shipping annotations.
December 24 – Christmas Eve
If you also have a brick-and-mortar store or outlet, you can use the day before Christmas to target last-minute shoppers. Simply add store pickup labels to your local inventory ads for pickup today or in a few days.
January 1
– Sales Season
After Christmas, the sales extravaganza starts! Customers will look for the best deals during the January sales. Upload your best promotions and deals in the Merchant Center to target price-conscious customers or use the Content API to scale your existing promotions.
Your checklist for a successful Black Friday ecommerce strategy
Before we wrap this up with the most important tips: If you do not see value in the Black Friday & Christmas shopping frenzy, you are by no means obliged to come up with offers that in the end are not beneficial to your company. In the past, we have seen retailers who choose not to participate in some of those key promotional days, because they think that it's too transactional, too discounting-based and not really generating new customers. Keep this in mind when drafting up your end-of-the-year strategy.
Strategic inputs

for this year's Black Friday ecommerce strategy
Plan ahead in time, understanding what you want to achieve and why
Calculate historic or predicted CLV to identify your most valuable customers and steer your activities accordingly
Consider leveraging synergies between different advertising channels like Google Ads, Microsoft Advertising, Programmatic and paid social
Assign a dedicated budget for the holiday season
Closely monitor your performance and the competition to react quickly to any developments
Keep the most important dates in mind
Google Ads
Set up your Performance Max campaigns, stick with Standard Shopping or go for a hybrid approach
Consider segmenting your PMax campaigns for different ROAS goals
Use inventory data and 3rd party data like competition and pricing insights as a lever to steer your PMax campaigns and to differentiate yourself from your competitors
Build seasonality adjustments based on historical and competition data
Consider a hybrid approach between Performance Max and Standard Shopping
Tightly monitor the performance of your campaigns to make adjustments whenever needed
Even in these trying times, there are many ways to still make the most of this year's Black Friday, Cyber Monday and Christmas. With our tips, we believe you are well prepared for a successful holiday season. If you have any more questions for your Black Friday ecommerce strategy or if you simply want to get in touch with us – we are more than happy to talk!