Subscribe to join thousands of other ecommerce experts
Perfect alignment of CSS and GSE: how Norwegian retailer sportsdeal.no reported 102.4% higher sales figures using award-winning automation technology.                                                                                                   
sportsdeal.no, part of the Norwegian retail chain "Sport 1" with 190 outlets across the country, specializes in sporting goods, accessories and supplies. The online pure player is headquartered in Notodden near Oslo and mainly targets Norway. Their selling proposition: a large array of goods at unbeatable prices. However, Norway is no easy market for PPC managers. Not only does Norway face the highest average CPCs in the Nordics, Norway is also heavily targeted by importers and dropshippers (i.e. ecommerce companies), which leads to market activity and saturation levels that are surprisingly high for such a sparsely populated country.
Nevertheless, Google Shopping turned out to be a key channel for sportsdeal.no as it helps the family business advertise products to athletes, amateur players and sports enthusiasts alike. However, they struggled with allocating time and resources to their campaign efforts. That's why they initially opted for a very simple solution: one campaign with one ad group and bids for clusters of up to 180 products. The result? The team was not able to generate revenue beyond a certain point as the money earned through top performing products was quickly wasted on items that did not perform.
What sportsdeal.no wished for was an increase in both campaign efficiency and traffic — goals that seemed to be miles away in 2017, despite their cooperation with one of Europe's largest price comparison platforms. Fed up with the tedious taskwork that is manual bid management, they decided to abandon the old account and to invest in an automation solution that would generate new Shopping campaigns and reliably translate the team's marketing strategies into perfect item bids.
Being contacted by smec, I was curious right away. I've been in online marketing for 15+ years and have built many campaigns. I was actually thinking "there has to be someone who can do this automatically". So I jumped at the opportunity and have never looked back.
– Kenneth Bårdseng, Operations & marketing manager, sportsdeal.no
The SportsDeal team understood perfectly well that machine learning technology would not threaten their jobs but would rather enhance their capabilities and help them generate performance uplifts with far fewer mouse clicks than ever before. All while keeping costs at a reasonable level. Nevertheless, in the end, it is not only about technology and numbers — it's also about human connections: the solution provider should offer support and care about their clients. In Smarter Ecommerce (smec) they found the perfect match. Our customer-centric approach, along with our proven machine learning technology was reason enough for SportsDeal to venture forward and kickstart the implementation of Shopping Ad Automation in early 2018.
A painless transition to automation
The new Shopping Ad Automation campaign was implemented in February 2018, covering just around 2,572 products — a number that would increase rapidly thereafter. First of all, the SportsDeal team defined how they wanted their new campaigns to be structured: unlike their previous Shopping campaign, they decided to go for one campaign and ad groups per brand. Within these ad groups a total of 2,572 product groups was created — one for each product. Their old campaign remained in the account but was paused, giving the team an extra sense of security.
The switch from manual to automated campaign management, quickly showed results: from February 1 till April 1, revenue and conversions increased by 25% and 21.9% respectively – compared to the previous period. The ROAS even increased by 44.6% as both the average CPC (-11.5%) and the CPA (-29.1%) decreased:

Seeing this success and realizing that Google Shopping is indeed a channel that can support the growth efforts of the whole company, sportsdeal.no did not hesitate to add more and more products to their assortment. However, looking at the device performance made it obvious that a new strategy had to be found to improve the efficiency of mobile: the ROAS on mobile was only 69% of the return from ads served on desktop. Nevertheless, mobile accounted for the majority of impressions and conversions, making it an absolutely crucial device to target.
The majority of our traffic comes from Google Shopping and we have a lot of products that need bid adjustments. smec takes care of this and I just look at the stats and make adjustments via the easy-to-use interface. I can also honestly say that their support is top notch and that they are really customer-driven. I really recommend everyone with shopping campaigns and a lot of products to seriously consider using their service.
– Kenneth Bårdseng, Operations & marketing manager, sportsdeal.no
Finding the perfect bids on each device
In order to better align item bids with the performance potential of devices, SportsDeal decided to go for a device campaign split: instead of just having one Google Shopping campaign, they now have one campaign for desktop and one campaign for mobile and tablet. This allows the technology to adjust bids in accordance with product performance on a given device, thus increasing both efficiency and bid accuracy.
The device campaign split was implemented in mid-April. Within the first four months thereafter, revenue, conversions, ROAS, impressions and clicks increased further with impressions reaching an exceptional plus of +98.7% compared to the period before that. The second and third highest increases were recorded in terms of revenue (+77.8%) and conversions (+53%), while costs per acquisition remained almost the same.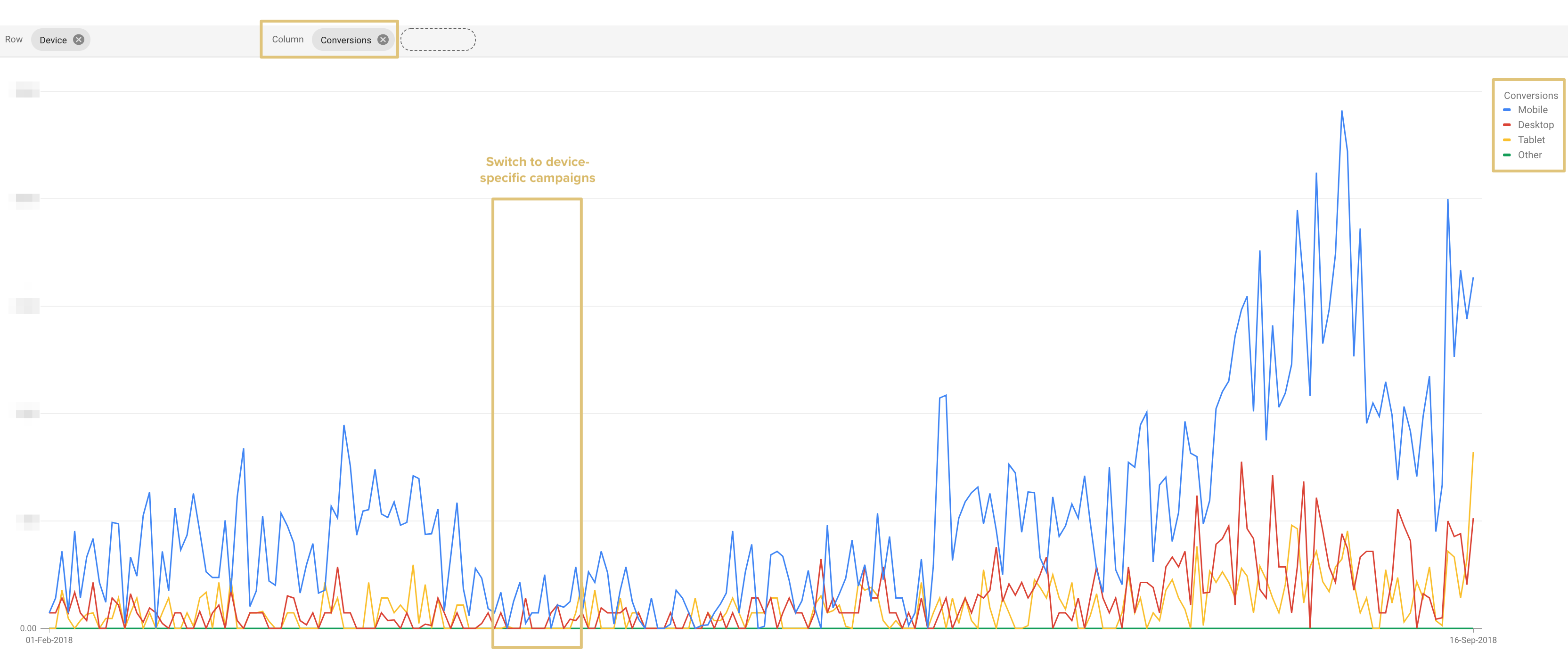 Performance insights: the significance of device campaign splits at a glance
Exploiting auction advantages
The introduction of CSS into the Google Shopping environment has been a huge chance for retailers, but a complex one. Our experience and know-how in the field of Google Ads helped us tremendously in serving retailers, especially when compared to CSS partners who do not know the Google Shopping platform. This was recognized by leading European online businesses, including engelhorn, reichelt, BIPA, allbeauty, ORSAY, Robert Dyas, Thalia, INTERSPORT — and sportsdeal.no who by September 2018 already advertised an impressive total of 16,000 items. That's 6 times more than when they started to advertise with smec's Shopping Ad Automation technology in February of the same year.
Given their experience with a classic price comparison partner, the differences became apparent early on: we do not 'sell clicks' and allow our clients to stay in control of the campaigns. The only difference in managing Google (GSE) campaigns and comparison shopping (CSS) campaigns is their label in the automation dashboard ('smec' vs 'Google') plus clear auction advantages. Thanks to the perfect integration with Shopping Ad Automation by smec, moreover, it was easy to (1) set up a CSS account with item-based campaigns, and (2) to sync bids between the CSS and GSE accounts.
Shopping ads served via smec.shopping
Unlike clients who decide for a re-assignment, SportsDeal was now able to advertise with double presence — an advantage that put them way ahead of the competition. What does this mean? In the very same auction, SportsDeal's products can be advertised via GSE ("By Google") ads and smec.shopping ("By smec") ads. While Google prevents showing ads of products with the exact same GTIN, similar products are eligible to show, pushing competitor ads further to the right and thus further into the ad section that is only accessible by clicking the 'next' arrow.
Auction insights: outperforming competitors (Sept 1 till Dec 11)
The combined performance of SportsDeal's CSS and GSE campaigns between September 17 and November 6, can be summarized as follows: not only did revenue and conversions increase by 102.4% and 595% respectively, compared to the year before, ads were also seen +546.9% more often, generating 330% more clicks — clicks that might have otherwise resulted in conversions for SportsDeal's competitors. Considering that many other Norwegian merchants in that industry have switched to advertising via price comparison platforms, and that the market has become more complex and competitive in general, this is an impressive development and an extremely rewarding success for sportsdeal.no.
Given the fact that these numbers are year-over-year, seasonal effects are also diluted. Nevertheless, it is still important to highlight how much the CSS campaign contributed to this growth. The numbers show that without smec.shopping ads, SportsDeal would have to report 70.2% less conversions, a 69.2% lower revenue and 72.7% fewer clicks (September 17 to November 6). In addition, the average CPC of CSS ads during this period was noticeably lower and their CTR higher. In short? Both of SportsDeal's primary goals (namely more converting traffic and keeping up with the competition) were met.
Credits: Mayela Nunez and Maria Claudia Bolivar