Subscribe to join thousands of other ecommerce experts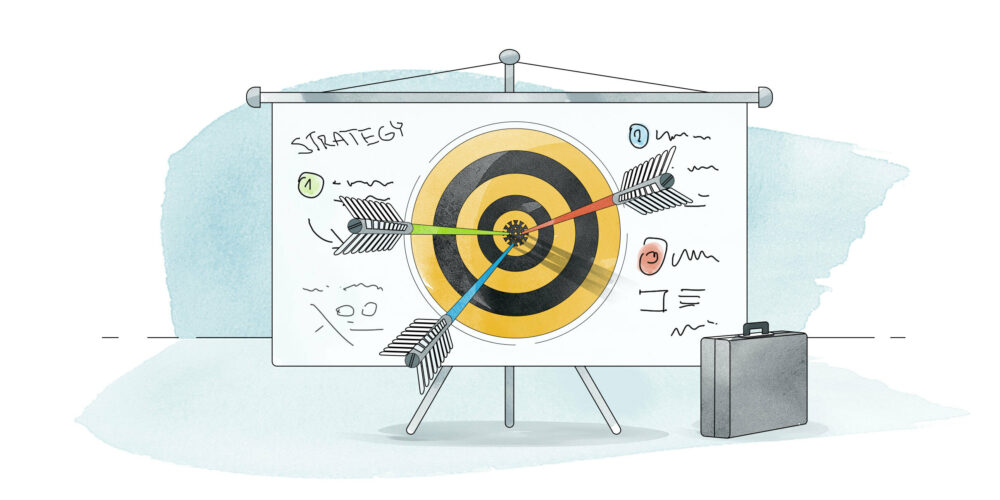 And how to tell which one is right for you
With the world turned upside down, businesses need to act fast. Store visits dropped by 90% between mid-February and March in the US, while online ad spend increased by as much as 140% in certain industries.
Brands need to optimise online channels, maintain visibility over supply chains, and align marketing strategies with logistical and consumer realities. Reporting tools can confirm a decisive shift towards online purchasing patterns. But you still need to know what to do with that information, and how to deal with the peculiarities of the current situation.
To start with, every brand needs to do four things:
Use banners on your website addressing the current situation (reassurance, transparency, and customer communication are all critical to messaging, e.g. #stay home shop online).
Double down on PPC ads for product types and brands that are in high demand.
Diminish ad spend on products that do not show/reflect a high user interest.
Maintain clear visibility over your supply chain and diversify where possible.
Beyond that, there is no 'one size fits all' strategy, but we think that there might be three worth looking at. Working closely with our clients, we've seen quite a few different responses to the current situation. Here, we have grouped these choices into three main categories and provided a set of strategic and tactical options that we have seen work. We have also provided a set of indicators that you can use to help decide which option is best for you.
Option 1: Holding your ground
A very common first move has been to simply shore up business and look to retain market position. For some businesses, this is all you really need to do. Your goal should be to ride out the current disruption, make a few adjustments to messaging, communication and logistics, and retain your current customer base.
How to know if this is right for you:
Not everything on this list may apply to your brand. However, if the market indicators and a plurality of the prerequisite factors apply to you, there is a good chance that holding your ground is the right strategy right now.
Market indicators: stable traffic/revenue/efficiency — or slight decline.
Prerequisite factors:
Well-positioned in the market.
Moderately strong brand awareness.
Stable supply chain.
Product portfolio relevant to current purchasing patterns.
Strategies to help:
If you match this category, you don't actually need to do that much. You should reassure your customers, but because you aren't experiencing a major crash in demand, the most critical thing is to make sure that your supply chains and product fulfilment strategies remain intact. Where that is not fully possible, you need to make sure that your sales and marketing strategies take those dips into account and focus on products you have in stock.
Similarly, make sure to track shifts in customer buying patterns and look to match those changes when it comes to marketing and your supply chain priorities. Keep a close eye on cash flows, but a stable market position and access to customers means that you will likely be fine. You just need to target your spending, reduce waste and maintain customer relationships.
Make use of promotions (e.g. "percentage off" or "free delivery") to push interest.
Take steps to diversify your supply chain — just in case.
Closely watch customer demand.
Option 2: Circling the wagons
The second major strategy we have seen is an attempt to shore-up risk and minimise expenses while significantly restructuring to accommodate major shocks to business. These businesses may have already been in a precarious market position, or simply harder hit by unfolding events. Either way, more drastic action is needed to survive.
How to know if this is right for you:
The need to take a defensive stance can arise from three main sources. If severe enough, any single one of these reasons could be enough to warrant drastic action. If you face all three, you need to move quickly and decisively.
Market indicators: clear decline in traffic/revenue/efficiency creating a "business threatening" situation.
Prerequisite factors:
Small market position (likely a small business).
Fragile supply chain or small warehouses (likely to run out of stock).
Highly irrelevant product catalogue to current demand.
Strategies to help:
This category presents the greatest risk and least opportunity. Your goal must simply be to hold on at all cost. That means drastically cutting costs and refocusing all outgoings on whatever sources of revenue you still have. Assess all variables impacting the sales of product lines, drop everything but your top performers in stable supply and reduce budgets where necessary.
One piece of good news is that Amazon has dropped out of Google ad buys and is focusing its entire FBA (Fulfillment by Amazon) logistical network on shipping 'essential items'. This last point may actually be part of the disruption you are facing. But it's created significant opportunities for ecommerce retailers selling non-essential goods to win buy box placement in Amazon auctions for product orders they can fulfil themselves.
When it comes to your business, make sure to investigate and take advantage of any government furlough or loan schemes operating in your country. Remember, you may want to minimise current costs, but you still need to retain the ability to jump back into action when 'normality' returns. Making investments in new technology or tools shouldn't be off the table. You just need to make sure that the choices you make today serve long-term and short-term goals.
Reduce PPC budgets if necessary.
Stop advertising poor-performing or (currently) irrelevant products completely.
Make use of stock data within the bid strategies (e.g. consider the hidden potential of customer labels to strategically insert business information into your data feed, which can then be used for bidding and reporting purposes).
Make use of price clusters for bid strategies (e.g.if high price products are not selling, don't advertise them).
Make use of data in regards to delivery time (e.g. promote products with shorter delivery times to capitalise on that advantage).
Look for other advertising channels if you cannot gain the required efficiency (e.g. if text ads aren't working, shift your attention towards shopping ads of other networks entirely).
Make use of promotions (e.g. "percentage off" or "free delivery") to push interest.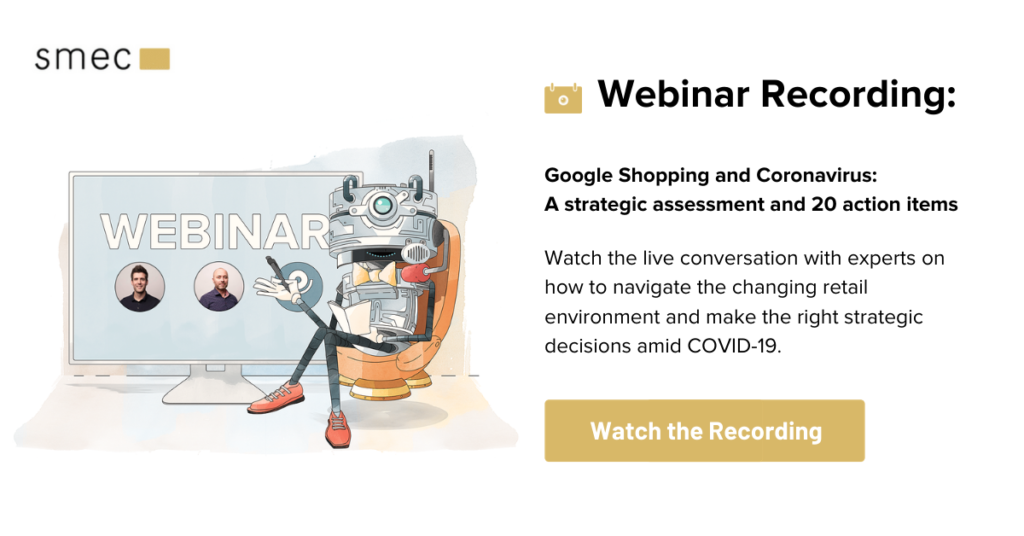 Option 3: Aggressive expansion
While some brands face an existential crisis, others have been presented with a significant opportunity. Market disruption is always a two-way street. If you are lucky enough to be presented with this situation, the biggest risk you face is not fully taking advantage of the current situation to improve your long-term market position.
Market indicators: definitive growth in traffic/revenue/efficiency, rising new business opportunities, intensifying cross-channel activities.
Prerequisite factors:
Strong position in the market and strong brand awareness.
Stable supply chain.
Products that are highly relevant to current demand.
Large and diversified product catalogue.
Strategies to help:
Although there might be short-term benefits to raising prices and maximising immediate revenue, there are ethical and pragmatic reasons to avoid that kind of crass action. At its heart, it's just thinking far too small. You need to look long-term.
For well-positioned brands, market upheavals present an opportunity to increase market dominance, grow their product lines, win customer loyalty and expand into new territory. Watch changes in customer demand and use that to grow your market presence, either within your traditional markets or new ones. The very fact that you have stable supply chains gives you the opportunity to step in and become that needed provider. This isn't a short term move, it's a long-term investment.
Allocate more budget to meet rising customer demand.
Look towards other marketing channels to create a holistic marketing strategy.
Reinvest additional profit gains into other/additional marketing channels (e.g. branding activities via Display Ads appear to be more relevant these days).
Emphasise remarketing lists to convert new customers into long-term/loyal customers.

Business is always about matching the market
COVID-19 hasn't really changed the fundamentals — it's just changed the specifics. Businesses always need to align marketing with consumer demand and supply chain capabilities. The current problem is about accommodating rapid change, not a new set of rules.
Fundamentally, periods of change always present opportunities. Although some brands are far better positioned than others, it's always worth taking a step back and trying to think long-term. If you need to rethink how you operate today, you might as well do that in the context of how you would like to operate tomorrow. Take the time to re-align with market trends and consumer interests in the short- and long-term.
One piece of good news is that the main short-term outcome of social distancing (a spike in online shopping demand) aligns with a 'mega-trend' in retail. Becoming more closely aligned with ecommerce shopping habits has been a central demand of brands for more than a decade.
Upgrading your PPC and online personalisation capabilities, home delivery/fulfilment options, and cross-channel visibility are all things that should have already been on your 'to-do' list. Use the current situation to make those changes. Remember, you need to survive in the short-term, but thrive in the future. Hopefully, this post can help you do just that.  
Learn how to maintain a PPC presence with a reduced marketing budget in our blog here.
smec Market Observer
To support you in times of uncertainty even more, we created the smec Market Observer. It provides you with trustworthy PPC data from various industries and valuable analyses enabling you to better understand how your market is changing so you can make better-informed decisions.