Subscribe to join thousands of other ecommerce experts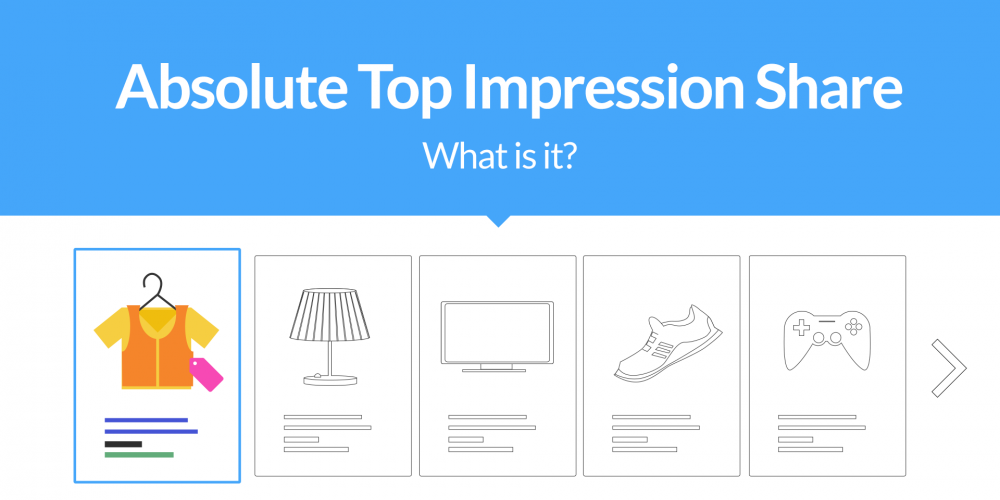 Have you ever wondered which of your Google Shopping products are most consistently dominating the top spot? Well, you're not alone, and that's why Google has launched a new report: Absolute top impression share (ATIS). This rather formidable title has a slight word salad quality — so let's unpack what the report actually does, how it does it, and what ATIS means for your campaigns.
Defining the Absolute Top Impression Share
ATIS is a report designed to illuminate which of your products are getting the most prominent impressions. According to Google, the left-most position of the Shopping carousel receives a +20% share of Shopping clicks on desktop and performs even stronger on mobile, with a +25% advantage. These data points are global, cross-channel figures. Google also points out that ads in the left-most position gain "up to 3x more engagement from shoppers". So: this position is the absolute top impression.
What is the absolute top impression share, then? Per Google, it is "the number of 'absolute top' impressions you received in Shopping results over the total times you could've been in the top impression." The formula is pretty simple:
Absolute top impression share = absolute top impressions / total eligible top impressions
In other words, if a product captures the absolute top position in 9 time out of 30 where it was eligible to show, the ATIS for this product will be 30%. Eligibility means that your ad was either shown in a given auction, or didn't show but still had a competitive bid. The higher the ATIS, the more frequently your product is owning the top position. This metric is available for campaigns, ad groups, and product groups.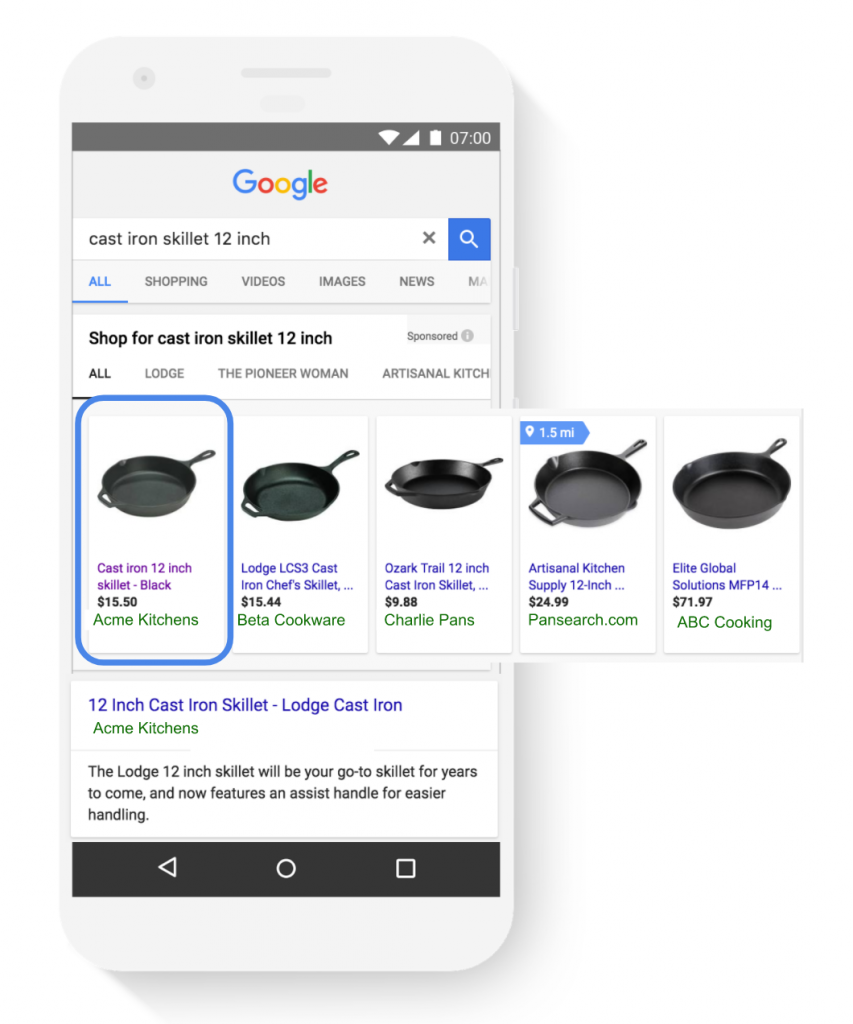 image courtesy of Google
Make ATIS Work for You
Now that you know what ATIS is, what can you do with the information? Start by identifying which of your categories would benefit most from a strong ATIS — and act on this analysis. For example, Google recommends optimizing your promotions and seasonal campaigns by sorting the relevant products into their own product group, checking the ATIS for a couple of days, and upping your bids as needed to boost the share. If you don't know yet, this task is really easy with Whoop!'s Advanced Bid Strategies.
Maybe your ATIS is on the low side. Well, now you know, thanks to the new report. There are steps you can take to fix this problem. For example, maybe you want to consolidate your position for a given product group in Local Inventory ads on mobile. You can adjust your device bid modifier upwards on the relevant category.
ATIS, like normal impression share, also evaluates ad quality. Among other factors, quality corresponds to a relevant title, the correct GTIN, and of course a high-quality image of your product. Audit your poor performers: is their ATIS low for budget reasons, or because of spotty quality?
Limits of the Absolute Top Impression Share
First off, this feature is only available in AdWords Next.
While ATIS is available for Shopping ads and Local Inventory ads, it is not currently available for Showcase Shopping ads. That format is quite new, having just rolled out in mid-July. It could well be that Google will later add ATIS reporting for Showcase Shopping ads, but so far there is no word on this.
Want to know what's next from Google? Hear Cathrin Wagner and Patrick Chardon from Google speak at the Great Day for PPC Automation on October 18th, 2017 in Linz. Can't make it to Austria this year? Join us via live stream.