Subscribe to join thousands of other ecommerce experts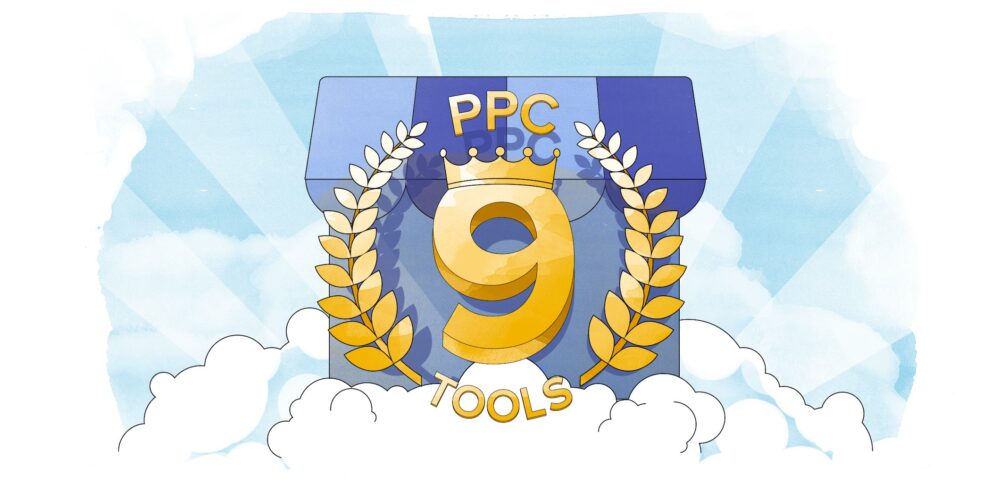 If you are planning to promote and market your products on Google, you must make the most of pay-per-click (PPC) advertising. But managing PPC campaigns is time-consuming and expensive. The current rapidly developing and uncertain state of the economy makes it even more important to make the right choices and keep costs down.
Market downturns present valuable opportunities to reassess processes and toolsets. The right PPC technology stack could help you consolidate operating costs and more effectively reach customers now. Just as importantly, you need to get prepared for the eventual return to normal.
With that in mind, we have put together a guide on the best PPC automation tools for Google Shopping on the market today. But before we get started, there are a few points to keep in mind.
How to think about automation tools
There isn't a one-size-fits-all tool when it comes to automating your PPC campaigns. Some of the tools available, especially from the big players, are multi-functional, but there is always a trade-off between what one tool does well and another not so well. When it comes to Google Shopping, there are three main areas of automation:
Campaign management (how you structure and interact with your campaigns).
Bid management (how much you spend on ads and how often you win placements — bidding is a critical subcategory within campaign management).
Feed management (how information about products is uploaded to Google Merchant Center and cross-referenced with your product catalogue).
A big thing to think about is your interest in a one-stop-shop PPC automation solution vs building a best-of-breed stack using several tools.
In this overview, we've not included any Google-owned products as these are standard tools which you should already be using and which you can benchmark against. We're also not going to make this an exhaustive list, as there are more than enough products out there. Instead, we'll focus on which solutions we think are worth your attention (full transparency, we've included our own, Whoop!).
As with anything that involves automation, it's important to remember that software does not guarantee success. When it comes to PPC analysis and strategy-making, it's always important to consider whether the tools come with the aid of PPC experts. Technology opens the door to improvements — ultimately, people and processes determine the true impact on outcomes and your profitability.
PPC Campaign and Bid Management solutions
PPC campaign and bid management tools automate many time-consuming tasks and can provide insights that help agencies and marketers maximise the efficiency of their ad campaigns.
PPC campaign software must now not only automate the creation of campaigns, it must also provide enhanced methods of segmentation and targeting within a campaign. The setup and onboarding process must be simple, and it should support customisation for automating the creation of pay-per-click campaigns.
Google continues to add new, machine learning-based updates to its core products. Ultimately, Google provides more options and capabilities than any third-party ever really could do — meaning those same third-parties need to think outside the box to provide unique solutions. As far as bids are concerned, these tools must stay one step ahead of Google.

But that doesn't mean Google is the right choice for every merchant. It's important to note that Google is a shareholder-owned company which provides both a platform and a solution which advertisers should view critically. If you want to remain competitive and independent, adding to that solution with outside options is critical.
Let's look at some of the leading lights in PPC campaign and bid tools — both large and small.
1. Adobe Advertising Cloud
Formed by the merger of Adobe Media Optimizer and video ad platform TubeMogul, this is an all-embracing suite of products for advertisers looking to nurture their audiences across off- and online media.
Adobe has a strong reputation in bid management. Its portfolio optimisation approach is driven by predictive analytics and automated bid adjustments, updated on an hourly basis. Advertising Cloud also includes some sophisticated dynamic creative optimisation (DCO) technology that can adapt creative assets based on audience behaviour and intent.
If you are looking for an end-to-end programmatic platform to manage everything from TV to digital video, across multiple device types and territories, Adobe Advertising Cloud is worth further investigation
2. Adaplo
Adaplo helps ecommerce advertisers to get more sales and revenue by automating Ad Campaign Management. Available for Magento and Shopify platforms, it can also prepare individual feed on request. Adaplo also supports Google Ads and Facebook campaigns. It creates a granular account structure with SKU-level targeting and bidding. Campaigns are automatically updated on feed changes. Predictive bidding lets you bid intelligently on each product.
3. Sales & Orders
Sales & Orders are a company specialising in ad self-management. The platform features a suite of campaign creation, management, and optimisation tools. It includes a feed tool, a reporting dashboard, bid suggestions or keywords performance, among others. This is a good all-round tool.
4. Kenshoo
Kenshoo is an online enterprise-level PPC bid management tool that also offers local solutions for small scale advertisers. It provides a variety of bidding types and solutions, such as portfolio, rules-based or model-based bidding. It also offers A/B testing and advanced reporting.
Kenshoo enables the management of product ads and product groups within the Kenshoo UI. It can track, optimise and report on shopping campaign performance. It's shopping-specific bid policy and tracking allow you to bid intelligently while incorporating Google Shopping into an overall marketing strategy.
5. Shopping Ad Automation by smec
Well, we have to think our offering is one of the best…
A granular campaign structure is crucial in order to maximise ad spend efficiency on Google Shopping. Our Shopping Ad Automation technology builds a product-centric structure based on your specifications — with no effort needed.
Our machine learning algorithm analyses the performance correlations between over 400 different signals such as paydays, correlations between brand and product performance, etc., to model your portfolio and predict what bid each item needs to meet your goals.
A central goal of ours is to maximise your ability to align bidding strategies with business goals. Whoop! allows users to look at margin performance, return rates, and other first-party and third-party data via the open algorithm but also by allowing flexible campaign structures such as device and so called query split setups. By using the new Query Sculpting feature, you gain more control over bidding strategies and transparency in the form of performance insights for each query type. This way, you're able to assess potentials that have not been explored yet.
We also supply our customers with a SaaS 'plus' offering, providing customer success management and consulting, helping to make hard decisions when faced with market uncertainty, or simply better structure their campaign feed management.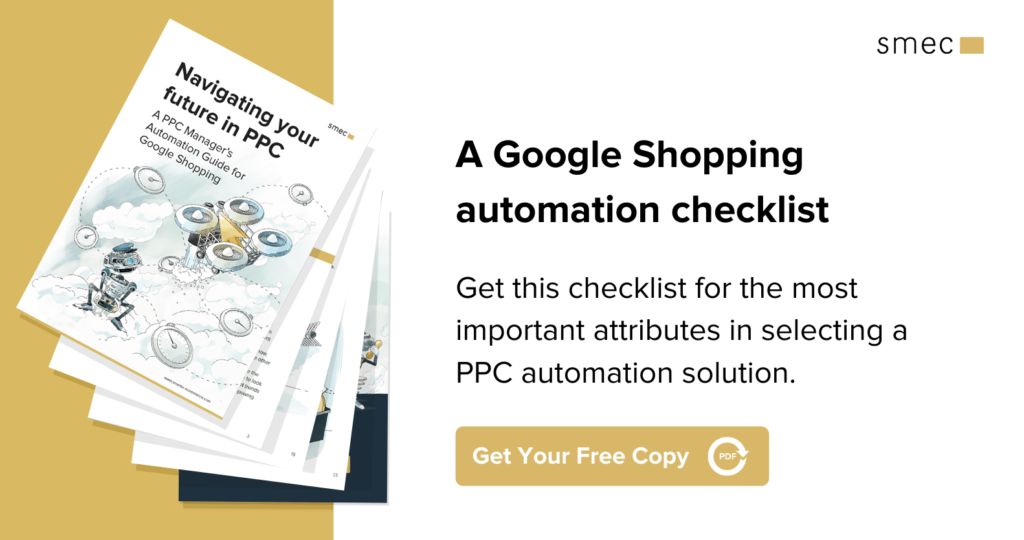 Feed automation
Data feed automation and optimisation is crucial for the success of Google Shopping campaigns. If you want multiple services from a single provider (data feed optimisation, bid management, where to buy, etc.), you are best off with an all-in-one-tool. To be honest, a Magento or Shopify plugin could likely provide all of the feed and campaign management options needed by a small to medium sized business.
Larger companies, however, can benefit from building 'best-of-breed' toolsets that deploy solutions specialised for specific tasks. This is particularly true when it comes to bid optimisation. Like always, your business goals and specific organisational structure make all the difference.
It's also worth pointing out that most tools are 'local players' — they have good functionality and strong connections with the shopping channels in their home country. There are also a smaller number of large players that are integrated with thousands of shopping channels in the US and Europe. But you won't find a tool that is optimised across the entire world.
With that in mind, hare a few recommendations to look at for feed automation:
6. Heraldbee
Created with the goal to make people's life easier by automation of Google Shopping campaigns. The shop owner only needs a running online store to start using the App for creating Google Shopping campaigns. Google Ads and Google Merchant Center accounts are set up automatically by Heraldbee and connected with each other.
7. Channable
Primary purpose of Channable is to create better data feeds. A company launched in 2014 has developed an online tool which helps with completing and optimising the product feed. The feed can be then exported to different channels (including Google). Channable also offers the option to create ads or carry out analysis of the campaign.
8. Channelpilot
A cloud-based multichannel solution for online shops, agencies and brands. With Channelpilot, products are automatically placed on thousands of online platforms globally. The wide-ranging possibilities for analysis and optimisation guarantee the best quality of product data. This, in turn, increases your turnover at a reduced cost.
9. Lengow
This SaaS solution allows online retailers to distribute, manage and increase the visibility of their product catalogue on all online channels (comparison shopping engines, marketplaces, affiliate platforms, sponsored links, retargeting, social media, etc.) worldwide.
Lengow simplifies the import of your catalogue, no matter the format (CSV, XML, JSON, API). If you need to, you can "clean up" your feeds, format them and/or merge them. You can also extract product information from one field to supplement others and thus format your feed according to channel requirements.
Choosing the best PPC automation tool for you
There's a lot to consider when shopping for the right PPC automation solution. Choosing your PPC automation tools will depend mostly on the size of the job in hand and the budget you're dealing with.
The market you are in, and your current flexibility to act on long-term investments is another important variable. But even if you can't invest now, it's important to use this time to develop a plan to take action when you can.
It doesn't matter how small or large your business is: the beauty of PPC software is that it's as granular and as scalable as you want it to be. But the bigger your operation, the more value automation will deliver simply because there are more tasks to automate. But in any context, automation frees time to look at the bigger picture and define your future digital marketing strategy.
Remember, every campaign is unique. You may find some tools will work better for you than others. The key is to understand your requirements. Try and do the following:
Match tools with the size of your product portfolio
Prioritise flexible engagement with your products
Make sure your bidding processes can be optimised
Ensure the tool really frees time for you to be strategic
Ensure that the tool allows and helps you to reflect on the strategic work you do.
And don't forget — your data is one of your most valuable assets. So treat it like that by being careful with whom you share it with. One advice I can give you in this regard is to continuously ask yourself questions such as this one: "Would Google's own marketing team would use Smart Shopping campaigns? "
From our perspective, data collection is actually the largest short-coming of the in-house tools Google offers sellers. However, if you want a full rundown on the future of PPC automation, look no further than our eBook — A PPC Manager Automation Guide to Google Shopping.
---
smec Market Observer
Understanding changes in ad spend and performance is crucial for mastering challenging times. To support you, we created the smec Market Observer. Learn more about the weekly PPC trends and market analysis across different industries to make better-informed decisions.