Subscribe to join thousands of other ecommerce experts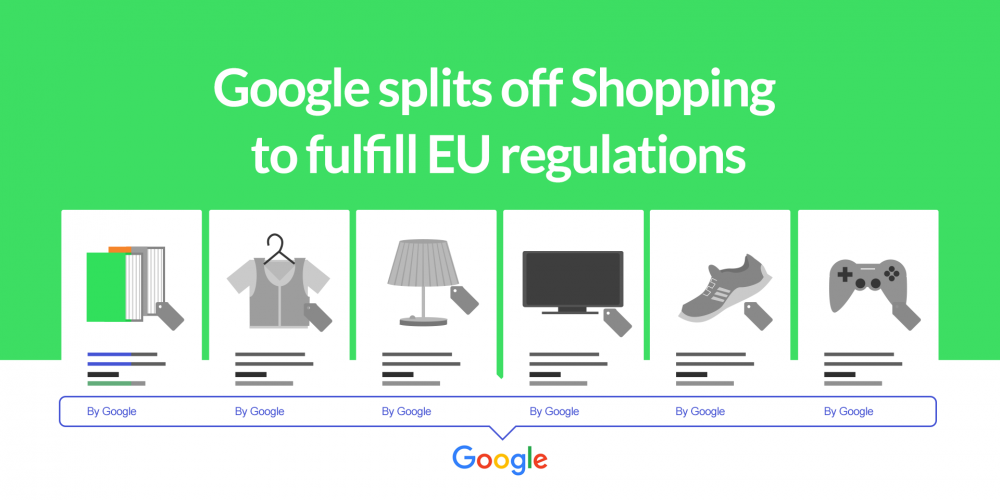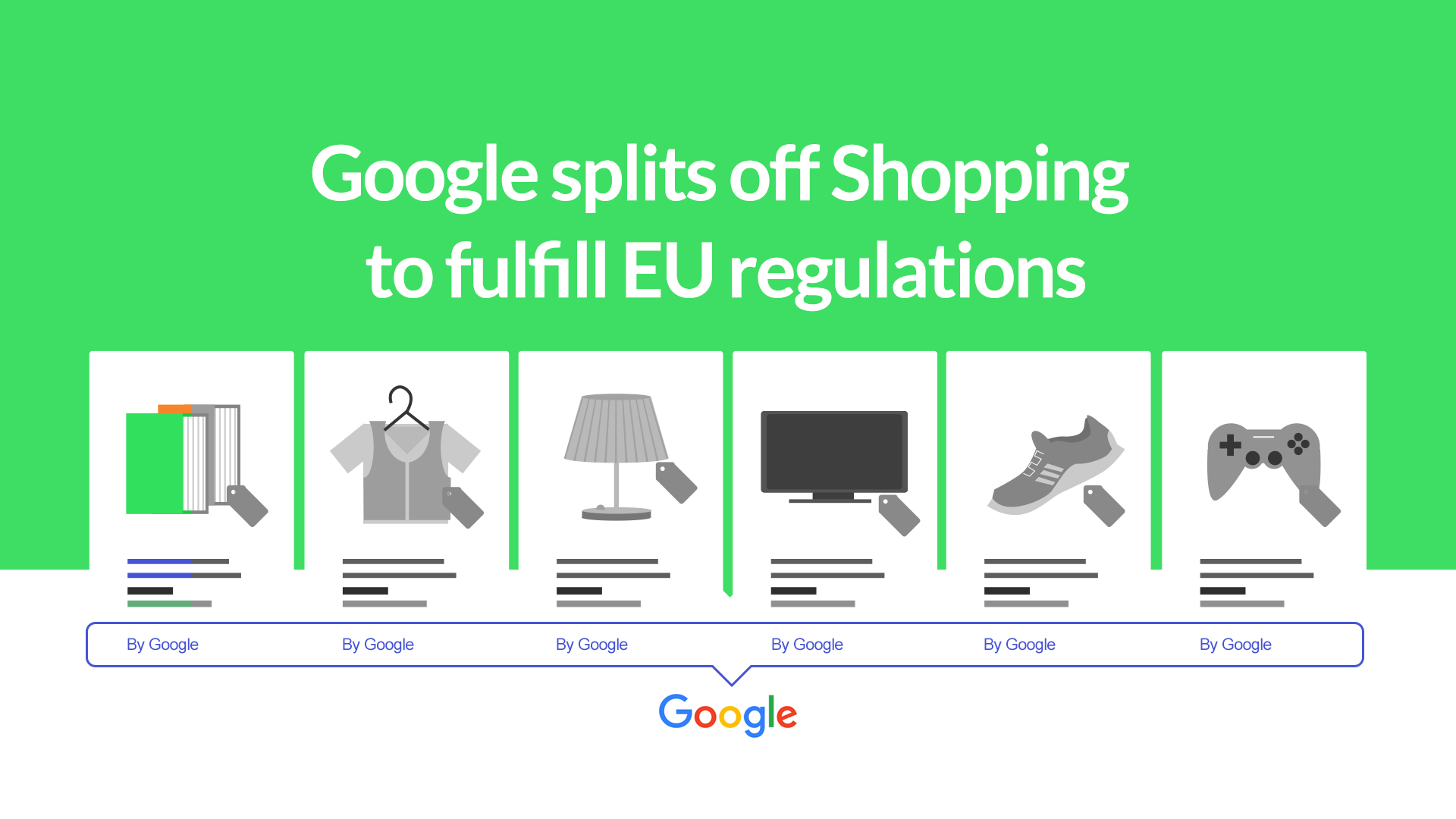 Whether or not you've been following the EU Commission's actions against Google, changes to Google Shopping are coming to you — if you sell or shop in Europe, that is.
Google's parent company Alphabet is now splitting their Shopping operations into a separate business entity that must bid to be featured in their own platform. These changes have already gone live, and they are designed to make Shopping PLAs compliant pending Google's appeal of the €2.4 billion landmark verdict. So, what exactly will compliance look like, and what does it mean for you?
How did we get here?
In a nutshell: In 2010, the European Commission launched an investigation into Google after allegations of anti-competitiveness in their search algorithm. Specifically, Google's Panda update was said to strategically disadvantage a rival group of shopping services: Comparison Shopping Services (CSS) like Kelkoo. Over the years of litigation, this lawsuit has morphed into a challenge to the position and privilege of Google's own Shopping platform.
However, many experts say the whole lawsuit is potentially misleading. Back in 2010, the allegations might have been correct from a legal perspective. But in the years since then, Google Shopping has evolved a lot. And the most important argument underlying the accusation is questionable, because, as Google affirms, Shopping was never a price comparison platform and never intended to be one. Google was attempting to serve customers with higher quality, less redundant content, not to compete against or quash any retailers.
What does the new format look like?
You won't see much difference at the first glance, but there are some changes in the layout. Google reportedly will always offer 10 slots for PLAs and for other CSS options. However, the most notable difference is just a small "badge" at the bottom which makes clear whether it's a classic PLA or an ad from a third-party site. For consumers, it's less visually disruptive than the rejected 2014 proposal by Google, which would have seen CSS listings color-coded a pale green and labeled as "Alternatives".
The new setup appears to be a compromise for both parties — CSSs and Google — since CSSs are reportedly dissatisfied that Google has not brought an organic solution to the table, while Google is in the slightly awkward position of paying to participate in an ecosystem of their own creation. The organic complaint from CSSs is quite telling, since it highlights the discrepancy between the lawsuit's origins in supposedly unfair algorithmic search practices and the current standing: an indictment of the paid advertisement Shopping panel.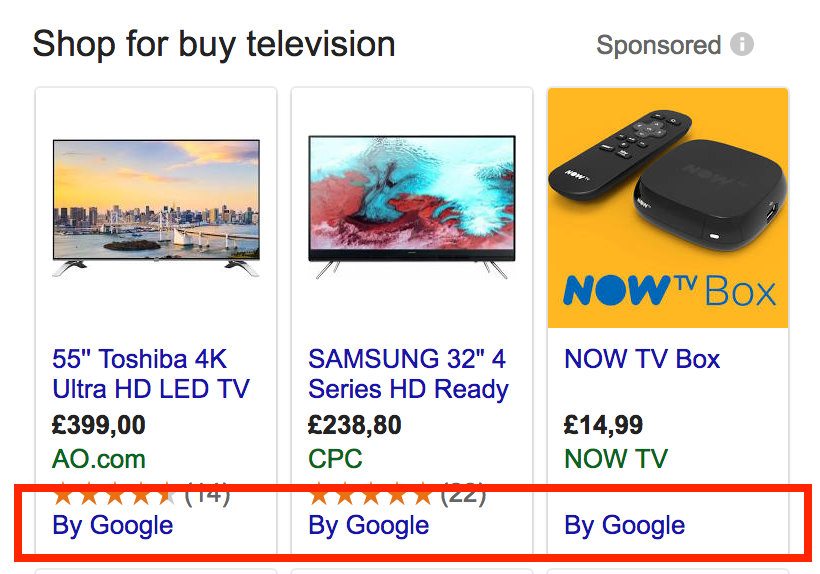 Detail of EU-compliant righthand box PLAs from a desktop search
What do the EU regulations mean for you?
Your first impression might be that there's a clear disadvantage. It could appear as if you have to fight against new competitors: comparison shopping services. But this concern doesn't hold up under closer scrutiny. Currently there are no signs that Google will privilege bids from shopping site competitors over bids by Google, and the placement will be decided by an auction, as usual. This might also be a reason that some retailers seem to be upset about the solution — after all, they are just taking part in a regular PPC bidding process. But this aspect of the solution totally makes sense, because Google can't be expected to change their entire business model. Even the EU does not want such an outcome, and according to Bloomberg, the EU has acknowledged that the Google Shopping slots are available for paid advertising and not intended to be a free giveaway.
The CSSs will need to go through nearly the same procedure as every other retailer using Google Shopping but will have to meet some additional requirements, which can be found here. So there will be no additional technical solution for the CSSs, and they too must upload feeds to the merchant center and use Google AdWords for managing their Shopping Campaigns. In other words, they still need to put their pants on one leg at a time, just like the rest of us.
We expect no meaningful impact, negative or otherwise, on current Google Shopping users. That said, we have a large customer base both in Europe and abroad, and we will keep a close eye on the aggregate metrics of our clients, searching for any trends or repercussions that might be felt from this new format. If there is a divergence in CPC, impression share, or other indicators that we can attribute to the change, we will be there as expert consultants with 10 years of Google API specialization to help users adapt. But, speaking from an experienced vantage point, we are familiar with the fluctuations that are just a fact of life in the ecommerce environment, and we urge retailers not to worry. The Google Shopping channel is still a must-have for advertisers, and this change will be just a footnote in its history.
And the winner is…
Afters years of litigation and negotiation, the CSSs will get their chance to appear on the SERP like any other marketer. It is an underwhelming result, and their participation in Shopping is not likely to be financially fruitful. We will dig into this topic further and map it out in a follow up post, in which we will specifically analyze how this new change looks in practice. Spoiler alert: Google gets the last laugh.
For an insider perspective on Google trends, join Google employees Patrick Chardon and Cathrin Wagner at the Great Day for PPC Automation in Linz on October 18th! Can't make it to Linz this year? There's a live stream for you, just sign up to see it all.