Subscribe to join thousands of other ecommerce experts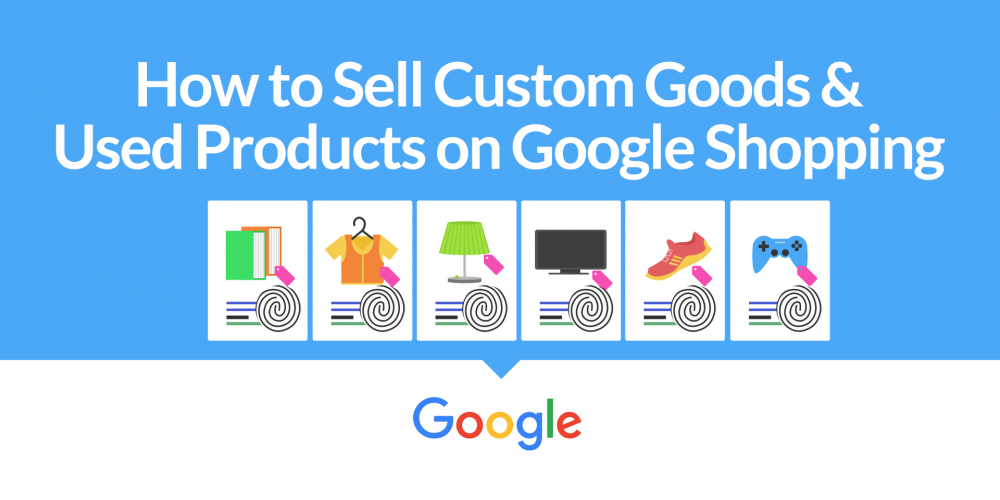 A lot of online retailers aren't aware of the capabilities and means of Google Shopping. Therefore they aren't aware, that it is possible to sell custom goods like antiques or self-made products via Google Shopping. However, it could be an excellent opportunity to push sales due to the high outreach and ever-growing use of Google by millions of people every day. That's why I show you how to sell those custom goods and used products with Google Shopping and what you need to consider.
Tl;dr
It is possible to sell custom goods and used products via Google Shopping
There are a lot of different kinds of custom goods like vintage, art, antiques,…
You have to adjust the Google Shopping Product Feed to sell those goods
There are three different Product Feed Formats
We'll show you an example of a Product Feed
What is a custom good?
There are a lot of different kinds of custom goods. Google defines them as "one-of-a-kind items for which no unique product identifiers exist". We created a list of items which apply for that:
Vintage goods
Collectibles
Art
Perishables
Store brand items
Hand-made goods or antiques
Books (published before 1970)
Custom Clothing (Hand-made / unique clothing)
Everything listed above is somehow hand-made, self-made, antique and therefore – unique! Every mass-produced good, like a Nike Shoe, has a unique product identifier and belongs to a brand. Custom items aren't manufactured by large enterprises hence nowhere registered and not related to any brand.
How do those custom goods differ from normal goods?
As indicated above, "regular" goods usually have unique product identifiers like Brand, GTIN (Global Trade Item Number) or MPN (Manufacturer Part Number). If you want to sell these via Google Shopping you have to submit 2 out of those 3 identifiers at least . Custom goods (like self-made clothes for example) don't have this information. To sell this products anyway, Google introduced the "identifier exists" attribute for the Product Data Feed. This attribute is "true" by default because Google automatically assumes that you are selling a "normal" product. If you want to sell a custom good, you have to set this attribute to FALSE.

How does a Product Data Feed for custom or used goods look like?
Just like a Product Data Feed with "regular" goods, a Data Feed with custom or used goods has to be uploaded to the Google Merchant Center. If you're a Google Shopping newbie, you're probably wondering how such a "Product Data Feed" looks like. Well, first of all, there are three different formats allowed:
If you're not familiar with the terms "XML" and "JSON" the easiest way to create a Product Feed is using the TXT format. A TXT Product Feed could be a simple spreadsheet which contains information about the product. This information has to be represented by attributes. Google Shopping requires 11 mandatory attributes but there are a lot more. In the SlideShare we published yesterday, we showed you every mandatory attribute at a glance: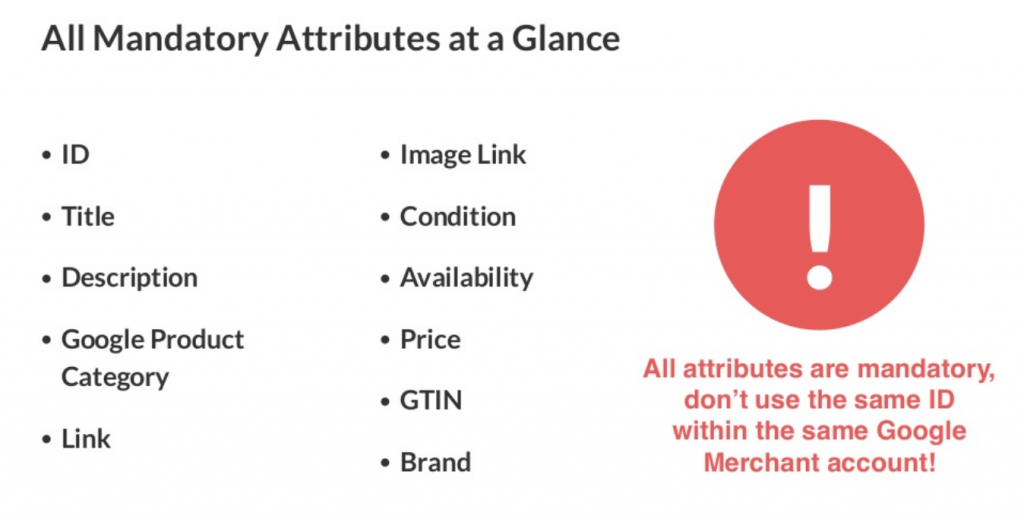 Those attributes mostly apply for custom goods as well, except for "GTIN" and "Brand". But let me show you an example:

The important attributes here are "identifier_exists" and "condition". As mentioned above, you have to set "identifier_exists" to "FALSE" if you're selling a custom good. If you're selling a used good, you have to set the attribute "condition" to "used". Other options would be "new" and "refurbished".
Those attributes are just the ones required by Google, but there are plenty more. According to Google, it's best to use as many attributes as possible to show up more frequently. You'll find an overview of all Product Feed Specifications here.
Conclusion
It's not only possible to sell "normal" products with Google Shopping, but also self-made, hand-made, vintage or used products. The only thing you need: a webshop and the knowledge how to adjust your Product Feed. There are a few simple and necessary steps, but it will be worthwhile at the end. Google Shopping is on the rise and as Kirk Williams says:
"Don't fight it. Shopping is 66% of market now. Invest your time in Shopping where people are, and utilize Text Ads for clean up."