Subscribe to join thousands of other ecommerce experts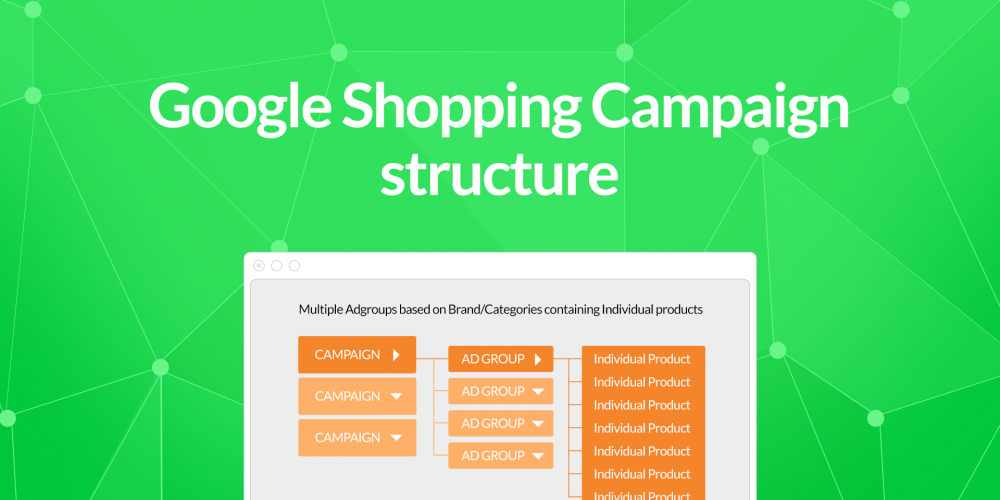 Many advertisers aren't aware of the impact on the performance of a well-structured Shopping Ads campaign. Especially if you manage your Shopping Ads by hand, a granular campaign structure is very time-consuming. However, it is crucial to get the best performance for your Shopping Ads. We will show you how to avoid the most common mistakes regarding a Google Shopping campaign structure.
Too long, did not read version:
Build a granular Google Shopping campaign structure.
Get on item id level with your bids.
Do not work with an "All products" target or any very generic structure with one or only few overall bids.
Why is a granular campaign structure important?
Most advertisers don't work with a very granular Google Shopping campaign structure. Therefore, they are not cognisant how their brands, categories, custom labels, combinations of them or even single products perform.
Consider following case: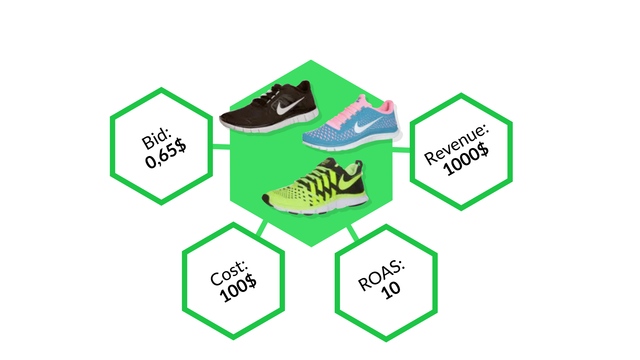 You are selling different kind of shoes. In this case running shoes with an overall bid of 0.65$. Your goal is to reach a ROAS of 6 at minimum. If you take a look on your campaign performance you see a ROAS of 10. This is pretty good and fulfills your goal, but it could be better.
When taking a deeper look you will see that only two of them have a ROAS meeting your expectations. The first article influences the overall performance in a very bad way.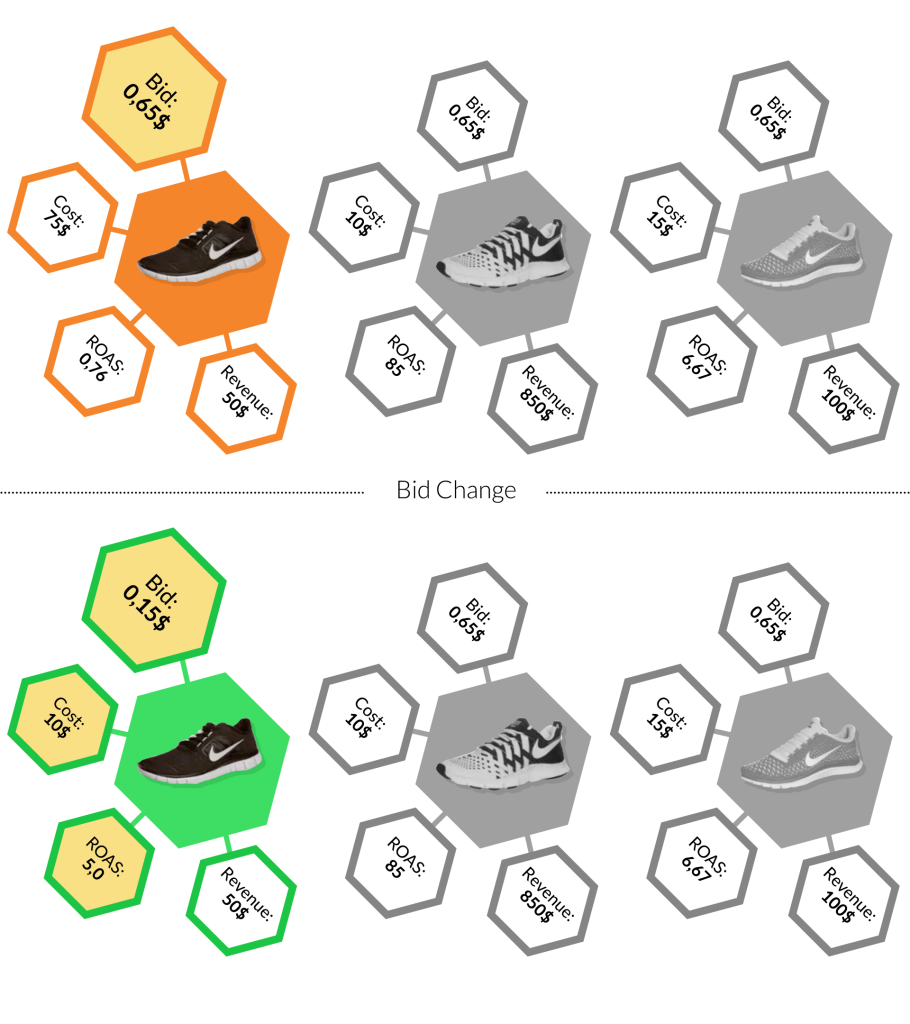 With a granular campaign structure you have the possibility to set bids for every single product. Moreover, you can set bids on different product clusters such as brand-product-type combinations, or you simply use a tool which gives you the opportunity to bid on item id level. This comes handy if you don't have the time to set bids for every single product, particularly if you have many products to handle. With a granular bidding you can influence the performance in a better way. Therefore, you can reach a desired ROAS more easily.
How does such a granular Google Shopping campaign structure look like?
If we stay with the shoe store, a possible campaign structure could look like this: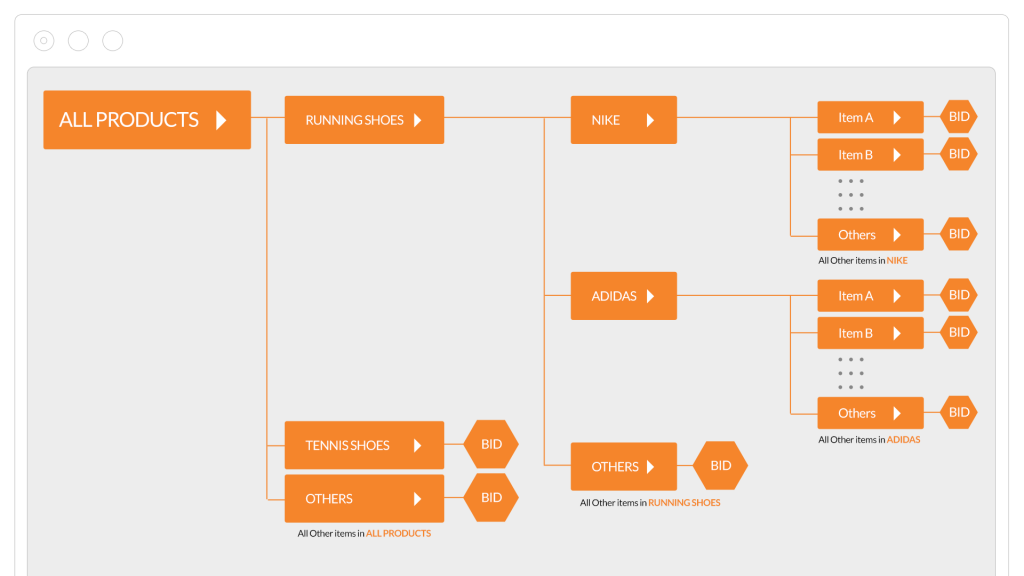 Keep in mind that you can only manage 20.000 product targets within an ad group. Therefore, if you have more than 20.000 products and you want to cover all of them, you have to create several campaigns with inventory filters or setup a multiple ad group approach. This means you add all your item ids explicitly as product targets and exclude the "all other items"-partition. If an ad group reaches its full capacity create the next ad group – rinse and repeat. If you do not exclude the "all other items"-partition all ad groups will target all of your products (specified by the inventory filter at the campaign level) and your bids will not apply they way you want them to be applied. Do not forget to create a fallback campaign, which is targeting all products if you are excluding the "all other items"-partition. This is very crucial especially if your product range is very dynamic or you change something on your feed structure.
Do not forget that you will get all shopping performance data on brands, product types, custom labels and each item id regardless of your campaign structure. This also applies even if you just use an "all-products"-target. You get this data via the dimensions tab under the section "shopping".
However, the most important still is the following: Don't work with an "All products" product target with one overall bid. That is the worst thing you can do, because you lose all the levers, which come along with a granular structure.

How do we design campaign structures with Whoop!?
Generally speaking, the campaign structure itself is secondary for us or rather the way how you get to a structure based on item id level does not matter. We always operate on item id level and add/remove new or old products to the structure via the Google Adwords API on a daily basis. By doing so, the campaign is always up to date and every product bid can be adjusted.
Considering a standard setup of a campaign structure we build one campaign with several ad groups for the brand-product-type-combinations. There we add all applicable items and exclude the "all other items"-partition. Sometimes, we also build several campaigns based on product types, brands or custom labels and create ad groups based on a different dimension in this campaigns.
Why do we do that?
Firstly, we create the ad group structure to get more data for brand-product-type-combinations through ad-group-based reports.
Secondly, by adding each item id to the shopping campaigns we are able to change the bids across different item ids without caring about the structure. That means if you choose to subdivide your inventory by brands and then decide to increase bids for specific product categories or custom labels you have to dig through the structure and update the bids or you create a new campaign. We just replicate the inventory in our app. If we chose to apply a different bid strategy for a product type we just update the bids for the respective items – totally independent of the existing campaign structure.
This is also where our predictive algorithm enters the scene. Every single product gets rated by our Shopping Ad Automation tool. Then, in dependence of the determined goal our algorithm will apply a bid for each product.
Don't be a Bad Luck Google Shopping Brian, start to rethink your campaign structure!