Subscribe to join thousands of other ecommerce experts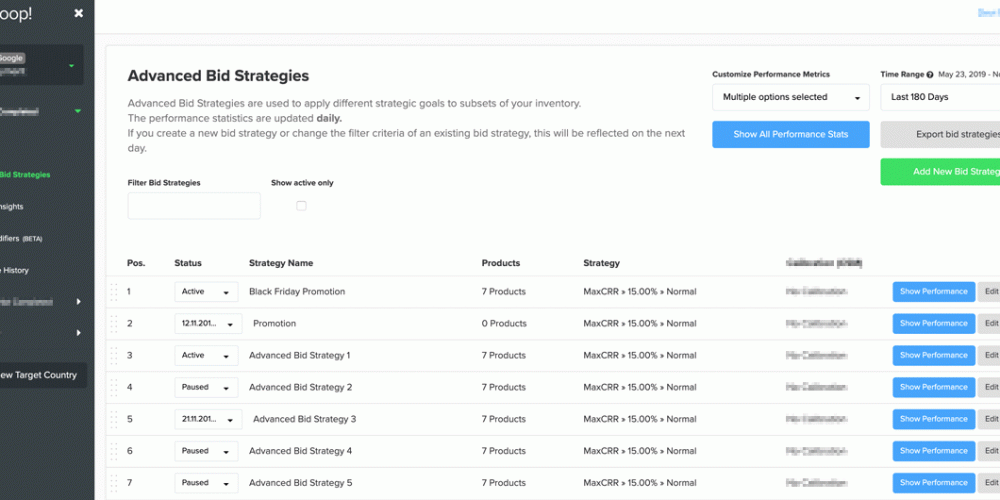 Get ready: Our current Whoop! development initiatives are enriching the functionality of Advanced Bid Strategies (ABS) by offering you improved workflows and convenience, even more flexibility, and new capabilities. Most importantly, you remain in full control of your custom Shopping strategies.
If you don't know, ABS is a powerful rule-based Whoop! feature set that allows you to set specific goals and bidding behaviors for individual products or groups of products in your Shopping campaigns. So while Whoop! can already set product-level bids per target country, device, and query, using ABS lets you additionally cluster product groups – for example by margin, return rate, promotion, brand + category, topsellers, seasonality, product lifecycle, pricing competitiveness, stock level, shipping class, or any business logic you desire.
Over the next weeks and months, we'll start to roll out valuable improvements to this flagship feature, beginning now – just in time for the upcoming holiday season. So let's get down to business and have a look at what awaits you.

Enhanced ABS features in Whoop!
Ever since we launched Advanced Bid Strategies, the reception has been really positive, and we've received tons of new ideas from the community of Whoop! users – thank you for that. Now, based on your feedback, we're developing this flagship feature even further in order to bring the effectiveness of your ABS to new heights. We don't want to keep you guessing, so here is the first feature set which is now live, plus a view of what's coming next.


New features

ABS Scheduling
What's changing:
Now you are able to schedule specific start and stop times for your ABS all the way down to an hourly basis.

Who benefits:
All brands and retailers with
highly seasonal items for sale (e.g. home & garden, sporting goods, etc)
a trend-driven or rapidly cycling assortment (e.g. fashion, books & media, etc)
heavy use of stock promotions or holiday promotions (i.e. product launches, vendor promotions, weekend sales, clearance sales, Black Friday, Free Shipping Day, etc)
product strategies that vary during the week (e.g. B2B merchants or B2B/B2C hybrid merchants)
How it helps:
The result is no more hectic, last-minute updates in order to be ready for a specific promotional or strategic initiative. Just set your ABS in advance and trigger them with the date and hour of your choosing. Another advantage of using this ABS enhancement is that your scheduled ABS will be executed with top priority, so you don't need to worry if a product is participating in multiple strategies.
For example, a Consumer Electronics merchant might choose to support new inventory going live in their webshop on Monday morning with an aggressive bidding strategy to drive awareness. They might also push compatible accessories more aggressively, then let all these products automatically return to their normal strategy after the launch phase ends.
A Sporting Goods brand might choose to push certain products based on the schedule of matches that are likely to drive search interest, and can now seamlessly pivot between strategies with scheduling.
For business critical periods like the holiday peaks, you can create one set of product strategies for Black Friday, switch them off for the weekend, and turn on a different set of strategies for Cyber Monday – all fully automated.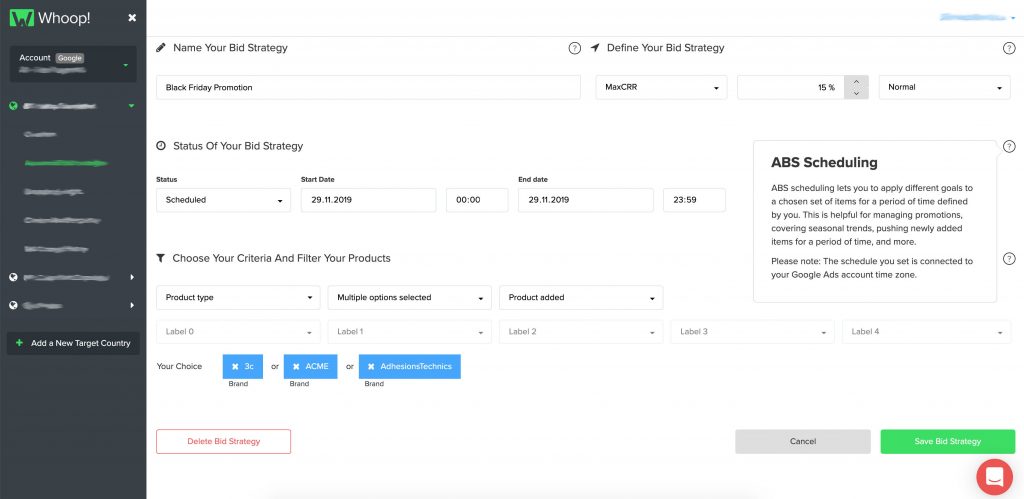 ABS performance report
What's changing:
Now, your Advanced Bid Strategies can be exported as a .csv file for further reporting and analysis.

Who benefits:
All ABS users, especially those who want to gain a deeper understanding of the business impact of their strategies or who need to offer additional reporting within their organization.

How it helps:
For data junkies, this is the perfect way to hand off your Whoop! ABS data for a deep dive.
For example, a retailer with diverse ABS for different brands and product types could previously select from numerous custom metrics and view these per ABS, but they couldn't necessarily get a more advanced picture. Now they can hand their data to Google Sheets, Microsoft Excel, or whatever their preferred tool is for sheets, charts, dashboarding, or business intelligence. Then they can handle this data however suits their workflow for identifying impact.
Up Next
Search bar
What's changing:
To facilitate a quick and easy searching when it comes to your ABS, we are integrating a new search bar which allows you to look for specific ABS in your account.

Who benefits:
All Whoop! users can benefit from ABS search functionality, but especially users who have a lot of advanced bid strategies in place. There are some ambitious Whoop! accounts with more than 200 strategies.

How it helps:
You can quickly locate a specific strategy (or strategies) based on terms from the name of a strategy, or from the goals of a strategy.
For example, a Health & Beauty merchant's search for "Spring Promo" could yield results for five different strategies like "Spring Promo – Men's Fragrance" and "Spring Promo – Women's Beauty Tools". They could then review the goals and schedules of these strategies and adapt as needed. In another case, a Sporting Goods merchant who wants to change their ABS min ROAS targets from 10 to 12 could enter the search term "10" to reveal all strategies with that goal.
In the future, bulk operations will empower this workflow even further by allowing you to multi-select the resulting strategies and edit them all at once.
Active ABS Filter
What's changing:
A filter option will allow you to hide all paused and scheduled ABS to focus only on active strategies

Who benefits:
Like the strategy search bar, this feature is especially beneficial to heavy ABS users with a lot of strategies in place.

How it helps:
Have you ever wished to display only your active ABS on the dashboard? No worries, we've got you covered! With this particular ABS increment, you're now able to see every active ABS without having to scroll and scan through your ABS lists, potentially overlooking something. All of that can now be done with one quick click. This feature comes in especially handy for all of you who want the highest granularity with multiple ABS active and still want to be able to get a nice and clean overview of everything currently enabled. Furthermore, we're reviewing additional filter possibilities for the future (e.g. view paused strategies only or view scheduled strategies only).
Availability
ABS scheduling and ABS export are available immediately in all Whoop! accounts, just in time for the peak holiday season. ABS search and filtering will be rolled out to all accounts by approximately mid-December.
Future Outlook
Besides these valuable features, we are developing a lot more improvements for ABS, including:
displaying the General Bidding Strategy as read-only within the ABS overview
making the ABS header a fixed row (so you don't have to scroll back up to adjust the time range or performance metrics on display)
changing strategy priorities will be available as an overlay
new ABS creation filters for "resulting price" and "sale price"
bulk selection for editing and deletion
bulk selection for copying ABS to other bidders (within the given target country, e.g. device-level bidders)
bulk upload and download functions
More details on these features will be released as they become available. Here is a conceptual mockup of how it all might look in the near future:

All these topics are in our product development roadmap. These forward-looking statements represent our current judgment on what the future holds, but they are subject to risks and uncertainties that could cause actual results to differ. In other words, this article reflects our opinions and estimates only as of the date of publication.

What we can say for sure is that we are highly committed to adding value for our users, and we continue to explore multiple avenues for doing exactly that.

How to get started
As a SaaS+ company, smec not only builds the right tools, we also offer you expert support to bring your account to the next level. In case you have questions on how to use the new ABS features and exploit their full potential, feel free to get in touch with one of our CSMs – they're happy to help you out.