Subscribe to join thousands of other ecommerce experts
Whoop! Now Offers Custom Metrics and Quick Editing for Advanced Bid Strategies
Back in 2015, we first launched Advanced Bid Strategies (ABS), a powerful feature within Whoop! that allows you to take precise action to address your top sellers, new products, seasonalities, special promotions, or any unique facets of your Google Shopping campaigns. While we have continually refined the features and benefits, we are excited to announce our most significant update yet, an incredibly productive combination: Custom Metrics and Quick Edits. The new overview screen is rolling out to all Whoop! users over the next couple of weeks and will allow you to view key figures related to your ABS, custom tailor these metrics to your business needs, and quickly change any ABS based on your findings. This offers you sharper insights and greater agility so that you can meet and exceed daring goals.
Understand your KPIs and make informed decisions
React and adapt faster with a more convenient interface
Break down your ABS results by mobile, tablet, or desktop


The newly enhanced ABS overview screen.
Key metrics at your fingertips — for every single ABS
With Advanced Bidding Strategies, you are able to set exactly the right goals for broad or specific subsections of your inventory. For example, maybe you want to achieve a higher ROAS for flatscreen TVs than for cables or accessories because your margins differ significantly. Previously if you created an ABS for that reason, the resulting performance of these selections could be difficult to track. That's why we now offer detailed metrics: so you can study and understand your account performance with unprecedented depth and ease. For each and every ABS, you can simply click the Show Performance button to view a set of eight default KPIs: clicks, impressions, cost, conversion value, conversions, click-through-rate, average cost-per-click, and (last but not least) ROAS.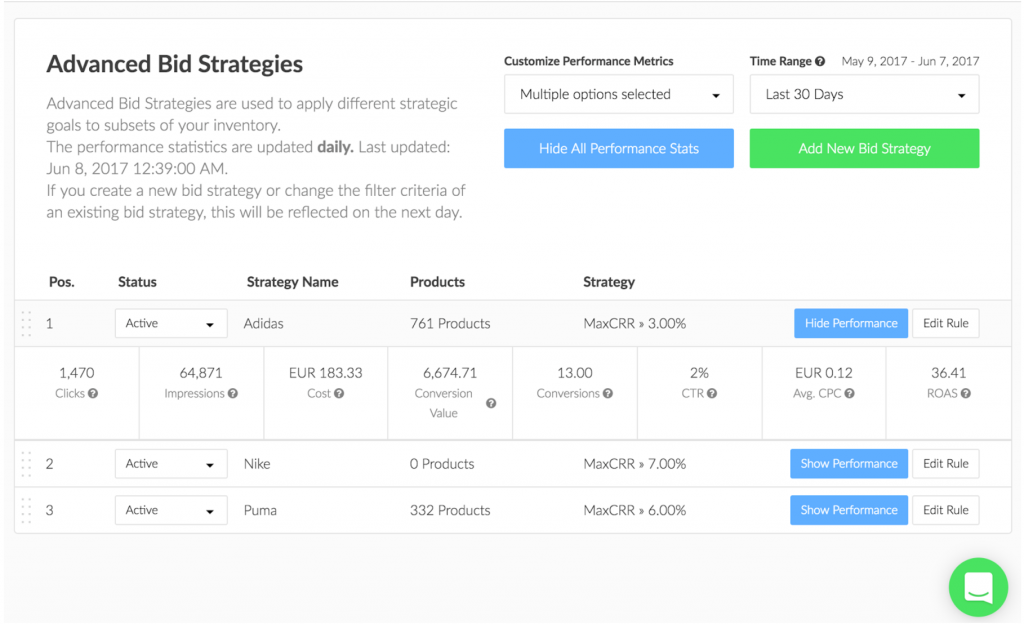 The metrics reflect data drawn from every currently active product within the ABS.
Adapt your Advanced Bidding Strategies in seconds
What has the data told you? Should your strategy be more aggressive to increase impressions? Is your achieved ROAS falling behind your goals for the quarter? It's now easier than ever to adapt your strategies to meet your needs. Previously, in order to edit an ABS you had to select the desired ABS, navigate away to the ABS creation page, adjust the criteria in question, then save it and return to the ABS screen. Yikes. We have simplified this process by introducing quick edit functionality, which enables you to modify the criteria of your ABS right there in the overview screen. For example, now you can change the goal of an ABS from maxCPA to minROAS in a couple of seconds without ever leaving the page. Just click the Edit Strategy button to get started.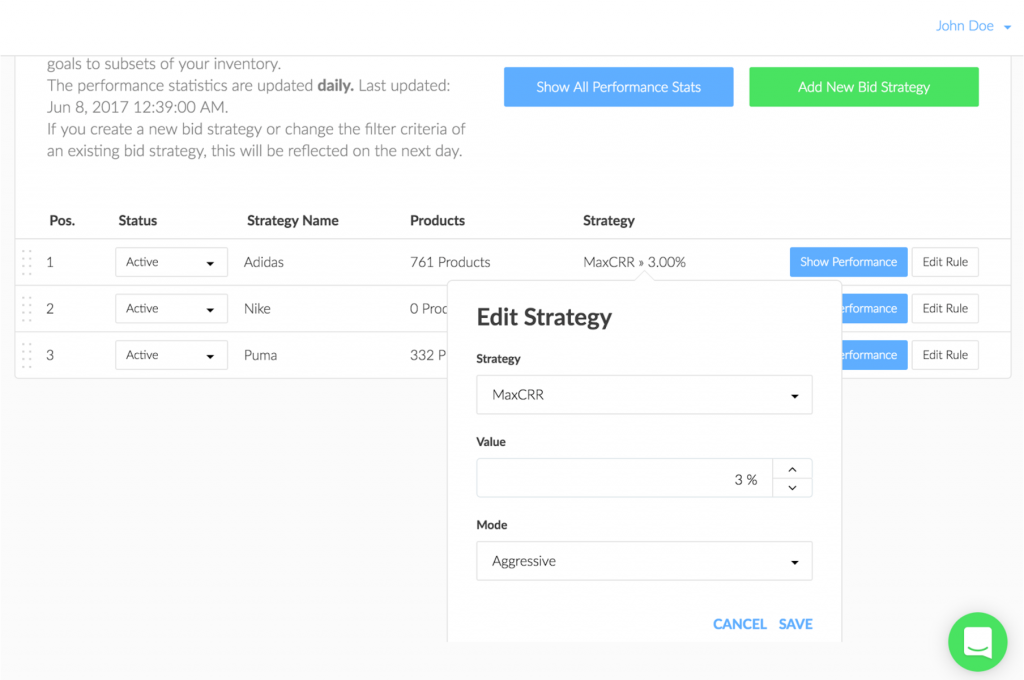 Now you can change the focus, benchmarks, or behavior of any ABS in seconds.
Custom metrics that reflect your business needs
Need to measure your ABS performance from viewpoints other than the default KPIs? No problem: now you can easily select whichever custom metrics make sense for your campaign goals. Whoop! even offers metrics like Conversions or Cost segmented by device. Just a few years ago, smartphones weren't so smart, but in the modern Google Shopping ecosystem, it is essential to clearly understand your campaign performance on every device. That's why we added metrics that empower you to see your mobile and tablet KPIs right alongside your desktop stats for each and every ABS. Simply use the Customize Performance Metrics dropdown to compare up to 16 different custom metrics.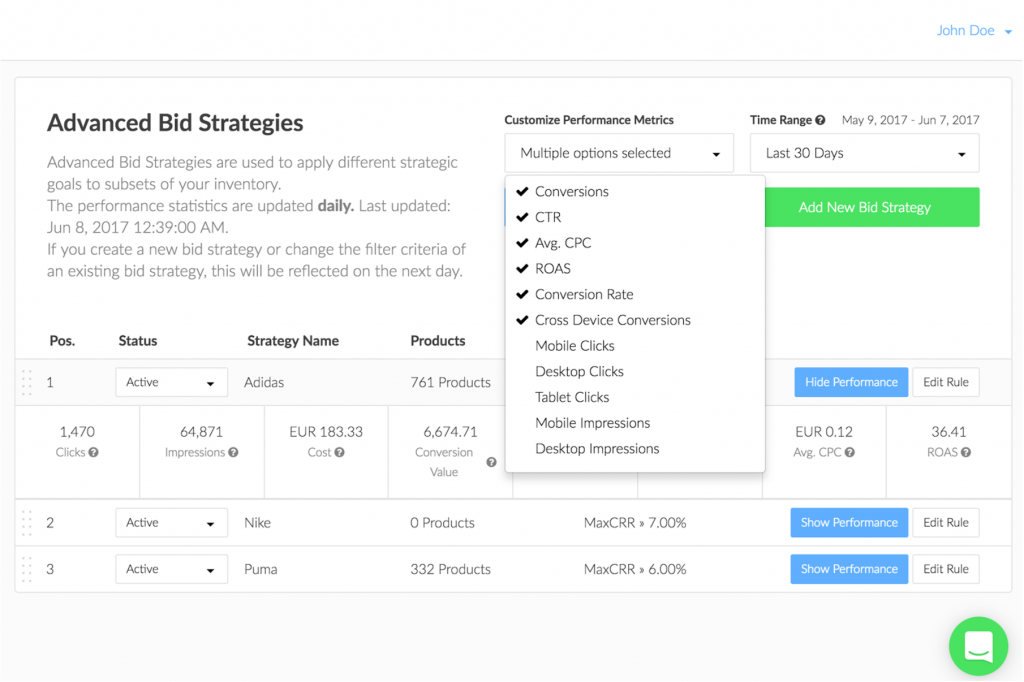 Mix and match the metrics that drive your business — you can even view key metrics by device.
What's next? A glimpse into the future of ABS
We are very excited to offer this powerful new ABS overview to our Whoop! customers. That said, our developers are never satisfied and will always keep adding value and functionality in order to benefit the user — you. So what's next? Your ABS metrics will soon be downloadable, making it easier than ever to share your Whoop! successes within your company and to export and collect the data for more detailed analysis. Quick editing will have even more options, so that you can very rapidly adjust your strategies to achieve specific goals with no hassles and without altering your overall campaign strategy. And, of course, more metrics are on their way — including CPA and CRR. For strategies based on max CPA or max CRR, the relevant metric will be displayed instead of ROAS.
Best practice: To help identify possible targets for Advanced Bid Strategies in your assortment, try our Orbiter PPC Data Visualizations for free.