Subscribe to join thousands of other ecommerce experts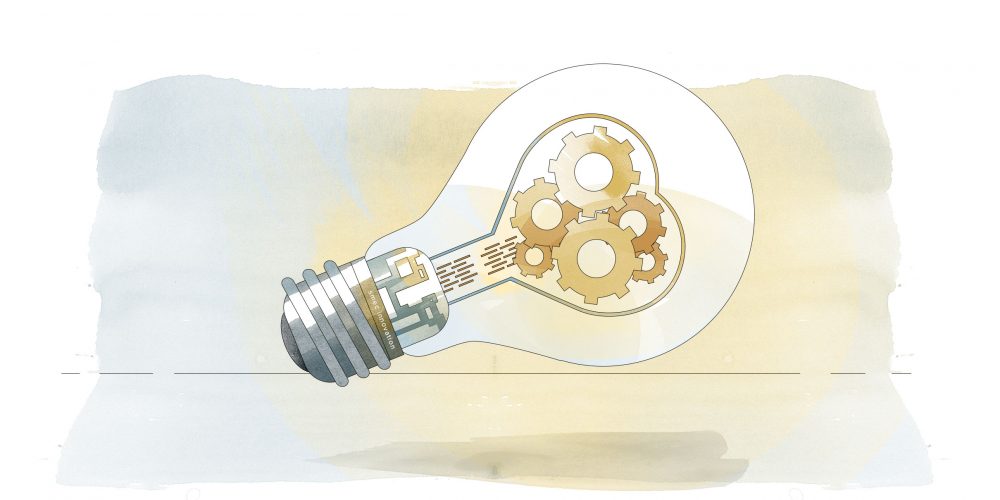 As you may have read in my former blog posts regarding innovation at Smarter Ecommerce, we always try to improve the status quo here at smec – no matter what product or feature. Therefore, we have sharpened and professionalized our innovation process, which is now based on the three main pillars transparency, participation and simplicity.
From my perspective, the most important person in this process, is the one coming up with a new idea. Quite often, those ideators are working in an operative area of the company, closely to our customers. In the past, I saw ideas being collected in a central database and then some people from strategic departments made something out of it – or not. And I have also seen ideators who stopped coming up with new ideas because they were frustrated as a result of not being involved in the process.
Restructuring the innovation process
Before we initiated our new innovation process, the situation was quite similar here. Since then, we have changed two things to tackle this. The first one was quite simple: We offered ideators to push their ideas through a professionally organized and structured Innovation process. It is voluntary and so is their decision to participate. As the development of an initiative takes quite some time and countless efforts, it is a tough decision for them – but most of the time, they just go for the challenge.
The second measure was a bit more tricky: We decided to implement a knowledge sharing strategy in order to guarantee full transparency. Furthermore, this strategy should tackle the forgetting curve by Ebbinghaus. In other words, we try to have the innovation initiatives on our table as often as possible. The strategy itself unfolds in the following parts:
Wall of Innovation: Visual Management for our innovation initiatives
Innovation talks: ten minutes for updates, inspirations and insights on a weekly basis
Work out loud: rather than privately (email messages or in closed meetings)
smec info hub: information regarding the initiatives, the process and much more
smec meetup: presentations in front of the whole company every 6 weeks
What amazes me week after week is how many colleagues are using these information sources. One pretty impressive example: There are up to 50 participants in our weekly innovation talks and the number is still rising.
What you don't measure, you can't change!
Yes, that is a very wise saying from controlling and applies to innovation topics as well. And it is also the reason why we had had a survey regarding our innovation process before we implemented the new – and the better – one. In the future, we are going to repeat it every six months to continuously evaluate and improve our approach. And in order to show you what our measures have already changed, I would like to share some numbers with you.
One of our questions was whether our colleagues are willing to participate in innovation initiatives in the future. We were quite impressed with the result – 77.6% are willing to, 41 out of 64 even left their names in the comment fields so that they can be invited directly.
Are you well informed what happened with your ideas?
According to our numbers, we had had the all too common problem of weak or not enough insights regarding innovation at smec, before we started our "knowledge sharing strategy". In June, less than 50% were positive about this question (6 = very well, 1 = not at all). After nearly four months, our strategy led to a turnaround in the results. And now, almost 90% of our colleagues are positive about their state of information.
Are you well informed about ongoing innovation initiatives?
Besides all those very, very positive and motivating numbers, we have received quite some feedback in the comment fields as well. Of course, we occasionally find some weaknesses in our process and the information system, which we then can tackle in the following weeks and months.
Before you earn, you need to learn
The human nature is wired in two main directions. On the one hand, we always want to push forward, shift the limits and storm new heights. On the other hand, we need to have a cave in our backhand, a safe place where the sabre-toothed tiger won't get us.
This analogy shows the reason why it is such a tough job to transform ideators into true innovators. Also, innovation works something like this: You first have your idea and find out where you need to go, but there is no path yet. Therefore, you need to experiment quite a lot and accept potential drawbacks or failures on your way.
By keeping our process completely transparent to the whole company and in addition, by doing the first innovation initiatives ourselves, we were able to show that we are aiming for learning rather than immediate success. It is actually good when the innovation process helps us identify ideas in an early stage that do not have the potential to become genuinely new products or services. Furthermore, we are looking for situations in which innovators can be proud of their work – independent from the actual outcome on the market.
Overcoming the fear of failure
Fear is the most powerful obstacle for innovation, as true innovators typically face rather resistance and will end up doing one of two things:
Either never bringing up another idea or
Sharing the experienced resistance and thereby holding back others from coming up with new ideas
Having no fear, by the way, does not mean that outcomes are not checked or questioned, as this would result in horrible pipe bursts and frustration on both sides. Therefore, we aim for the best innovations and innovators who are actually willing to recommend their experience in the process to others as well.
Your environment is crucial for success
There is a little innovator in each and everyone of us, did you know? But the thing is that your environment will determine whether something comes to fruition or not, so keep that in mind. If you want your company to come up with lots of ideas and if you furthermore want ideators to work on those, then it is absolutely crucial to create a fearless and empowering surrounding for everyone in the process.
Overall, my final recommendation is to encourage and challenge your existing innovation process – if you don't have one, create it! It is almost obvious that you will get the most out of your ideators when they are happy with the process itself. In the end, this will lead to higher participation rates amongst colleagues and greater motivation for everyone involved – leading to an even greater future for your company.