Subscribe to join thousands of other ecommerce experts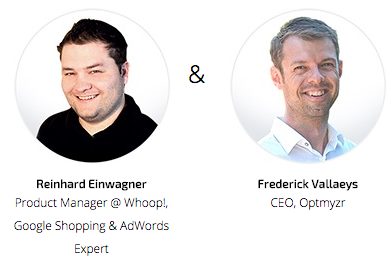 Google Shopping has become an important advertising channel for many retailers and Google is constantly increasing the number of available features and possibilities. But even experienced PPC managers may not be aware of every little tweak to boost their campaigns performance.
In this webinar, Fred Vallaeys (Optmyzr) and Reinhard Einwagner (Whoop!) will go into detail about
campaign structure – ad groups vs. product groups
getting the most out of Google Shopping reports
bidding strategies – the new bid strategies released by Google
synergies with text ads
advanced use of custom labels
Join us next week to gain new Google Shopping insights and ask us anything you want to know about optimizing your campaigns!
Details
Day & time: August 26th, 9 AM PST (West Coast USA) / 6 PM ECT (Central Europe)
Duration: 1 hour (50 minutes speaking time, 10 minutes Q&A)
How to attend: we use GoToWebinar for our webinars – you will find everything you need to know about connecting to the webinar in your confirmation e-mail
This webinar is presented by: