Subscribe to join thousands of other ecommerce experts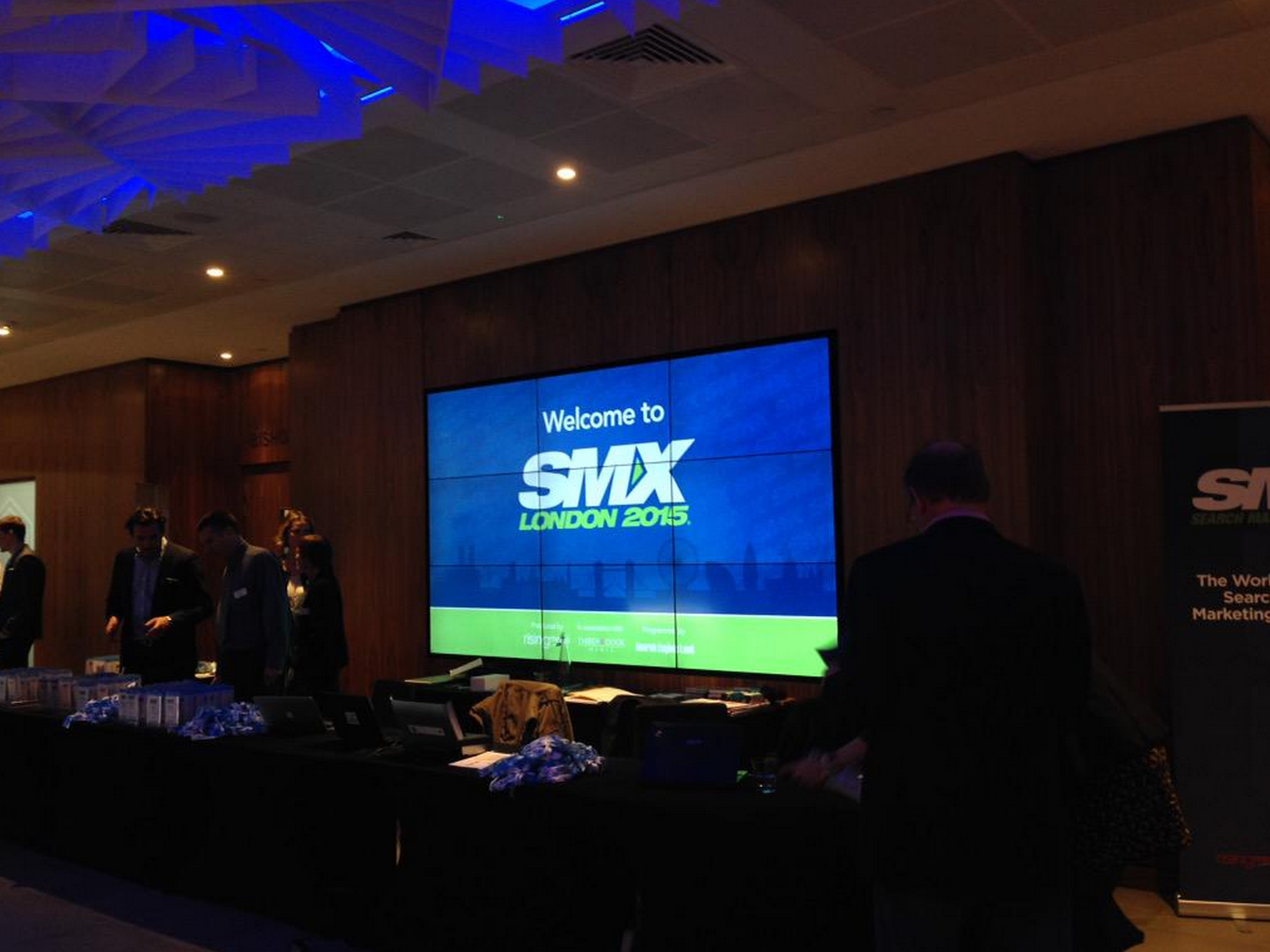 You as PPC-experts know that today started the SMX London with a lot of interesting sessions by SEO or SEM veterans and beginners. We also participated and just want to share our impressions of the first day.
The 1st Keynote by 10 year Google veteran Maile Ohye (@maileohye) was a nice roundup of how Google search has evolved in the past 15 years – from putting together a string of text to developing "universal search" in 2007. Back then it was a big highlight (having books, images, etc. results all in one page)  that search was not just supposed to put together strings like the old web directories – but rather, things. Things as entities, e.g. if you search "Prince Charles' sons", it's not just about those 3 individual words, but about their meaning – Google provides answers to informational searches. Boiled down to one sentence you could summarize Maile's talk with "search changes fast – what works this year might not work next year". A nice kick-off to SMX London, to say the least.
It's starting to fill up here at #smx London pic.twitter.com/un7VIHjUxy

— Whoop! (@whoop_app) May 20, 2015
  The paid search track immediately started off with a message by Vivien Tombs (@vivtombs) that hit home for a lot of PPC managers: that the amount of time an average PPC account manager spends on daily account work (clicking, clicking, …) as opposed to real analysis & optimization is overwhelming – it's simply too much! She mentioned ways to make life easier for account managers – for example, labels ("labels changed my life") – labels help you keep tabs on who's doing what in an AdWords account, especially if it's a larger account managed by more people than one. And – hooray! AdWords editor now supports labels (since last Thursday). Her concluding tips were: – label everything! But always have a standard ad as a safety net – be careful of character count and last but not least – for retailers and non-retailers alike – get creative!  BTW: we also got creative and are serving delicious cake pops at our booth 🙂  
Need something sweet for your break? Come by our stand and get a delicious cake pop 😉 #SMX #SMXLondon pic.twitter.com/Ia5xwLXazk — Whoop! (@whoop_app) May 20, 2015
Daniel Gilbert of Brainlabs (@danielgilbert44) then dived a little more into our favorite topic: automation. AdWords text ads in this case – "For 10,000 keywords you have 1,000,000,000 possibilities – you can't afford not to automate!" – true, especially since 10,000 keywords isn't even a large account. So if you're a retailer with thousands of products and millions of keywords . He then talked about how helpful scripts and some basic knowledge of programming skills can make life considerably easier for PPC managers.
"Learn adwords scripts… or use broad match" @danielgilbert44 makes the audience laugh on #SMXLondon #smx pic.twitter.com/yvhWW3Xhvt
— Anders Hjorth (@soanders) May 20, 2015
  Some of these suggestions are certainly applicable to Shopping Ads as well – and keeping in line with what Brad Geddes (@bgTheory) said at the beginning of his talk "never combine different ad types" after lunch our own team talked about optimizing bid management specifically for Google Shopping Ads. To treat shopping ads on the same level with text ads in terms of bid management (or use the same tool for both) is short-sighted because shopping ads follow different sets of rules.   Of course our Whoop! team also was part of the first day and our workmate Christian talked about "Google Shopping Ads: Optimising The Long Tail – How To Set A Perfect Bid For Each Product In Your Shop". Christian detailed the underlying problems about efficiently managing shopping ads for large product ranges – the fact that first of all, to amp up performance and really optimize ROAS, products have to be targeted individually (otherwise products that perform badly will be treated equally to products that perform well) and second of all, that you should ideally do it for your entire product range unless you want to risk losing potential revenue. The key is setting up your shopping campaigns divided by not just brands or product groups, but by individual products, therefore making it possible to set an individual CPC for each product.
Our team's talk at #SMX: more power for your Google Shopping performance! Optimize your bid management pic.twitter.com/QPEpZJ2D0L — Whoop! (@whoop_app) May 20, 2015

To sum it up: It was a great day and we didn't expect such good talks (yes, we have high expectations 🙂 )
We hope it's getting even more interesting tomorrow.
The location at 155 Bishopsgate, right in the heart of London, combined with lots of inspiring PPC minds made for a great first day – see you tomorrow!