Subscribe to join thousands of other ecommerce experts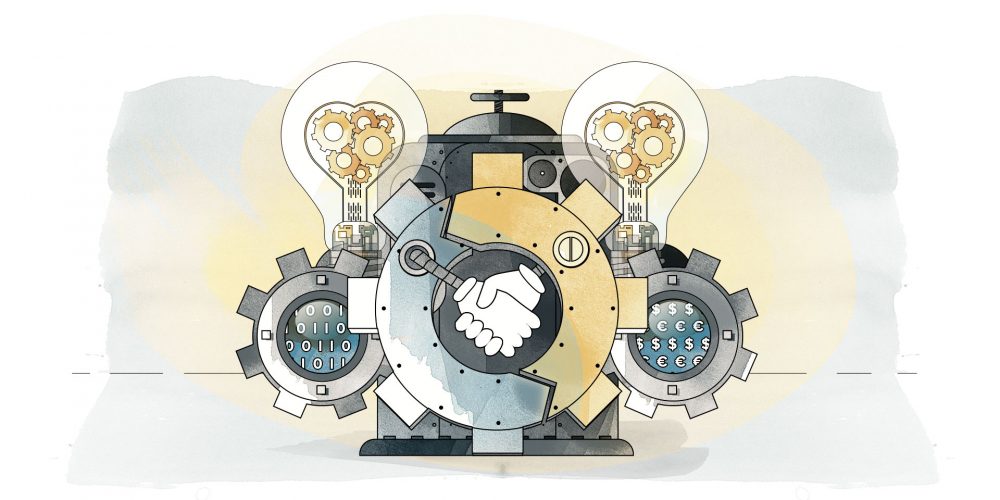 In my other blog article before I wrote this one I emphasised how important it is to motivate people in your organisation to participate in innovation processes. And, moreover, what you can do in order to foster a culture of people willing to actively contribute their ideas. Although this may very well be the starting point of just any good business innovation these days, it is only a tiny first leap – but that can be definitely a great one – of an exciting journey that relies heavily on collaboration. But let's take one step back first.
There is this image of a mad genius who is inventing new technology in his basement or garage, an image we have seen many times – in movies, comics and books. Somehow, this seems to show how the best new stuff is created, isn't it?

Well, the truth looks a bit different. Of course, you do need people with exceptional abilities to create something new, something that really succeeds in the market. But we are talking about a whole team – and not just a single person.

How does this fit into an innovation process?
During the restructuring of our innovation process at smec – Smarter Ecommerce, we focussed on providing all ideators with the opportunity to actively participate in the development of their ideas.

Therefore, we have created the role of an Innovator, which happens to be nothing less than the core role in the process, as this person is responsible for pushing his or her idea through the process – supported by a team of highly specialised process, market and technology experts.

Once, I was asked by a potential innovator, if it is possible to follow a technical idea for a potential innovation even when you have an economic background only with no technical skills whatsoever. In our system, the answer is positive and quite clear: Yes! Actually, the innovator's background should not make too much of a difference, as there is professional support for all fields where the innovator is lacking specific know-how that is necessary in order to progress the idea.
Today versus tomorrow: a business dilemma?
In general, this represents a real problem and is kind of an eternal conflict because fulfilling the clients' needs is the core task of every organisation and therefore more important – seemingly, as the process of trying both unfolds in two different timelines: today and tomorrow. Obviously, the biggest chunk of almost any company focuses on today for a very good reason: We need to succeed in our core tasks on a daily basis, otherwise we won't have the chance to do business tomorrow – at all.
Nevertheless, if you sacrifice your future in order to save your present, you won't succeed either. Thus, there ought to be a good balance between both timelines and that is known as organisational ambidexterity. As a result, smec has adapted its organisational structure in order to master both endeavors in the best possible way.
Moreover, we have decided to take away the burden of deciding between those timelines (from the innovator) by implementing dedicated time slots at our Innovation Initiative.
Keeping up the focus by acting short-term
The so-called Innovation Sprints are time periods – each lasts 30 days – between our Innovation Councils where pitches are being held. Within this time frame, the innovator will be assigned dedicated hours to fulfill all relevant tasks that are necessary to push further the idea. Here, we recommend flexible workplace seating arrangements so that innovators can be either close to their newly formed innovation team or focus properly and leave their daily business tasks until later.
Market, technology and process know-how
All in all, we take the topic of innovation very seriously, as you might already know if you have read my prior blog articles. In fact, we have made sure that each innovator will find a powerful team of professionals with highly specific knowledge and dedicated roles:
Product Managers are market experts and provide insights, as they know the pain points of clients best due to their position in the company
Product Owners are technology experts and will know whether it is technically feasible, as they have a good feeling for what level of commitment is necessary
Innovation Managers are process experts, especially with regard to innovation, of course, and they just know what stages an idea has to go through in order to become a genuine innovation
Business Development Managers are sales experts and capable of conducting market tests, therefore they work closely together with Product Managers and Innovators
Different roles work on different tasks – together
In the innovation process, each of these roles brings along highly specialised abilities – with the main goal of supporting innovators to succeed with their ideas and concepts, described as follows in chronological order:
Innovation Manager
Being responsible for the whole innovation process, the Innovation Manager supports idea givers by offering method training courses, templates, moderations and coachings. As they work closely together, the Innovation Manager is also responsible for establishing initial contact between innovators and all supporting roles.
Product Manager
Having invaluable insights into the market, the Product Manager starts to support the innovators with the beginning of our market research (in our improvement phase). Furthermore, their experience and strong connection to the market is truly a helpful source for both information and inspiration of the innovators in the upcoming phases, as this position is tightly linked to our Performance Engine (Operations) and responsible for the market launch and success of potential products.
Product Owner
With deep insights into technology and a strong connection to Development positions and Data Science, the Product Owner enters the innovation process at the same time as Product Managers and Business Development Managers and conducts feasibility tests for the first time. For both roles, Product Owners as well as Innovators, this is just the beginning. Ideally, the support they receive grows rapidly and reaches its peak after Pitch III, in the phase of final product development and market entry.
Business Development Manager
First of all, you won't find this role in many companies, although it is crucial for driving successful innovations. After providing support in creating assumptions and designing the MVP (Minimum Viable Product), the Business Development Manager's core task is to sell the product to open-minded clients in the form of market tests. By collecting those results in a structured way, it enables us to improve our concept and the MVP rather quickly. And moreover, after the test we do know whether we should market a specific new product – or not.
The innovation team
Besides the tremendous support of market, technology and process experts, we strongly recommend innovators to have a team of colleagues from different departments. In each phase of the Innovation Initiative, these teams come together at least once a month and bring in their experience through different workshops. What we have learned here is that the more diverse those teams are (sex, age, background, experience level etc.), the better the results typically are.
In addition, and this is really important when working in such teams, it is absolutely necessary to have sufficient time and room for discussion. It might sound a bit provocative but sometimes this is even more valuable for the innovators than the actual results of the workshops. And, of course, we have to keep in mind that an idea, concept or problem looks different from various angles.
A brief conclusion
All in all, we can say that supporting innovators as described above helps improve the initial idea rather fast and moreover, with acceptable input and effort. Nevertheless, innovation is never going to be a typical 9 to 5 job, as it takes a lot of passion and motivation just to push an idea through all kinds of different obstacles any innovation process will bring along.
And this is what true innovators are capable of – if you just let them.