Google's Delayed Conversions Explained
Have you ever heard about delayed conversions? If not, you definitely should keep on reading! Imagine you have to do an ad-hoc report about the latest figures of your Google AdWords or Shopping account. This blog post will help you to prevent misleading comparisons between time ranges by explaining Google's "last click wins" concept and how you can do it in two easy steps.
Tl, dr:
This blog post helps you to understand Google's "last-click-wins" concept and the 30 days cookie lifetime.
Learn to create you own estimate based on Google AdWords attribution data.
Use your new knowledge when making ad-hoc reports including last 30 days.
Step 1: How Google cookies work and what delayed conversions are
To understand delayed conversions, we will have to understand what happens technically during the online shopping process. When a customer clicks on an ad, a cookie is saved on the customer's device. This cookie helps Google to be informed if a customer has clicked on an ad in the past. The lifetime of this cookie is 30 days (you can adjust that in your Google Adwords Account), but the cookie can be updated and the lifetime starts from day zero when the customer clicks on another ad.
Thus, like an airplane or bus, conversions can be delayed.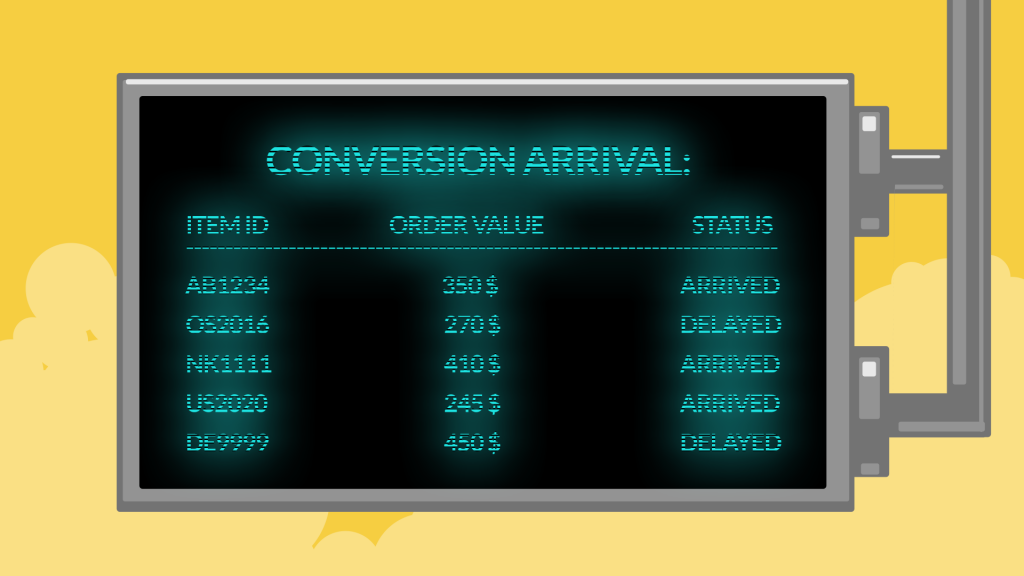 Why does that matter to my Google AdWords and/or Shopping data? Say you want to analyze your data from the weekend on Monday or Tuesday. You will miss conversions and revenue in your Google reports when analyzing too soon.
Take this example: A potential customer clicks on your Google Shopping ad on Friday. If the potential customer converts to an active customer and purchases the product or some other products. In general, if the customer converts, the following three cases can occur:
Case A: The customer purchases right on Friday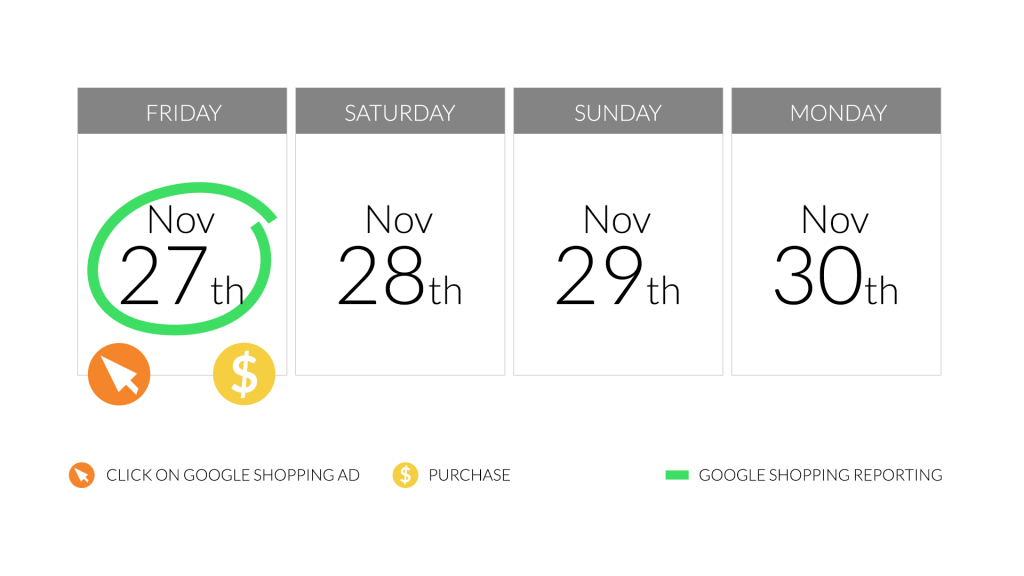 This case should be clear, the conversion happened on the same day as the click. It doesn't matter if the customer buys the advertised product or another product or even more products given it happens the same day. The conversion and the order value will be assigned to Friday.
Case B: The customer comes back later and purchases within 30 days (the lifetime of the Google Shopping cookie)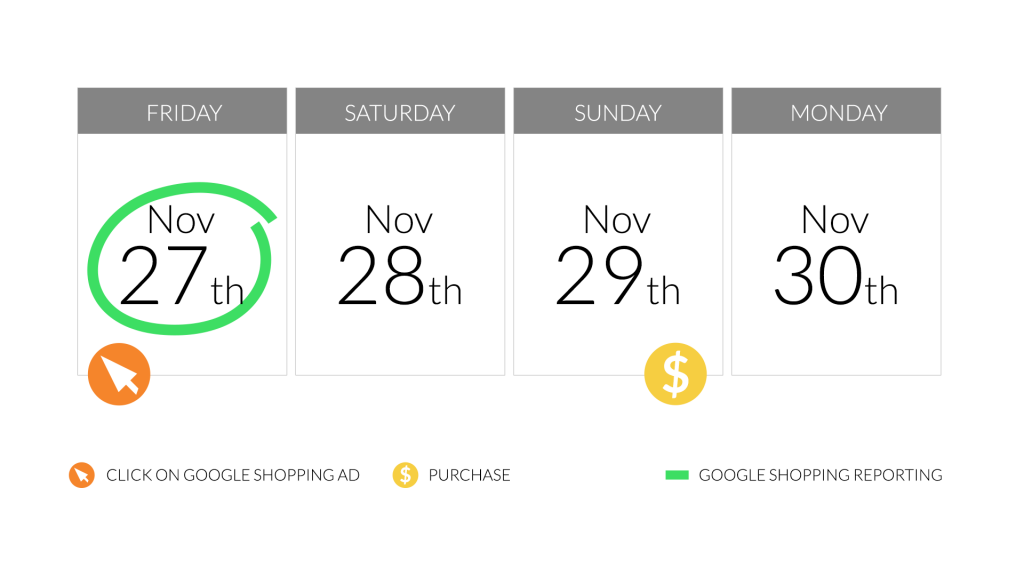 This conversion will also be attributed to Friday. As it not happened on Friday but later, it is called a delayed conversion. If no other ad from your AdWords Account is clicked until the customer purchases and the transaction takes place within 30 days, this click wins. Thus, the order value will also be assigned to Friday. Remember Google AdWords counts on a "last-click-wins"-basis. If there is already a conversion on Friday and another one on Sunday (with no additional ad click), both will be attributed to Friday.
Case C: The customer searches again via Google and clicks (at least) one more time on a Google Shopping Ad. The actual purchase happens after the second click.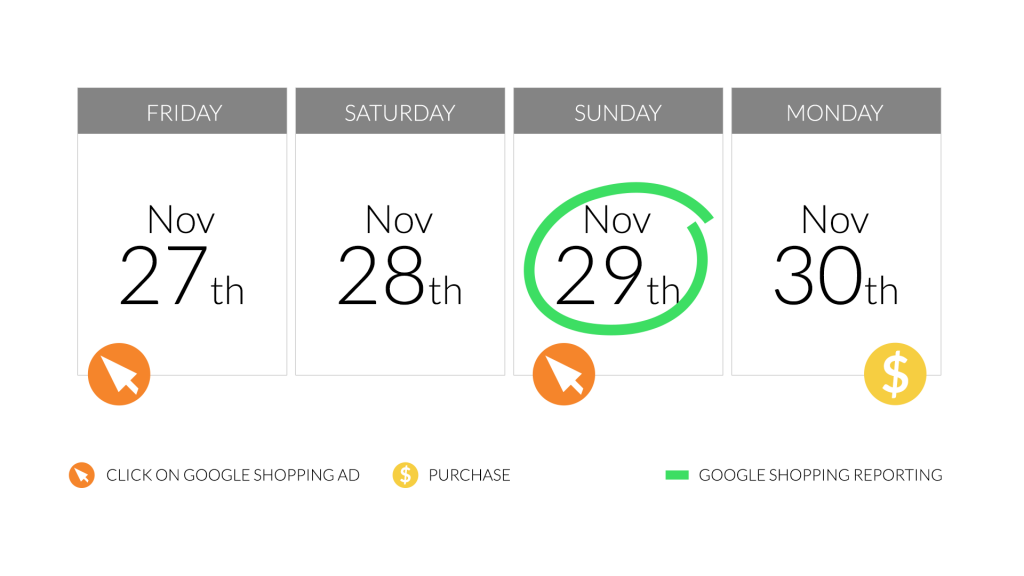 This case isn't a Friday conversion anymore. Google now updates the cookie after the second click on Sunday and the cookie will live for another 30 days from that day. According to the "last cookie wins" concept of Google Shopping, the conversion as well as the order value will be assigned to the day of the last search query including an ad click before the purchase. If that would be the case on Sunday it is a direct conversion, if it happens later than Sunday like in the illustration above it is also a delayed conversion.
Remember: if you compare different time ranges make sure that the latest used data is at least 30 days in the past. Otherwise you underestimate the past 30 days as delayed conversions can still occur. Or, you can estimate your delayed conversions using step 2.
---
Have you already tried Whoop! ?

---
Step 2: How to create your own estimate based on Google AdWords Attribution Data
You are able to get a pretty good estimate of the delayed conversions following up during the 30 day cookie lifetime right in the Google AdWords Interface.
To accomplish this, just log in to your account and select "attribution" via "tools" in the main navigation bar of Google AdWords (as you can see in the screenshot below).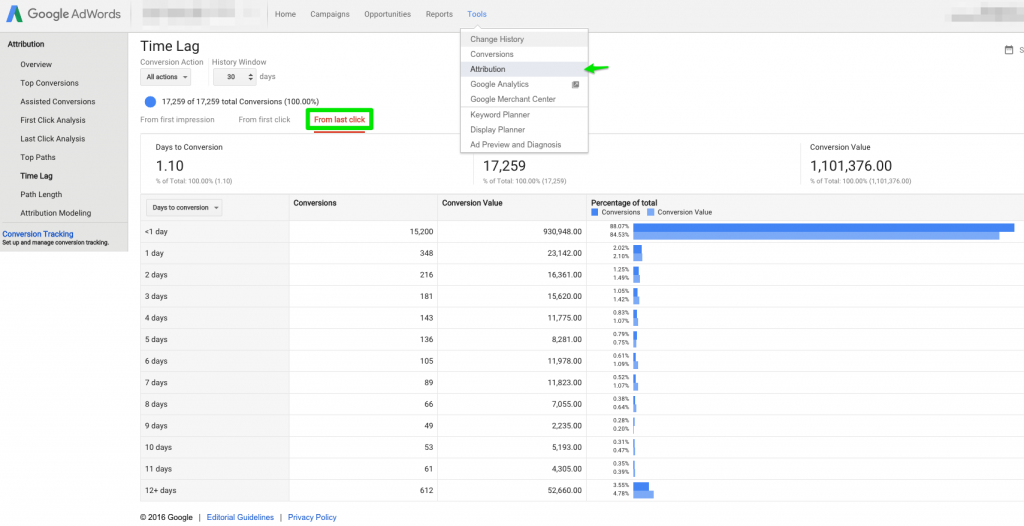 Then choose "time lag" at the navigation panel on the left and choose a timeframe for your analysis. We strongly recommend using a timeframe between 3-6 months or even more to get more robust results.
Please select "from last click" to get the needed data. In our example 84.53% of the conversion value happens on the day of the last click. That means 15.47 % of the total conversion value will be recorded on the succeeding 29 days. To make an assumption about the final conversion value after 30 days cookie lifetime just divide 15.47% by 84.53% to get your factor for the follow up conversion value. In our case that would be 18.3%. So if you record 1.000 Dollars of conversion value for yesterday you can expect about 1.180 Dollars of conversion value after expiration of the cookie lifetime.
See our other Blog posts on this topic here (Black Friday Race 1), here (Black Friday Race 2) and here (Black Friday Race 3).
Stay tuned for more interesting news from our "Whoop!" Data Science department. Keep following us!