Google Shopping Black Friday Race 2015: Multimedia Competition
In recent years Black Friday and Cyber Monday got more and more publicity in Europe as well as bringing increased revenue for our customers. However, the term "Black Friday" was searched more than "Cyber Monday" in 2014 and a lot of people also now included "Amazon" in their query¹.
Too long, didn't read version:
• Black Friday and Cyber Monday are popular online shopping days in Europe.
• This blog post helps you to understand why not all generated conversions and revenue of Black Friday are included in your Google Shopping report on the same day.
• We start the Black Friday race to keep track of three product categories: Software including Games, Movies and Music.
Update: Part 2 of our Google Shopping Race is already online: Google Shopping Race Standings

Okay, let's analyze the results of the upcoming weekend on Tuesday. Not so fast! You will miss conversions and revenue in your Google Shopping reports when analyzing too soon. The "Whoop!" Data Science team help you to understand it from a Google Shopping view (hint: This also applies to Google Adwords in general).
Here is an example:
A potential customer clicks on your Google Shopping ad on Black Friday. If the potential customer converts to a customer and purchases the product or some other products, there are three possibilities:
1. The customer purchases right on Black Friday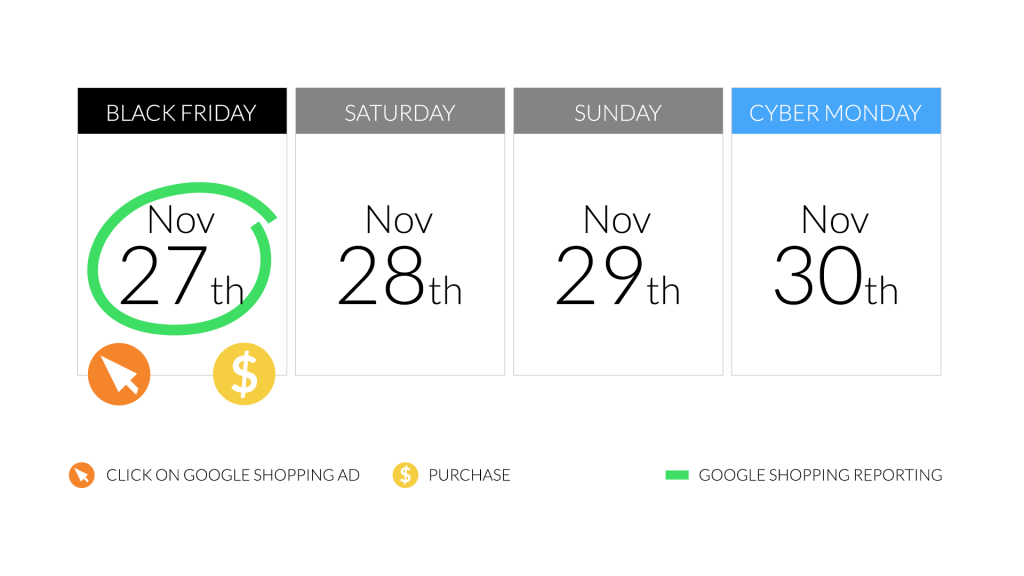 This case should be clear, the conversion happened on the same day as the click. Thus, the conversion and the order value will be assigned to Black Friday.
2. The customer comes back later and purchases within the lifetime of the Google Shopping cookie, which is 30 days.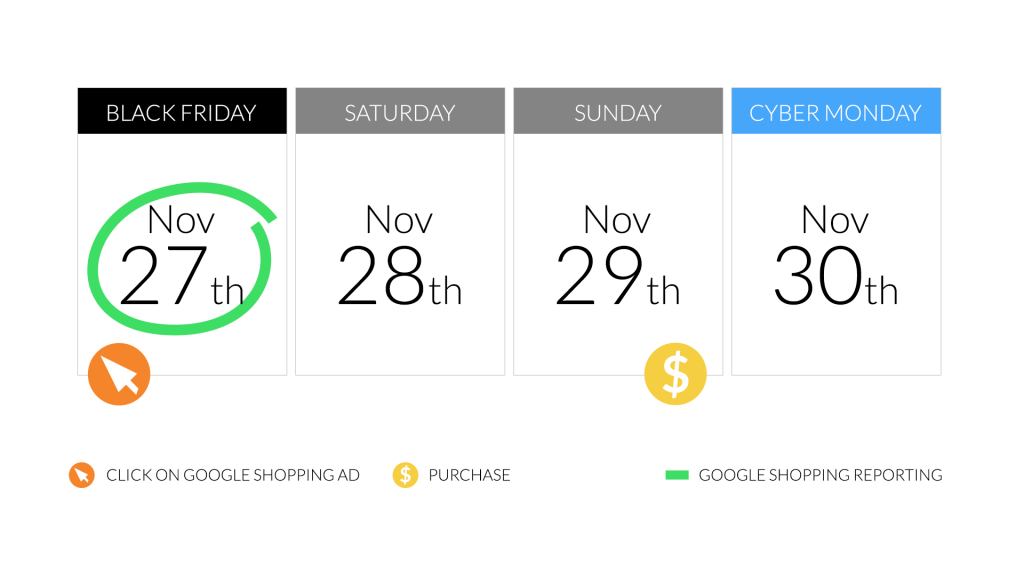 This conversion will also be attributed to Black Friday. If no other ad from your Adwords Account is clicked until the customer purchases and the transaction takes place within 30 days, this click wins. Thus, the order value will also be assigned to Black Friday. Remember Google Adwords counts on a "last-click-wins"-basis.
3. The customer searches again via Google and clicks (at least) one more time on a Shopping Ad. The actual purchase happens after the second click.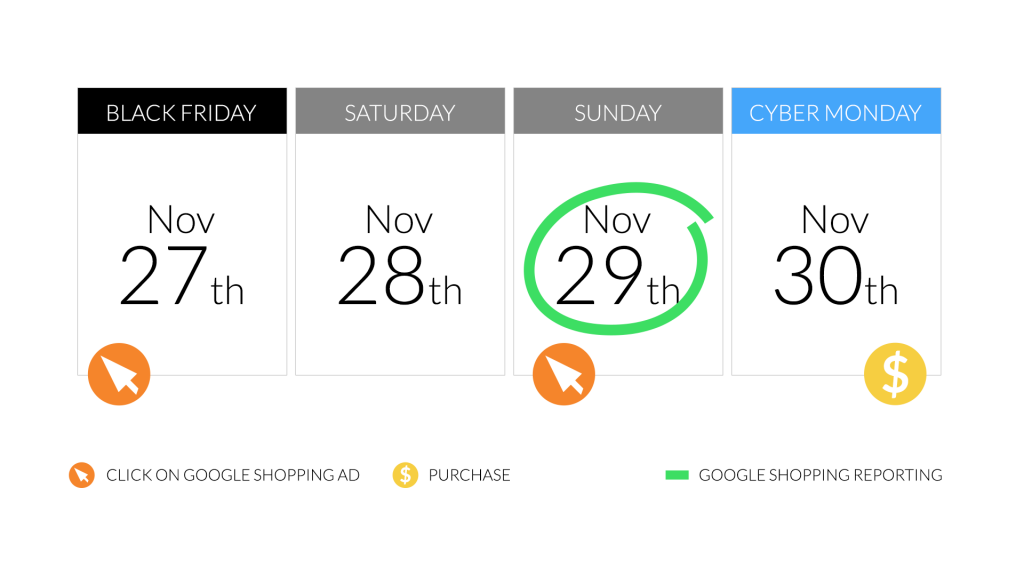 This case isn't a Black Friday conversion anymore. Google now updates the cookie after the second click and the cookie will live for another 30 days from that day. According to the "last cookie wins" concept of Google Shopping, the conversion as well as the order value will be assigned to the day of the last search query including an ad click before the purchase.
Last Cookie Wins
Now we will start the Black Friday Race 2015 featuring Multimedia. We will accompany three product categories, namely Music, Games and Software as well as Movies. Let's take the time to think about what you expect to happen. Here are a few thoughts of the "Whoop!" data science team:
Will the search volume increase during Black Friday or Cyber Monday week?
Is the average Cost per Click influenced by the battle for customers during Black Friday and Cyber Monday week?
Which of the mentioned product categories will perform best on Black Friday or Cyber Monday?
What about conversion rates – are customers more likely to buy during this period?
Which of these product categories will have the biggest share of upcoming conversions and revenue in the cookie lifetime?
Stay Tuned For The First Checkpoint
Next week we will publish the first checkpoint as a second blog post and there will be a final third blog post regarding this topic where we will present the winner of the race – of course after the 30 day cookie lifetime.
Stay tuned for more interesting news from our Whoop! Data Science department!
References
1) http://www.black-friday.de/die-black-friday-de-keyword-analyse-das-wurde-am-black-friday-2014-am-haeufigsten-bei-google-gesucht