Subscribe to join thousands of other ecommerce experts
Black Friday 2015: Top Product Category
In the past weeks, we started our Google Shopping Black Friday Race 2015 series, where we analyzed conversions which are triggered days or weeks after the Black Friday. In the first blog post we explained the "last click wins" concept of Google Ads (and therefore also Google Shopping). Read more about it here. One week after Black Friday, we made another snapshot of the conversions and order value data for an intermediate analysis. You'll find it here.
The following article is from January 2015. For a more practical and up-to-date use case, click here.
What happened during the cookie lifetime of 30 days?
Now that Black Friday, Cyber Monday, Christmas, as well as the related cookie lifetime of 30 days, are over, we decided to take a fresh look at the number of conversions accrued during the holiday period. Remember: the most successful product categories appeared to be movies, followed by music and software (including games). In our previous article, however, we concluded that no comprehensive Black Friday analysis will be possible until December 27 — so here are the results:
And the winner of the Black Friday race is…
… Movies!
Movies took home the lead in the Black Friday race followed by music, software and games. The multimedia race 2015 was won in the first third of the distance as it was impossible to catch up to Movies after the 2nd checkpoint.
After a thrilling race the final ranking is as follows: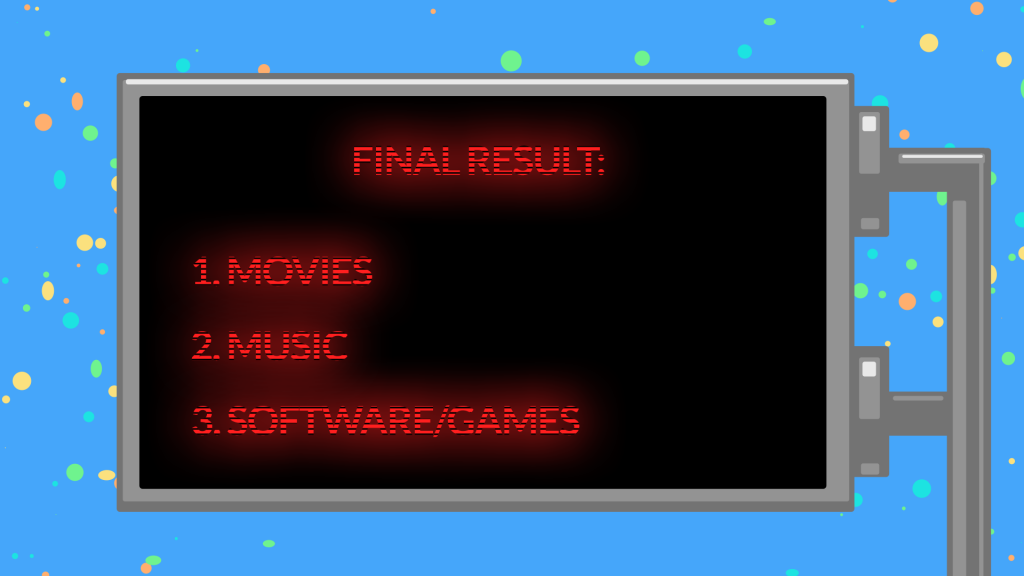 Lessons learned
Don't forget about the 30 days cookie lifetime! When making time range comparisons be sure to do the analysis at least 30 days after the last analyzed day. Otherwise, you may miss performance data when comparing e.g. this month's data with the month before. When creating an ad-hoc-analysis you can add an estimation of historical data instead.
Across our customers in different verticals, the conversions of day one can increase during cookie lifetime from usually at least 10% to more than 100%! This is the reason why we automatically snapshot data for each customer on a daily basis. To calculate, predict and include the otherwise missing data in our predictive models for Whoop!.
Learn more about Whoop! — Our Google Shopping management solution
Create your own estimate based on Google Ads data
You are able to get a pretty good estimate of conversions following up during the 30 day cookie lifetime right in the Google Ads (AdWords) interface. To accomplish this, just log in to your account and select "attribution" via "tools" in the main navigation bar of Google Adwords (as you can see in the screenshot below).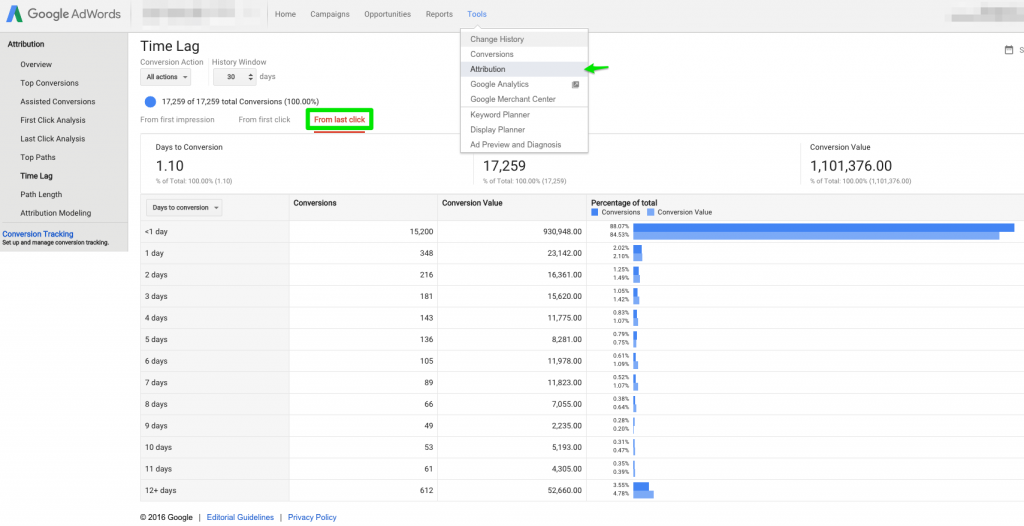 Note: the design of the AdWords interface (now: Google Ads) has changed since this article was published.
Then choose "time lag" at the navigation panel on the left and choose a timeframe for your analysis. We strongly recommend using a timeframe between 3-6 months or even more to get more robust results.
Please select "from last click" to get the needed data. In our example 84.53% of the conversion value happens on the day of the last click. That means 15.47 % of the total conversion value will be recorded on the succeeding 29 days. To make an assumption about the final conversion value after 30 days cookie lifetime just divide 15.47% by 84.53% to get your factor for the follow up conversion value. In our case that would be 18.3%. So if you record 1.000 Dollars of Conversion Value for yesterday you can expect about 1.180 Dollars of conversion value after expiration of the cookie lifetime.
Stay tuned for more interesting news from our data science department!