Subscribe to join thousands of other ecommerce experts
GER vs. AUT – Who Will Win the Google Shopping EURO 2016?
In this blog series, we are going to share our Google Shopping knowledge using a football tournament as an example. Read about the competition and the rules to win a jersey of your choice in our 1st blogpost. You can still take part filling in the form below!
Tl;dr:
• The Whoop! Google Shopping Tournament 2016 final is Germany vs. Austria.
• Build up or refresh your Google Shopping knowledge about delayed conversions and (mobile) bid modifiers with interesting football data.
• Win a jersey of your choice at the Whoop! Google Shopping Tournament 2016
The standings
Remember: Germany defeats Switzerland in the semifinals and made advances to the final. The other semifinal, Austria vs. England, was too close to get an immediate decision, we needed overtime. Therefore, we explained the "delayed conversion" in the 2nd blog post, you can read it here if you missed it. Read even more about the interesting topic "delayed conversions" in our previous blog post and our Multi Media Race Series part 1, part 2 and part 3.
However, the 2nd finalist is Team Austria. After a very close overtime, the performance uplift for sales of Austria jerseys in Austria was higher than the England jerseys uplift in England. We told you, there are usually delayed conversions of at least 10%. In our semifinal, the delayed conversions for jerseys were already about 10% for Team Austria within the first week, while England had no delayed conversions so far. Remember Peter? He could still purchase within the next up to 23 days, but we have to find a winner here;-)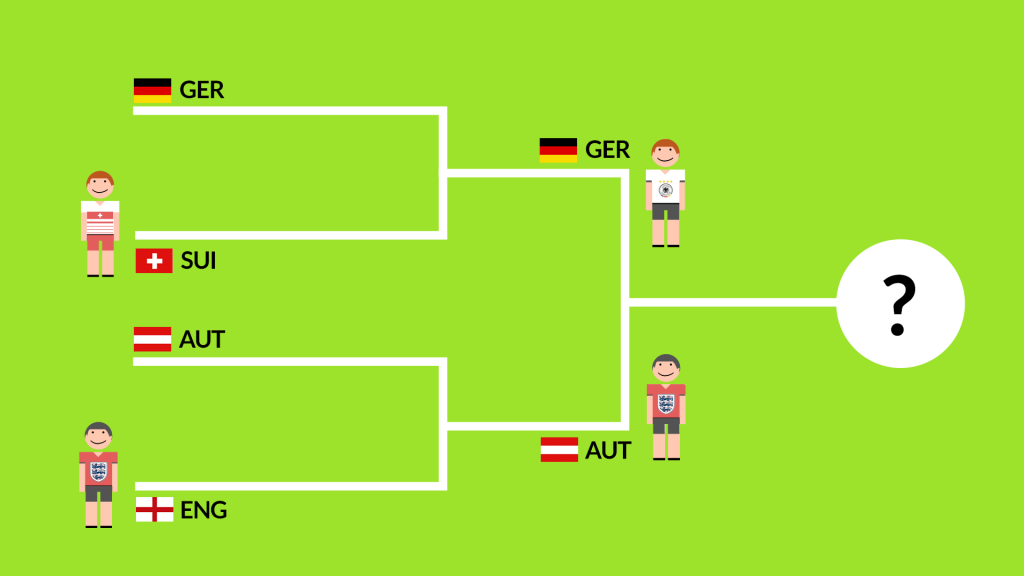 We are looking forward to the final
We can't wait for this exciting final between Germany and Austria (Also in real life 😉 ). As both teams had a real great performance in the semi-final, we are thrilled to see device specific performance. There are three different devices in Google Shopping : mobile devices, tablets and desktop devices. At the moment, there is a mobile bid modifier where you can change your bids if a search is committed via mobile devices – compare our recent blog post.
There are geographical and other bid modifiers, too. Google already announced more flexible modifiers, but they are not available so far.
Bid modifiers are a great tool if you know something about your customers and want to use different strategies for different devices or regions. Peter lives in Berlin. For instance, you can double your bid in Berlin for his desired France jersey and add another 20% if the device is mobile. Thus, Peter is very likely to see the geomix.de ad on his mobile, maybe even if his search is not very specific, while other fans in Germany using a desktop computer will have to search more specific for the jersey to see the dress. Of course, there are a lot of other factors to consider.
---
Try the first and only tool specially designed for Google Shopping!

---
The rules for the final
To guarantee a winner in regular time the rules for the final are quite strict:
We compare each country's performance in its home market. (E.g The performance of team Switzerland will be measured only in Switzerland)
The baseline is still the 14 days before 25th May.
The final will be from 16th June to 29th of June, no overtime.
There will be three goals, the team with better performance in each device sector gets the goal:
o Performance uplift scores the first goal for tablet devices.
o Performance uplift scores the second goal for desktop devices.
o Performance uplift scores the third and final goal for mobile devices.
Thus, the final score will be 2:1 or 3:0.
The competition – win your jersey!
Winning just became easier! This is your last chance to enter our jersey competition, only two teams left! All you have to do is to fill in the form and place your bet for the winner of the Google Shopping Tournament 2016. The jersey winner will be drawn from all correct predictions and published on the Whoop! Blog on 1st July.

Lessons learned
As you never know how many purchases will be made in the upcoming 30 days, you should wait 30 days before crunching your final numbers (for all conversion based metrics, remember the "last-cookie-wins concept"). Yes, we know, we didn't wait that long in this blog post. But we have a schedule to meet to finish right in time and award the winner before the "real" final on 10th of July.
We will continue this series on 1st of July when we will announce the winner of the Google Shopping Tournament 2016 and reveal the winner of the competition. Stay tuned for more exciting news from our "Whoop!" Data Science department!