Subscribe to join thousands of other ecommerce experts
[UPDATE] Google Shopping Now Available In China
UPDATE: We got an official answer from Google's Global Communication Manager: "Google Shopping is not available in China. However, merchants in China can upload feeds to the Google Merchant Center to reach consumers via remarketing ads on our Google Display Network." and he continues later with: "we currently have no plans to launch Google Shopping in China".
Great news for online marketers and retailers: Google Shopping is now Available in China. Yesterday we found a clue that one of the fastest growing online markets might be joining Google Shopping (again). In 2012 Google shut down all Shopping services in China, because of the hard competition. One key player in China is Baidu with its own retail solution etao. Now it seems like that the big G is planning its comeback to the Chinese market.
You can now choose China as a target country
Yesterday we found the possibility to choose China as a target country in the Google Merchant Center. At the moment we don't know if all features of Google Shopping are available in China. But the possibility to target China with Product Listing Ads could be a game changer for many online retailers. It seems that currently only some Merchant accounts can choose it so far. We are pretty sure other Merchant accounts will follow soon.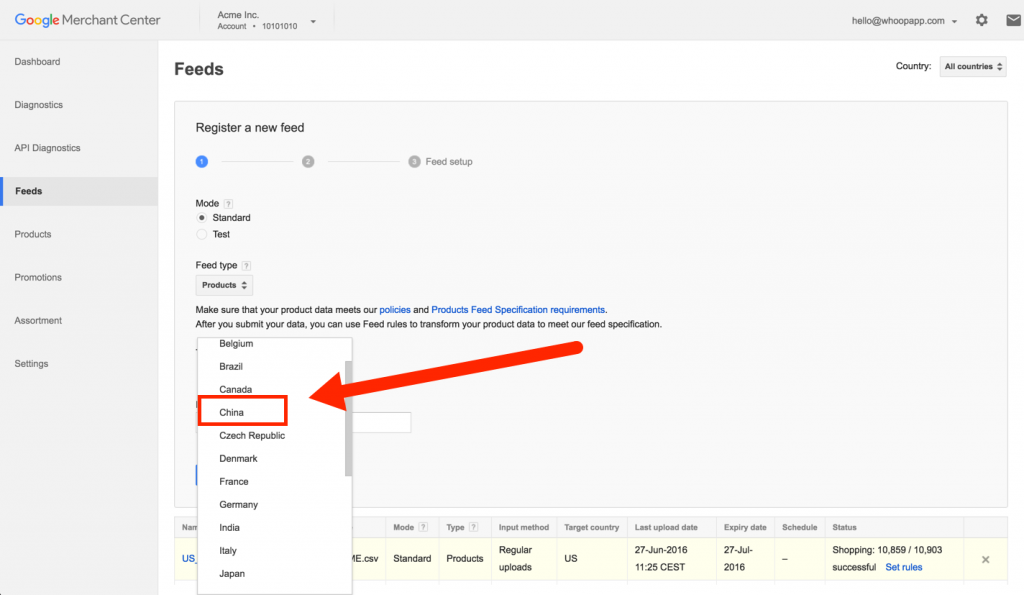 Why is this a big deal?
China's E-commerce market is growing as fast as the technological progress. Many big brands are planning (or at least thinking about) to join one of the biggest markets in the world. In 2015, retail e-commerce sales amounted to 672 billion US dollars and are projected to grow to 1.57 billion US dollars in 2018. Although China is often quite restricted, more and more consumers are willing to spend their money online. Asia (including Oceania) can be great opportunities for retailers, as a report shows¹:
Total online retail revenue for China, Japan, South Korea, India, and Australia will hit US$1.4 trillion in 2020, and is already larger than the combined online retail markets of US and Western Europe.
To get a better understanding of the Chinese market and the people's buying behavior, we recommend this Nielsen report.  Here you can also find an awesome infographic which gives you a hint that China is biggest E-Commerce market so far.
---
Try the first and only tool specially designed for Google Shopping!

---
China will be number 24 on the map
At the moment Google Shopping is available in 23 countries. China could become number 24 and fill a huge gap on our Google Shopping map. You can check out all information about the available target countries in our Google Shopping Compendium.
UPDATE 2: Google is hiring for a Shopping Product Manager in China
We found another hint: Google is recruiting a Product Manager for Shopping in China.
As soon as we have more detailed information
about the Google Shopping features in China, we'll add them to this blog post with an update. Also make sure to opt-in to our newsletter to not miss any important update.
Source: