Subscribe to join thousands of other ecommerce experts
The Google Shopping Compendium – Your Google Shopping Resource
Your are new to Google Shopping? You are an experienced PPC-veteran, but you want all information from Google Shopping in one place? Now you can easily gain a quick overview on the hard facts of Google Shopping. We are glad to announce that our first version of the Google Shopping Compendium has landed. In the future you'll find a lot of background information about Google Shopping and E-commerce.
Too long, did not read version:
We started our Google Shopping compendium
New features and information will be added constantly
You'll find the compendium here: Google Shopping Compendium
What Is It The Google Shopping Compendium
Maybe if you already using Shopping Ads (and as a retailer or somebody who is into the B2C market you definitely should) you realized that Google Shopping is not complicated at the first view. But if you crawl into details and want to squeeze out the maximum performance you will soon come to the point, where you will definitely need some advice.
At Whoop! we have a great team of experts and PPC-veterans, who all have enormous knowledge about AdWords, Google Shopping and the whole search engine marketing sector. Also we know everybody needs a short and brief summary of certain Google Shopping Ads facts. So why not collect the knowledge from our PPC-experts, Data Scientists and grab other Google Shopping knowledge to put it in one place?
Google Shopping Is Not A Black Box
You may know a famous quote from Atari founder Nolan Bushnell:
"All the best games are easy to learn and difficult to master.[…]" (Nolan Bushnell on wikipedia.org)
This quote is also valid for Google Shopping. You can easily start a Shopping campaign, but if you start with more than a couple of products it will become more and more complicated to keep a good performance. But don't worry, like already said: we are experts and want to share our knowledge with you 🙂
We decided to name it compendium, because it should not be a wikipedia-like encyclopedia, where every term has it's own subpage. We think it is more practical to concentrate important information only in a few pages. Currently we started with an initial release and we'll add features and content constantly.
What Do You Find In This First Release?
Google Shopping Availability Table
In this table you'll find all hard facts about Google Shopping. Where can I use Google Shopping Ads? Which features are available in which country? Are taxes are included in the pricing? All information at a glance. And you can filter the table with a powerful search function!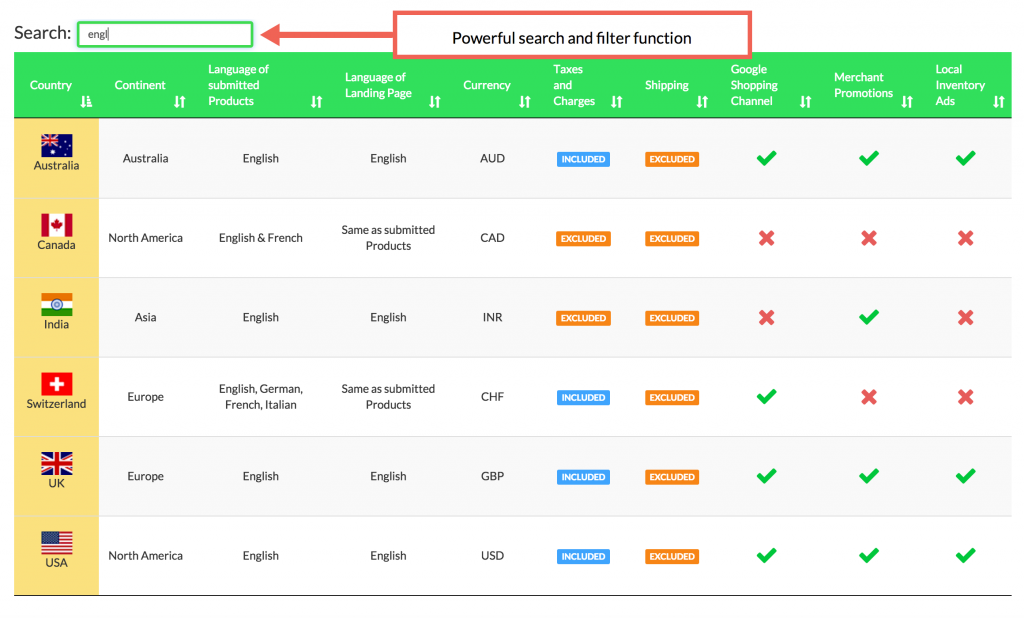 E-commerce Facts Of All Google Shopping Countries
Thinking about growing your business with Google Shopping in 2016? Then you definitely should take a look into our E-commerce map for all of the 23 Google Shopping countries! We collected current and predicted data about the E-Commerce revenue. Soon we'll add even more data to give you a complete overview.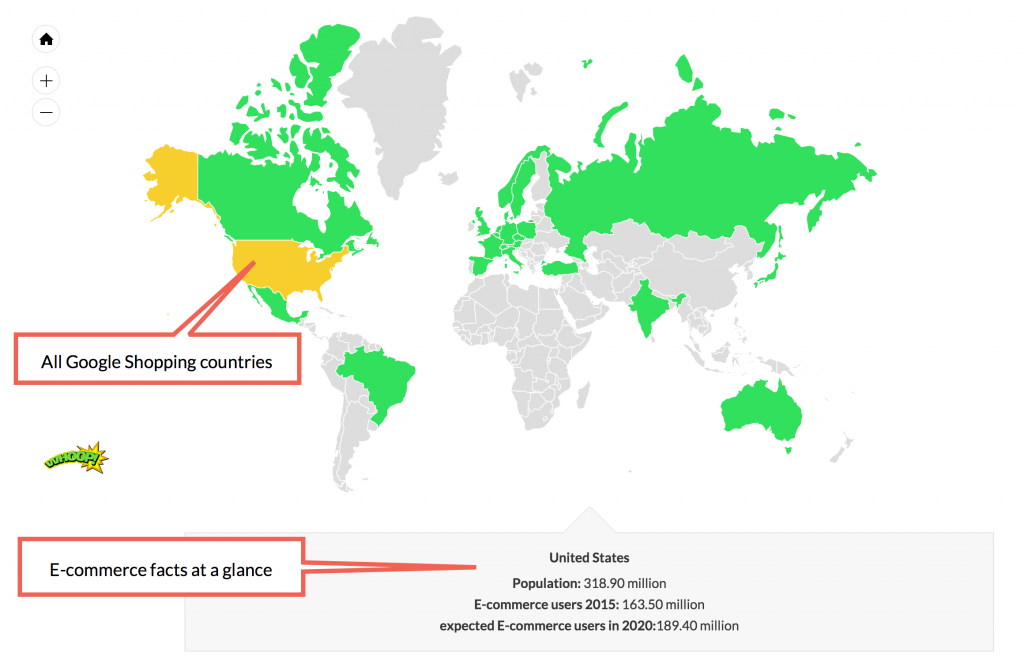 To the Google Shopping Compendium