Subscribe to join thousands of other ecommerce experts
Why Google Shopping Is Already The Next Big Thing In PPC
In this post I explain you the basics of Google Shopping and why it should be an essential part of your sales funnel. What are the advantages for buyers and retailers? And why is it so successful?
Tl;dr:
This post gives you an excellent overview what Google Shopping is and why you should use it
Shopping Ads are a great entry point to catch users to your shop
They provide precisely targeted and user-relevant ads
Retailers can manage them simply and efficiently
Google constantly publishes new features
Google Shopping – A Success Story
A product catalog without pictures would be boring. You would indeed like to know what a pair of shoes looks like before you buy them. Google's product search – Google Shopping – enables you to do exactly that: You can search for products online and receive information about the product, the price, as well as an image of it. The advantage for buyers: A pleasant shopping experience and more product information.
Google Shopping is quite interesting for sellers, too. As an advertising method that was specially developed for online retailers and converted from a free model to a payment model in the middle of 2012, Google Shopping has enjoyed steadily growing popularity. This didn't happen by chance. Google provides an easy-to-manage advertising system and a tremendous advertising efficiency that online retailers had not yet known to this extent from Google AdWords.
The fact that Google Shopping has been gaining ground is proven by the continual expansion all over the globe. Up to the middle of 2012 Google Shopping was only activated in three countries (USA, UK and Germany); today the tool is available worldwide in 23 countries.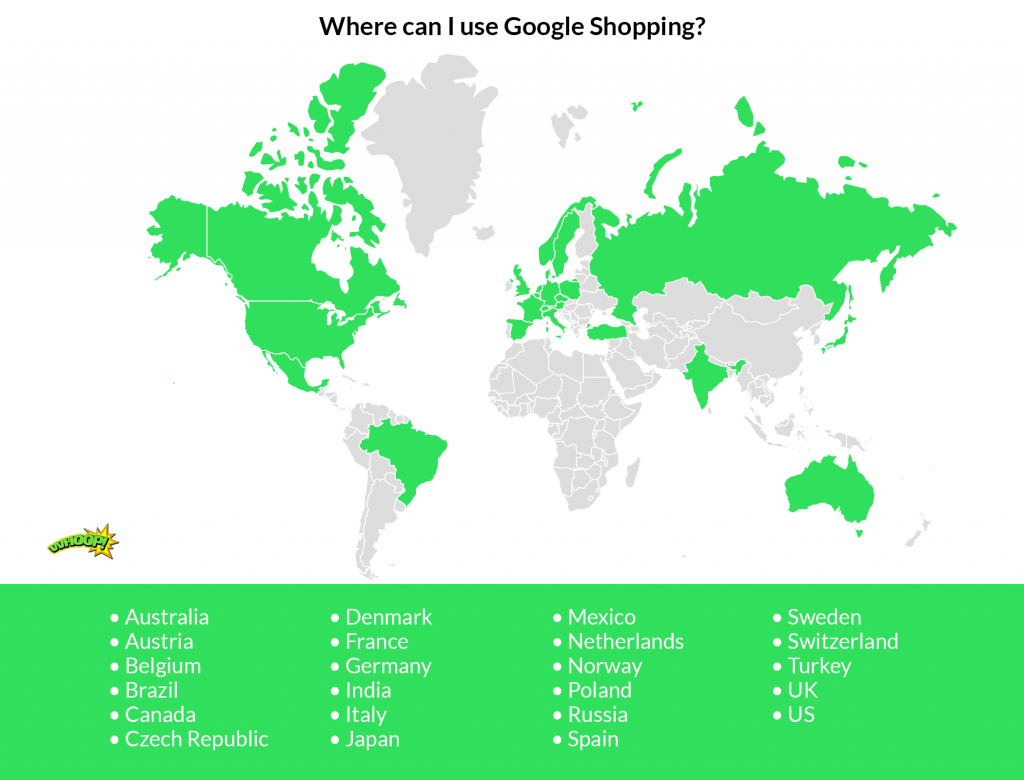 BTW: You should check out our Google Shopping Compendium to get the best overview what you should consider if you start using Shopping Ads!
Why Users Love It
A clear advantage of Google Shopping is that the ads include an image of the product and the corresponding price. Buyers thus have the most important information immediately on the search result page. Google places high importance on the correctness of the details in order not to disappoint users after one click on a Shopping Ad.
Users increasingly utilize Google as an entry point for their product research, even if no comprehensive price comparison is possible. Product-specific searches (e.g., "Nike Free 5.0" instead of "running shoes") are often made.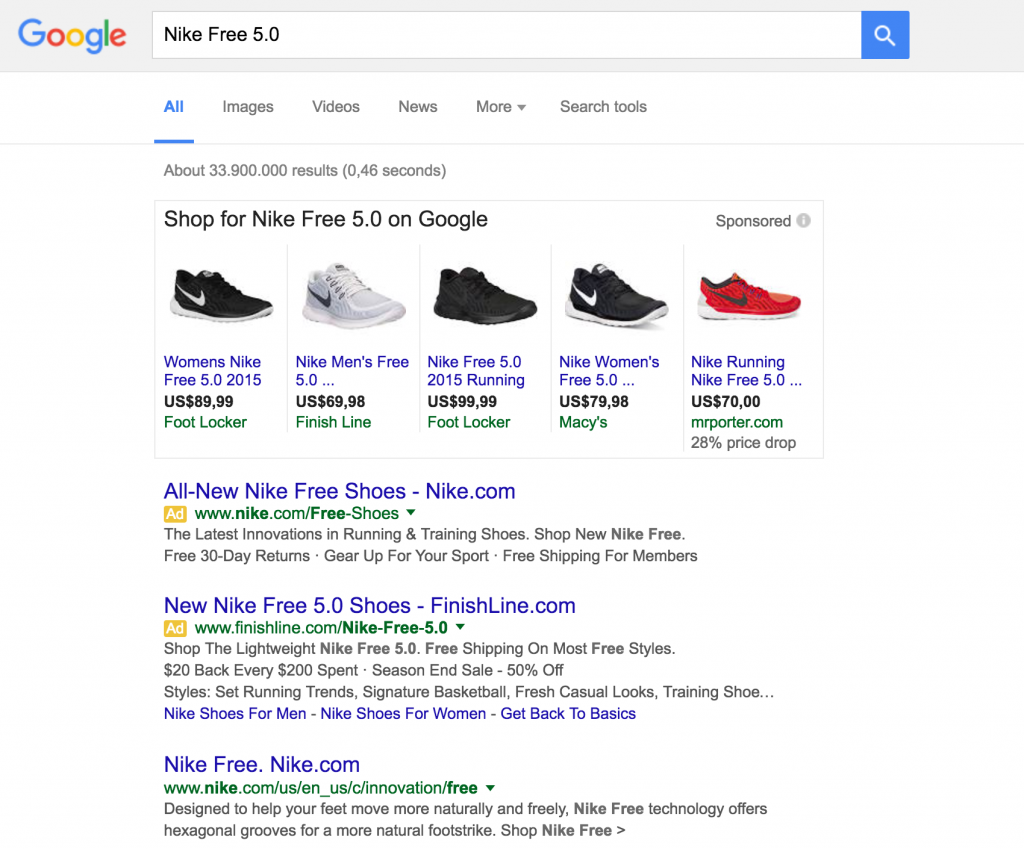 These product-specific search queries tend to indicate that the buyer is far advanced in his/her buying process, meaning that the purchase probability significantly rises after one click. This likewise boosts the efficiency of a click price-based model.
The Google AdWords interface makes it easy to control the shopping campaigns. One can specify the desired click bid for various parts of the product range and thus control the expenditures in a targeted fashion. This even goes so far as to allow a self-selected bid to be submitted for each individual product. The administration of such a single product-oriented campaign definitively remains the biggest challenge of Google Shopping management, since this requires great effort without the appropriate tools and, with several thousand products in a shop, is even impossible.
A Versatile Platform with Potential
Google Shopping is, however, not an isolated tool, but will increasingly be integrated into other advertising formats – for instance, in remarketing or, as of late, as beta in YouTube videos. In the case of remarketing, products that a person recently viewed on various websites belonging to the Google Display Network appear again in banners.
Advertisers also have the possibility to embed products in YouTube videos if Google can assure that a product from the Google Shopping Feed matches to the content of the video. Retailers can thus place product ads in relevant videos – for instance, an ad for an iPhone 6 in a corresponding test video.
Google Shopping also offers classic – branch store-oriented – retailers several advantages. With so-called Local Inventory Ads, it is possible to advertise the assortment locally available in branch stores via a data feed which gives users searching on their mobile devices in Google for products the decisive tip where the product is to be had nearby.
All these possibilities are strongly based upon the retailer's product data feed. The feed is also the main enabler of this and other data-based advertising forms. It is absolutely conceivable in the near future that text displays can be directly shown via Shopping Feeds (initial advances by Google indicate that they are already thinking in this direction).
---
Try the first and only tool specially designed for Google Shopping!

---
Advantages for Buyers and Retailers
Shopping Ads provide precisely targeted, user-relevant ads that can be simply and efficiently managed by retailers. Everyone involved profit from Google Shopping – users benefit from the simpler product search and the relevant product results, retailers from the higher acceptance and utilization of their services, and Google from satisfied users as well as higher advertising revenue.
The popularity of Google Shopping has been confirmed in several studies that observe the development of Shopping Ads. In the Rimm-Kaufmann Group's Digital Marketing Report it was pointed out that the expenditures for Google Shopping in the USA were 39% higher in the third quarter of 2015 than in the same quarter of the previous year. This increase particularly came about through the immense growth of Shopping Ads on mobile end devices, which generated 166% more clicks as compared to the corresponding quarter of the previous year.
Google Keeps Pushing It
In the last months, Google emphasized its effort to push Google Shopping to the number one advertising channel for retailers. For example, Shopping Ads are now also available on the Google Image Search. Like I mentioned before, PLAs also arrived in Youtube and the buy button was introduced on mobile ads. You can  find all new features of Google Shopping in our Google Shopping category in our blog.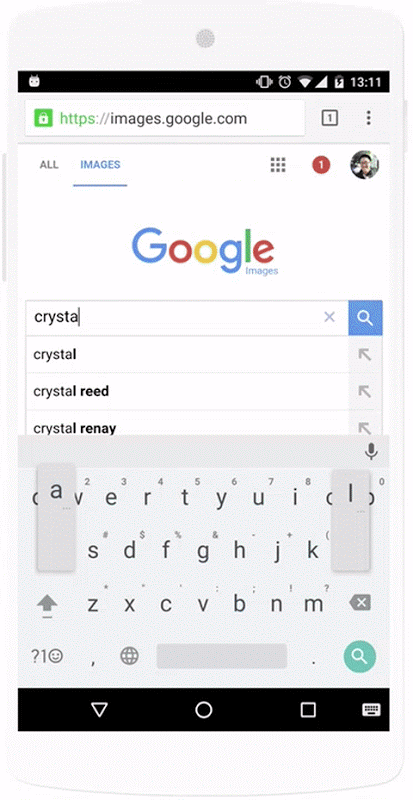 Conclusion
Google Shopping is clearly on the march. Steady expansion in further countries, rising utilization in countries where it is already available and new Shopping Ad forms are powering Google Shopping's enormous growth. Online retailers will have to deal with Google Shopping to boost turnover and reach. Therefore, they should at least test which results can be achieved through this channel.
In order to prepare themselves for the increased use of data feeds, online retailers should work on high-quality data feeds optimized for Google Shopping. Retailers can still clearly distinguish themselves from the competition here. A competitive advantage is likewise given through a clever management of Shopping Ads. Decisive is the question of how high the click price for the display of a product will be set. Since products differ considerably in respect to the competitive situation, market demand and sales expectancy, an adequate maintenance of individual products is vital to guarantee the efficient deployment of the advertising budget.