Subscribe to join thousands of other ecommerce experts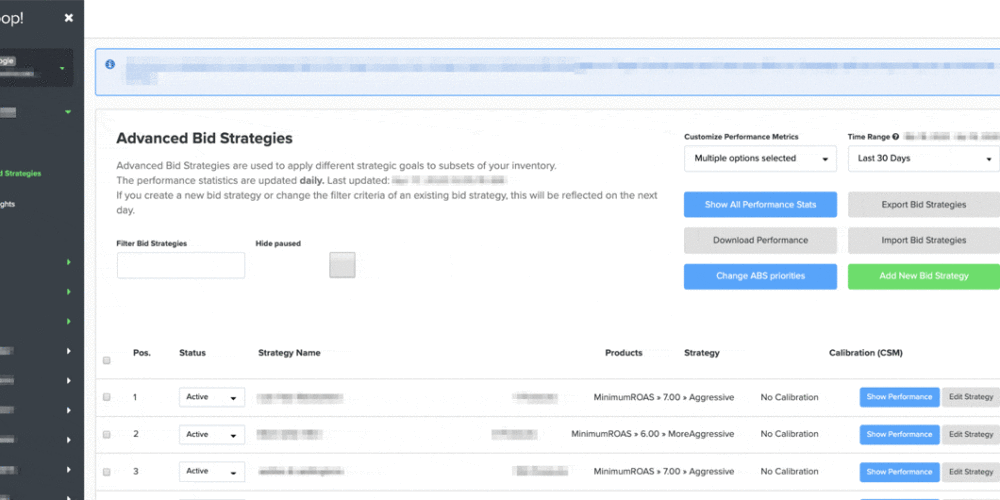 Over the last couple of months, we have been constantly working on the integration of enhanced Advanced Bid Strategies functionalities (ABS). This feature set allows you to set extremely specific goals according to product filters – without altering your campaign structure and with the ability to include business data via custom labels. Among a number of new enhancements, we have already introduced ABS Scheduling, the ABS performance report and most recently the functionality to export/import ABS in bulk.

Now, the latest addition to ABS are new price-related ABS filter options you can apply when creating customised Advanced Bid Strategies. To be more precise, you can now filter for products in a certain price range or products which are on sale. You can also combine them with each other or with other filters to pursue custom rules according to your business requirements.
Let's take a closer look at the sales price and price range ABS filters.
Sales price filter
What's changing:
Whoop!'s ABS creation filters now include a filter for items on sale and items not on sale. The data source for this filter is the sale_price attribute in your data feed.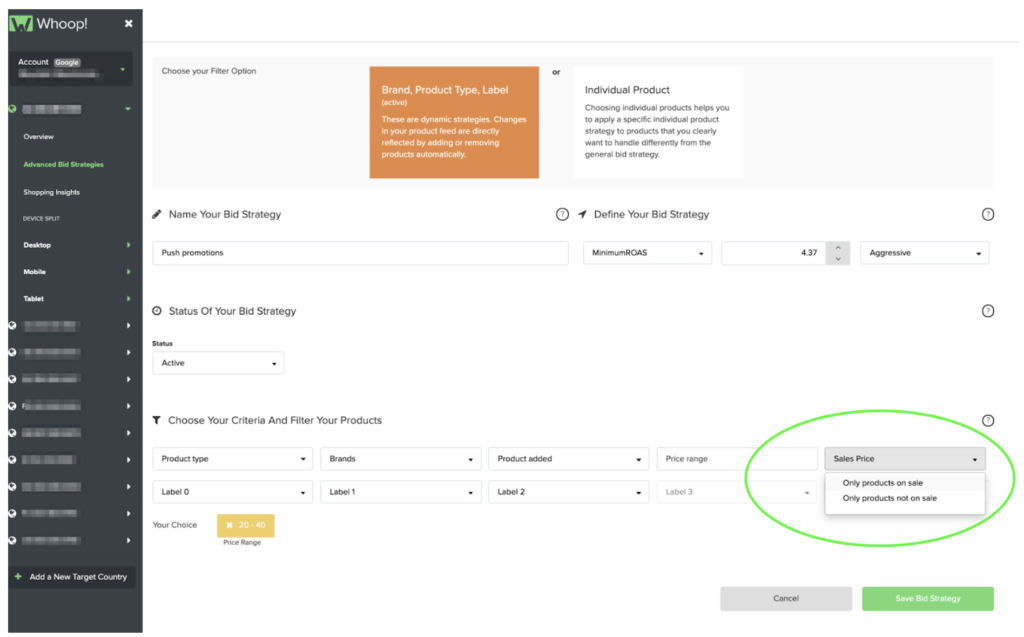 Who benefits:
all merchants using the sale_price attribute to define the advertised sale price of their items
all merchants want to pursue different strategies depending if a product is on sale
especially merchants who are running promotions frequently or across a large share of their assortment
How it helps:
The underlying assumption of using the sale_price attribute for goal setting is that products with an active sale price will have a higher conversion rate. Therefore, you might want to pursue different ROAS targets or aggression levels to boost your products on sale. You might have additional assumptions depending on your assortment and target customer, for example a correlation between sale price and higher AOV. By simply filtering your products according to sale price status, you can do exactly this – focus on the products you want to sell more aggressively.
Here's more info about why you should make use of the sale price filter:
You can use the sale_price attribute combined with a particular product type / brand to offer different discounts depending on your customers' expected buying intent and the actual buying behaviour. For example, you could opt for a weekend sale promoting a 20% discount on select TVs and a 10% discount on matching TV accessories. You likely want to pursue different strategies for TVs on sale vs not on sale. But, furthermore, you might also want to treat the promoted TVs differently than the promoted accessories – because the discounts are not equal, and because the accessories click might reach consumers who already own a TV.
By combining the ABS sale price filter with brand or product type, you can focus on different underlying margins and consider those when making goal-setting decisions. For example, let's say you have a uniform 15% discount on all fans but ceiling fans and window fans operate at widely different margins. It is important to differentiate to maximize your bottom line outcomes.
You can determine if the offered discount is more competitive in a given product type / brand. Maybe you have a brand that rarely goes on sale. Or say you have a flat 10% discount across multiple product types, but this also results in a more attractive end price for shoes than t-shirts – leading to an even higher expected conversion rate. Keep factors like these in mind when optimising your campaigns.
Price range filter
What's changing:
Whoop!'s ABS creation filters now include a filter for defining custom price thresholds, e.g. from €25 to €75. The data source for this is simply the price information already available in your data feed. If you previously used a custom label to achieve a similar effect, you can now free that label to capture other information.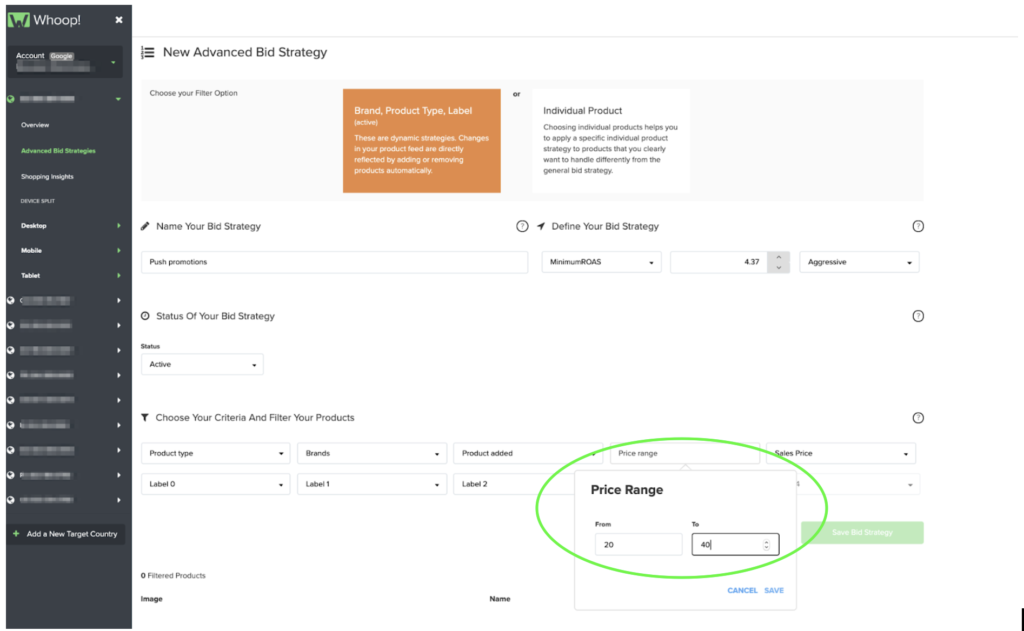 Who benefits:
all merchants, particularly those with strongly varied pricing (potentially less fit for niche pricing, e.g. luxury assortments or bargain outlets)
How it helps:
When creating strategic approaches to push certain products, product types or brands, taking price range into consideration can be an integral part in unlocking hidden potential.
Here's why:
As price ranges often correlate to target groups, you might be willing to pay more to acquire a big spender (which can result in a better CLV or at least better AOV). Depending on your objectives you could, for example, pursue a lower ROAS on more expensive products and adapt accordingly based on outcomes market developments, if needed. That said, low price points often correlate positively with CTR – another effect to keep in mind.

Relative margins are often rather similar within a given product type. For example, a mid-range floor lamp and a cheap floor lamp might both have around a 25% margin. Given the same relative margin, then absolute margin will be higher on more expensive items. This can be a crucial criteria for differentiating bid strategies.
Final thought
Enhanced ABS functionalities offer you improved convenience, more flexibility and new capabilities. That means more control of your Shopping campaigns and better alignment to business objectives – now including price-related filters.
To explore the value of the newly introduced filter options, simply apply the price range and/or sale price filters when creating a new Advanced Bid Strategy. The underlying objective: to promote products of your assortment according to business goals where price is a factor. I've outlined just a couple of use cases above – there are many more possible. Use the potential of both the sale price and price range strategically and creatively, considering potential impacts on competition, customer acquisition, margin and other areas.
---
smec Market Observer
To support you even more, we created the smec Market Observer. It provides you with trustworthy PPC data from various industries and valuable analyses enabling you to better understand how your market is changing so you can make better-informed decisions.