Subscribe to join thousands of other ecommerce experts
"Driving Organizational Change to Achieve PPC Automation at Scale" with David Merrifield @ the Great Day for PPC Automation
David Merrifield, Global Head of Digital Acquisition at RS Components, traveled all the way to Austria from the UK to talk about the importance of organizational change when it comes to realizing PPC automation at scale. Even though we could not convince him to sing (like our #gde19 moderator Matt Van Wagner did), you could truly feel his passion for RS Components, his team and automation as he explained how he ended up in an industry that he initially deemed way too technical – and how automation helped raise their stock price by an outstanding 121% plus over just five years in comparison to an industry average of merely +5%. Read on or watch his talk to learn David's 7 principles and prerequisites for an automation-ready organization.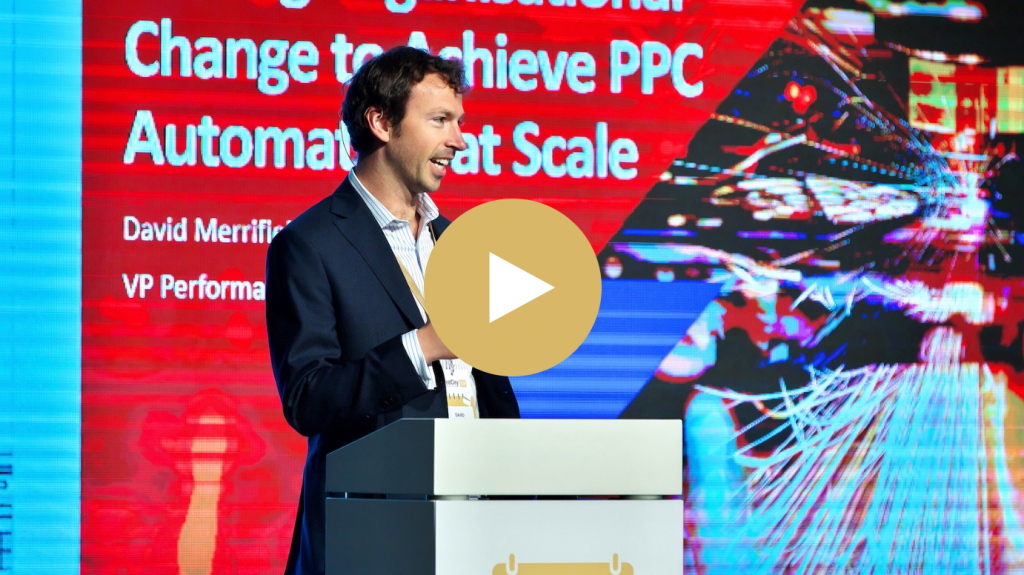 Click to watch David's talk
Let's be honest: change is not easy. Just consider how hard it is to change yourself – and it's even harder to induce change in other people. For David, change has characterized his career path well before he even joined the PPC industry. Having started his career as a hedge fund manager (note: super stressful but also highly analytical and thus a great basis for PPC), he got into paid search through a friend.
After gaining experience at media agency MEC (now Wavemaker), Kelkoo and Hilton, he was presented with the opportunity to work at RS Components. His initial reaction? No thanks. The business just seemed way too technical and conservative. But eventually he was convinced and joined RS in 2016. Today, David Merrifield tackles the intersection of paid search, social, display, and affiliates. What's most important: he truly gets to live his passion for organizational change management and strategic automation – and that at a company which generates nearly €1B in online revenue annually across 32 countries, all while competing against giants like Amazon.
In a time when the average lifespan of companies is getting smaller, innovation has become not only the key to success but also a matter of survival. David made it crystal clear that the burden is on companies to stay at the forefront and automation plays a crucial part in this. For him there was an immediate urgency to Great Day – and the theme of the day: PPC automation.
Automation for the day after tomorrow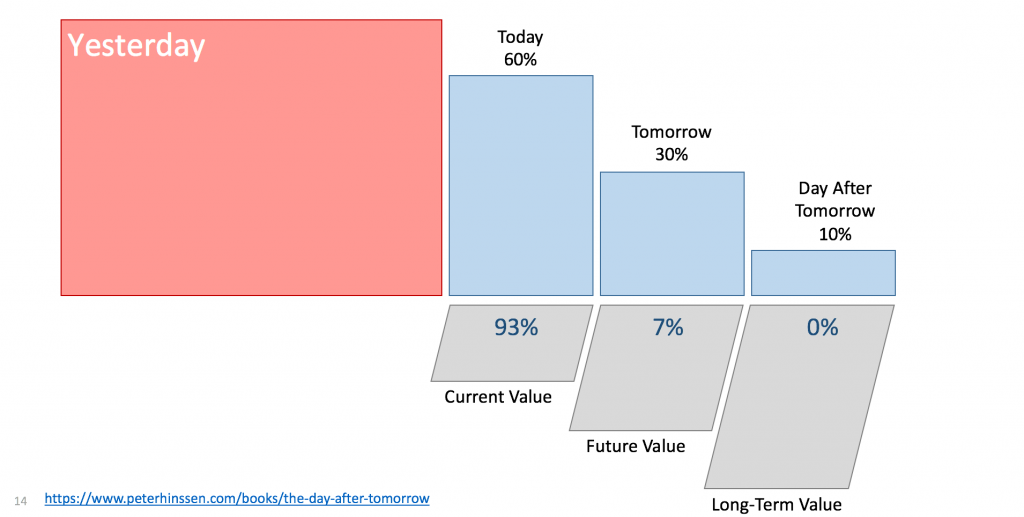 David shared that while surveyed executives feel a combined 40% of time should be spent thinking about medium- to long-term business goals and strategies, the reality is that 93% of time is spent thinking about "today", or  in other words short-term activity within the next six months. Moreover, he warns that most organizations really spend an unhealthy amount of time thinking about yesterday: putting out fires and operating in a reactive mode. Automation gives us the power to free time and multiply our effectiveness, so that we can give more attention to the future. One caveat: automation should be framed in a sustainable, business-aligned, and future-oriented manner so it can not only scale, but scale intelligently.
In order to maximize the potential of automation, any given organization needs to be prepared for change, sometimes radical change. So, how did RS Components actually realize PPC automation at scale and what organizational changes did it require? Here is an overview of principles and prerequisites David presented that can help companies apply performance marketing automation in an effective and scalable manner:
establish a mindset that truly embraces innovation
focus on what matters most
capture the imagination of people and celebrate inspiration
work towards efficiency – and the future
spread trust throughout the whole organization
retain and develop talent
build a diverse team – united by shared values and goals
As you can see, the human component (i.e. internal support and the team) was given special attention in this keynote as David truly believes in the power of people. For him it's not only crucial to develop talent and to capture the unique and diverse ideas within an organization, it's also essential to put the team first.

Takeaways: David Merrifield best practices from the Great Day for PPC Automation
Just as important? Developing trust and a company structure that supports change. For RS Components this meant building trust not only within the paid search team but throughout the organization – all the way up to the CEO and CFO. Key stakeholders were actively brought in and made aware of opportunities. At the same time, they installed "technology teams" per country and automated manual tasks step by step (from keyword creation to bidding to feed management to reporting). This increase in automation unlocked time that the teams can now use to think ahead and to innovate.
Now it's your turn. Are you set up for automation success and growth in an environment of constant tech disruption?