Subscribe to join thousands of other ecommerce experts
PPC Adventures Part 3: The E-Commerce Jungle
Now that I have found the AdWords Fundamentals treasure, my way leads through the E-commerce jungle. To become a Google Shopping expert, surely, I also have to learn about E-commerce. In this blog post, I will cover the basic facts about E-commerce and show you three of the most popular E-commerce platforms. Furthermore I will tell you about technical conditions and the role of Google Shopping for your online shop.
Tl;dr
Basic knowledge and facts about E-commerce

E-Commerce platforms like Shopify, Magento and PrestaShop

Technical conditions such as hosting, domain and SSL

Why is Google Shopping important for a successful E-commerce shop?

Keep an eye on the product feed
The internet is getting more and more important and it changed the way how we interact with each other. It also changes the way how we buy and sell goods and services. Earlier, you have opened a store in a street and had a low radius of people you could reach with this. Nowadays you set up an online shop and have the opportunity to reach people all around the world.
What is E-commerce?
Electronic commerce (E-commerce) is the buying and selling of goods and services over an electronic network, primarily the internet. Or simpler: an E-commerce shop is an online shop. E-Commerce operates in the market segments business to business (B2B), business to consumer (B2C), consumer to consumer (C2C) and consumer to business (C2B). Nearly every product and service can be offered via E-commerce – books, music, apparel, plane tickets, financial services and much much more.
Have you ever bought something from Amazon or Zalando? Then you know how E-commerce works from the customer perspective. The business perspective is a little bit trickier and that's what I will cover in this blog post. Amazon and Zalando are two of the biggest online retailers – they just sell their products online. But also businesses with offline presences have online shops such as Walmart and Ikea.
Now that we found out, that nearly everything can be sold via E-commerce the question is: who can open an E-commerce shop? Well, anyone can start an E-commerce shop. First you have to think about, what you want to sell. Is your product something innovative? Is it that, what your future customers want to buy? Think carefully about the products you want to sell. The second decision is the platform which fits best to your needs.
Shopify, Magento and PrestaShop – choosing the right platform
The core of your online shop is the platform. Before you decide, which platform you want to use for your online shop, you should definitely compare them. In the following paragraphs, I will give you an overview about three popular E-commerce platforms you might choose for your online shop.
There are lots of factors that can weigh into this decision but the most essential ones are:
pricing
scalability
flexibility
support
Shopify
The first platform I want to show you is Shopify. Shopify is one of the most popular SaaS (Software as a Service) solutions and is template-based. On Shopify you can choose between many free and paid themes to make your shop a good user experience and to look great. You can also choose between free and paid apps to improve the functionality of your shop.
Another advantages of Shopify are the SEO facilities and home-grown measurement and reporting tools from Shopify. What else is included? Automated store backups, Paypal payment options, Google Checkout and the support of most of the major credit cards. Shopify doesn't limit you on choosing only one way to sell. You also have the opportunity to sell via Facebook, Pinterest and the Shopify Buy Button. It's important that you have an idea of your own business requirements.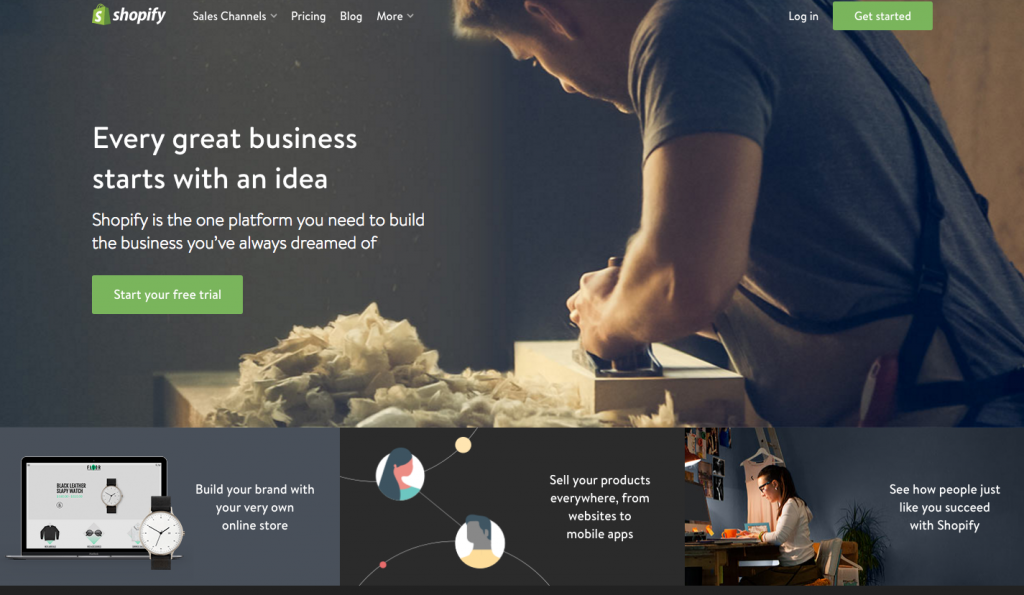 How much does it cost? The basic package includes an online shop and starts at $29 USD per month and goes up to the unlimited package for $179 USD. If you want to start small and without an online shop, you can choose the lite package for only $9 USD per month. The Shopify team also offers you a 24/7 support via e-mail, live chat and phone. 
Magento
Magento is an open-source E-commerce solution and gives you the possibility to  customize your online shop right from scratch. You already know that you want to scale your E-commerce business soon or maybe run more than one online shop? Than Magento might be a good choice for you. You can choose between an Enterprise Cloud Edition, an Enterprise Edition and a Community Edition.
The support is one thing, that differs very much between the Enterprise Edition and the Community Edition. When you choose the Enterprise Edition you get full support from Magento for which you might sometimes be really thankful. New features are also available for the Enterprise Edition first.
The platform covers all the needs you have for your E-commerce shop. Magento offers you hundreds of extensions and themes and also allows you to integrate with other E-commerce solutions. Magento is modular, flexible, integrated and it offers safe, flexible payment options. You have a reporting function and it can deal with complex discounts and vouchers.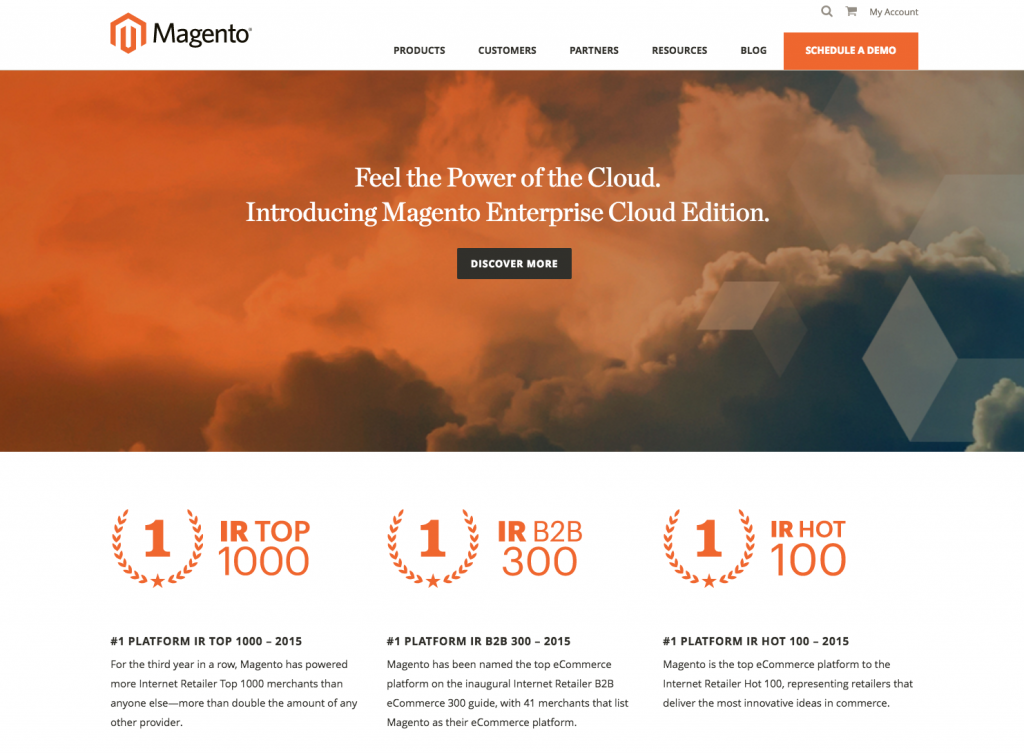 How much does Magento cost? The Community Edition is free to use and fits perfect for small to medium sized shops. You should take the Enterprise Edition if you have a large shop with many products and would like to have full support. The costs for this start at about $18.000 USD per year. The website doesn't really give a good insight into the pricing so I had to search for this through the internet. The best way would be, to contact Magento to get more informations about the price.
PrestaShop
PrestaShop is a free and open-source E-commerce solution. You can choose between a cloud version or you can download and host it by yourself. With the cloud version,  hosting and automatic installation is included. If you choose the self-hosting version, you have access to the source code and need to setup your own database.
Which features are included? You can build your product catalogue, create categories, manage customers and orders. The frontend and backend are already responsive and so your store is even ready for mobile devices. The design of the shop is fully customizable and SEO optimized. Real-Time analytics and a marketing toolkit are also included in PrestaShop.
PrestaShop has a simple, fast and secure way to accept payments on your E-commerce site. This module allows you to receive payments from customers all around the world and integrates the major payment solutions. There are also other free payment modules you can install for your shop such as Authorize.net and Sofort.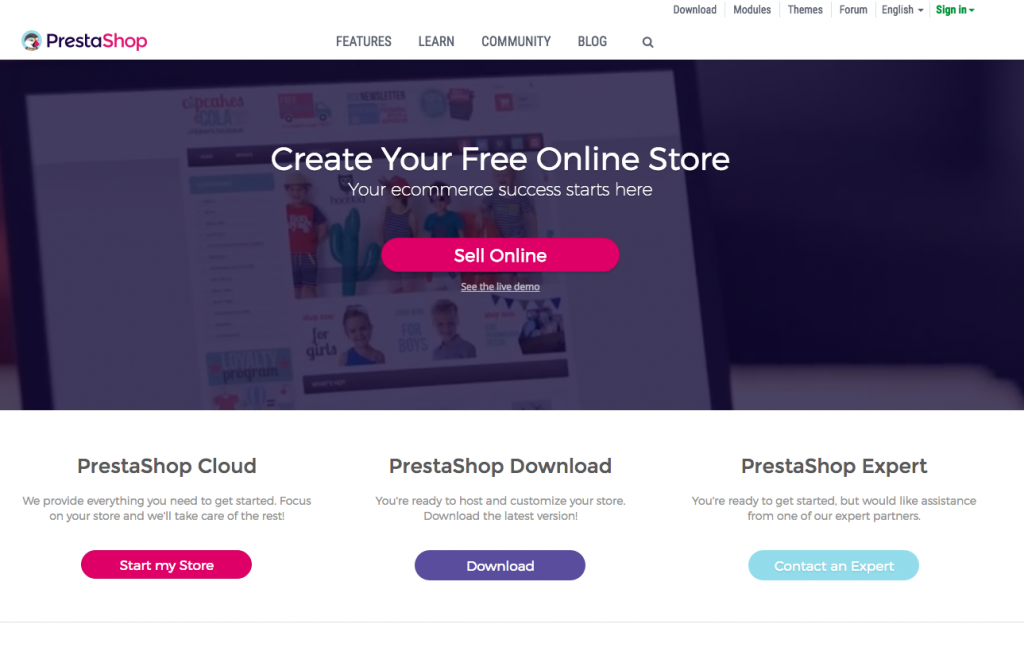 Shopify, Magento and PrestaShop offer help from experts and all three shops have a blog on their website, where you can read about E-commerce topics, tips and tricks. If you are not sure which platform you should use for your online shop, start a free trial  – most of the platforms offer a free trial or demo.  
Technical conditions for your online shop
Now that we have a product and a platform, there are still some technical conditions you need for your online shop such as hosting, domain and security.
Hosting
Hosting is a necessary thing for every website. Hosting means, that a web host stores your website on a server and can be accessed by other Internet users. Without a host, your website is not available! Some E-commerce platforms, such as Shopify and Magento, include the hosting in their offer.
Two of the more popular and cheapest hosting services are 1&1 and one.com. For hosting it's the same thing as for the platform – compare! Just take a look through the offers of the different providers and decide based on your business and your goals which hosting is the best for you. When you compare the offers, you should also focus on
the availability,
regular backups
and a good support from the hosting service.
Domain
Your domain name is the web address your customer types in to get access to your website. If you take Shopify as your platform, you get a free address such as http://tomsstore.shopify.com. This address is a nice thing, but it might look better and more professional without the Shopify in the middle of the address. If you don't want this, a custom domain is what I highly recommend you.
Custom domains are available for about $12 USD a year and that's a really cheap deal. If you want your online shop to be serious, you should definitely make this investment. Don't know where you can get a domain? HostGator and GoDaddy are just two of many providers.
Secure Sockets Layer
It's very important for your online-shop to ensure security, privacy and effectiveness. The Secure Sockets Layer (SSL) is a security technology, you can implement to authenticate business transactions and is important to encrypt the communication between customer and shop owner. 
The computer networking protocol SSL uses a combination of public-key and symmetric-key encryption to secure a connection between two machines (typically a web server and a web browser), that communicate over the Internet or an internal network.
Why is Google Shopping important for a successful E-commerce shop?
First of all: you need to link your Google AdWords account and your Google Merchant Center to start with Google Shopping and to generate Product Listing Ads (PLAs). What's different to a text ad? PLAs show users a photo of your product, the title, price and shop name. The Google Merchant Center is a tool, that helps you to upload your shop and product data and makes it available to Google Shopping and other Google services.
And why is Google Shopping important for a successful E-commerce shop? Google Shopping allows your potential customers to quickly and easily find your product listing on Google. PLAs put your product, image and price directly in front of the shopper and it's like virtual window shopping.
---
Try the first and only tool specially designed for Google Shopping!

---
Another fact is, that users are more likely to click PLAs! You can drive more traffic to your site, improve your clickthrough rate (CTR) and increase the quality of leads. An easy retail-centric campaign management and a broader presence are also an advantage of Google Shopping and with a little effort in managing your campaigns, you can easily improve your return on investment (ROI).
Keep an eye on the product feed
A product feed is "a file made up of a list of products which use groupings of attributes that define each one of a merchant's products in a unique way." Only on the basis of the feed-texts such as title, categories, brands or descriptions, Google decides if the product will be included in the search results of the online shopper.
There may occur some problems when you export you product feed from your platform and import it to the Merchant Center. It can be, that your feed is missing a required attribute such as the id. There might also appear feed registration issues and formatting issues. In the next blog post I will cover topics around the Google Shopping exam, where I will especially take an eye on the product feed and it's specifications.
You still want to know more about E-commerce and wonder where I found all this information? Here are some interesting blogs that deal with E-commerce topics that helped me for my research:
Be aware, that the E-commerce jungle is much deeper than you think and that this blog post is just the beginning of a long journey through this jungle. During the next blog posts I will also write about E-commerce and marketing, E-commerce trends and how you can attract more customers to your online shop.
You want to know more about my journey? You have an idea or a question to my journey? Just follow me and get in contact with me 🙂 
Series overview: