Subscribe to join thousands of other ecommerce experts
PPC strategies in the era of social distancing
Helping online marketing managers (OMM) update for an uncertain future

Faced with a global health crisis, business has to change. Social distancing in the wake of the COVID-19 pandemic means consumer habits have, and will continue to, change rapidly. These changes have already affected most market segments, and it's in times like this that it's critical that your PPC strategies are fit to react and cope.
PPC budgets are a large expense factor for online retailers — putting pressure on OMMs to deliver. In this article, we are going to look at two things:
What you can do right now to make sure your PPC budget doesn't go to waste.
What you can do right now to minimise risk and maximise future opportunities.
Ecommerce retailers face a unique set of challenges and opportunities. Integrally connected to global supply chains and consumer spending, both the current quarantines and up-coming after effects (something we all need to be ready for) will hit hard. But, equally, ecommerce businesses are better placed than most to serve a society in lockdown.
With stores closed, the demand for online shopping will accelerate. Pre-pandemic projections about the expansion of ecommerce as a percentage of retail sales (15.5% in 2020 to 17.5% in 2021) will look conservative. But we want to look far shorter-term here. Fundamentally, this is a dynamic situation changing at an exponential rate.
When it comes to PPC strategies, how should you act today?

Priority #1: Laser-focus on collective strategic goals
Everything you do now has to align across departments. This is pretty standard advice. But it's never been more important that your purchasing teams, warehouse management, supply chain management and finance department are talking to each other and align with your marketing and PPC agenda. This is for three big reasons:
Your business objectives are likely changing: What you were trying to achieve three months or even two weeks ago, might not make sense anymore. Your industry and position will matter here a lot. But it's likely that one of two things have just happened. One, you are "belt-tightening" and need to focus on margin rather than growth. Two, competition has thinned, and you've spotted an opportunity to grab market share. Either way, everyone needs to be on the same page, and dynamic updates to these objectives need to be reflected across the board.

Supply chain volatility is high: With global shipping threatened, knowing what products you have, where they are, and your ability to ship them has never been more critical or challenging. As an OMM, you need to know where you can help clear dead stock and where you can help drive revenue without over-promising to customers. It's no good placing bids on products you are about to run out of.

Customer demand is also volatile: Just like supply chain volatility, customers are acting erratically. Right now, demand seems higher than ever, but what customers want might not align with normal. We also need to be honest that a recession is likely around the corner, and this will depreciate demand. Communication is key to preparation.
By aligning your business across strategic goals, you can cut out waste (reducing costs) and increase the effectiveness of your PPC strategies. These are both key to weathering this storm.

Key actions:
Open channels of communication with leadership across departments.
Focus on supply chains and customer demand.
Align cross-departmental actions with strategic business objectives.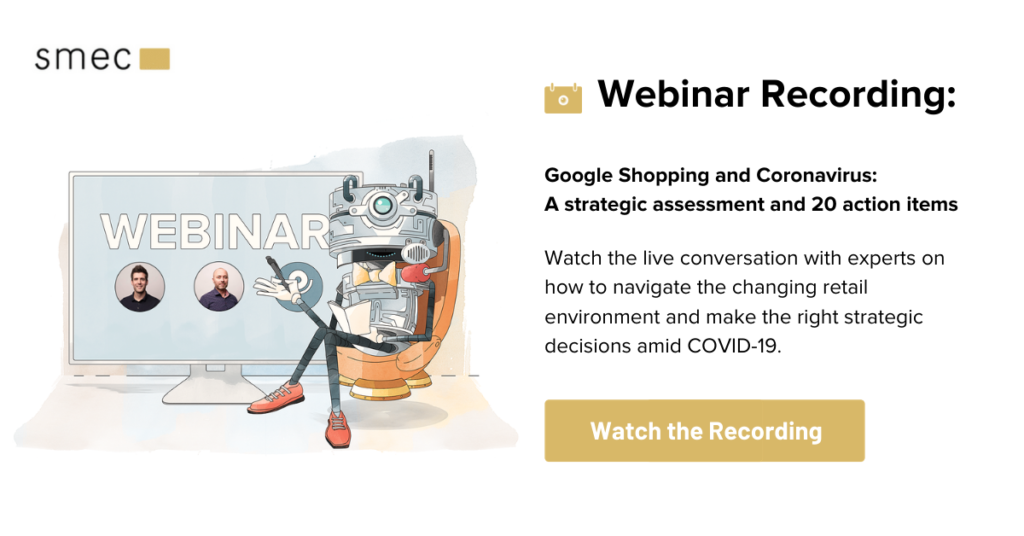 Priority #2: Watch your customers and watch your competition
The volatility that demands strategic communication also means paying attention to marketing metrics and your two key bellwethers — your customers and your competition.
For example, understanding your competitor's liquidity, inventory, supply chain and IT capabilities will help you understand the likelihood of a power-play vs market withdrawal. Tracking your customers will help you understand where to invest your ad budget and where to put pressure on your supply chain.
A few key customers metrics to watch are:
Impressions: How are consumer search habits changing?
Conversion rates: Have purchasing habits changed?
Average order value: Are consumers spending more or less?
A few key competition metrics to watch are:
Overlap rate: How often are you in a shared auction?
Outranking share: How often are you bidding more effectively?
CPC: Is the cost of acquisition changing?
Impression share: How effective is your bid strategy?
You need to look at search term reports regularly, analysing customer demand, purchasing intent, AOV and other user trends. We definitely recommend looking at Daniel Gilbert's script and Google Sheets integration to help you better filter Google auction insights data. But, fundamentally, by cross-referencing data on consumers and your competition, you can assess the value of different product lines and spot emerging opportunities — helping you decide where your limited advertising budget should be focused.
Key actions:
Track changing consumer behaviour.
Predict the likely strategy of your main competitors.
Use key metrics to maintain up to date information.
Priority #3: Lean into PPC automation but understand its weaknesses
Volatility amplifies the value of prediction. It also means the cost of different PPC buys is going to be all over the place. As an OMM, dynamic bidding and automation tools are an obvious answer. You're right, but it's also important to remember that our machine counterparts are likely to be just as confused about what's going on as we are.
Bid automation tools look at the past to predict the future. What's going on now is unprecedented. Automation tools can help you crunch numbers and scale actions, but you shouldn't blindly follow their advice. Combining the insights of human planning with the speed and predictive capabilities of machines is always important — now more than ever.
With that said, bidding automation, particularly, can help you overcome the practical challenges of analysing organic and direct traffic vs ROAS. There are also a lot of great Google Ads scripts worth investigating. What you need to do is compare that information with strategic goals, analyse key terms for customer intent and creatively apply negative keywords to help your automation tools get to the right answers.
It's important that spikes in demand aren't limited by budget. If you cannot set an open budget, we recommend using ad schedule modifiers to ensure you get market visibility across the entire day, or hours that are particularly important to your business.
Key actions:
Use bidding automation to overcome price volatility.
Understand the weaknesses of machine learning in unprecedented times.
Take full advantage of negative keywords.
Use ad schedule modifiers.
Use your own analysis to guide automation — not the other way around. 

The future is uncertain — at least you know that for sure
Preparing for what's next is something we might all need to get used to doing one day at a time. Accepting that is an advantage in and of itself. By focusing on strategic communication, your customers and your competition, you can put to use a combination of automation and human ingenuity to do just that.
Market downturns will likely lead to reduced marketing budgets by the end of 2020 — even if your budget has spiked today. However, McKinsey research about 2008/2009 correlates larger marketing investments during that crisis with long-term resilience — growing revenue and market share. Only you can know the specifics of what's right for your business, but it's important to keep in mind.
You should also pay attention to market responses across the world. Remember, this isn't a local crisis. Just like the outbreak has been staggered, so too will the recovery. Looking at trends in countries ahead of the curve will help you predict what's coming next, and how to prepare long-term.
But our focus here is on today. One piece of good news for online retailers is that Amazon has more or less pulled out of shopping auctions to focus on fulfilment. The Prime "two-day delivery" guarantee has also been suspended, placing the real value on simply having items in stock. These both present great opportunities for independent retailers. Stay positive, stay alert, wash your hands and keep an eye on your search term reports.
---
An Open Offer to Online Retail Marketers
Now is not the time for smec to be pitching our products and trying to sell our services.
Instead, we'd like to offer you our help. If you are trying to make sense of the new PPC landscape, we are here for you.
Our team of experts can help you make sense of a rapidly changing environment and share actionable insights to help ensure your future.
So, if you're looking to make your most critical strategic decisions, let us help.
Our commitment is that there is no sales pitch behind this form – we're here for you.
smec Market Observer
To support you in times of uncertainty even more, we created the smec Market Observer. It provides you with trustworthy PPC data from various industries and valuable analyses enabling you to better understand how your market is changing.