Subscribe to join thousands of other ecommerce experts
Showcase Shopping ads: What are they and how do I use them?
In mid-July, Google rolled out a new format for shopping campaigns: Showcase Shopping ads. This type of ad gives you the opportunity to provide potential customers with further information about a collection of related products, which is especially attractive to shoppers who are earlier in their decision-making process or who want to browse options. Compared to the standard Shopping ads, Showcase Shopping ads are more likely to show when people use broader or more general search terms, for example,"dress shoes" or "bedroom furniture". The ads can also be triggered by an open-ended brand search.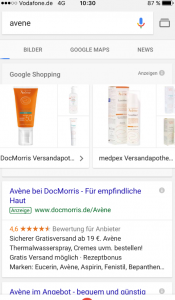 How do Showcase Shopping ads work?
Showcase Shopping ads are shown at the very top of the SERP when people use midtail, or more generic, search queries. Unlike classic Shopping ads, consumers will not be redirected to the retailer's own landing page but will instead view an expanded ad that displays relevant products in detail. The first click is for free, you will only have to pay if someone clicks on a specific product in the expanded ad section or if they spend more than 10 seconds there.
How do I set up Showcase Shopping ads?
Firstly, and probably most importantly, Showcase Shopping ads can only be created via Google's API or the new Adwords interface, which is currently in Beta and will be available for all accounts soon.
Create a new ad group
Simply set up a new ad group in your shopping campaign and select the ad group type "Showcase Shopping". It is important to note that each ad group can only serve one ad, because ad rotation is not currently supported by the new format.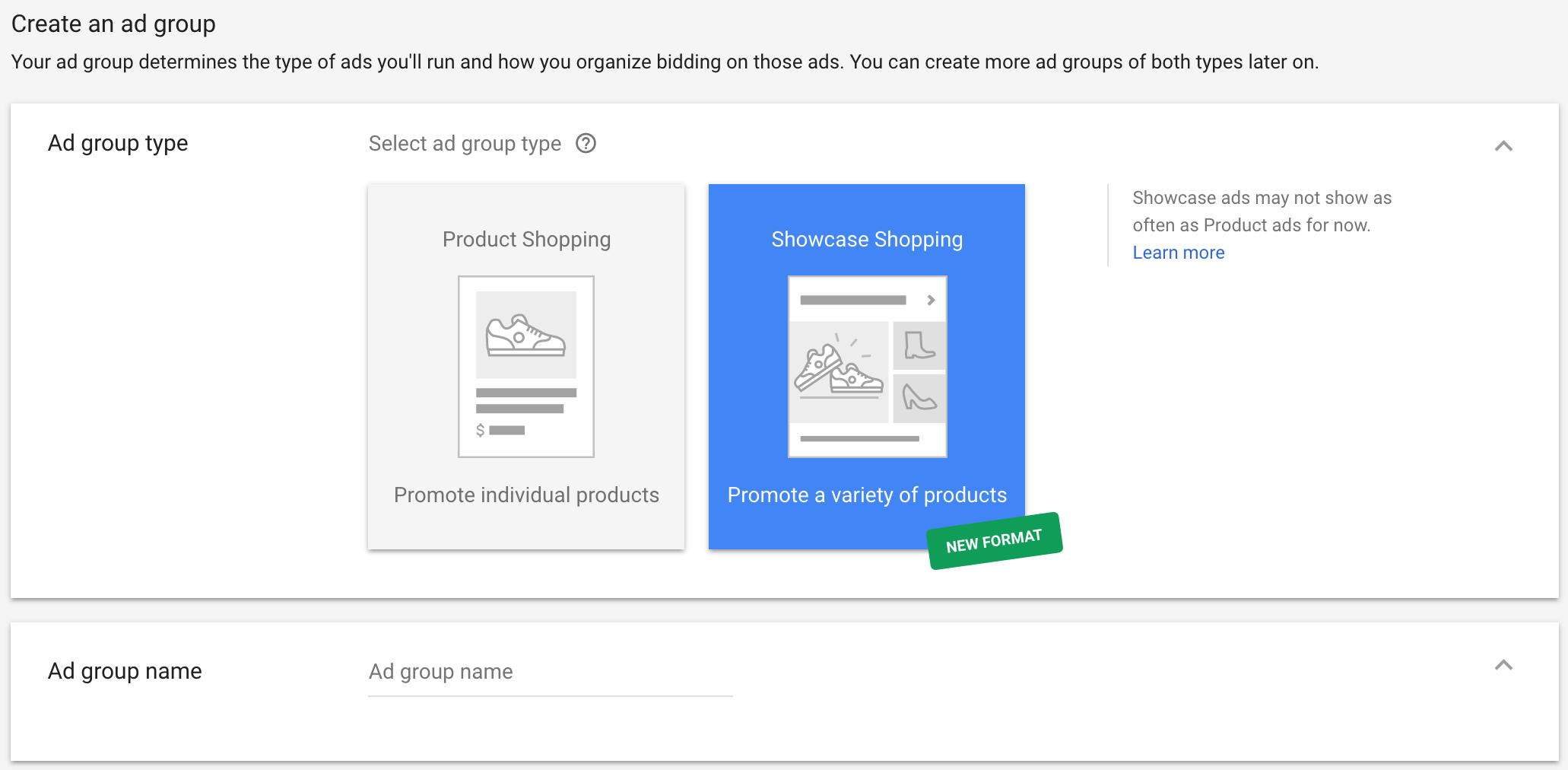 Afterwards you have to define your desired CPE (cost-per-engagement) bid and choose the products you want to promote in your ad. You can use all products in one ad group or you can select different groups of products organized by product type, category, brand, item ID, condition, channel, channel exclusivity, or custom labels. We recommend creating several ad groups to serve multiple Showcase Shopping ads and thereby provide users with highly relevant product clusters. Conversely, you should exclude product groups if they contain products you don't want to display.

Create an ad
Next, you need to create the Showcase Shopping ad. Unlike other Shopping ads, you need to define some things directly in the interface, such as display URLs, final URLs, headlines, and descriptions. Plus, you can choose if you want a specific header image for the collapsed ad, or if you prefer product images from your data feed.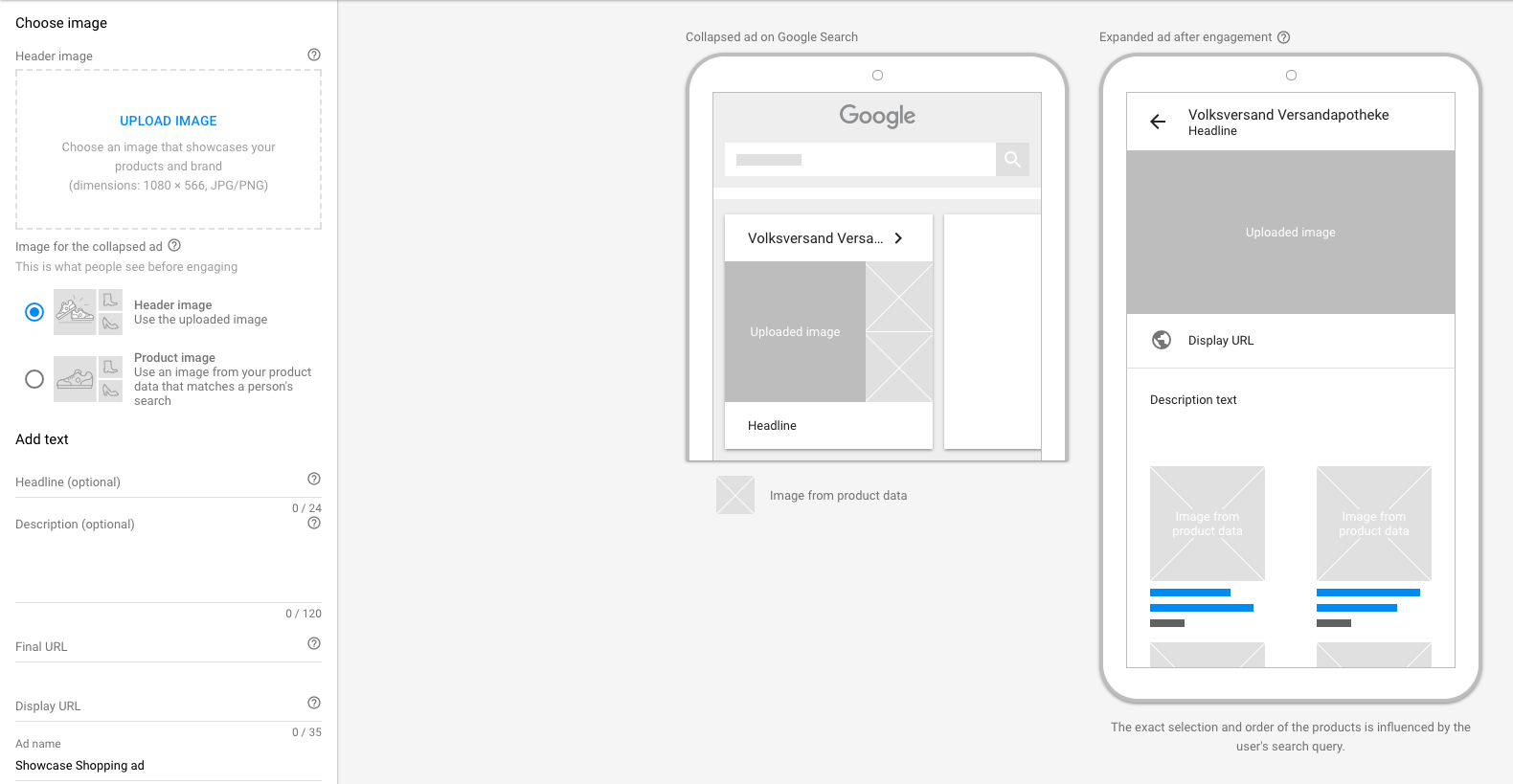 Here is everything you need to provide:
Header image (1080 x 566, JPG/PNG): Depending on which option you choose, you will see this picture either in the expanded ad only or in both the collapsed and the expanded ad.

Headline (optional, 24 char. max.): This headline will be displayed in both the expanded and the collapsed ad.

Description (optional, 120 char. max.): You will find the description in the expanded ad version only.

Final URL: Insert the URL of the landing page you want users to visit after they click on a product.

Display URL: This URL is displayed in the ad and the domains of the final and the display URL must match. Only a URL of 25 characters can be shown on mobile devices, and 35 characters on desktop. If your URL exceeds this limit a shortened version will be shown.

Ad name
What else you need to know
Showcase Shopping ads are a relatively new format and, in our experience, are shown to users quite rarely compared to Product Shopping ads. Nevertheless, we think it offers a competitive advantage if you set up Showcase Shopping ads early, because this format is likely to become more prominent in the future: Google notes that more than 40% of searches are for broad terms. There is also a premium version in development which will allow marketers to customize how their brand and products are displayed.
As mentioned above, best practice is to create several ad groups with different groups of products. This allows the highest level of relevance for the customer. Avoid having only one ad group with all products serving the same ad for unrelated products. And don't forget that each ad group serves just one ad instead of rotating. Best of luck, and let us know your impressions of the new format!