Subscribe to join thousands of other ecommerce experts
Enhance your Google Shopping campaigns with Orbiter
The daily struggle of PPC managers is more than real: You check your campaign's performance on a frequent basis and the figures and overall graphs regarding costs, conversions, clicks and ROAS seem to be fine.
But are the numbers really great or do they just seem to be?
Let's look at the reporting possibilities in Google Ads, as well as an additional free reporting and data visualization tool.
Reporting possibilities in the Google Ads overview tab
The new Google Ads experience offers lots of handy reporting tools, like the overview tab where you can get useful information about your channel performance or campaign performance for any time period, plus a direct link to edit your bid modifier if the performance deviates from your goals.
What we personally like to use are the device section and the auction insights graph. That's because device is one of the single largest variables in your account performance.  Meanwhile, the auction insights chart gives you a valuable glimpse into your competitive environment.

If you made some big changes in the campaigns yesterday and want to check the today's performance, the top graph in the overview shows you the KPIs per hour, while the dotted line shows you yesterday's performance:

Always have in mind that the reporting in Google Ads is not carried out in real time and that there can be delays up to a few hours. Still, those graphs can give you an indicator if your adjustments have been successful.
Those visualizations are definitely nice for an overview, but as the name "overview tab" suggests, it is only working on whole channels (like Google Shopping or Search) and single campaigns, but offers no further granularity. And this is a problem, because as Evan Waters likes to say: "Granularity is king".
When it comes to more detailed data, the predefined reports in Google Ads are helpful for more granular data and optimizing. Those reports can be structured by:
brand
product type level 1-5
custom label 0-4
itemID
and many more options
These reports provide you with lots of useful numbers, but that's all. And numbers, especially when there are so many columns and rows, are more difficult to interpret and to understand than the graphs on the overview tab.
In the end, within the Google Ads interface, you are stuck with effective but surface-level charts, or tables that are granular but only offer specific reference values.
How Orbiter's data visualizations can help you to manage your campaigns
Treemaps
To offer Google Shopping advertisers a better understanding of brand and product type performance is one of the reasons why we developed Orbiter data visualizations.
With Orbiter's Shopping Treemap you get more information about your brand and product type level 1 performance. The greener the rectangle, the higher the ROAS for the given products. The bigger the rectangle, the more ad spend these products have consumed in the given time range.
Please be aware that the medium yellow color value is still a healthy area. This just means the brand or product type is performing on target, not above or below. But for most of us, on target is definitely a good thing.
One of the best practices is to use the selectable time range to compare your last 14 days against the previous period (i.e. the 14 days before that). You can quickly evaluate if the rectangles are becoming more red or green, and then look at specific areas to see if action is needed. It's just important to note that your average ROAS may have changed across the two periods. If you want a 1-to-1 comparison, you can use the ROAS selector to make sure that both charts are using the same benchmark – for example, a ROAS target of 10.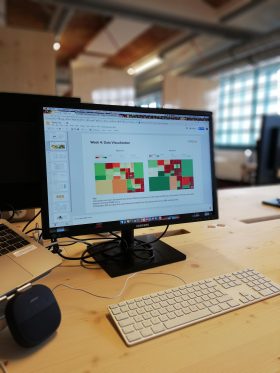 Plus, using the download feature, you can place a screenshot of your last 14 days data next to the data of your comparison period for seeing the results side-by-side or sharing them in a presentation.
In the case pictured here, the performance after four weeks (righthand screenshot) became significantly more efficient. You can see this easily as the big rectangles are clearly greener than they were before.
The treemap information for Product Types and Brands can also serve as suggestions for Advanced Bid Strategies within Whoop!, where you can consider setting an aggressive mode for the green areas and a conservative mode for the red areas to positively support your ROAS goals.
Heatmaps
Another frequently used Shopping visualization in Orbiter is the Seasonal Heatmap. It's popular for analyzing cost and conversion trends across the calendar year.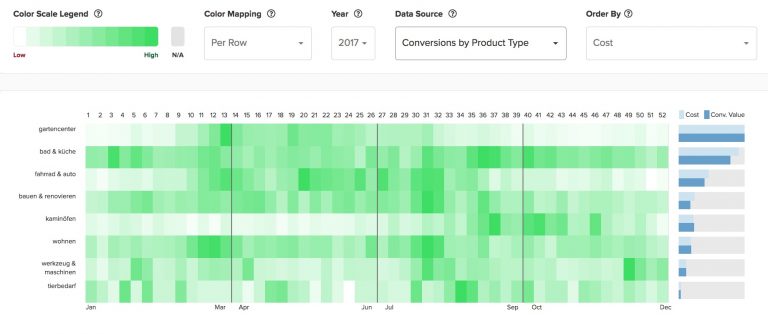 Our best practice for the Shopping Seasonal Heatmap is to use the following settings:
Data Source: "Conversions by Category" or "Conversions by Brands" – depending on the structure of your data feed and what's more important for you
Year: "Last Year"
Color Mapping: "Per Row" – because this shows the trend of each category/brand over the whole year. The darkest green rectangle shows the week with the highest number of conversions for that particular category/brand.
In case of this German home and DIY shop, it's obvious that "Bad & Küche" (bath & kitchen) is relevant year-round with some variation, while "Gartencenter" (garden center) is highly seasonal, converting in spring and early summer. Werkzeug & Maschinen (tools and machines) are most popular during the holiday period – probably as gifts for Dad. You can check any week to learn more KPIs and determine how strong or weak or performance was, as well as the significance to your conversion value.
With this information you can adjust your bids within your campaigns to spend more budget in the relevant seasons or to save money by cutting some bid modifiers in the off-season. You might also identify areas where you expected conversions but missed them – and take corrective measures for the next year.
Tip: for accounts with less data, it can more productive to switch the data source to costs instead of conversions, and then check if weeks with heavy costs delivered a satisfying ROAS.
Check your account today
Orbiter is accessible for free at any time via www.smarter-ecommerce.com in the Products section – or you can click here to visit and set a bookmark while you're there. There are no downloads required: simply connect with your associated Google account and let Orbiter visualize your data. Orbiter has quickly grown into a community of hundreds of forward-looking advertisers who take data seriously. The are now Orbiter users in 38 countries, and to support this community and our own account managers, we provide monthly updates at no cost to you.
Check back each month to read the feature log in Orbiter's home screen – and of course to analyze your account.
For those of you who are heavy Orbiter users like Marco at UK beauty and fragrance leader allbeauty, you can connect directly with the Orbiter product team via the tool's idea portal to share your feedback and shape the future of this free data visualization platform.
If you are not yet using Whoop!, our Google Shopping management solution, get in touch with us today! Together, Orbiter and Whoop! are the best combination for Google Shopping campaign management.
Credits: Mayela Nunez (co-author) and Irene Ehrengruber (co-author)