Subscribe to join thousands of other ecommerce experts
PPC Adventures Part 10: Farewell Google Shopping Island
As the title says: It's time to say goodbye to the Google Shopping Island. That's why I would like to give you an overview of the things I've learned and some tips and tricks for your own Google Shopping journey in this blog post. Don't be scared, my journey to become a PPC expert is not over yet. Of course, I will give you some insights to my further journey from time to time.  🙂
Tl;dr
What have I learned during the last 4 months?
Tips and tricks for your own Google Shopping journey
Blog recommendations
Review of the last 4 months
Before I start to give you tips and tricks for your Google Shopping journey, I would like to sum up what I've learned during the last 4 months. My journey wasn't an easy one. Google Shopping is a very complex topic, but I think I did very well. 🙂
The beginning of the journey was really hard due to my lack of knowledge about Google Shopping and AdWords. I learned what Google Shopping and PPC are and why it is important for an E-commerce business. I had to fight through a jungle of terms, showed you which bidding strategies you can use, what a daily budget is and explained the differences between the display network and the search network.
---
Try the first and only tool specially designed for Google Shopping!

---
If you want to know more about the AdWords Fundamentals Exam and the Shopping Advertising Exam, just go back to PPC Adventure Part 2 and Part 4. Here you will find information about the time you have for the exams, how many questions you have to answer, the passing score and validation.
My personal highlight of the journey were the basics, best practices and common mistakes of the E-commerce sector and the Email marketing part. If you want to become a PPC expert, you have to learn something about this topics as well.
A rather piece of the case was the "How to Analyze Google Shopping Campaigns"-Part. I was really scared about this because there are so many mistakes you can make during the analysis. But – thanks to my colleagues – I also handled this part. And hopefully, so will you!
Tips and Tricks for Google Shopping Newbies
Therefore that my journey is over (for now), I would like to give you some tips and tricks for your own Google Shopping journey.
1. Get practical insights
Google Shopping is getting more and more important but for many of us, it is still something new. When you start your own journey to the Google Shopping island, the most important thing it to get practical insights.
If you have the opportunity to use the AdWords and the Merchant Center Account go on and try it. Do experiments and learn from mistakes. This should not be a recommendation to do mistakes, but it will help you to learn and to find out best practices. 🙂
2. Watch Videos
Sounds crazy? Well, if you don't have the opportunity to get practical insights watching Google tutorial videos can help pretty much. 🙂 If you remember, I often linked such videos in my PPC Adventure to explain complicated topics to you.
I can strongly recommend you the Google AdWords Channel. They cover topics for beginners, AdWords basics and much more, such as measuring the success. Here is one video that helped me a lot at the beginning:
3. Be critical
I know that the learning materials from Google can be very difficult to understand, and that's why I often was searching for an easier explanation on the internet. The following tip is very important! Always be critical when you search for a topic on the internet – never trust a single source.
An explanation might seem easy to understand, but this doesn't mean that the explanation is right. Compare different sites and look at their quality cause otherwise, you might learn wrong things. This has happened to me too. 😉
4. Don't be afraid to ask
You don't know how to set up a Google Shopping Campaign? Don't be afraid to ask. One of my major problems was that I was too afraid to ask my colleagues when I didn't understand a topic. Now I can say: Do it! 🙂
Google Shopping isn't an easy topic and asking others will help you getting into the matter. None of us was born with the knowledge. We all had to start, and it is helpful to get an insider's view.
5. Google Shopping is different
This is a quote from Kirk Williams which I really like.
The thing is that Shopping is a little bit crazy. What if that lower volume product actually has a decent amount of searches and little Shopping competition? What if your feed is better optimized for those products since "everyone knows this product doesn't sell well" and your products consistently appear at the top of SERPs at low CPCs? What if? – Kirk Williams
This is not really a tip but still keep it in your mind. Google Shopping acts differently than other campaigns and especially than offline channels.
Blogs for your Google Shopping journey
To become a Google Shopping expert, you should definitely browse through different blogs. Of course, the learning materials from Google itself are helpful, but the views from different experts and bloggers often helped me more than Google. I would like to show you the blogs I prefer and that helped me the most.
PPC Hero
One of my favorite blogs is PPC Hero from hanapin marketing – as you might have recognized already. 😉 They provide tips on expert skills and management techniques of successful PPC digital advertising management and also offer white papers, industry reports, and on-demand webinars.
"We quickly realized there was a lack of truly great digital advertising content, specifically about PPC ad management. Most of the industry blogs focus on SEO, but only touch on PPC."

Think with Google
Think with Google is a good source for insights and trends in digital marketing. They have forward-looking perspectives and offer interesting behind-the-scene looks. I personally like the structure and design of the blog and it helped me a lot to gain more knowledge.
"Think of us as your resource for everything from high-level insights to deck-ready stats to useful tools."

Search Engine Land
The right blog for you if you want to read interesting articles about all aspects of search marketing industry is Search Engine Land. The blog includes breaking stories, industry trends, and feature announcements.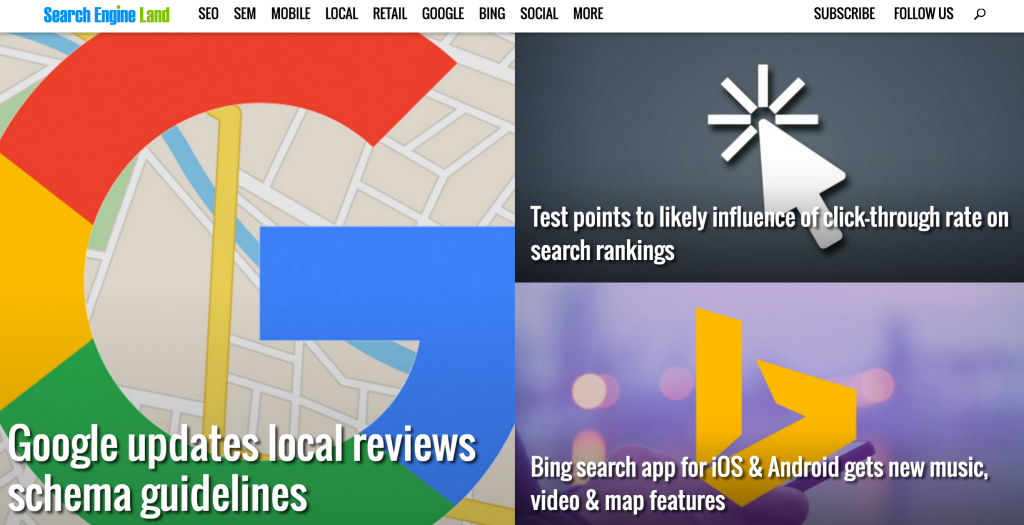 WordStream
WordStream offers content about content marketing, mobile advertising, affiliate marketing, and sales. It's a helpful platform for online advertising and really helped me a lot.

CPC Strategy
CPC Strategy primarily focuses on PPC trends and Google Shopping on their blog. They are one of the best resources for retail adverts and E-commerce. CPC Strategy also offers resources like "The Google Shopping Guide: 2016 Edition" which might help Google Shopping newbies and experts a lot.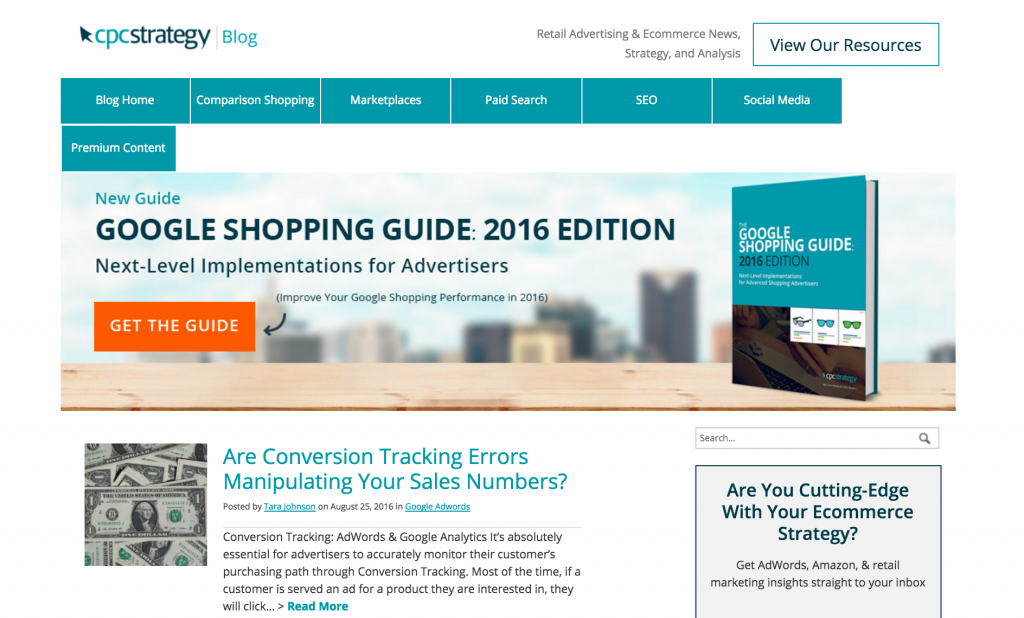 Inside AdWords
Inside AdWords is the official blog from Google for news, tips, and information on AdWords. If there is something new happening in AdWords this is the right platform to grab the information.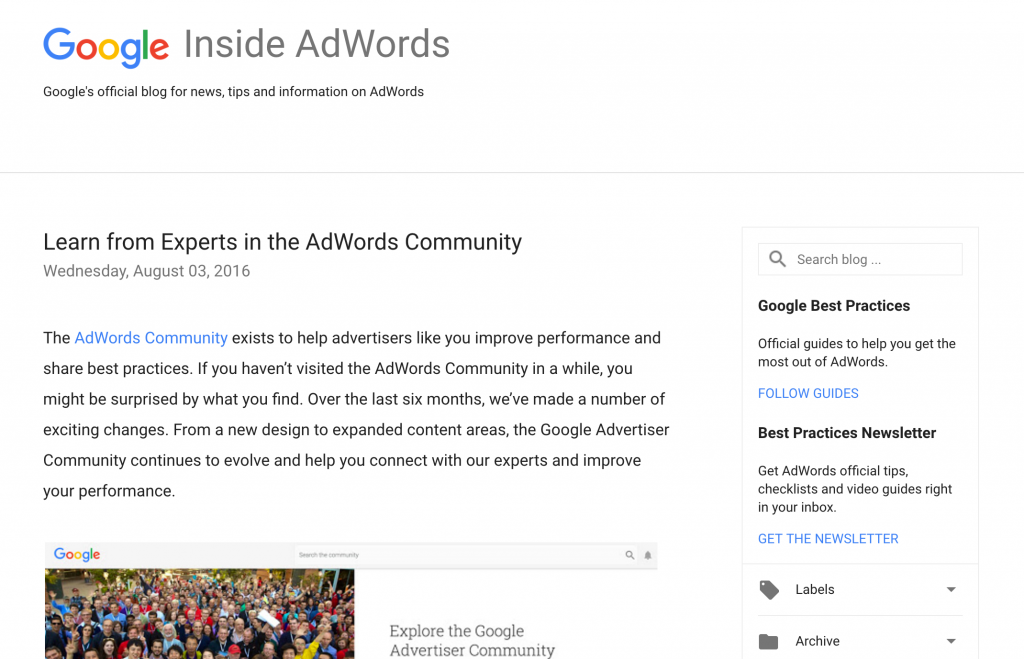 Whoop!
The last blog I would recommend you is our own Google Shopping blog – especially our Google Shopping Compendium. We started the Compendium to share all our knowledge and the facts of Google Shopping with you.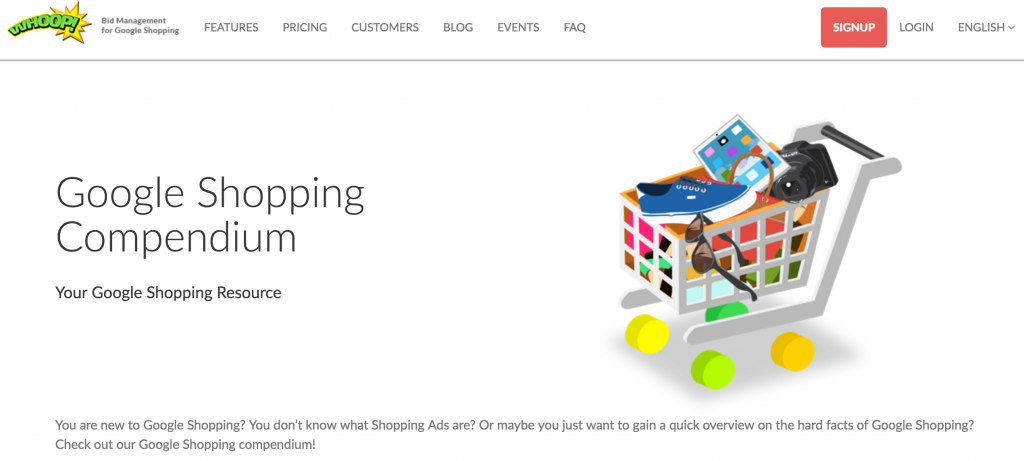 Of course, there are much more blogs and resources all over the internet. Those six are some very popular ones, but as I told you before, you have to be critical when it comes to content. That's why I chose them.
Farewell Google Shopping Island
Google Shopping is – and will be – a complex and especially important topic. I'm still not a Google Shopping expert, but I learned quite much during my journey. Therefore I have to say: Farewell Google Shopping Island – we will see us again.
You have questions about my journey? You would also like to start your journey to become a PPC expert? Don't hesitate to ask me 🙂 I would be happy to help you!
Series overview: