Subscribe to join thousands of other ecommerce experts
PPC Adventures: My Journey To the Google Shopping Island
Do you know this feeling, when you want to learn more about a topic, but you are too scared to get actually started with it? Well, my current enemy is Google Shopping and during the next few weeks, you can follow me on my way to becoming a Google Shopping expert. I will cover fundamental contents from the study guides, my learning experiences, the time effort, to insecurities, the certification itself and more. You can see this blog series as a "getting started with Google Shopping" guideline.
Tl;dr
New blog series
Follow a newbie who gets in touch with Google Shopping for the first time
Sharing personal experiences, insecurities and thoughts
How to become a Google Shopping expert
Getting started with Google AdWords and Google Shopping
You'll find useful links at the end of this post
Learning something new can be a scary experience. It can be difficult getting started in a new field, there is no doubt about that. There are lots of channels where you can inform yourself and often it seems like an infinite amount of things to learn, but the best thing you can do is just dive in and make your personal experiences – that's what I did.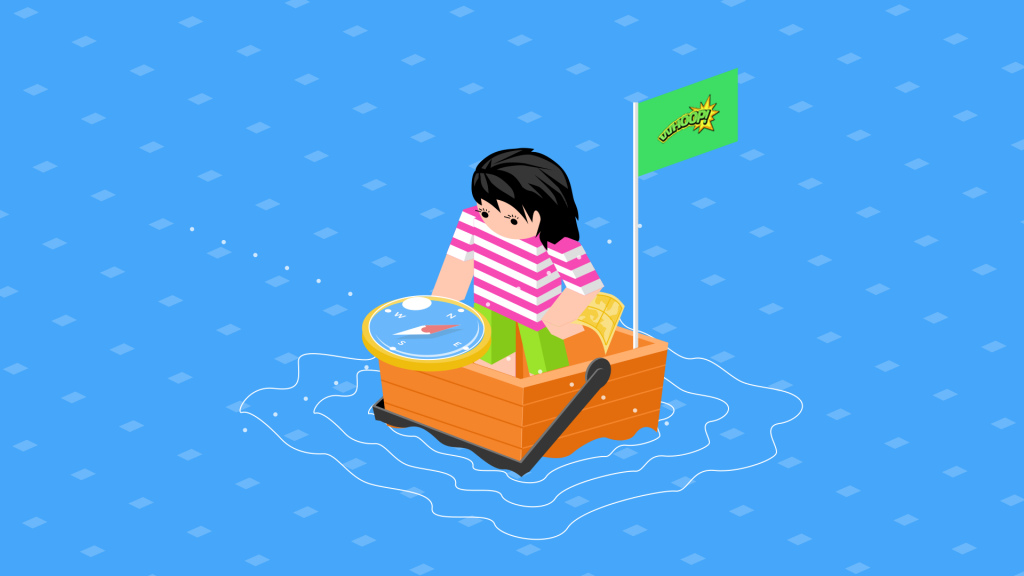 Who am I and what's my background?
My name is Desiree, most of my friends simply call me Daisy, and I study 'Communication and Knowledge, Media' in Austria. This week I joined the Whoop!-Team as Content Manager. 'Social Media Marketing' and 'New Media and Digital Culture'  are topics I covered during my classes at university but the topic Google, and especially Google Shopping, was rather brought up.  
I have always been interested in marketing and new media and I wanted to take the Google AdWords exam many times before. At university, I barely got the chance to take this exam and I was too scared about this complex topic to do it on my own. Now, that I am in the Whoop!-Team I have the chance to catch it up and become a Google Shopping expert.
What to expect from my PPC journey?
The first topic I will cover in this blog series is the beginning of my PPC and Google Shopping journey. I will tell you about my fears and insecurities, things that go through my head and my first steps in this new territory and jungle of terms. Where do you find appropriate learning material for the certification and how can you assign for the exam? These and more questions will be answered from me to give you a little support and some insights on what is important.  
---
Try the first and only tool specially designed for Google Shopping!

---
Getting started with Google Shopping
In between I will keep you up to date with my process and give you an overview on how much time you will have to spend for the certification. Furthermore, I will tell you the basic facts about the Google AdWords Fundamentals exam itself and how taking the exam was for me. Topics that will be covered here are the benefits of online advertising and AdWords,  and how to manage and optimize AdWords campaigns.
After passing the first exam I will get into the second topic, the Google Shopping part, and give you more information about this, the Google Merchant Center and the product data feed. After finishing the second exam and getting the certification, I will reflect on the topics and my experiences from my way through the Google Shopping jungle.
What about PPC, Google AdWords and Google Shopping?
For the beginning, I will give you a short overview about PPC, Google AdWords and Google Shopping.
PPC
Well, PPC is a model of internet marketing and stands for pay-per-click. That means, that advertisers pay a fee every time their ad is clicked.  With this method, your ads appear more often to the customers and it is a way of getting more visits to your site. Without PPC, you only would be dependent on organic search results.
Google AdWords
Google AdWords is the most popular PPC advertising system in the world and enables businesses to create ads that appear on Google's search engine and other Google properties. Users have to bid on keywords and pay for each click on their ad. AdWords helps you, to show your ads to the right people in the right place and at the right time. The video below describes perfectly how the auction model of AdWords is working:
Google Shopping
And Google Shopping? Google Shopping allows shoppers to quickly and easily find your products on Google and let them compare offers between different sellers. The difference between Google AdWords and Google Shopping is, that Google Shopping focuses on Product Listing Ads (PLAs) and Google AdWords on text ads. Google Shopping became one of the most important marketing channels for B2C marketers and no retailer can ignore it. PLAs allow you to include an image, title, price and promotional text as well as your store or business name inside your ad. To get started with Google Shopping and PLAs, you'll need to link your AdWords account with the Google Merchant Centre.
Conclusion
Google AdWords and Google Shopping can be an excellent way to get more traffic and conversions to your site and both have their advantages. In a later part of this blog series I'm going to tell you more about the advantages and which one might suit better to you and your situation. At the beginning, I was a bit confused with all these terms and how the different platforms are linked. Maybe you had also the same troubles? Here are some links which helped me a lot:
Now it's your turn! Can you recommend some good links or learning resources? I'll keep on learning and would be thankful for any good input 🙂
Follow me on my journey and get in touch with me and my experiences!
Series overview: