Subscribe to join thousands of other ecommerce experts
Google just published some news about the promotion line for Google Shopping / Product Listing Ads. Promotion Lines are these short promotional texts which you can add for each of your Shopping Ad Groups and will be shown in a small box if a user puts the cursor right on a product listing ad. Sometimes, if only 2-3 PLAs are served you will also see this promotional text directly within the ad without the need of a mouse-over.
A promotion line looks like this (if you can't spot it, it is the "free shipping" text):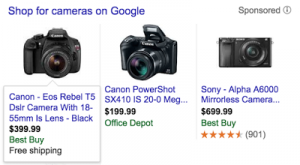 Google will remove your ability to manually craft these texts and will instead generate automatic texts based on your merchant feed information. Maybe some of you have already seen those little automatic shopping ad extensions which have been floating around since a couple of months. They will for example incorporate the "free shipping" information (we mostly used the promotion lines for that) or a price drop alert automatically:

This will happen with the end of September 2015 and the good thing is that you do not have to take any action. Google will just ignore your hand-crafted promo lines and use the automatic extensions more often. To be honest, we tested both, using promo lines and not using promo lines and it did not differ anyhow. So if there was some effect of the mouse-over promotion line texts we guess it might be very very small.
We think we will see more of this and are curious about that. There is very much structured information obtainable via the merchant center, so there should be enough of playground for Google.
Check out some other extensions which can boost your performance:
Google Shopping Merchant Promotions – Apply Promotions to your PLAs
Product Ratings – Ratings for your products
Trusted Stores – A nice Badge for being part of the Google Trusted Stores Program