Subscribe to join thousands of other ecommerce experts
[Updated] The Google Lawsuit: Why marketers and retailers should not worry
What's it all about?
Google Lawsuit Update: As of September 9th, 2017, Google will appeal the EU fine. No surprises here. This is what you need to know:
The appeal process will take years to run its course.
In the meantime, Google needs to comply with the EU's verdict. No worries, Google has been preparing for this for years. While we don't yet know what the exact result will be, you can get insight into their thinking from this 2014 proposed fix.
The Shopping channel is still core business for online marketers, but daily campaign management will likely become more complex. If you're still not automating, now is the time to start.
***
The European Commission has accused Google of distorting the market by privileging Shopping ads before other results, and as a result of their seven-year probe, they have leveled harsh penalties against Google.
Margrethe Vestager, the EU's Competition Commissioner, states that Google has violated European antitrust rules by denying rival companies "the chance to compete on their merits and to innovate" and by denying European consumers "the benefits of competition, genuine choice and innovation."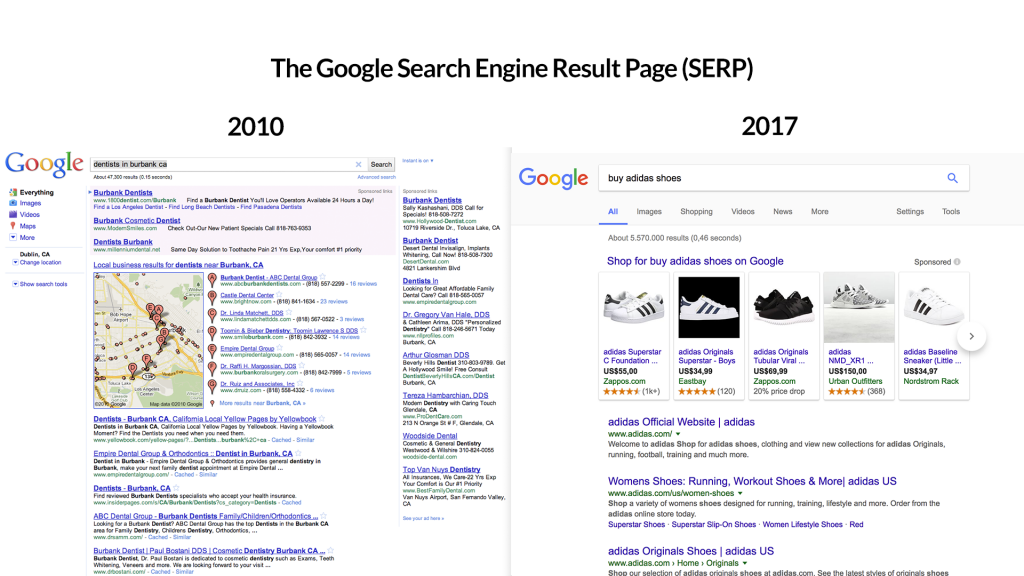 How exactly do they allege that Google has damaged the market? The specific complaint is that Google has systematically increased the prominence of their own Shopping feature while demoting competitor results using their algorithm.
The Google lawsuit news has generated headlines beyond just the PPC field, because the €2.42 billion penalty is both the largest of its kind and also significantly higher than expected.
The counterargument
As PLA experts with a deep knowledge of Google Shopping, it's our opinion that the Commission's arguments are deeply flawed. First and foremost, it seems that the EU Commission fundamentally misunderstands the Google Shopping channel. This is likely because, when the Google lawsuit started, the circumstances were completely different: seven years ago, Google Shopping didn't even exist. The original argument was that Google used the panda algorithm update to push organic results below its "own" results.
In the meantime, Google Shopping matured into a thriving channel that drives huge volumes of traffic to smaller businesses. The Commission now transferred the old accusations to the new channel, Google Shopping, which the Commission says "allows consumers to compare products and prices online". And therein lies the point:
Google Shopping is not and never was a price comparison platform, but rather a product search like Amazon or eBay. Retailers pay to be shown there and the highest bid wins. It was never the goal that Shopping ads would be based on the lowest price of a product.
The arguments and the classification from the EU Commission in their Google lawsuit are definitely wrong. Google never wanted to compete with price comparison platforms. They always found more than enough competition in the other big fishes: Amazon and eBay. But under the court's narrow Statement of Objections, these other giants are excluded. It's a strange twist, given that both are fiercely competitive platforms which Google refers millions of searchers to every day — a favor that Amazon and eBay are not likely to return any time soon.
Google argues that "improving quality isn't anti-competitive," and explained in a statement that Shopping adds tremendous value to both consumers and retailers. Consumers benefit by more direct connections to high-quality results without redundant search efforts. As for retailers, Google notes that "thousands of European merchants use these ads to compete with larger companies like Amazon and eBay." They cite an independent German study (aligned with similar US results), that 1 in 3 online consumers begin their search on Amazon, while only 14.3% begin on Google. This means that smaller businesses gain crucial exposure and leverage against Amazon by being listed on Google, whether paid or organic.
Regarding the idea that price comparison sites are being deliberately demoted, Google explains:
"While some comparison shopping sites naturally want Google to show them more prominently, our data shows that people usually prefer links that take them directly to the products they want, not to websites where they have to repeat their searches."
In other words, Google is arguing that it is the market that has shaped the algorithm, not the algorithm that has shaped the market. In their view, Google has improved the consumer experience and the EU commission is using old-fashioned consumer behaviors as a faulty basis for judgment.
What does the Google lawsuit mean for the future of Shopping Ads?
Panicking over the EU Commission's penalty against Google? Keep calm and shop on. This case has been years in the making, and with appeals it will last another few years for sure. While the mainstream press benefits from fueling anxiety, PPC veterans realize that this story will take still more time to unfold.
Moreover, Google Shopping stands on incredibly solid ground. Merkle data shows that PLAs now represent 52% of click share, continuing their incremental dominance of text ads. Spending on Google Shopping itself is up a whopping 32 percentage points from 2016. This expansion is driven by an increasing impression share on mobile, which is experiencing its own multi-year growth explosion. While this is exactly the trend that worries regulators, it's also evidence of powerful market forces and the changing expectations of consumers.
Meanwhile, Google's fundamentals are as strong as bedrock, and their future remains bright. With more than $172 billion (€151b) in assets according to the BBC and over 70,000 employees, they have the resources and the brainpower needed to come out strong and keep expanding into new markets. The Commission's penalty is no existential threat, but it is a speedbump.
Our data scientists and marketing experts will keep a watchful eye on all the Google lawsuit news and ensure you get the facts you need to stay agile and make smart decisions with your PLAs. If Google is ultimately required to change the mechanics of their Shopping channel, it is likely to make account management more complex, but Whoop! users will continue to enjoy the reduced workload that comes with automated bid-management, and they can adapt their Advanced Bid Strategies as needed to keep above the fray.
As a retailer or marketer you should answer the question "Should I panic or worry about it?" with a clear "No."