Next Level Google Shopping Strategies – Advanced Bid Strategies
Google Shopping still grows incredibly fast (read about the latest study about it here: Google Shopping Ads Growing Rapidly) and Google is pushing Shopping Ads even more on mobile. If your job is to manage a Shopping (PLA) campaign or if you are a retailer who wants to profit from Shopping Ads you should definitely keep on reading: We will show you how to get the most out of Google Shopping with the brand new Advanced Bid Strategies.
Why Advanced Bid Strategies?
Of course Google Shopping let you adjust your bids with its own Bid Strategies (e.g. "focus on clicks" or "focus on conversions"). But as a retailer you have different (or better: more advanced) needs and pains. Retailers want set individual strategies for brands, categories or individual products.
Overall the needs of online retailers are quite similar to offline retailers. There are special offers or temporary discounts on certain brands. In the offline world it's quite easy to print only certain brands in a flyer or decorate the shop window with them. Why not transfer this system to the abstract world of ppc-advertising?
Just set strategies for a brand, a product group or individual products. Or use custom labels to tag products for the upcoming christmas campaign.
What Are Advanced Bid Strategies For Google Shopping?
AdWords is a great tool and so are Google Shopping campaigns, but if you really want to be flexible or want to run your own individual strategy you need more than predefined strategies which are included in AdWords.
Advanced is not a synonym for complicated, it means "I want more freedom when it comes to strategic bidding". Advanced tooling should not make your life more complicated or stressful. No, it should be even easier than before. Otherwise it wouldn't be an improvement.
You want to use a different ROAS for different products? You always wanted a fixed CPC to exclude certain products from you regular bidding? Or maybe set bids on single items?
Go for it. That's what we understand under the term Advanced Bid Strategies:
Advanced Bid Strategies In Detail
Fixed CPC
What it does: Items will be promoted with a fixed CPC
Why: You want to exclude certain products to manage the bidding by yourself
Min. ROAS
What it does: A different ROAS for different categories and product groups
Why: Products with a low margin get a higher ROAS, products with a higher margin a lower ROAS
Max. CPA – (coming soon)
What: Maximizes your CPA
Why: A Strong focus on conversions, even more advanced than the strategy of Google itself
Visibility – (coming soon)
What: Increases clicks and impressions, regardless the ROAS expectations
Why: Raise you visibility and attentions
Exclude – (coming soon)
What: Exclude certain products
Why: Products should only promoted in a certain time span or for a certain reason
The New Way To Handle A Google Shopping Campaign
We at the Whoop! team are really proud to announce that users of Whoop! now have the possibility to use our Advanced Bid Strategies for Google Shopping. Our Google Shopping Experts and Data Scientists worked hard on this feature and some of our customers tested them with overwhelming success.
The Advanced Bid Strategies complement the general features of Whoop! like the product-centric campaign structure which Whoop! creates for you, or the differentiated CPC bids that can be set within a category (e.g., Nike Performance) for individual products. It will automatically be ensured that unprofitable products will not be picked up through a collection strategy and your overall CTR diminished as a result. CPCs for products that generate too few sales at too high costs will automatically be bidden lower; more budget can be invested in products with more performance potential. Easily make complex rule in a couple of minutes, that's what we call an advanced bid management tool 🙂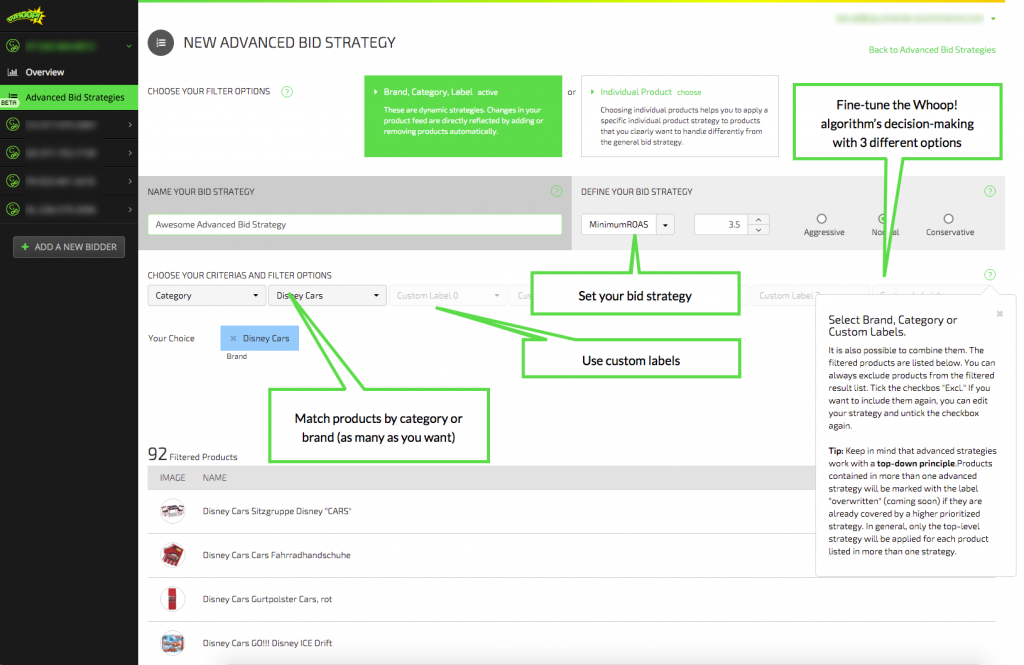 Test It For Free And Without Destroying Your Account Structure
We are really convinced of our approach and are happy to offer you a complete risk-free 30 day trial. We won't touch or change your account structure, we just generate a new campaign so that you always can switch back if we did not convinced you (we are sure that this will not happen 🙂 ). Already 150+ customers using and loving Whoop!.
Try it now for free!
See A Live Demo In Our Upcoming Webinar
On November the 19th our Product Manger Reinhard Einwagner will give you exclusive insights in a webinar for free. This webinar will be in German, but be sure that there will be an English version of it soon. Sign up for our newsletter of follow us on Twitter to stay up to date!
To join the webinar just click on the button below!
Join the webinar!