Subscribe to join thousands of other ecommerce experts
Google Shopping Ads: New Feed Rules Have Been Announced
Yesterday Google has held their first part of an ongoing webinar series about the topic: "Google Shopping Feeds Training: Basics, Disapprovals, Maintenance"
Too long did not read:
Basic feed information has brought to us by Google – to get this information please watch the video of Google, link at the end
Google has announced feed rules with, at the beginning, two features
Correction errors in attribute names
Quick and easy implementation of custom labels
Beneath some well known topics for us, such as:
What is a product feed and how do I set up one?

What are product feeds used for?

Why are there so many required attributes?

How to handle item disapprovals and things like that.
They also have announced a very interesting new feature, the so called "feed rules". This feature will soon be available in the Merchant Center.
"Feed rules will allow you to configure simple data transformation rules directly in Google Merchant Center. These rules are applied immediately after feed upload and before diagnostic evalution."
At the beginning there will be two main features available:
Correcting errors in attribute names

Quick and easy implementation of custom labels
What can you expect from feature "correcting errors in attribute names"?
Imagine you're facing an error in your Merchant Center account which is named "missing required attribute". After some research you see that your column is misspelled.
In the future, with feed rules, you will be able to map those wrongly named attribute names with the right ones.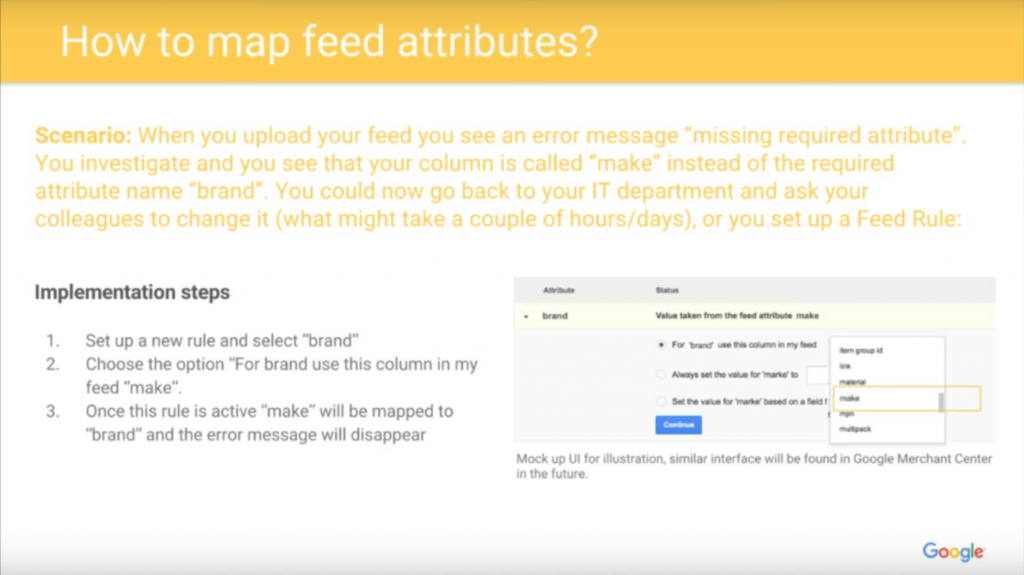 What can you expect from feature "quick and easy implementation of custom labels"?
With this new feature you will be able to set a custom label by defining a condition in your Merchant Center.
For example, you can use this feature for structuring your shopping ad campaigns. You define a condition and set a custom label for this particular condition. Based on this custom label you can structure your shopping ads campaigns.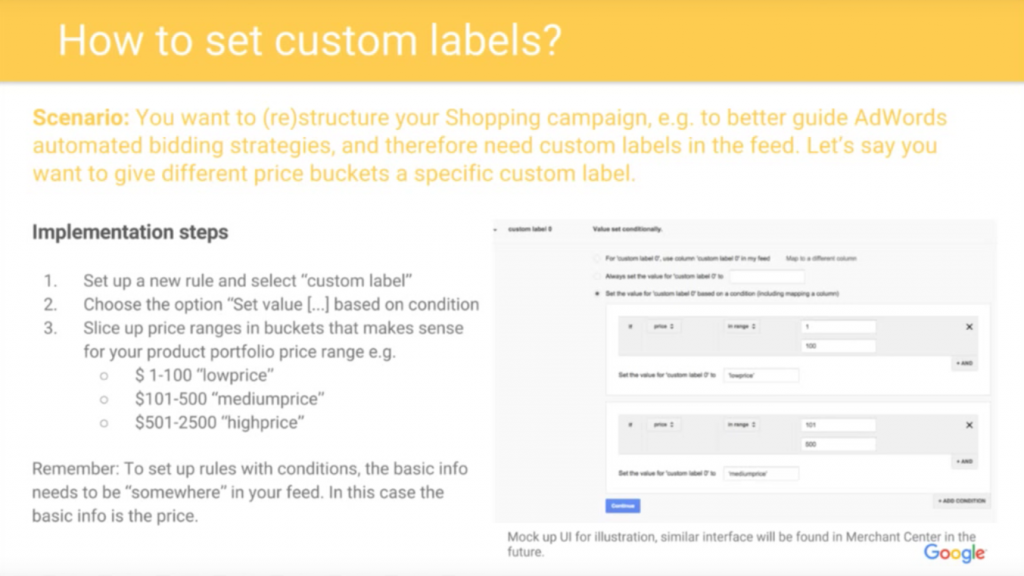 This feature could also be useful when you are using Whoop! and want to set a certain strategy in Whoop!, depending on price ranges. You can easily set a custom label via your Merchant Center and then use this custom label to define different strategies for your price ranges.
To gain more information about the basic information to product feeds and the announced feed rules you can take a look at the webinar by yourself: 
What do you think about the new features? Let us know and leave a comment!