Subscribe to join thousands of other ecommerce experts
"The true value of search queries in your Shopping campaigns" with Christopher Rogl @ the Great Day for PPC Automation
Since joining smec in 2015, Christopher Rogl has overseen the optimization and management of hundreds of Google Ads accounts of various sizes and complexities in his role as customer success teamlead. Now, Christopher has shifted to a more strategic and technical role as the product owner of Whoop! – smec's very own Google Shopping management solution. At the Great Day for PPC Automation, Christopher shared his perspective on why transparency and control are so important to long-term paid search success, plus some concrete strategies for achieving these goals with the help of search queries.
What do advertisers really want?
Taking the #gde19 main stage right after Thomas Wrobel (SVP Americas at trivago), Christopher aimed at shedding light on the true value of search queries. He began with a highly relevant question for everybody active in paid search, "Did you follow Google Marketing Live?", and connected those outcomes to a pain point of many online marketers (and the theme of the whole Great Day conference): that today's automated solutions more often than not leave them with a lack of transparency and control.
So what is it that advertisers actually want? The easy answer would be that any given tool should do its job. But it's more complex than that. Of course advertisers want an automation solution that reduces their workload and improves the performance (or at least one that keeps performance at the same level). At the same time, however, the tool should offer customization possibilities and transparency, guaranteeing control and flexibility to intervene based on unique business insights that only humans can have. Automation should in no way restrict their access to crucial performance data, weaken the performance or leave them with zero control over what the tool is doing. The current tool landscape (at least according to this Great Day speaker) is not tailored to those needs.

Blackbox solutions prevail: Why?
Despite a misalignment with marketer's wants and needs, blackbox solutions are undergoing increased development and promotion – why? Mostly because users have a psychological tendency to focus on immediate needs ("I just need 'a' tool – now") or prioritize some of their wants over others. It might also be that they simply focus more on short-term performance or fear the complexity that comes with a highly granular setup. But it's important for retailers to remember that uniqueness counts: not only when it comes to your assortment and the message you want to communicate to your (equally unique) target audience, but also when it comes to promoting your products. Being like everybody else and resorting to "one-size-fits-all" solutions is just not the best you can do as a retailer. Moreover, when using a solution with no opportunity for control, there is a strong risk that your advantage will become commoditized as more users adopt the tool with no possibility to differentiate. This will lead to diminishing returns.
How to get back in the driver's seat?
Besides a lack of reporting possibilities, Christopher argues that retailers relying on blackbox solutions will  find it hard to customize bidding, to realize different target options, or to differentiate between new and existing buyers. Looking for a way out of this?
Christopher points out eight different approaches that can help you as a retailer to get back in the driver's seat: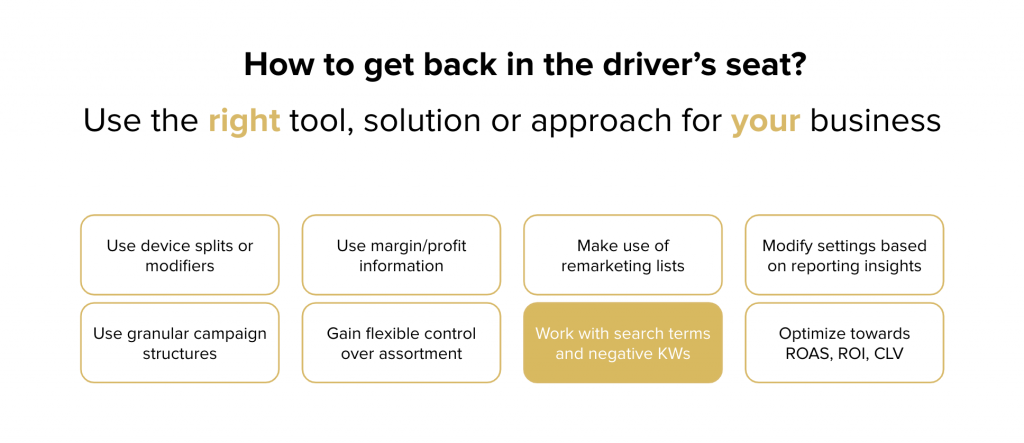 As you can guess from the title of his talk, he jumped right into "search terms and negative keywords" from here.
The true value of search terms
So what can search terms be used for? How can they add value?
filtering search terms (from your search term report) by performance and using valuable terms to enrich your keyword lists and your ad copy
your data feed (i.e. product titles) to match the search behavior of your target audience and thus to increase the relevance of your Shopping Ads
assessing customer behaviour insights and search patterns to deduce which items drive traffic to your site, what people are looking for, or how to enrich your on-site search
aligning Shopping bids with query potential
The last of these, the so called "query split", represents one of four campaign setup options that Christopher presented next.
Shopping Ads setup: four approaches
1. Standard setup

The standard setup is the preferred solution for retailers with rather small accounts and a campaign structure that is not all too complex. It's also an okay setup for those who 'just want to be part of the game' but do not make PPC a priority. It could also be that customization is just not that crucial for them (no matter whether the tool actually offers a solution for that or not) as long as the setup is easy and maintenance levels rather low. However, advertisers choosing such a standard setup should still be aware that this approach limits them because it does not allow them to target different parts of the sales funnel, it offers a lower level of transparency and customization, and (depending on the tool used) it might lack options to integrate business-specific information.
2. Device campaign split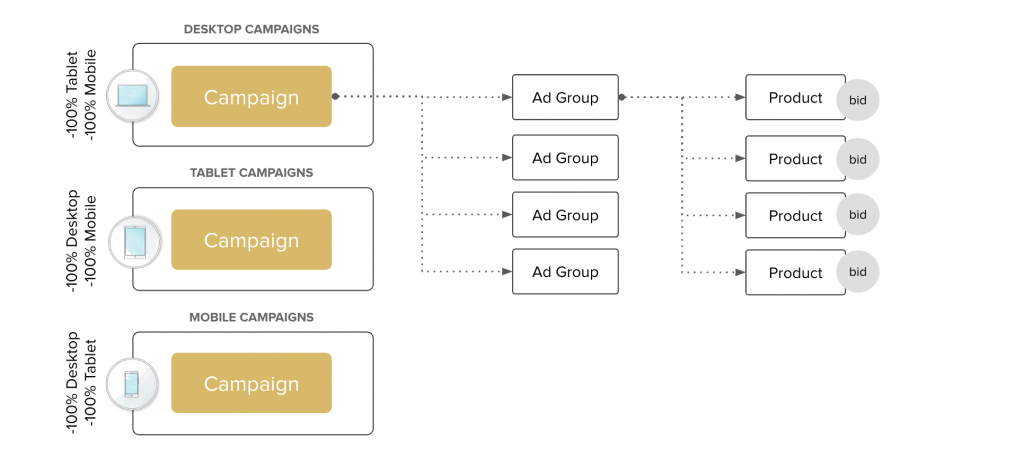 For retailers striving for more than a standard setup, device splits might be the solution – especially if your KPIs differ significantly between mobile, tablet and desktop traffic, or if you want to push your outreach on a certain device without compromising the unique performance potential of you assortment. Building an item-based campaign for each device (by using -100% modifiers for those devices that should not be covered by the respective campaign), allows you to set bids per item – per device. While there might be a slight increase in workload related to maintenance, this approach offers unique performance insights and thus a much higher level of transparency – along with more control over how your budget is spent.
3. Query split setup

For advertisers aiming at an even higher level of control, query splits pose a perfect solution (assuming that your account is characterized by significant differences in performance between upper- and lower-funnel search queries). The underlying hypothesis: the more product-specific a search query is, the higher the conversion likelihood. People looking for 'sport shoe', for example, are expected to be further up in the funnel than users already indicating that they are looking for a specific size or brand of sports shoe.
How can you achieve such a query split? With the right set of campaign priorities and negative keywords.
Just having three campaigns is (of course) not enough as Google would always resort to displaying the ad with the highest bid. The same would be the case with priorities only: only ads from your campaign with the top priority would be triggered. With the right set of priorities, negative keywords and bids though, this campaign setup is incredibly powerful as it allows you to strategically funnel upper- (generic), mid- (brand) and lower-funnel (product) queries and to assign efficient bids to them.

This way you are able to define how much you want to pay per product when a certain search query is entered into Google's search bar, e.g. saving money on upper funnel queries while spending more on low-funnel queries with a high conversion likelihood. This ensures high visibility for search queries that are actually relevant for your business, while achieving greater transparency and making more efficient use of your budget.
However, Christopher also pointed out that this approach should be well thought through as the complexity and effort might not be worthwhile for each and every account in terms of expected performance uplift. Especially because considering that advertisers need to maintain and optimize three campaigns, including correlating negative keyword lists, products, and bids – which can be tough without a technical solution For large accounts this means processing ca. 12,800 search terms per day.
When does a query split approach make sense?
How can you figure out whether all this effort is actually worth it? With Orbiter. Some of you might already know smec's free data visualization tool, but Christopher used the occasion to introduce a brand new Orbiter feature (the Search Term Sunburst chart) that allows you to visualize the performance per query bucket per device.
On the top level you will see an overview of the query bucket performance (brand vs non-brand) per device. You can then click the device you want to take a closer look: this will show you the top performing search queries on this device plus the overall performance per query bucket (i.e. impressions, clicks, conversions, costs, conversion value and ROAS). The goal of this visualization and the supplemental data below it is to quickly identify if you have significant differences between brand and non-brand performance.  Just try it out, it's free! >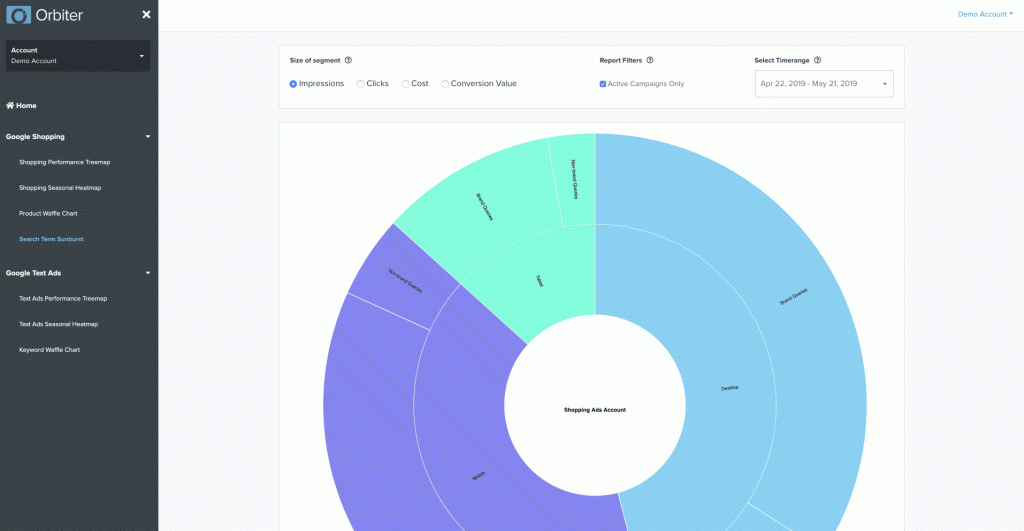 Bonus: bringing Showcase ads into the game constitutes an even more advanced setup option. Showcase ads will be displayed in addition to your standard Shopping campaigns, thus helping you to extend your reach even further. The advantage? This format won't cut traffic from your Shopping Ads but rather generates additional upper funnel traffic. Moreover, right now clicks are relatively cheap as competition is still rather low. An ideal way to attract new visitors and to strengthen brand awareness.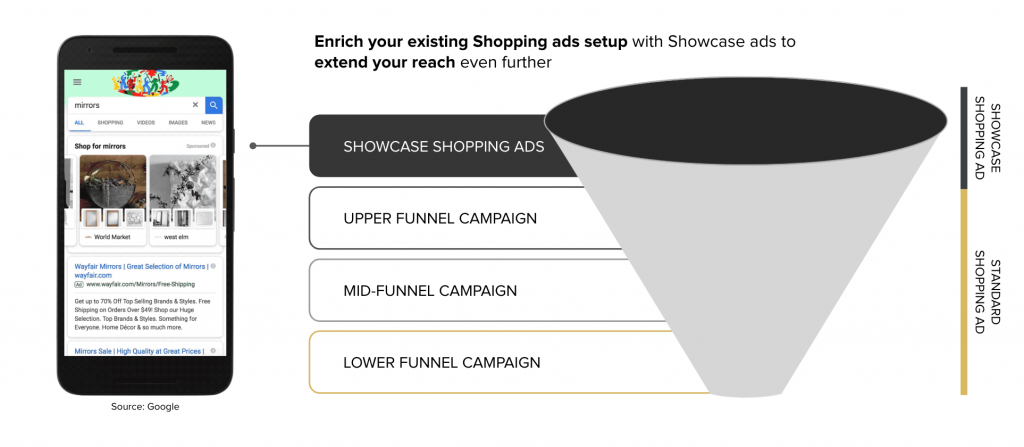 A (hidden) best-practice that Christopher didn't have time to cover in his talk? Splitting showcase ad campaigns into non-brand and brand campaigns and working with various ad text and image variations. Please be aware, however, that this requires quite a lot of manual effort during setup and that there are almost no best-practices and tools to help you (yet).
4. Query plus device split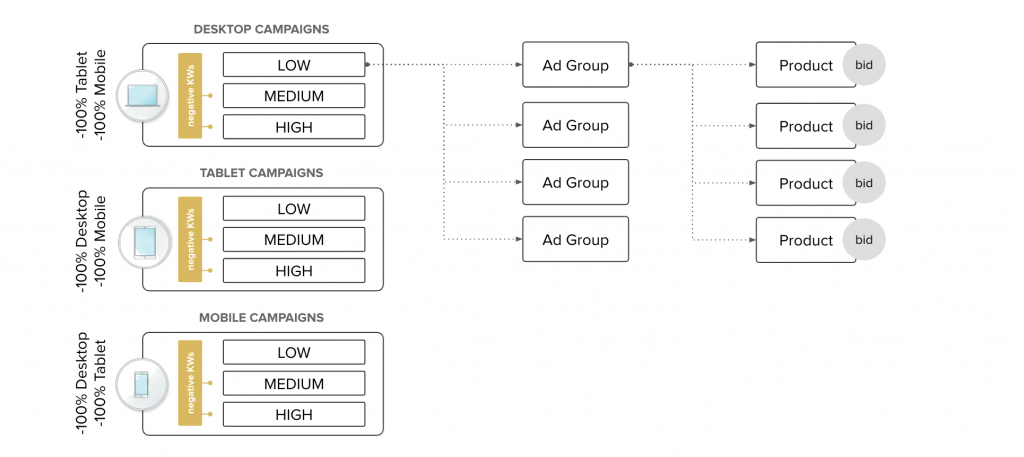 The last campaign setup approach Christopher presented: a mixed approach of device splits and query splits. What this means is that the query split campaigns discussed above are tripled and negative device modifiers (-100%) added on the campaign level to ensure that traffic is first filtered per device, before it hits your query split filters (priorities and negative keywords).
At this point, you can bring in business data such as CLV & ROI insights or even remarketing lists to distinguish between new and existing clients. While this sounds super nice – and of course helps you achieve a maximum of control and transparency, be aware that the complexity of setting up and maintaining the campaigns once again triples and you need to split your negative keyword lists per device. So remember: carefully analyze the potential before attempting to realize such a setup. Or look for a partner who can (at least partially) automate complex campaign setups like this. Orbiter can also help you assess your opportunity size here.
Key takeaways

Christopher argues compellingly that black box solutions which offer less reporting, data integrations, and flexibility will only offer short term performance uplift – if any. As more and more marketers adopt Google-based, third-party and home-grown solutions, the competitive advantages offered by these approaches will decrease if you are not careful. For sustainable performance that supports your business goals, it is critical to select partners and methods that are aligned with your needs by protecting and expanding your access to data and identifying profitable growth strategies.
For many accounts, search queries are a powerful and underutilized tool for reaching such goals. To learn more, contact the experts at smec.
Want more? Watch Christopher's full talk here!