Subscribe to join thousands of other ecommerce experts
How to Avoid PLA Product Image Errors in Your Product Feed
One main advantage of the whole concept of Product Listing Ads is the visualization of your products. PLAs have a great visibility and definitely attract more people like the good old Text Ads. The Product Images are often the first thing to grab the attention of your potential customers.
Images are mandatory
If it comes to Google Shopping, product images are not only an essential part. No, they are mandatory. In this post, I'll show you how to avoid and fix product image errors in your Google Shopping Product Feed.
To prevent suspension of your Product Feed, you have to make sure every image is linked correctly. The attribute image link is required. Items without images cannot be submitted. If you want to add more images to your product you, can use the attribute additional image link.
Remember: Not only your Product Listing Ads, but also your landing page has to contain an image, or at least a placeholder image. Landing pages without images at all are not allowed.
If you don't have different image variations of an item, we'd highly recommend submitting a single item with multiple values for the variant attributes and use the available image as a main image.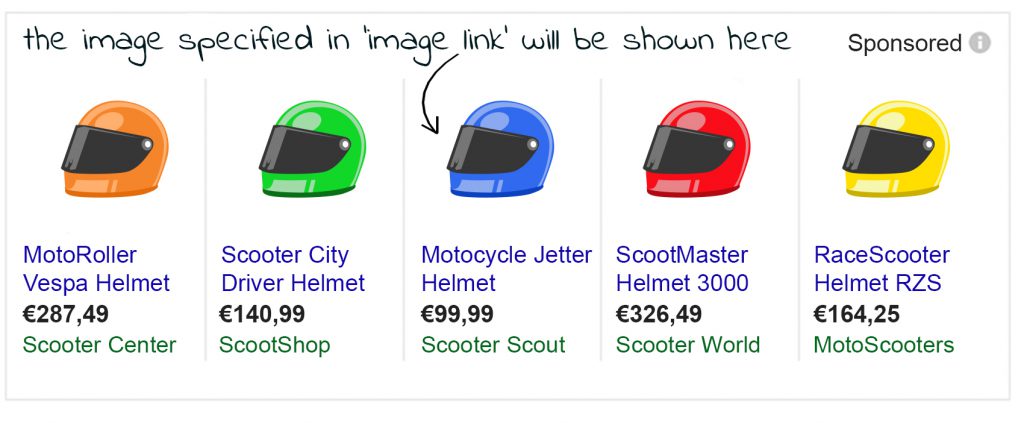 Image Requirements
Accepted URL protocols for the image link attribute are http and https. Besides, you have to ensure that symbols used within the image URL are encoded (e.g. a question mark would translate into =%3F). Google uses the field Image_URL to create the thumbnail image for your ads. Make sure your URL does not have any spaces, forward slashes or other characters which may get in Google's way of accessing your images.
Valid file formats are non-animated GIFs, JPEGs, PNGs, BMPs and TIFFs. Make sure that the individual images is larger than 100 x 100 pixels (250 x 250 pixels for apparel products), but cannot be larger than 64 megapixels and 4MB respectively. It is recommended to submit the largest, highest resolution, full-size image with at least 800 pixels in height and width.
The requirements in a nutshell:
Image Content
Google recommends that the product itself should take 75% to 90% of the full image on a solid white, gray or light-colored background. The image should show your product with the color, pattern and material that match the title and description. Otherwise, your product might be declined.
Forbidden Image Content
There is quite a lot restriction concerning the content of Google Shopping images. In addition to the rules you have to take care of for every product, you are not allowed to use a placeholder and incorrect product images as well as ones that include borders or promotional elements. Promotional elements could be calls to action such as "buy", price information, or promotional adjectives like "best" or service-related information (e.g. free shipping). Furthermore, you have to make sure, that there is no overlay content like watermarks or logos in your image.
Except for products in the categories "Hardware" and "Vehicles and parts" graphics and/or illustrations of the products are not allowed. Single color images are permitted in the categories "Vehicle Paint", "Craft Paint, Ink & Glaze" and "Painting Consumables".
If you are selling a bundle, your image has to show the entire bundle to be approved. However, images of multipacks are valid, even if they display only a single unit of the product.
Example
Here is an example how it looks like in a Google Shopping Feed:
Additional Image Link
You can use the additional image link if you want to show several images of your product. This can be useful if you want to show your product from different angles or to show the packaging.
Additional images have to comply with the same rules as the attribute image link.
Multiple images
The additional image link attribute allows you to include up to 10 additional images per item. If you use tab-delimited, separate the URLs by a comma. In XML each URL can be added as a separate <additional_image_link> attribute.
Additional Image Link Example in a Product Feed
Again, also an example how it looks like in a Google Shopping Feed:
Checklist
Before uploading your feed, just go through this short checklist:
1. Images for every product
2. A product image exists on the landing page
3. All links are working.
4. Images have no promotional elements or watermarks.
5. The image size is not too large or too small.
6. Image and product are the same.
Use the Merchant Center to find feed errors
If you get any error messages, just check your merchant center. You'll find all errors in the Diagnostics tab. If you click on the error, Google tells you exactly where you'll find the error.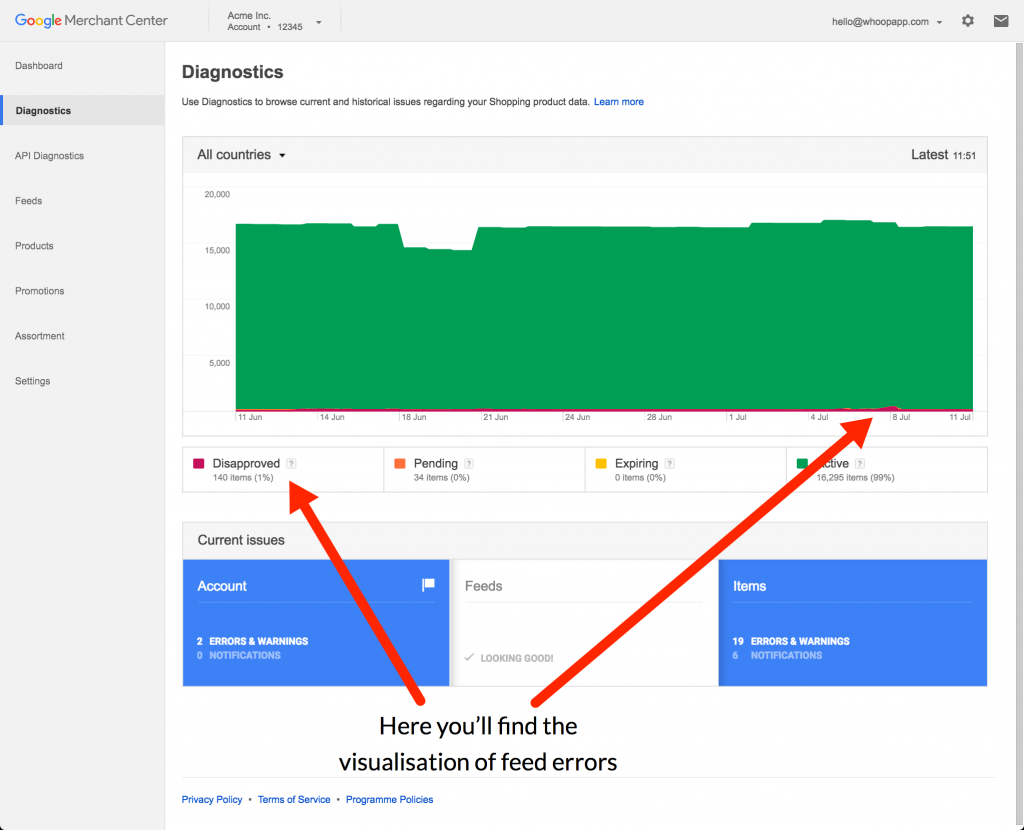 You can also check it if you click on "Feeds" in your Merchant Center account: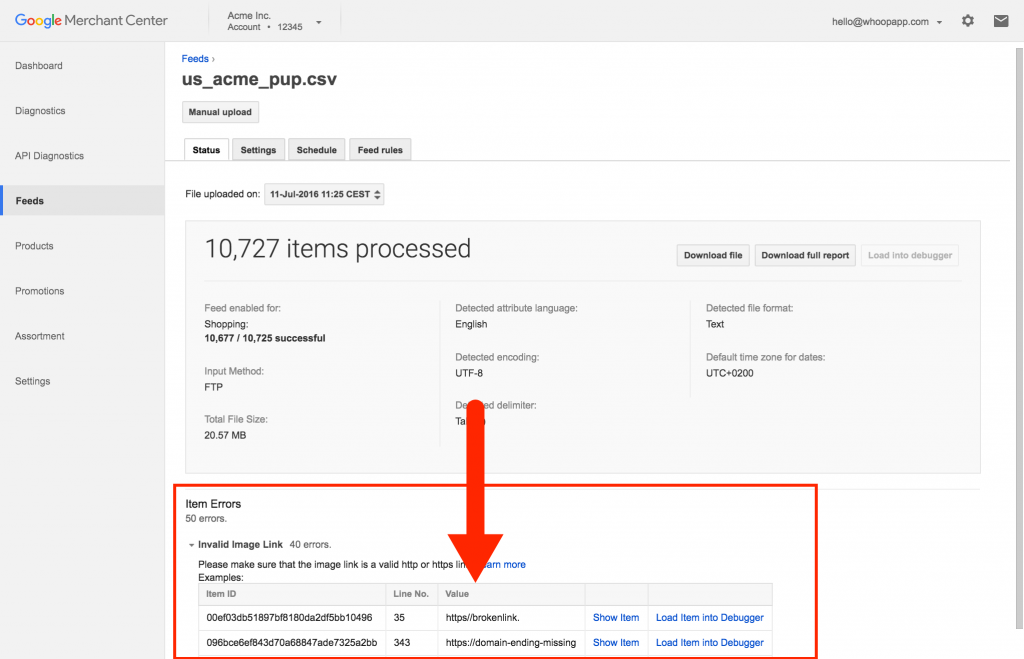 With all these hints, you should be able to avoid feed errors. Always keep an eye on your feed and check it in your Merchant Center!