Subscribe to join thousands of other ecommerce experts
PPC Adventures Part 9: Common Pitfalls When Analyzing Google Shopping Campaigns
Analyzing Google Shopping Campaigns can be a bit complicated at the first sight. That's why I did some research about the most common mistakes when analyzing Google Shopping Campaigns. My colleague Christopher gave me a crash course in pitfalls he experienced with his customers in his position as Customer Support Manager.
Tl;dr
Pitfall 1: You forgot to look into your Merchant Center Account
Pitfall 2: You do the analysis in the wrong tab
Pitfall 3: You analyze the wrong item
Pitfall 4: You don't look at the settings of your Google Shopping Campaigns
Pitfall 5: You look at the settings but not at the time
Last time, you learned about how you can analyze your Google Shopping Campaigns. Now it's time to tell you more about pitfalls when you are analyzing them. When you are a beginner such as I am, it might be hard to do your first analysis. Don't be scared – even Google Shopping Experts have problems with their analysis from time to time.
Pitfall 1: You forget to look in your Merchant Center Account
When analyzing Google Shopping Campaigns a look in the Merchant Center Account is essential. We have made the experience, that our customers associate wrong settings when costs are decreasing. Retailers often forget to check their Merchant Center Account. In the Merchant Center Account, you can see e.g. if you have an active Data Feed or if products are active or rejected.
Taking a look in your Merchant Center Account also helps you to find out if products perform good or if they are rejected. Good performing products can easily be 'out of stock' – this can also cause a bad performance although they are good performers. If you don't want this to happen, you should always have your products on a minimum stock.
Our mastermind Reinhard recently wrote an article about how out of stock items can influence your performance and how you can detect them on PPC Hero. Check this out if you want to know more about the topic. 🙂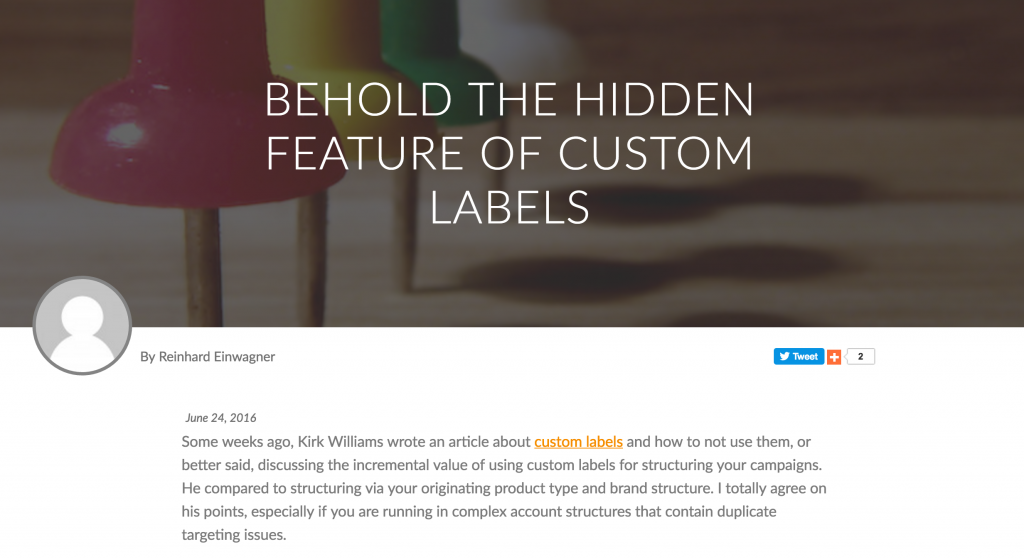 Pitfall 2: You do the analysis in the wrong tab
One mistake I made was that I tried to analyze the performance on campaign and ad group level. When you look at campaigns and ad groups, you might just find out how the campaign is structured. Which products are cost-pushing and which products are bringing the most conversions are not immediately obvious. KPIs like them are hard to identify in this tab.
I can strongly recommend the dimension tab. There are so many possibilities and metrics for the analysis. It gives you a good overview on the performance itself and you can immerse deep by checking the performance on the 'Item ID' level." – Christopher
You can get customized performance reporting at any level of granularity in the Dimensions Tab, just as an example. You remember that I told you about the Dimensions Tab, the Product Groups Tab and the Products Tab in my last blog post? If you want to know which analysis you can do in which tab – check out my last PPC Adventure. 🙂 
Pitfall 3: You analyze the wrong item
Another common pitfall is that you might analyze the wrong item. First of all, you have to detect the bad performing item or the cost driver – Please note: it doesn't always have to be a single item. The whole brand or category can also be the "bad guy". As described before, you can do the analysis by using the dimensions tab.
If you have done that, try to find out why the bad performance has happened. You can check if this is caused of a to high bid or if there is another issue e.g. that the item will display for non-related queries.
We once experienced the case, that one of our customers had a product which caused enormously high costs. The analysis showed that this was due to seasonal influences and a too generic product title.
When you found the misleading item you can improve it and measure the performance again. What should you consider to improve an item?
Use high-quality images for all of your products.

Consider to adjust attributes and pictures for any product variants.

Add more relevant and granular information about the product type.

Use negative keywords for a more focused targeting.

Add custom labels to adjust seasonal, promotional, or risk-related products.
Those are just a few things you should consider – of course there are much more. The best thing you can do is, to get through the learning materials and help center from Google to find out more about the improvement of your items.
Pitfall 4: You don't look at the settings of your Shopping Campaigns
You should never forget to keep an eye on your settings when analyzing your Google Shopping Campaigns. Here are a few thins you can find out when you look at your settings:
Are product groups excluded although they should be promoted?

Are remarketing lists created by the correct criteria?

Are negative keywords set?

Are locations applied correctly?
Those points might not be a part of the analyzation at first sight, but I will try to show you a case where it makes total sense to take a look at it. We have often experienced that our customers don't apply the right location in their settings. Imagine that you want to target the country Germany. You add "Munich", "Berlin", and "Hamburg" to your list.
The result is that you just reach "Munich", "Berlin", and "Hamburg".  You would not reach all the other potential customers because you forgot to add "Germany" as a whole to your list. This pitfall can happen quite fast. 🙂 Try to keep an eye on those small things – they can be tricky and might let your performance decrease.

Pitfall 5: You look at the settings but not at the time
I just tried to convince you, that you should have a particular focus on the settings and now I tell you that there is still something as important to focus on? Well, analyzing can be really tricky. 🙂 The time also plays an essential part when it comes to analyzing your Google Shopping Campaigns.
When you have a poor performance, you should take a look at the point on time when the performance started to decrease. Find out, if there was a statistical outlier. When you take a look at the graph function in AdWords, you can see which changes have happened.
The graph function can help you to understand what led to the poor performance. You can find out if there has been an outlier such as e.g. much more impressions, clicks, and costs. When you found the outlier, it is useful to take a look at the change history. There you can find see if there was a change that led to this outlier.
---
Try the first and only tool specially designed for Google Shopping!

---
Conclusion
As you can see, analyzing is not always just about numbers and KPIs – also settings and the time can lead to a bad performance. Always try to take a look at the big picture. Are there wrong settings leading to a break? What happened at a particular point in time? Did you analyze the right item in the right tab?
Analyzing isn't that easy and mistakes can happen to anyone of us – try to keep this in your mind. What are your experiences with typical analyzing pitfalls? I would be happy if you share them with me 🙂
Series overview: