Subscribe to join thousands of other ecommerce experts
Google Introduced New Feed For Google Shopping
Today Google introduced a new type of product feed called online product inventory feed. This is especially for larger retailers that quickly need to change one of these attributes:
'price'
'availability'
'sale price' and 'sale price effective date'
As a retailer you have to react quickly on any price change
(e.g. if Amazon starts a special daily offer) to compete with other retailers. The Online product inventory feed is processed faster than the normal product feed which means you changes appear almost immediately. And of course you can use it next to your regular product feed. 
See an overview of the features compared to the product feed:
| Product Feed | Online Product Inventory Feed |
| --- | --- |
| Main feed for online product data which should be submitted at least every 30 days. | A feed especially if you have to change price, availability and/or price for a specific product. |
| Overwrites any previous submitted feed. | Let's you only update some attributes without the need of submitting a full set of data. |
| | If there are errors in your feed your normal feed won't be impacted. |
How-To And Sample Submission
If you want start using the online product inventory feed you just follow the standard steps to register a new feed. As a feed type you'll select "online product inventory update feed" instead of the normal product feed.
The online product inventory feed contains 5 possible attributes:
'id'
'price'
'availability'
'sale price'
'sale price effective date'
Of course the 'id' is required because it has to match with the 'id' of your product feed. So just see the online product inventory feed as an extension to the normal feed. The full list of requirements are more or less optional, based on your information you want to update. See the image below for more details: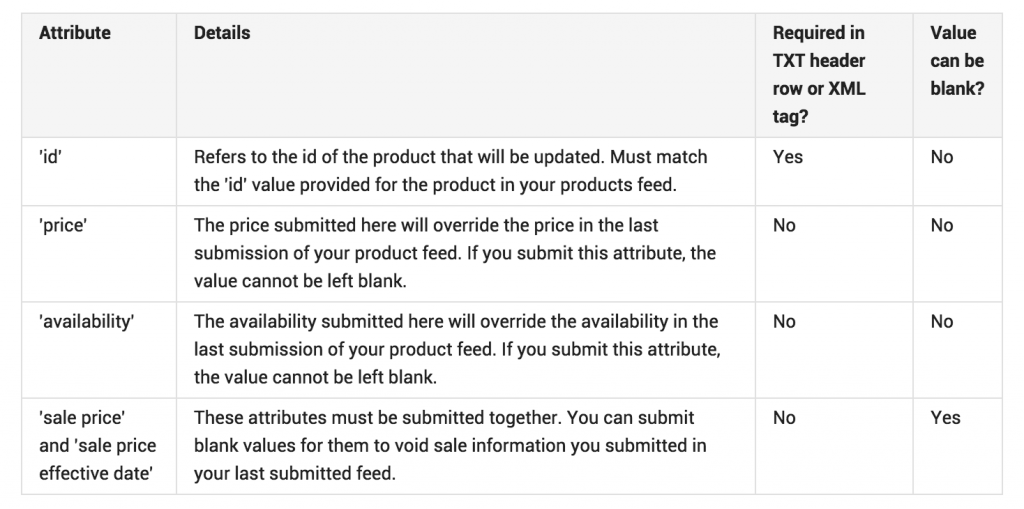 A sample submission to update price and availability would look like: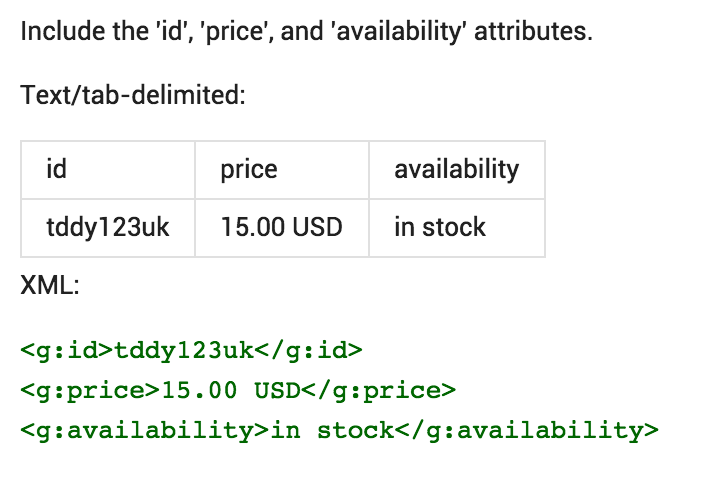 Conclusion
We really missed the feature and are happy that it has finally arrived. For retailers and ppc-managers it is a great way to react quickly on any changes of competitors. Read Google's full announcement her: http://adwords.blogspot.com/2015/07/easily-update-and-validate-ads-with-new.html 
Tweet us or leave a comment if you have any questions or comments!